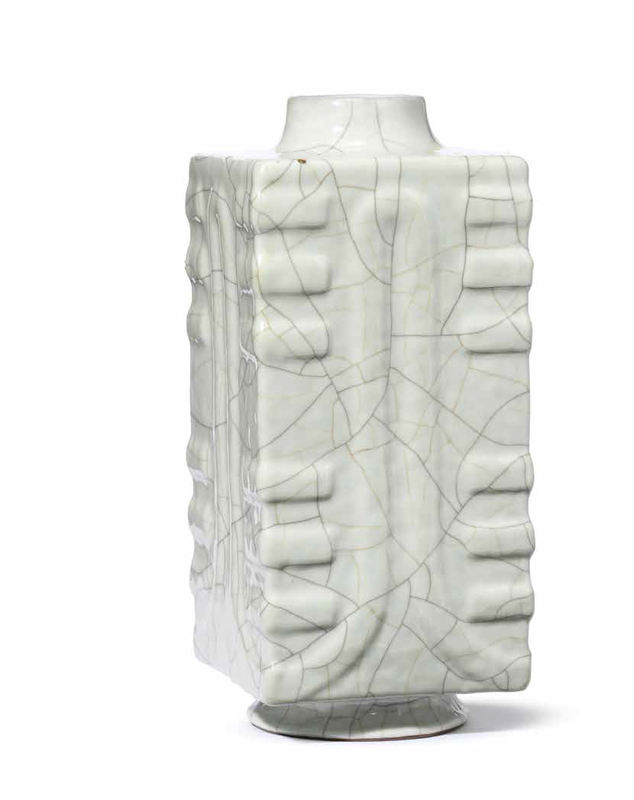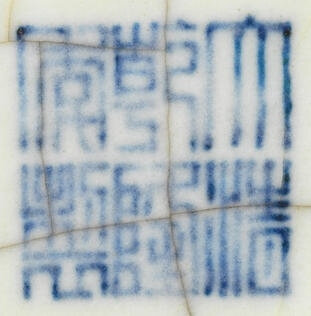 Lot 75. A rare Guan-type square vase, cong, Qianlong seal mark and of the period (1736-1795); 29.5cm (11 5/8in) high. Estimate: HK$600,000.00 - HK$800,000.00 (€ 67,000 - 89,000). © Bonhams.
The sturdily potted vase rising from a short spreading and pierced foot, moulded in relief on each of the sides with the Eight Trigrams, bagua, arranged in horizontal registers of two columns, covered overall with an unctuous, widely-crackled Guan-type glaze stopping at the brown-dressed biscuit foot ring, the reverse with two pairs of indentations for hanging, the base with the six-character mark in underglaze blue.
Provenance: Sotheby's Paris, 15 December 2011, lot 98
An important Asian private collection.
Note: During the 18th century the Imperial Court was fascinated with archaic objects and many wares were produced in imitation of ancient forms and designs. This trend reflected the emperors' intention of restoring 'the ancient ways' as means to draw the moral righteousness and strength from the examples of the ancients. The Qianlong emperor purposefully devised the Xi Qing Gu Jian 西清古鑑(Catalogue of Xiqing Antiquities), a collection of drawings from antiquities, as means to provide important sources of inspiration to his craftsmen. See Chang Li-tuan, The Refined Taste of the Emperor: Special Exhibition of Archaic and Pictorial Jades of the Ch'ing Court, Taipei, 1997, pp.49-50. This is exemplified in the present vase in its form which is inspired by the archaic jade ritual cong vessel, which featured a square body and a hollowed circular core, and was usually carved with stylised masks arranged in horizontal registers at the corners. See for example a jade cong, Neolithic period, Liangzhu Culture (circa 3200-2000 BC), illustrated by J.Rawson, Chinese Jade From The Neolithic To The Qing, London, 1995, p.128, fig.3:5. Furthermore, the crackled greyish-blue glaze visible on the cong was inspired by the 'iron-wire and golden thread' glaze of Imperial Guan wares of the Southern Song dynasty (1127-1279).

Compare with a similar vase illustrated by P.Y.K.Lam, Ethereal Elegance, Porcelain Vases of the Imperial Qing: The Huaihaitang Collection, Hong Kong, 2007, no.45.

A related Guan-type cong vase, Qianlong mark and period, was sold at Christie's Hong Kong, 30 November 2011, lot 320. Compare also with a further similar vase illustrated by B.Gyllensvärd, Chinese Ceramics in the Carl Kempe Collection, Stockholm, 1964, pl.209, which was later sold at Sotheby's Paris, 12 June 2008, lot 123.
Bonhams. Fine Chinese Ceramics and Works of Art, Hong Kong 27 november 2018.