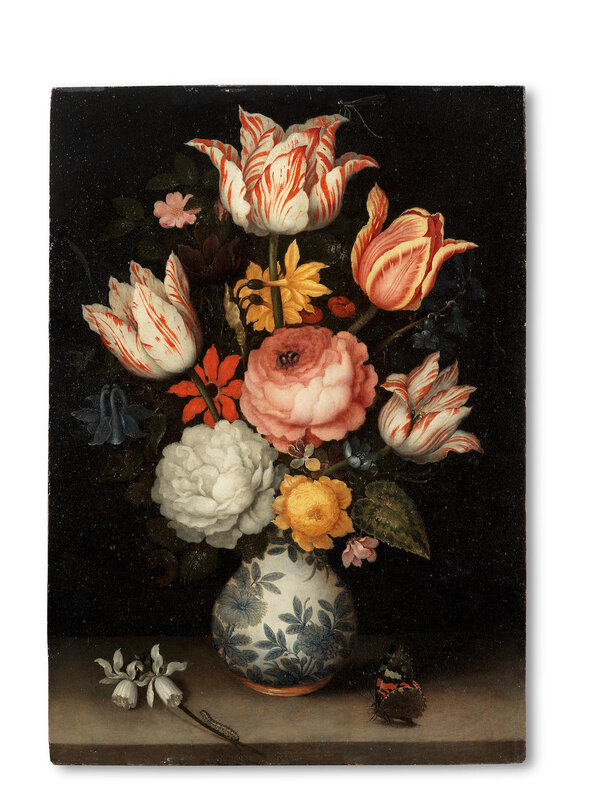 Lot 49. Ambrosius Bosschaert the Elder (Antwerp 1573-1621 The Hague), A still life of a porcelain vase with a gilt-mounted base, holding a floral bouquet including various roses, tulips, anemone, cyclamen, narcissi, hyacinth, pansy, marsh marigold and columbine, on a table, beside a caterpillar on a sprig of narcissi on the left and a Red Admiral butterfly to the right, with a bee on the central rose and a dragonfly on the upper tulip, oil on panel, 36.5 x 25.7cm (14 3/8 x 10 1/8in). Estimate: £400,000.00 - £600,000.00 (€ 450,000 - 670,000). © Bonhams.
Provenance: Private Collection, Belgium
Private Collection, Europe
Sale, Koller, Zurich, 18 September 2009, lot 3015, where purchased by the present owner.
Note: First identified by Dr. Fred Meijer of the RKD in a letter dated 8 June, 2001, the present work was hitherto unknown to previous authors, such as Laurens Bol, who published a monograph on Bosschaert and his dynasty in 1960. Fred Meijer writes that this composition fits securely within the oeuvre of Ambrosius Bosschaert the Elder dating to the years around 1609/10.

Bosschaert's earliest known dated flower painting, from 1605 (private collection, on copper, monogrammed and dated, 18.4 x 14.6 cm.) shows a rather schematic composition and the same remained true for work from 1606, albeit that his imagery was becoming more complex. By early 1607, however, the artist was clearly becoming aware of the advantage of arranging his flowers in a more three-dimensional fashion: by this time he had also studied Jan Brueghel the Elder's ventures in flower painting, and eagerly adopted motifs and types of arrangement from that artist.

Bosschaert's earliest bouquet is set in a small porcelain vase, with a similar decoration to the one depicted here, but with a different gilt mounting. The vase shown here appears to be the same one that also occurs in later pictures, such as the one in the Rijksmuseum, Amsterdam (1934 cat. no. 590, oil on copper, monogrammed and dated 1619, 31 x 22.5 cm.). Several flowers also occur in other Bosschaert bouquets, particularly from the period around 1610; the anemone is very similar to the one in the major bouquet from 1609 in the Kunsthistorisches Museum, Vienna (Inv. no. 547, oil on panel, monogrammed and dated, 50.2 x 35.3 cm.); while the hyacinth appears similarly in the painting in the Ashmolean Museum, Oxford, which can be dated to 1609/10 (oil on copper, monogrammed, 37 x 27 cm.). The columbine recurs in a small bouquet from 1610 in the P. & N. de Boer Foundation, Amsterdam (oil on copper, monogrammed and dated, 27 x 18.5 cm.), and in a basket of flowers which was with Galerie Sanct Lucas in Vienna (oil on panel, 40.5 x 61 cm.), and which also has the same sprig of white narcissi draped in front of it. The somewhat sparkling treatment of the rose foliage can be found similarly in the Vienna bouquet, as well as in some slightly earlier works (for example, a monogrammed oil on copper of circa 1606 in a Private Collection, oil on copper, 19.3 x 12.9 cm.). From 1610 onwards, Bosschaert's rose leaves appear to become softer and more even. A flower painting is known which must be a copy of a lost Bosschaert original, the composition of which appears to be an intermediary between the present painting and, for instance, the Oxford bouquet (Private Collection, oil on panel, 36 x 24 cm.). Probably somewhat later, and somewhat brighter in tone, but still quite similar in atmosphere, is a pair of oval flower still lifes in Frankfurt (Frankfurt Historisches Museum, both monogrammed, oil on copper, 24 x 18 cm.).

As regards the iconography of this work, the interest shown here in botany and the growing variety of floral species was probably the most important incentive for the genesis of such subject matter. Intrinsically, such a display of variety could be considered to have been in praise of God's creation; while representing these lavish flowers which fade quickly, the artist was also at pains to convey the transitory nature of the world's vanity, with the butterfly juxtaposed with the caterpillar possibly symbolising the Resurrection. Whatever underlying meaning intended by the artist, however, his primary purpose was evidently to please and excite the eye of the viewer by the illusion of a deceptively 'real' bouquet of flowers.

We are grateful to Dr. Fred Meijer for his assistance in cataloguing this work.
Bonhams. Old Master Paintings, London, 5 Dec 2018