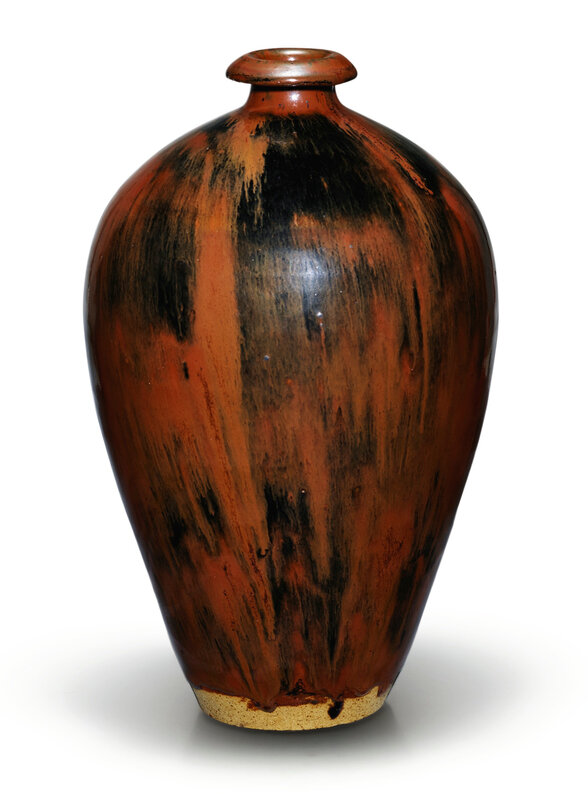 Lot 632. A Henan russet-splashed black-glazed vase, Northern Song dynasty (960-1127); 25.2 cm, 9 7/8 in. Estimate 150,000 — 200,000 HKD. Lot sold 237,500 HKD. © Sotheby's.
of ovoid form, the rounded shoulders narrowing to a short neck and everted rim, covered overall in a lustrous black glaze liberally splashed with russet streaks.
Provenance:

Sotheby's Hong Kong, 1st May 2001, lot 503
.
Property from the Xinyangtang Collection
.
Note: The russet-coloured spontaneous splashes applied over the lustrous black glaze must have evolved naturally from the experimental nature of competing Song dynasty kilns which produced black and brown-glazed wares for the thriving domestic and export tea ware market. On the present vase, the applied streaks of matte iron-red glaze contrast dramatically with the brilliant dark ground beneath. As no two 'splashes' can be the same, the random, serendipitous character of this decorative technique must have been a large part of its appeal to the Song literati.
The use of this glaze technique was also employed on vases of truncated form. See a truncated meiping decorated with russet splashes, illustrated in Bo Gyllensvärd, Oriental Ceramics. The World's Great Collections, Tokyo, 1982, vol. 8, pl. 159 and sold in our New York rooms, 23rd March 2011, lot 517.
Compared to the other famous wares of the Song dynasty, black-glazed ware represents a more adventurous and varied early ceramic production. The ceramic historian Nigel Wood in Chinese Glazes, London, 1999, p. 137, describes the iron-rich glazes of black wares as seeming 'to evoke the very earths of China' as their main raw materials were often sourced from the clays, river-muds and silts of both north and south China. From the Tang dynasty, black-glazed stonewares began to make significant contributions to Chinese ceramics, with the best Tang wares being produced at the kilns in the Yellow River area of northern China. Minimalist forms that were often inspired by nature, covered with monochrome glazes, soon led to painted and splashed designs which were achieved by exploiting lighter overglazes on the dark ground or firing temperatures. Black wares were revived in the Song dynasty, sometimes decorated with contrasting patterns, for example with raised ribs of white slip or clay, or with russet-brown sparsely painted motifs of birds or flower sprays. The potters skilfully manipulated their materials to capture a likeness of other materials, such as oil-spot, 'hare's-fur', and partridge-feather markings.
The present jar, with its well-rounded ovoid body covered in an even black glaze and liberal streaks of russet drizzling down the glaze, is a superb example of the spontaneity and abstract characteristic of black wares. Black-glazed wares were produced in different places in northern China, including Hebei, Henan, Shanxi and Shandong, though this present example was likely manufactured in Henan
.