PARIS - Sotheby's Paris sales are renowned for the quality and selection of objects offered. The december sale is led by a rare pair of coral-ground Famille Verte 'floral' bowls bearing Kangxi Yuzhi marks and of the period. Further highlights include a selection of early Ming and Qing ceramics and porcelains formerly in the collection of L.A. Basmadjieff (1911-2000) whose important collection of early Ming blue and white porcelains was sold by Sotheby's in 1972.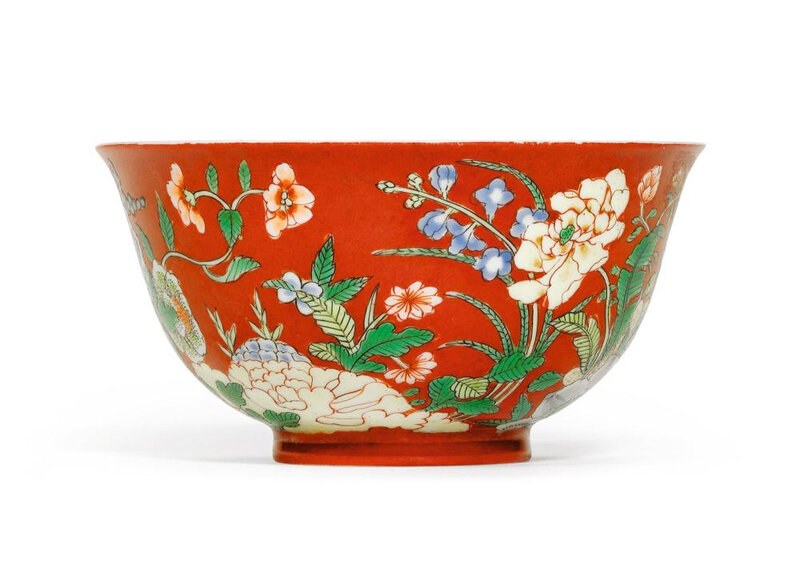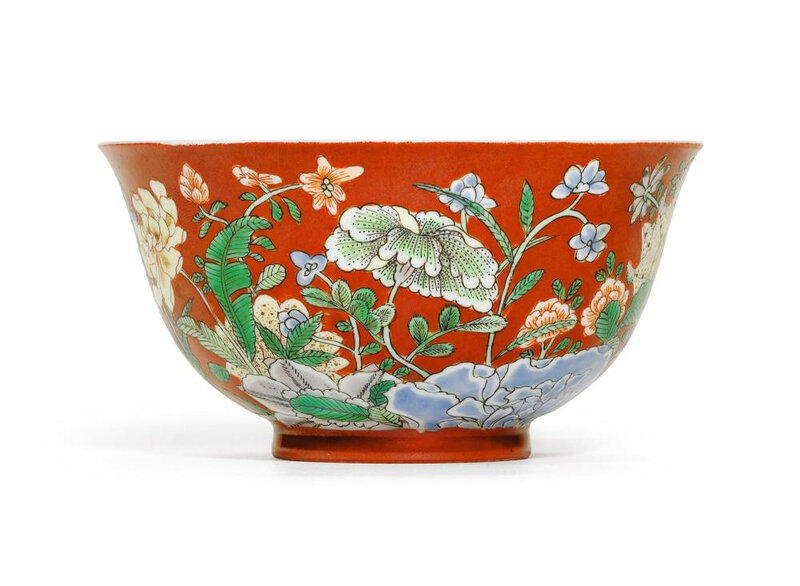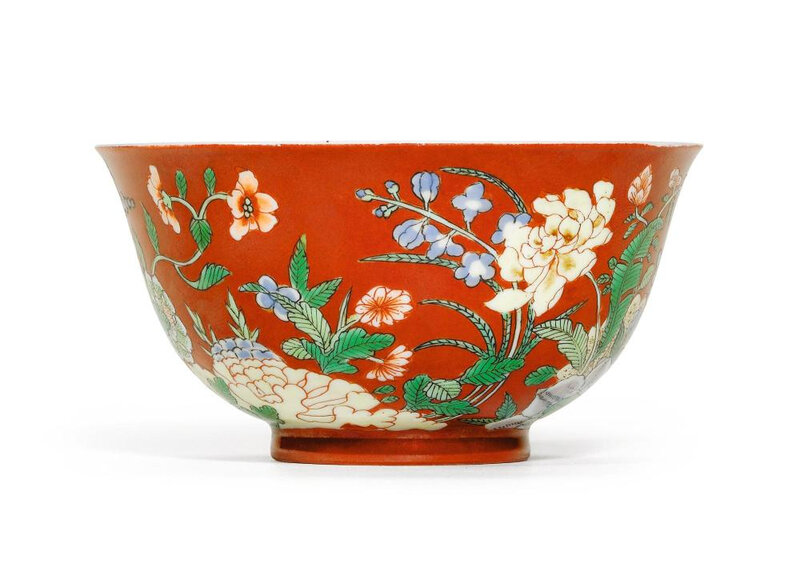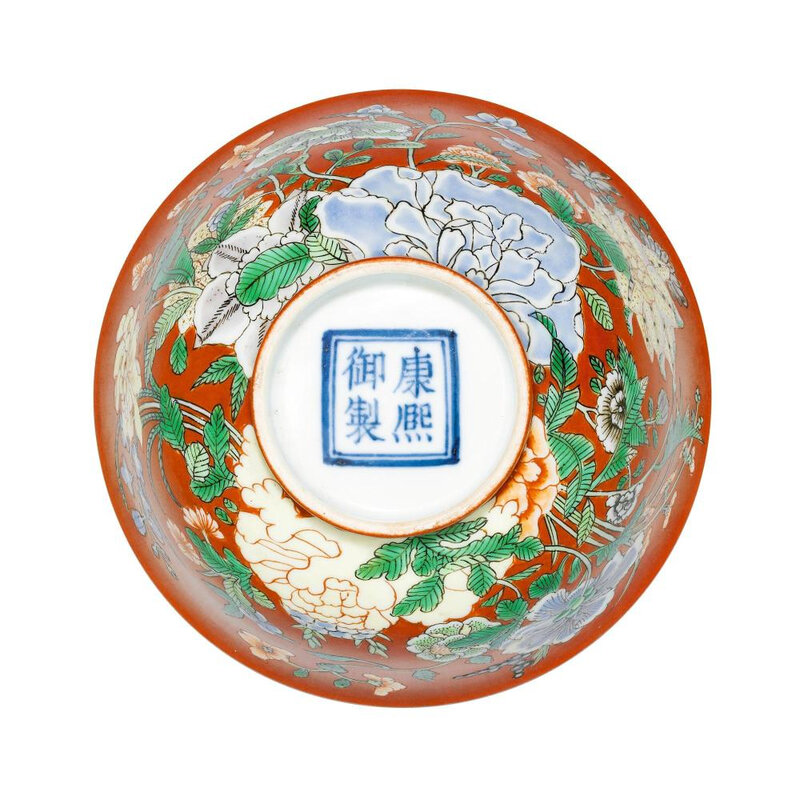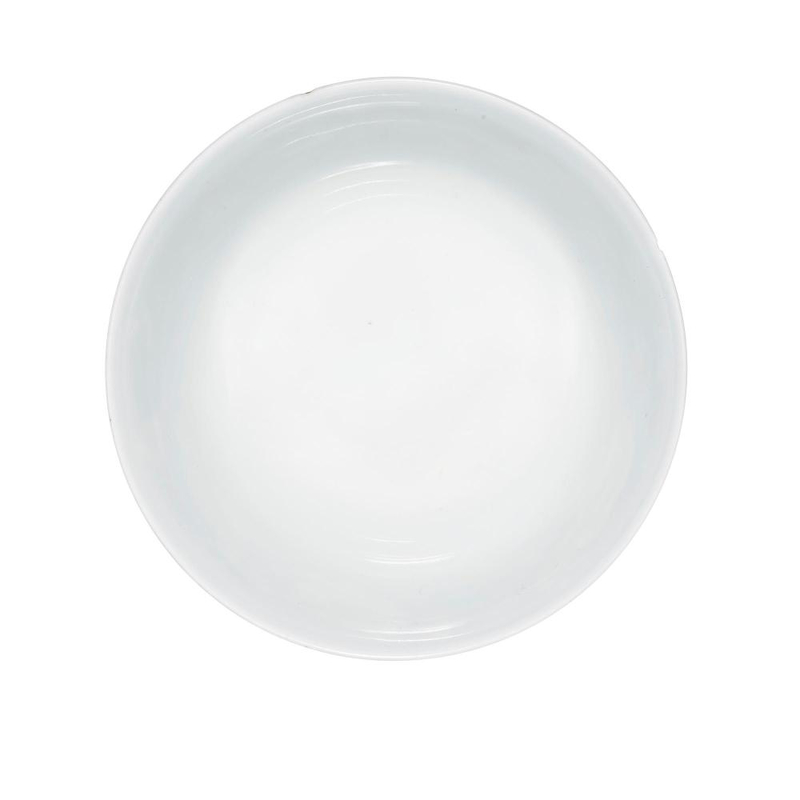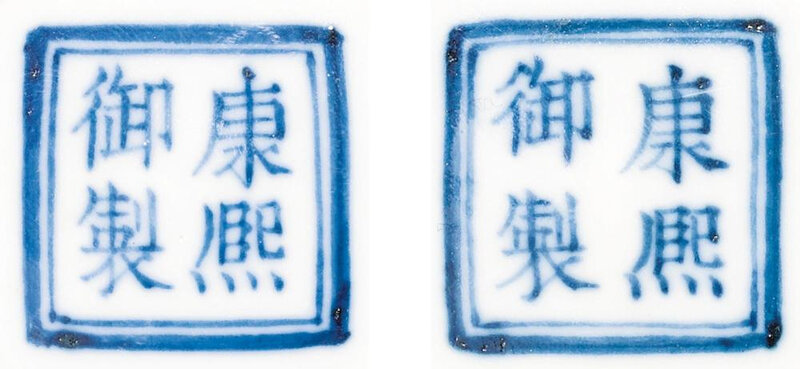 Lot 21. Rare et magnifique paire de bols impériaux en porcelaine à décor aux émaux de la Famille Verte sur fond corail, marques Kangxi Yuzhi et époque Kangxi (1662-1722). Diam. 11 cm, 4 3/8 in. Estimate 450,000 — 550,000 €. Unsold. © Sotheby's.
les bords très fins et profonds s'élargissant vers des bords légèrement évasés et reposant sur un court pied droit, le pourtour extérieur décoré d'émaux polychromes vibrants de fleurs automnales luxuriantes telles que pivoines, chrysanthèmes, coquelicots et pommetiers parmi une végétation luxuriante, l'ensemble traité avec virtuosité dans une palette aux tonalités bleu pâle, jaune pâle, verte tendre et foncé sur fond corail uni, l'intérieur laissé blanc, marque à quatre caractères dans un double carré Kangxi yuzhi en bleu sous couverte à la base (2).
A rare pair of coral-ground famille verte 'Floral' bowls, Kangxi yuzhi marks and period
Note: Those bowls belong to a small group of wares adorned with vibrantly coloured designs over a coral ground, and with yuzhi reign ('made for imperial use of …') marks. These are rare and suggest a closer relationship to the imperial court. Wares enamelled in the imperial workshops in the Forbidden City of Beijing rather than by the imperial kilns at Jingdezhen in Jiangxi province, bear such yuzhi marks, but in overglaze-blue or pink enamel, since the plain white porcelains came from Jingdezhen fully glazed and fired. The significance of the underglaze-blue yuzhi mark, which would have been added at Jingdezhen, has been much discussed, especially since identical bowls are also known with underglaze-blue nianzhi marks.
It has been suggested that such bowls were enamelled in the Palace in Beijing, with only the mark inscribed at Jingdezhen before firing. They seem, however, very different from the typical Kangxi porcelains made in the Beijing palace workshops, and are part of a small but well-known range of pieces with the same design painted in the characteristic Jingdezhen wucai ('five colour') palette of the Kangxi period, which in the West is known as the famille-verte. It is therefore most likely that they were decorated in Jingdezhen, even if their marks may indicate direct use at the palace. Hugh Moss in By Imperial Command. An Introduction to Ch'ing Imperial Painted Enamels, Hong Kong, 1976, p. 82, discusses wares of this type and notes that until the craftsmen of Jingdezhen became acquainted with the newly developed famille-rose palette of the Palace Workshops, they continued to work in the dominant style of the Kangxi period. This means that the production of the bowls we are presenting is more situated at the end of Kangxi Emperor's reign.
Bowls of this type are held in important private and museum collections worldwide; a pair in the National Palace Museum, Taipei, is illustrated in Porcelain with Painted Enamels of Qing Yongzheng Period, Taipei, 2013, pl. 21; one in the Shanghai Museum, Shanghai, is published in Wang Qingzheng, Kangxi Porcelain wares from the Shanghai Museum Collection, Hong Kong, 1998, pl. 95; another in the Asian Art Museum of San Francisco, is illustrated in He Li, Chinese Ceramics. A New Standard Guide, London, 1996, pl. 653; a pair, from the Edward T. Chow collection and now in the S.C. Ko Tianminlou collection, included in the exhibition Chinese Porcelain. The S.C. Ko Tianminlou Collection, Hong Kong Museum of Art, Hong Kong, 1987, cat. no. 89, was sold in these rooms, 25th November 1980, lot 143; and another pair from the Wah Kwong, T.Y. Chao and Meiyintang collections, published in Regina Krahl, Chinese Ceramics from the Meiyintang Collection, vol. 4, London, 1994-2010, pl. 1724, was sold several times at auction, most recently in these rooms 7th April 2011, lot 4.
Similar bowls with Yongzheng yuzhi, Yongzheng nianzhi, as well as six-character Yongzheng and Qianlong reign marks are illustrated in The Tsui Museum of Art. Chinese Ceramics IV. Qing Dynasty, Hong Kong, 1995, pls. 158-60 and 166, together with a rare Palace Workshop example with a Kangxi yuzhi mark in pink enamel, pl. 123.
A rare large lacquered wood figure of the seated Buddha dating to the late Ming or early Qing period from Switzerland and a rare Kamakura period lacquered wood figure of a standing Amida Nyorai with labels suggesting it was in the renowned Charles Gillot Collection head the buddhist section of the sale. Two rare thangka made for the Ngor monastery in Central Tibet, one a fine mid-15th century Kalachakra mandala from the Vajravali series, the second a large portrait of a Sakya hierarch, dated to around 1704, represent a small collection of thangka from another European collection.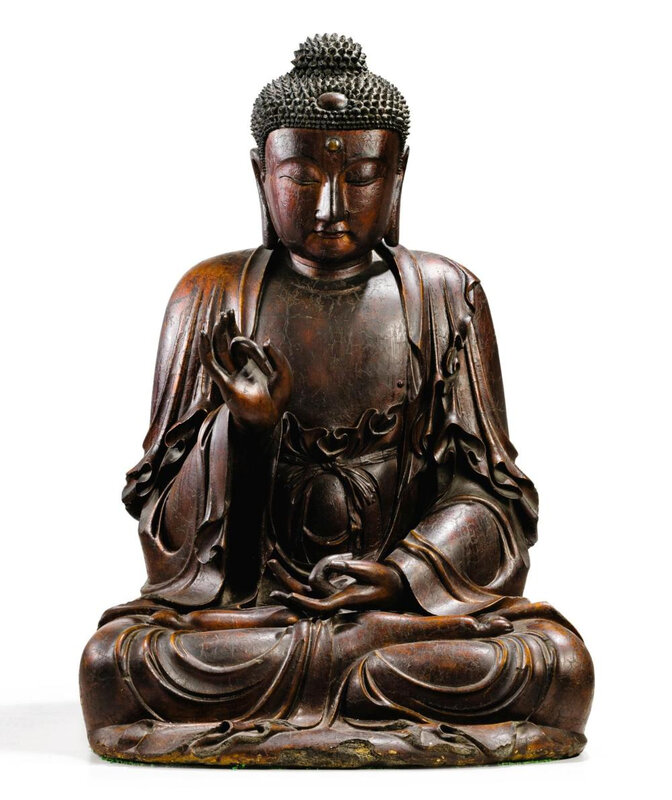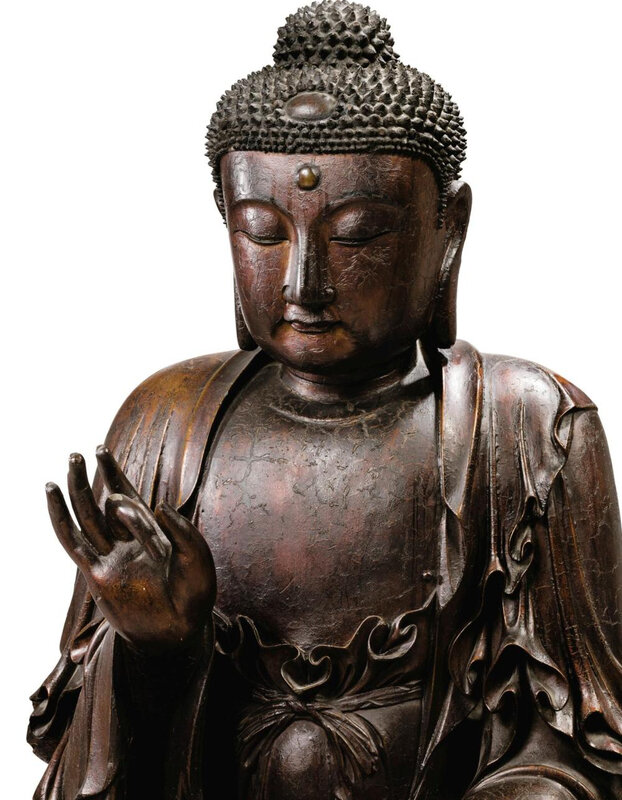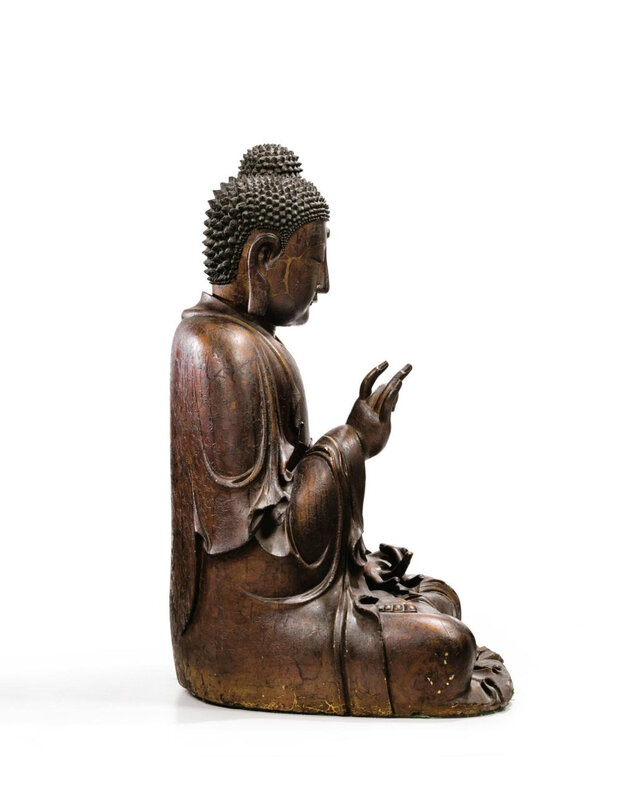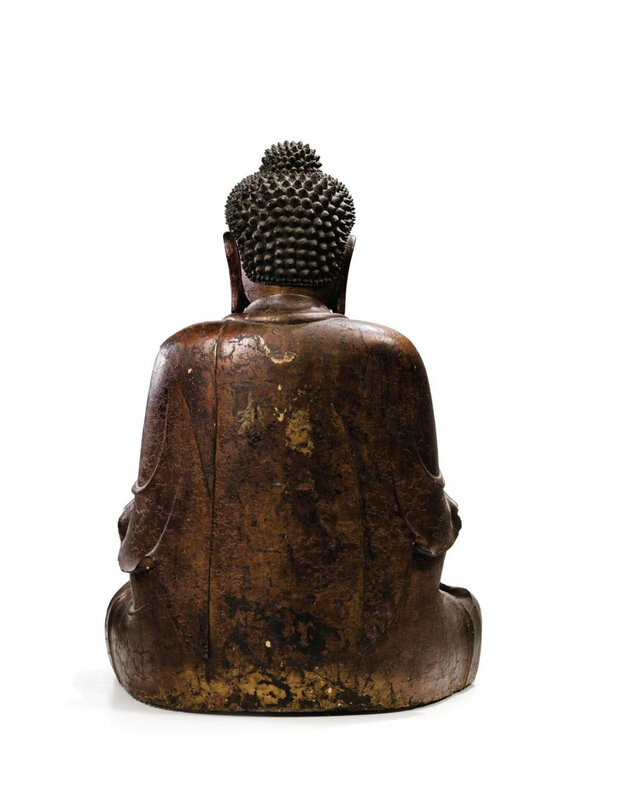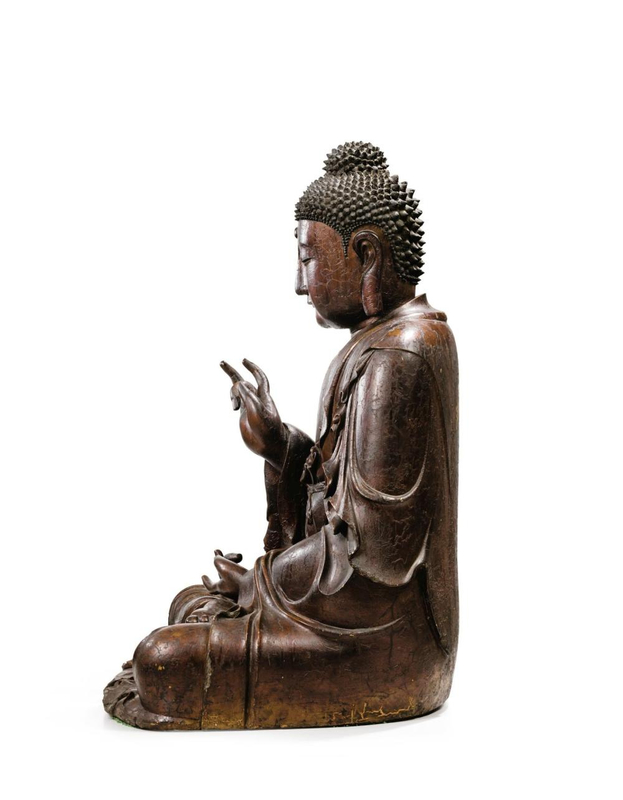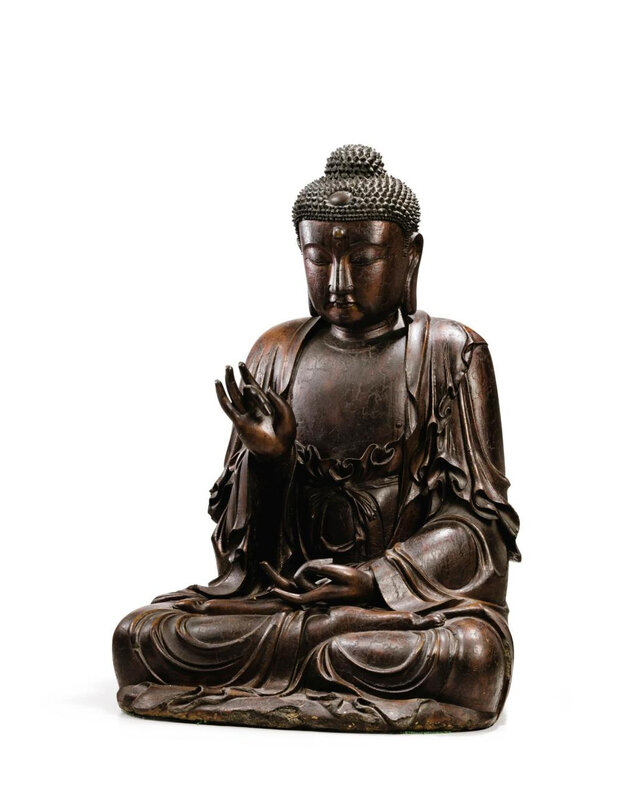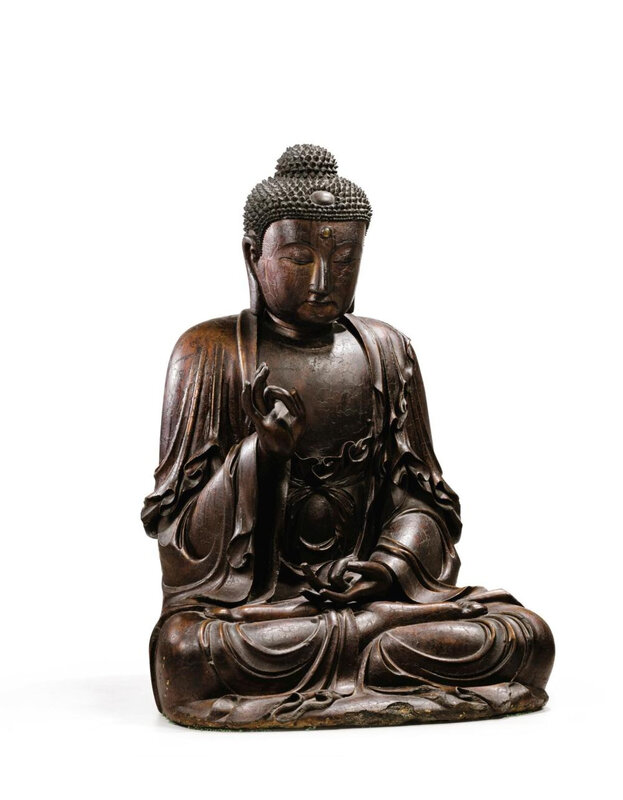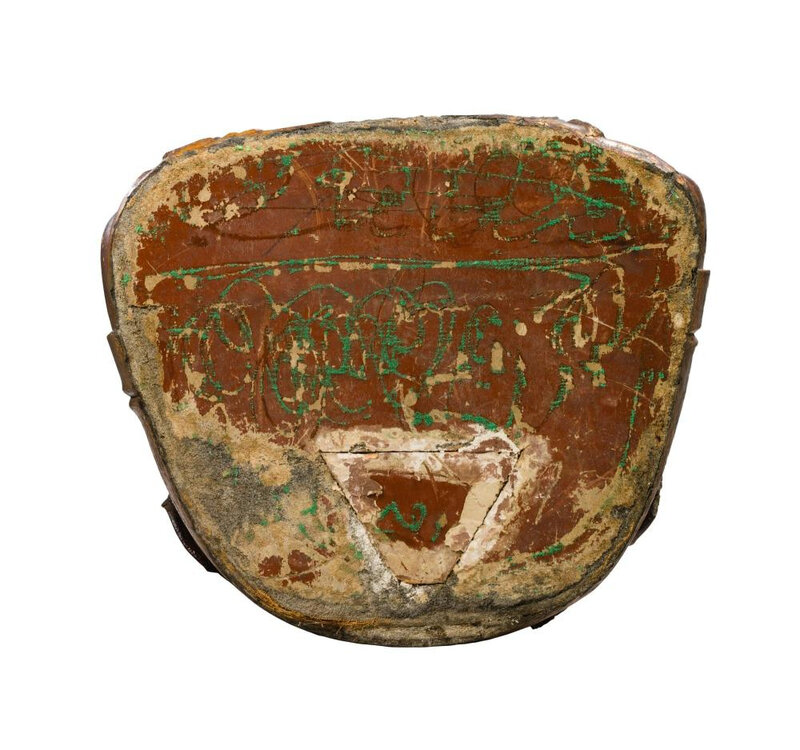 Lot 60. Importante et rare statue de Bouddha en bois laqué et doré Dynastie Qing, XVIIe-XVIIIe siècle. 105,5 cm, 41 1/2 in. Estimate 100,000 — 150,000 €. Lot sold 309,000 EUR. © Sotheby's.
assis en vajraparyankasana, la main droite levée en vitarka mudra, la main gauche reposant en dhyana mudra, habillé d'une longue robe nouée sous sa poitrine et couvrant ses épaules, retombant en de nombreux plis sur ses bras et ses chevilles, le visage à l'expression méditative, les yeux baissés, le sourire légèrement esquissé, les oreilles aux long lobes retombant, les cheveux coiffés en petite boucles et retenues en un haut chignon enserrant l'ushnisha.
A rare and large gilt-lacquered wood figure of Buddha, Qing dynasty, 17th-18th century
Note: It is rare to find a lacquered wood figure of Shakyamuni Buddha of this impressive size. The technique of coating carved wooden figures with gilt-lacquer appears to have emerged in the early Ming dynasty and continued into the late Ming or early Qing dynasty when this figure was made. Characterized by a deeply coloured gilding atop a thick red lacquer surface, figures of this large size made in lacquered wood are likely to have been made to imitate patinated gilt-bronze figures. A highly-valued material, but significantly less expensive than bronze, such gilt-lacquer sculptures would have been commissioned and donated to temples by the gentry. The present may be related to a corpus of large Buddhist gilt-lacquer sculpture commissioned during the reigns of the Kangxi and Qianlong Emperors at the Buddhist site of Rehol, near Chengde in Hebei province. Probably the best known examples of large gilt-lacquered wood sculptures include a massive gilt-lacquered sculpture of a Thousand-Armed Avalokiteshvara at the Puning temple at Rehol, and three massive figures of Buddha in the Zongyin Hall of the Pule Si, also at Rehol, illustrated in Du Jiang Buddhist Art from Rehol: Tibetan Buddhist Images and Ritual Objects from the Qing dynasty Summer Palace at Chengde, Taipei, 1999, p. 29. See a related gilt-lacquered figure of Buddha, sold at Christie's New York, 22nd September 1987, lot 351; and a figure sold in our London rooms, 17th November 1999, lot 711. Compare also a figure of the same style but much smaller size, sold in Sotheby's Hong Kong, 3rd October 2017, lot 3669.
Lot 58. Importante Statuette du Bouddha Amida Nyorai en bois sculpté et laqué d'or Japan, Epqoue Kamakura, premiere moitié du XIIIe siècle; 50 cm, 19 3/4 in. Estimate 80,000 — 120,000 €. Unsold. © Sotheby's.
debout sur une socle amovible figurant une fleur de lotus reposant sur une terrasse hexagonale à balustrade, la main droite de la divinité levée en vitarka mudra et la main gauche en dhyana mudra, vêtue d'une fine robe décorée en léger relief de rinceaux de lotus et karakusa, ainsi que de lignes geometriques, ouverte sur le torse et retombant en fins plis, le visage à l'expression sereine, les yeux mi-clos incrustés des cristal peintes, le front et les chevaux sertis des petites perles de cristal, yakugō et nikkei-shu, les yeux mi-clos, les oreilles aux longs lobes retombants, les cheveux coiffés en petites boucles et retenus par un chignon (2)
Provenance: Formerly in the collection of Charles Gillot (1853-1903), Paris (according to labels on the feet and base).
A rare gilt-lacquered wood standing figure of Buddha Amida Nyorai, Japan, Kamakura period, first half 13th century
Note: Charles Firmin Gillot (1853-1903), was a French inventor and important collector of art. The son of Firmin Gillot who revolutionised publishing by devising a way of printing text and image simultaneously, he improved the process known as 'Gillotage' a kind of photoengraving process incorporating the photographic discoveries of Daguerre and Niepce. His work won awards at all the Great Exhibitions and earned him an appointment as a Knight of the Order of the French Legion of Honour in 1886.
With his fortune, Charles Gillot began to assemble a vast and rather eclectic collection of art ranging from Egyptian antiquities, Islamic glass, to Medieval works of art and sculpture, Japanese and Chinese works of art, paintings, prints and sculpture. His passion for Japanese art he shared with contemporaries such as the brothers Goncourt, who likewise were seduced by what became known as Japonisme.
Among the over 3000 works of art from the Charles Gillot collection sold after his death in 1903 in a series of sales held from the 8th to 13th February 1904 in Paris, were numerous highly important pieces, such as early Buddhist paintings, lacquerware and sculpture. Gillot focused on woodblock prints, early Japanese wood sculpture, bronzes and lacquerware.
Two lacquered wood figures of a standing Amida Nyorai are listed in the catalogue of the 1904 Gillot sale under lots 18 and 19, compare Collection Ch. Gillot. Objets d'Art et Peintures d'Extreme-Orient, Paris, 1904, p. 18. While the size of the figures is given as about the same, the heights with stands differ. The description of the surface decoration on both Amida figures is similar, but both sculptures are described in the catalogue as being of dry lacquer not wood. The present figure was thus not included in the 1904 Gillot sale.
Please note that the dating of this lot is consistent with the results of a C14 test.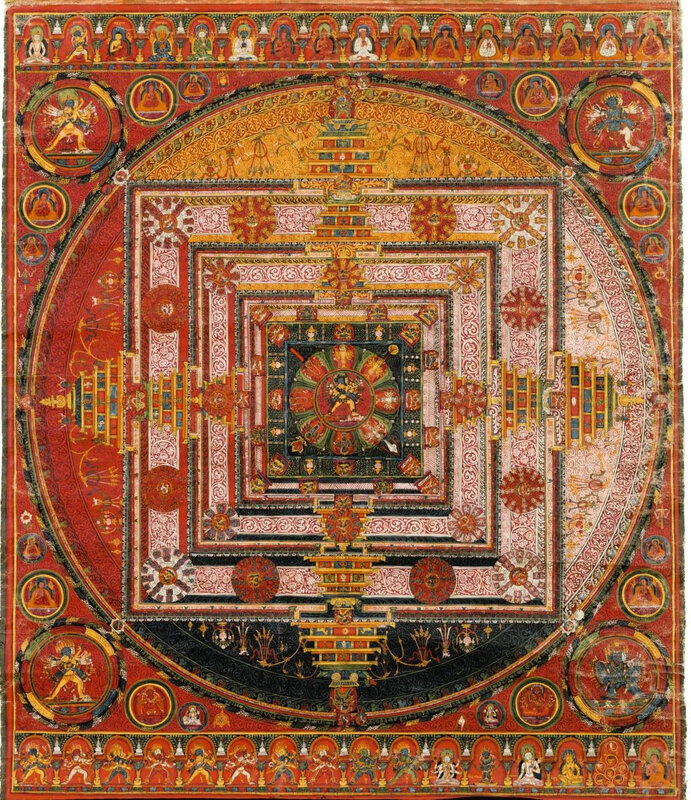 Lot 34. Importante Tangka représentant le mandala de Kalachakra, Tibet Central, Monastère de Ngor, milieu du XVe siecle. Détrempe sur toile, 72 x 60,5 cm, 28 3/8 by 24 1/8 in. Estimate 50,000 — 70,000 €. Lot sold 393,000 EUR. © Sotheby's.
Kalachakra aux multiples couleurs, à quatre visages et vingt-quatre bras en union avec sa parèdre Vishvamati à quatre visages et à huit bras au centre du Palais du mandala, entourés de huit divinités à huit bras se tenant debout dans des pétales de lotus, l'ensemble entouré de deux chambres carrées concentriques dans lesquelles sont assises des divinités aux multiples bras, en sus, deux autres chambres enserrent les précédentes, la première ornée de huit mandalas à neuf divinités et la seconde de douze mandalas à vingt-neuf divinités, des portes de palais étagées aux quatre points cardinaux, tous sur fond de volutes rouge, jaune, blanc et bleu, l'ensemble encadré par un anneau aux flammes polychromes peuplé de trois formes de Kalachakra, Vajrabhairava, lamas et divinités entourant le palais du mandala, la lignée de transmission du Kalachakra dans le registre supérieur, dix divinités courroucées du cycle du Kalachakra dans le registre inférieur accompagnées d'Ushnishavijaya, de Mahakala, d'Amoghapasha et de Jambhala, à l'extrémité droite, un donneur assis près d'instruments rituels et d'offrandes disposés sur des pampres de vigne.
Provenance: Galerie Koller, Zurich, 26th and 27th November 1993, lot 1.
A Rare Thangka Depicting A Kalachakra Mandala, Central Tibet, Ngor Monastery, Mid-15th Century. Distemper On Cloth
Note: The mandala of Kalachakra (the Wheel of Time) is one of a set of Vajravali paintings commissioned in the Nepalese style for the Sakya monastery of Ngor in Tsang province, central Tibet. The traditional Sakya patronage of Newar artists from Nepal is well documented, see Steven M. Kossak and Jane Casey Singer, Sacred Visions: Early Paintings from Central Tibet, New York, 1998, pp. 40-5. The painting's donor is depicted at the far right of the lower register where he is identified by inscription as Sonam Sangye, a disciple of Ngorchen Kunga Zangpo (1382-1456), the founder of Ngor monastery. For a biography of Sonam Sangye see Volker Caumanns, Shākya-mchog-ldan, Mahāpaṇḍita des Klosters gSer-mdog-can: Leben und Werk nach den tibetischen Quellen: Contributions to Tibetan studies 11 (Wiesbaden: Dr Ludwig Reichert Verlag, 2015), 153 n. 51, 259. While Sonam Sangye's exact dates are not known, his apprenticeship with Kunga Zangpo suggests his career at Ngor was well within the fifteenth century, thus confirming the date of the painting. Furthermore the style and format of the mandala is closely comparable to a fifteenth century Kalachakra in the Michael Henss Collection that was commissioned by Kunga Zangpo for Ngor sometime between ca. 1429, when he founded the monastery, and 1456, the year of his death, see Kossak & Casey Singer, op. cit., p. 168, pl. 47b. The Kalachakra tantra was devised in the eleventh or early twelfth century by Indian scholar Abhayakaragupta at the eastern Indian monastery of Vikramashila, and is one of the most complex in Vajrayana Buddhism — some seven hundred and twenty-two deities are described in the textual source — making for perhaps the most intricate and aesthetically appealing of all Tibetan mandala painting.
Lot 38. Grand Tangka représentant un abbé du monastère de Ngor, Tibet Central, Province de Tsang, ca. 1704. Détrempe sur toile, 206 x 158 cm, 81 1/8 by 62 1/4 in. Estimate 30,000 — 50,000 €. Lot sold 525,000 EUR. © Sotheby's.
La grande figure centrale assise en méditation, portant le chapeau rouge de style pandita de la lignée des Sakya, le haut en forme de dôme à deux longs rabats brodés d'or, vêtue d'une riche robe brodée rouge et or, les mains jointes tenant un vase couronné par la divinité Amitayus, de part et d'autre du visage de l'abbé, deux lamas et deux stupas, chorten, intégrés dans un halo orné de rinceaux feuillagés dorés sur fond rouge de forme trilobée auréolant la figure centrale, entourée sur tout le pourtour en une frise continue d'un riche registre de saints, de mahasiddhas, de divinités et de détenteurs de lignées, encadrés par une frise de nuages dorés sur fond rouge, la partie basse comportant une inscription dorée sur trois lignes.
A Very Large Thangka Depicting A Ngor Abbot, Tsang Province, Central Tibet, Ca. 1704, Distemper On Cloth
Note: The pandita-style red lappet hat of the Sakya lineage with its domed top and gold-on-gold edged lappets identifies the figure prominently depicted at the centre of this painting as a Sakya lineage hierarch. The long inscription at the bottom of the painting indicates that this particular painting was commissioned by an abbot of the Ngor Evam Choden Monastery in 1704. While the master may not be identified with certainty, the calendar date given in the inscription as well as the depiction of the vase of longevity and two long-life deities suggest it could be a portrait of the 25th abbot Sangye Phuntshok, who headed the monastery from 1686 to 1689, see Joerg Heimbel, Vajradhara in Human Form: The Life and Times of Ngor chen Kun dga' bzang_po, Lumbini, Lumbini International Research Institute, 2017, pp. 42 and 43. The name of the 28th abbot of Ngor, Jampa Tsultrim Pelzang, tenure from 1703 to 1709, mentioned in the inscription further indicates that he may have commissioned this painting in 1704, see Joerg Heimbel, ibid., pp. 526-527.
The unusually large size of this painting and its stylistic details including the rich application of pigments and gold can be found on three other paintings of Sakya lamas of the Ngor tradition in American museum collections which belong to the same set, the first in the Rubin Museum of Art, New York, (item no. 65362), the second in the Carlos Museum, Emory, Atlanta, Georgia (object no. 2000.005.005) and the third in the Newark Museum, Newark, New Jersey (Fig. 1). In her caption of the Newark painting portraying abbot Sonam Gyatso (d. 1667), Valrae Reynolds notes that this set of Ngor abbots of large size may have been installed permanently at Ngor, see Valrae Reynolds, The Newark Museum: Tibetan Collection, vol. III Sculpture and Painting, Newark, New Jersey, 1986, pp. 154-155 and pl. 12.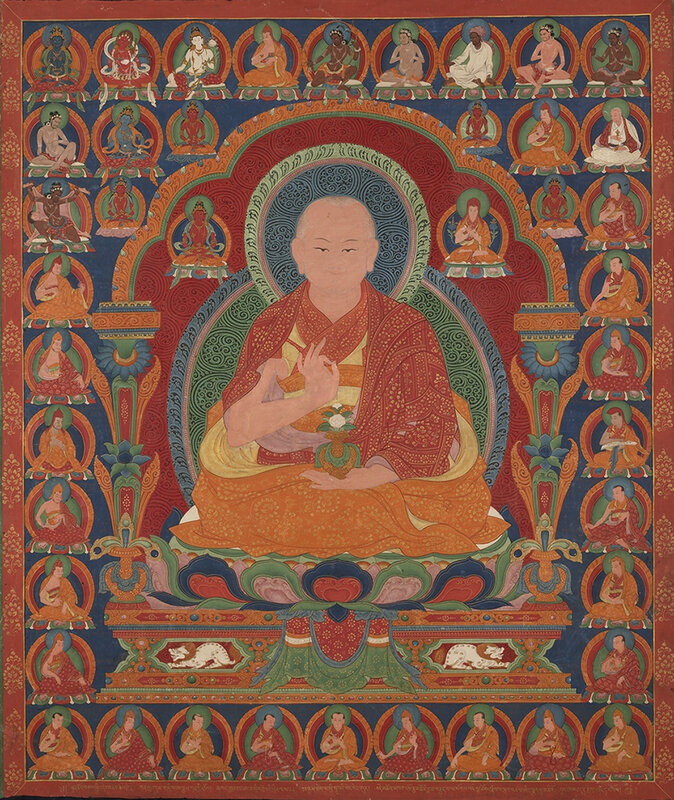 Sanggye Sengge (1504–1569), 1580-1600, Ngor Ewam Choden Monastery, Tsang Province, Tibet. Pigments on cloth, 30 1/2 x 26 1/4 in. Rubin Museum of Art, Gift of the Shelley & Donald Rubin Foundation, F1996.26.1, HAR493. © Rubin Museum of Art
Patriarch of Ngor Monastery, early 17th Century, Tibet. Watercolor on silk, 69 3/4 x 51 7/8 in. (177.2 x 131.8 cm),2000.005.005. © Carlos Museum, Emory, Atlanta, Georgia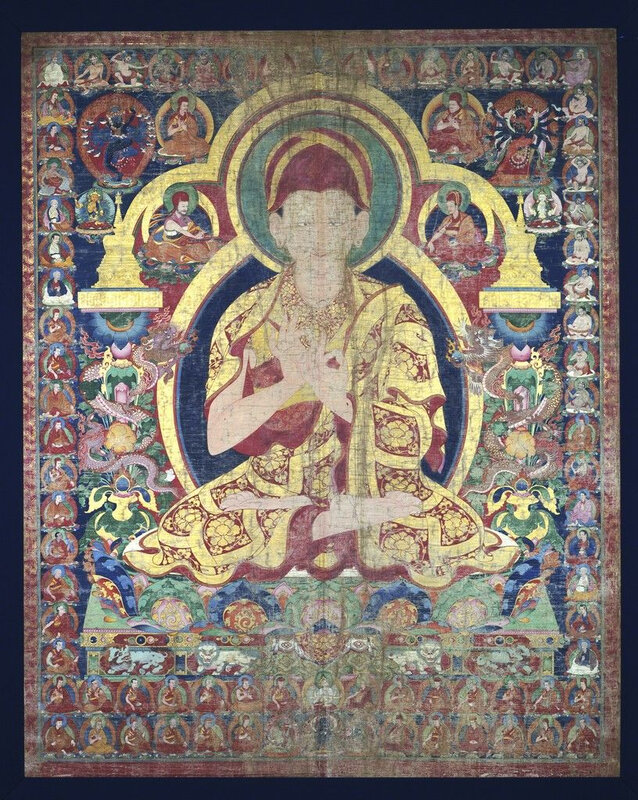 Fig. 1. Portrait of Sonam Gyatso (1617-1667), ca. 1667. Colours and Gold on cloth; H: 77 ¼ in., W: 62 ¾ in. Purchase 1979 Anonymous Fund, Collection of the Newark Museum 79.65 @The Newark Museum
We would like to thank Yannick Laurent, Wolfson College, Oxford, and Dr. Joerg Heimbel, University of Hamburg, for their kind assistance in translating the inscription and researching this painting.
A well-cast archaic bronze ritual food vessel, gui, formerly in the collection of the well-known German Asian art gallery Dr. Otto Burchard & Co., Berlin, was rediscovered in a German collection after having been acquired from another famous collector of Chinese archaic bronzes, Anthony Hardy, Hong Kong, in the early 1980s.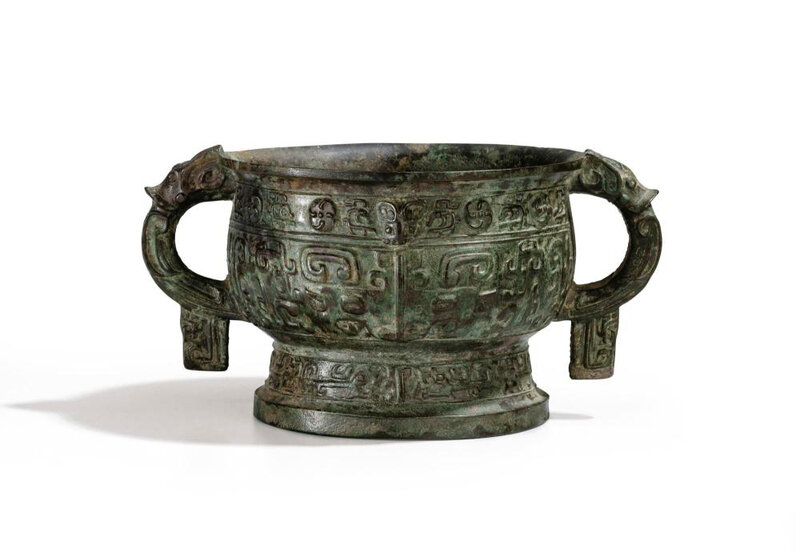 Lot 75. Important Récipient rituel en bronze, Gui, Début de la dynastie des Zhou de l'Ouest, XIe-Xe siècle avant J.-C.; 26 cm, 10 1/4 in. Estimate 80,000 — 120,000 €. Lot sold 162,500 EUR. © Sotheby's.
reposant sur un haut pied circulaire évasé décoré de paires de dragons kui, la panse profonde et arrondie se prolongeant par des bords évasés flanqués d'une paire de anses ajourées en forme de « C » émergeant de têtes de bovins et se terminant par des ornements géométriques retombants en talons ornés de queues frisées, la panse ornée de chaque côté de larges masques de taotie aux yeux protubérants sous des cornes saillantes en forme de « C », divisés par des arêtes centrales et encadrés de dragons renversés, sous une frise alternée de rosaces décorées de spirales et de dragons kui, la douce patine grisâtre ponctuée de tâches d'incrustations verdâtres
Ce lot est vendu à la suite d'un accord transactionnel intervenu entre le propriétaire actuel et les héritiers de Jakob and Rosa Oppenheimer
A well cast archaic bronze ritual food vessel, Gui, early Western Zhou dynasty, 11th/10th century BC, this lot is sold pursuant to a settlement agreement between the heirs of Jakob and Rosa Oppenheimer and the current owner.
Provenance: Dr. Otto Burchard & Co., Berlin, until 1935.
Acquired from Galerie Jacques Barrere, 11th July 1986 (according to a private correspondence).
The Sze Yuan Tang Collection, Hong Kong.
Acquired from Anthony Hardy, Hong Kong, 13th March 1988, by the father of the present owner (according to a private correspondence).
Literature: Die Bestaende der Firma Dr. Otto Burchard & Co., in Liquidation. Chinesische Kunst, I. Teil, Beschreibungen von L. Reidemeister. Versteigerung 140 am 22. und 23. Maerz 1935, Berlin, Paul Graupe, 1935, cat. no. 276.
Note: This well-cast archaic bronze vessel first appeared on the Berlin art market in 1935 in a sale liquidating the contents of the gallery bearing the name of its original founder Dr. Otto Burchard (1892-1965) and known as Dr. Otto Burchard & Co. Founded in 1927 by Burchard as part of the Markgraf Concern, an art trading company, the gallery was acquired by Jakob and Rosa Oppenheimer in 1929 before the contents were sold in a series of sales in 1934 and 1935. By that time, Otto Burchard had relocated and settled in Beijing where he had established himself as a dealer in Chinese art. Although his name is best known as the host of the First International Dada Fair in Berlin in 1920, his reputation as a purveyor of Chinese art to important international art dealers and museums is well known. Operating in China in the late 1920s and 1930s, Burchard supplied Theodor Bohlken, owner of the art gallery China Bohlken in Berlin, and Edgar Worch, based in Berlin and Paris, with pieces sourced directly on the art market in China. With a degree in sinology and a thesis on Chinese painting, Burchard had an eye for quality and a passion for early Chinese art, acquiring and selling archaic bronzes, sculpture, early ceramics and paintings.
The present archaic ritual food vessel appears in the 1935 sale catalogue opposite another archaic bronze vesesl gui (F1938.20) now in the collection of the Freer Gallery of Art in Washington, D.C . (Fig. 2). Both vessels ended up in different collections after the sale, with the Freer gui being sold to the Freer Gallery of Art by C.T. Loo & Company while the present gui found its way long after into the collection of Anthony Hardy in Hong Kong before being acquired by the father of the present owner in the mid to late 1980s.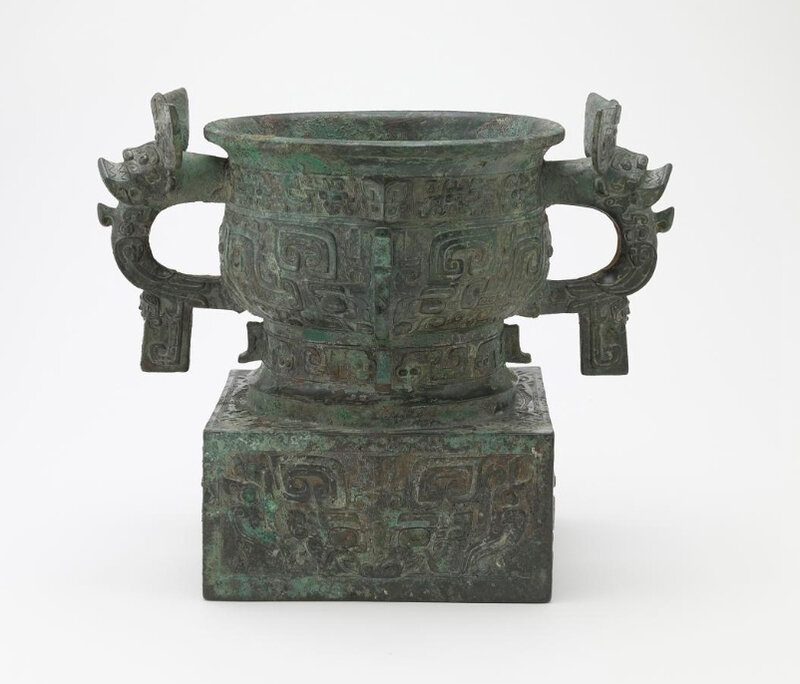 Ritual grain server (gui) with square base and masks, dragons, and birds, Early Western Zhou dynasty, ca. late 11th-early 10th century BCE. Bronze, H x W x D: 28.1 x 34 x 24.4 cm (11 1/16 x 13 3/8 x 9 5/8 in). Purchase — Charles Lang Freer Endowment, F1938.20. © 2018 Smithsonian Institution.