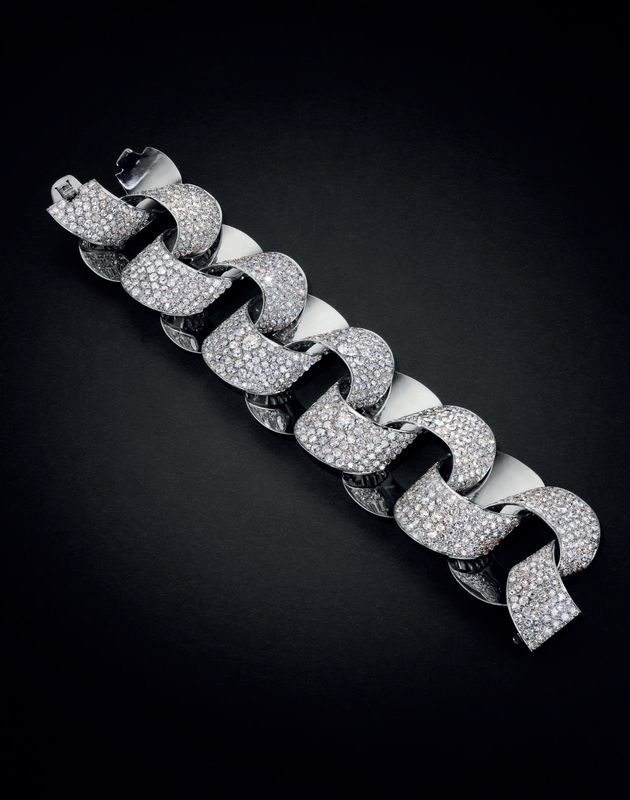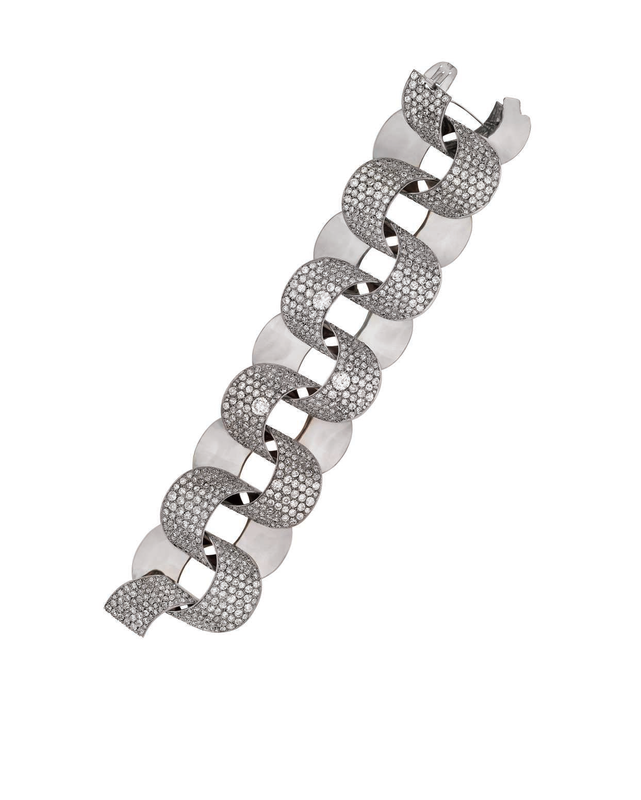 Lot 372. Exceptional Diamond 'Tube' Bracelet, Suzanne Belperron. Estimate: US$200,000.00 - US$300,000.00. Price realised USD 852,500. © Christie's Images Ltd 2018
Old and single-cut diamonds, platinum and 18k gray gold (French marks), circa 1948, unsigned.
Belperron, 2018: Certificate of Authenticity.
Literature: P. Corbett, W. Landrigan, N. Landrigan, Jewelry by Suzanne Belperron, Thames & Hudson, 2015, p. 19
S. Raulet, O. Baroin, Suzanne Belperron, Antique Collectors Club Ltd., 2011, p. 259.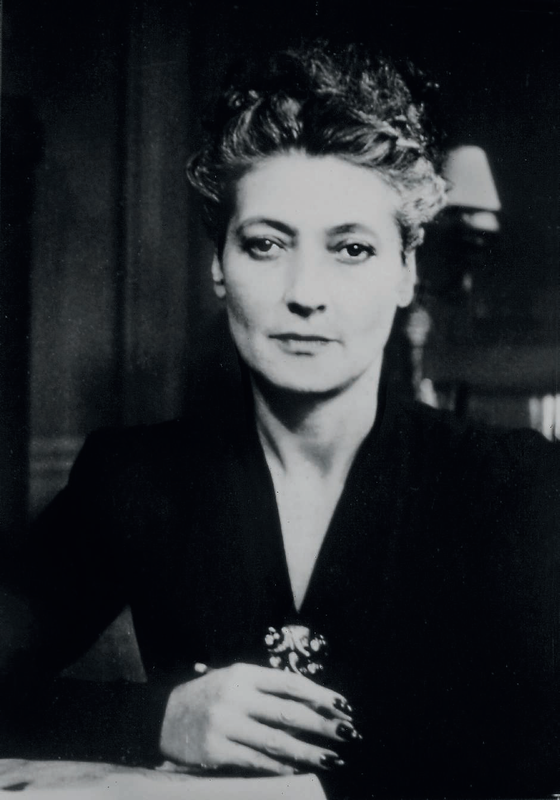 Suzanne Belperron, photographed in her office at 59 rue de Châteaudun. Photo courtesy of Belperron, LLC.
Elegant and audacious, Suzanne Belperron pioneered a new aesthetic in jewelry. While perhaps the most important woman jeweler of the Twentieth Century, she is relatively unknown today except to collectors. Asked once why she never signed her work, Madame Belperron replied, "My style is my signature."
Born in Eastern France in 1900, Belperron studied drawing and jewelry at the École des Beaux-Arts in Besançon, beginning her career in 1919 as a model-maker and designer at the celebrated Maison René Boivin in Paris, eventually becoming co-directress with Jeanne Boivin. Though designing at the avant-garde of Art Deco, she quickly tired of the new vogue and began experimenting with a more sensual style that is still so arrestingly modern today. Recognizing this burgeoning talent, Bernard Herz, a Parisian stone dealer, hired away the young Suzanne in 1932 to design exclusively under his company name, B. Herz. With her newfound artistic freedom, she left behind the rigid lines of Art Deco to invoke the delicacy of wings, petals, and fruit, carving these organic shapes from hardstone and adorning them with precious gems. She drew on motifs from a range of cultures – African, Cambodian, Celtic, Egyptian, Indian, Mayan – and created a daring new look in fine jewelry. Paris Vogue photographed Schiaparelli wearing Belperron's creations in 1933, declaring them, "the new theme in jewels."

The 1930s were a period of creative and commercial success for Madame Belperron, gaining her a famously influential following – Colette, Diana Vreeland, Daisy Fellowes, and Mona Bismarck – but World War II brought hardship and tragedy. In German-occupied Paris, Belperron re-registered the company under her own name to protect it from confiscation. While Bernard Herz had formally retired at the onset of war, he remained a target of the Nazi regime and was arrested twice, the second time along with Madame Belperron in November 1942. While Belperron was released, Herz was sent to the internment camp, Drancy, in the northeast suburb of Paris. Belperron "moved heaven and earth" to release him but as Herz was over 65 years of age, he was sent to Auschwitz, where he was executed upon arrival. Madame Belperron received at least thirteen offers to escape France during the war years, but chose instead to remain in occupied Paris, preserving the company for Herz's son, Jean, who returned safely from the front after being released as a prisoner of war. Together, they formed a new partnership, Herz-Belperron, which flourished until their retirement in 1974.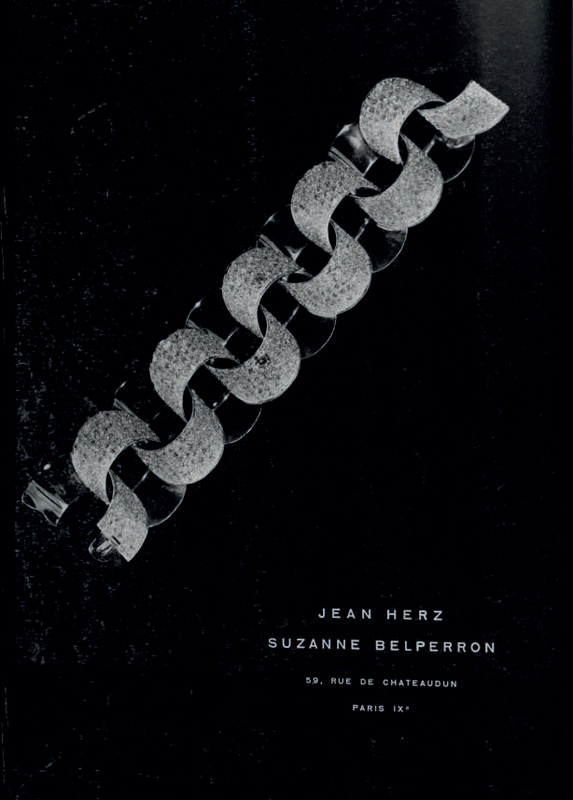 Advertisement for Jean Herz–Suzanne Belperron, originally featured in Vogue Paris, February 1948. Published less than three years after the end of World War II, this advertisement illustrates the company's strong return and proud announcement of a new partnership, which would enjoy nearly thirty years of success. Advertisement courtesy of Belperron, LLC.
In 1963, Madame Belperron was awarded a Legion of Honor for her contributions to the jewelry industry, but her influence as a designer continued to grow, even after her death in 1983. Having long admired her work, Ward Landrigan, owner of Verdura, acquired the Belperron name and archive of designs in 1999. Ward and his son, Nico Landrigan, President of Verdura and Belperron, continue today to share Madame Belperron's vision with collectors.
Christie's. Magnificent Jewels, New York, 5 December 2018