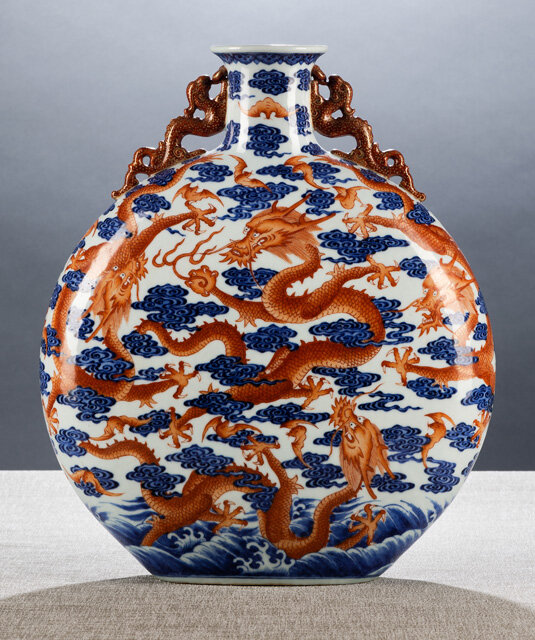 Lot 70. A fine and very rare iron-red and underglaze blue-decorated two-handled 'moon' flask, Bianhu, Qianlong sealmark in underglaze blue, and of the period (1736-1795). H. 35,4 cm. Estimate 300,000-500,000 €. Lot sold 550,000 €. © Nagel Auktionen
the moonflask is supported on an obliquely-cut broad foot-rim, enclosing a countersunk oval base with a cylindrical neck everted at the rounded lip, flanked by iron-red and gilt confronted archaistic dragons, each with a lingzhi fungus gripped between its jaws, boldly painted in a firm, skilful style in shaded tones of iron-red with nine five-clawed dragons: one on the front, depicted in full face, flanked by a pair of descending beasts, observed from below by a further ascending pair, and on the reverse with a central animal, clutching a flaming pearl, flanked by an ascending and a descending dragon, above a single beast emerging from below, surrounded by nineteen bats, in three groups of five separated by two pairs, amidst a predetermined scheme of swirling clouds or above spume-flecked breaking waves executed in two shades of cobalt wash, resplendent against an even white glaze. Short section at the mouth rim restored and two tiny frits to one handle restored, very minor wear to enamel.
Note: The only other known moonflask of this type was sold at Phillips, London, 6 Dec. 1995 lot 290.
A variety of 'moon' flasks were produced during the Qianlong period but in this form with a pair of 'realistic' dragon handles they are very rare. The combination of this subject in these colours is also found however on dishes, where the central dragon on a sea of waves is surrounded inside by four dragons among clouds and four outside; these occur both in the Qianlong period and also in the preceding Yongzheng period, when the design appears to have been developed. See the example in the Gugong, Beijing, illustrated in "The Art of the Dragon", London (Studio Vista), 1988, pl. 141. In these the flask has a spreading foot and the handles are in the form of stylised loops.
For the compagnion piece of this lot matching the pair see "Encompassing Precious Beauty - The Songzhutang Collection of Imperial Chinese Ceramics", Hong Kong, CA Design, 2016, p. 157.