Lot 126. A copper-red-glazed pear-shaped vase, Yuhuchunping, Qianlong seal mark in underglaze blue and of the period (1736-1795). H. : 30 cm (11 3/4 in.). Estimate: €15,000.00 - €20,000.00. Invendu. © Artcurial
La panse piriforme reposant sur un petit pied, le col évasé, recouvert d'une belle glaçure rouge sombre, l'intérieur à glaçure blanche, la base réservée portant la marque en cachet de l'Empereur Qianlong en bleu sous couverte ; le col réduit.
Note: Pour un vase similaire, voir le Lot 1144 de la vente de Christie's New York du 24 mars 2011.
For a similar vase, see Lot 1144 sold at Christie's New York, March 24, 2011.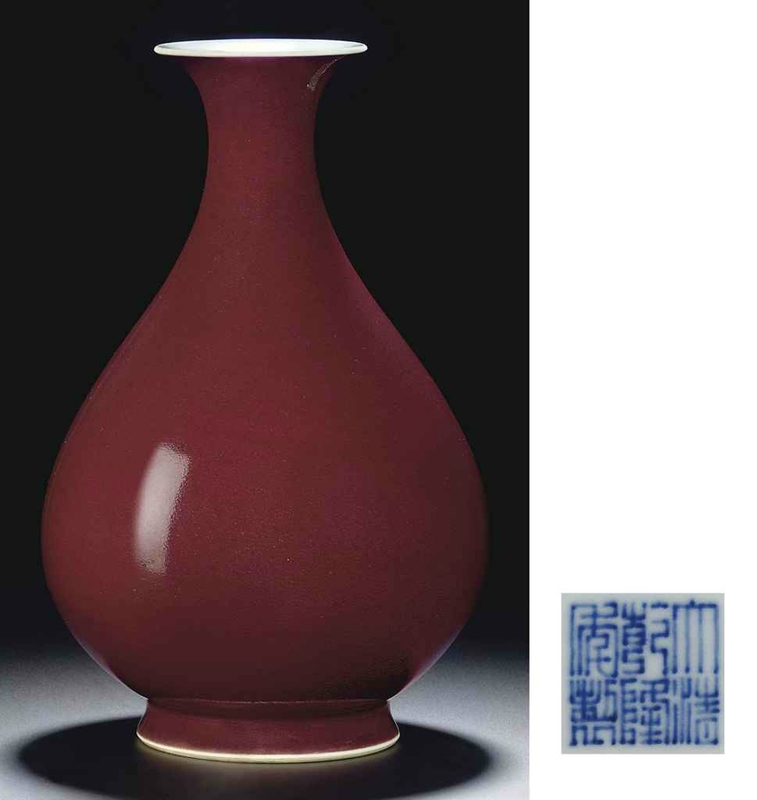 A copper-red-glazed pear-shaped vase, yuhuchunping, Qianlong seal mark in underglaze blue and of the period (1736-1795), 11¾ in. (30 cm.) high. Sold for 218,500 USD at Christie's New York, 24March 2011, lot 1144. © Christie's Images Ltd 2011
Cf. my post: A copper-red-glazed pear-shaped vase, yuhuchunping, Qianlong seal mark in underglaze blue and of the period (1736-1795)
Artcurial. Vente Art d'Asie - 10 décembre 2018