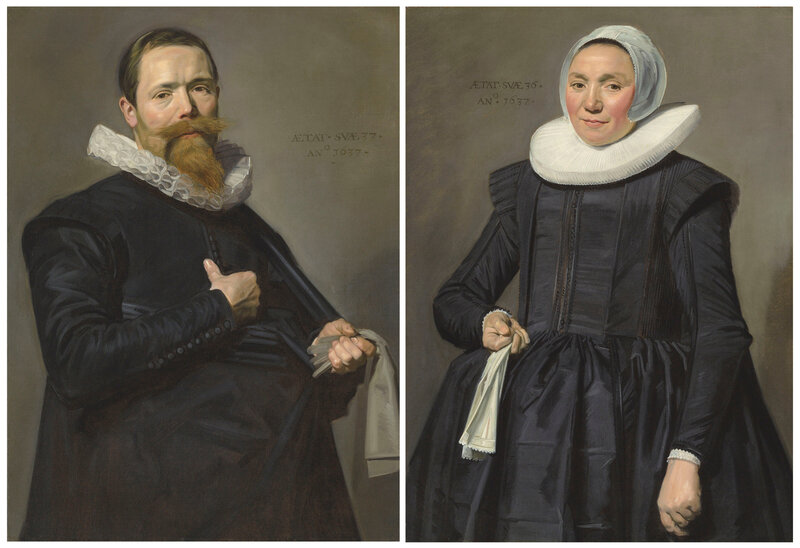 Lot 10. Frans Hals (Antwerp 1581/5-1666 Haarlem), Portrait of a gentleman, aged 37; and Portrait of a lady, aged 36; oil on canvas, 36 5/8 x 27 in. (93 x 68.5 cm.); the first inscribed and dated 'ÆTAT· SVÆ 37~ / ANo 1637~ / ~' (upper right); the second inscribed and dated 'ÆTAT· SVÆ 36· / ANo·1637·' (upper left), a pair. Estimate GBP 8,000,000 - GBP 12,000,000. Price realised GBP 10,021,250 (EUR 11,233,821) (USD 12,747,030) to an Anonymous. WORLD RECORD PRICE FOR THE ARTIST AT AUCTION. © Christie's Images Ltd 2018
LONDON.- On the evening of 6 December, Old Masters at Christie's realised a combined total of £42,241,000/ $53,730,552/ €47,352,161, selling 65% by lot and 84% by value, with registered bidders from 29 countries across 4 continents. The Important Old Master Paintings from The Eric Albada Jelgersma Collection: Evening Sale achieved £21,389,250/ $27,207,126/ €23,977,349, selling 64% by lot and 78% by value; the Old Masters Evening Sale realised £20,851,750/ $26,523,426/ €23,374,812, selling 67% by lot and 91% by value. The evening was led by the star lot from The Eric Albada Jelgersma Collection, the finest pair of portraits by Frans Hals to remain together in private hands: Portrait of a gentleman, aged 37 and Portrait of a lady, aged 36, which sold for £10,021,250 / $12,747,030 / €11,233,821, setting a new world record price for the artist at auction (estimate: £8-12 million). Five new artists' records were set across the evening, for works by Frans Hals, Judith Leyster, Sir Thomas Lawrence, Jan Baptist Weenix, Werner van den Valckert, along with the second highest price for a work by Pieter Brueghel the Younger. The evening brings the running total to date for Christie's Classic Week sales to £62,289,500.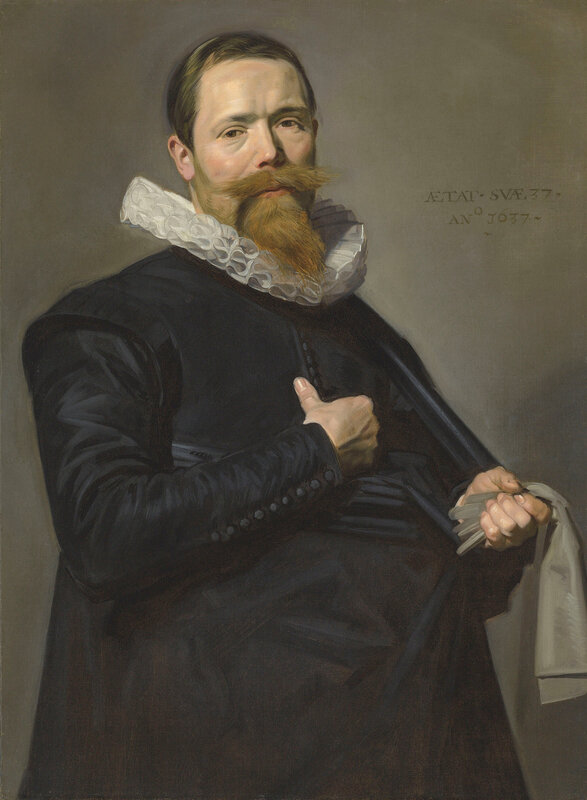 Lot 10. Frans Hals (Antwerp 1581/5-1666 Haarlem), Portrait of a gentleman, aged 37; and Portrait of a lady, aged 36; oil on canvas, 36 5/8 x 27 in. (93 x 68.5 cm.); the first inscribed and dated 'ÆTAT· SVÆ 37~ / ANo 1637~ / ~' (upper right); the second inscribed and dated 'ÆTAT· SVÆ 36· / ANo·1637·' (upper left), a pair. Estimate GBP 8,000,000 - GBP 12,000,000. Price realised GBP 10,021,250 (EUR 11,233,821) (USD 12,747,030) to an Anonymous. WORLD RECORD PRICE FOR THE ARTIST AT AUCTION. © Christie's Images Ltd 2018
Provenance: Comte de Thiènnes, Kasteel Rumbeke, Belgium, by whom acquired in the 19th century, and by descent to his granddaughter,
Comtesse de Limburg-Stirum, Warmond, The Netherlands.
M.E. van Gelder, Château Zeecrabbe, Uccle, Belgium, by 1911.
Sir William van Horne (1843-1915), Montreal, by 1912, and by descent to his daughter,
Miss Adaline van Horne, by 1936, by whom gifted to her niece by marriage,
Mrs William van Horne, 14 June 1944 (according to a manuscript annotation in the copy of the 1944 exhibition catalogue kept at the Art Association of Montreal).
with Wildenstein and Co., New York, from whom acquired in March 1973 by the following,
Ambassador J. William Middendorf II (b. 1924).
Anonymous sale [Property of an American Collector]; Sotheby's, London, 8 December 1986, lots 52 and 53.
with Noortman (Maastricht), 15 July 1998, from whom acquired.
Anonymous sale [Property of a European Private Collector]; Sotheby's, New York, 29 January 2009, lots 45 and 46 (withdrawn).
Literature: C. Hofstede de Groot, 'Twee nieuw aan het licht gekomen portretten van "Frans Hals"', Onze Kunst, XX, 1911, pp. 172-3 (reprinted in French as 'Deux portraits nouvellement attribués à Frans Hals', in L'Art flamand & hollandaise: Revue mensuelle illustrée, XVII, 1912, pp. 1-2, illustrated).
'À propose de deux portraits attribués à Frans Hals,' L'Art flamand & hollandais: Revue mensuelle illustrée, XX, 1913, p. 120.
W. von Bode, ed., Frans Hals: sein Leben und seine Werke, Berlin, 1914, II, no. 162, illustrated.
W.R. Valentiner, Frans Hals: Des Meisters Gemälde (Klassiker der Kunst), Stuttgart and Berlin, 1st ed., 1921, p. 316, nos. 155 and 156, illustrated; 2nd ed., 1923, nos. 166 and 167.
W. Drost, Barockmalerei in den germanischen Ländern, Potsdam, 1926, pp. 139-40.
F. Dülberg, Frans Hals: Ein Leben und ein Werk, Stuttgart, 1930, p. 158.
W.R. Valentiner, Frans Hals Paintings in America, Westport, 1936, nos. 60 and 61.
G.D. Gratama, Frans Hals, The Hague, 1943, p. 56, nos. 68 and 69, illustrated.
R.H. Hubbard, European Paintings in Canadian Collections: Earlier Schools, Toronto, 1956, pp. 81 and 151, illustrated.
S. Slive, Frans Hals, London and New York, 1974, II, pls. 178 and 179; III, p. 60, nos. 109 and 110, illustrated.
C. Grimm, Frans Hals: Entwicklung, Werkanalyse, Gesamtkatalog, Berlin, 1972, pp. 97 and 203, nos. 86 and 87.
C. Grimm, L'opera completa di Frans Hals, Milan, 1974, pp. 99-100, nos. 118 and 119, illustrated.
S. Slive, 'Side by Side at the Fogg', The Harvard Gazette, 29 February 1980, p. 3, illustrated.
C. Grimm, Frans Hals: Das Gesamtwerk, Stuttgart and Zurich, 1989, pp. 139-40, 143 and 278, nos. 87 and 88, pls. 39a and 39b.
C. Grimm, Frans Hals: The Complete Work, New York, 1990, p. 282, nos. 87 and 88, illustrated.
Exhibited: Montreal, Art Association of Montreal, Inaugural Loan Exhibition of Paintings, December 1912, nos. 66 and 67.
Montreal, Art Association of Montreal, A Selection from the Collection of Paintings of the Late Sir William van Home, K.C.M.G., 16 October-5 November 1933, nos. 30 and 31.
Montreal, Art Association of Montreal, Loan Exhibition of Great Paintings: Five Centuries of Dutch Art, 9 March-9 April 1944, nos. 34 and 35.
Amsterdam, The Rijksmuseum, on loan, 1973-1979.
Cambridge, Mass., Harvard University, The Fogg Art Museum, on loan, 1979-1986.
Boston, Museum of Fine Arts, on loan, 1991-1996.
Boston, Museum of Fine Arts, European Paintings from Private Collections of Friends of the Museum of Fine Arts, 17 June-16 August 1992, nos. 72 and 73.
Note: 'Nor can I let this pass in mute silence, Frans … excels almost everyone with the superb and uncommon manner of painting which is uniquely his. His paintings are imbued with such force and vitality that he seems to surpass nature herself with his brush. This is seen in all his portraits, so numerous as to pass belief, which are coloured in such a way that they seem to breathe and live.'
(Theodorus Schrevelius, Harlemias ofte, om beter te seggen, de eerste stichtinghe der stadt Haerlem, Haarlem, 1648, p. 383)
By the time Schrevelius published his effusive praise for Frans Hals and his work, an encomium written a little over a decade after Hals executed this pair of portraits, the artist had long established himself as the undisputed master of portraiture in Haarlem. Each portrait is clearly dated '1637', when Hals was at the height of his powers and his work was in huge demand. Described by the renowned scholar of Hals, Seymour Slive, as: 'outstanding, superlative works by Hals, in a nearly miraculous state of preservation' (op. cit., 1980, p. 3), they are the finest pair of portraits by the artist that remain together in private hands. Their exceptional condition allows a full appreciation of Hals's revolutionary technique and the remarkably subtle range of his limited palette.

Born to the clothworker Franchoys Hals in Antwerp, by 1591 Hals's family had fled the destruction then being wrought on the Southern Netherlands by Spanish forces and, like many Protestants in their position, settled in Haarlem, which was rapidly becoming one of the leading centres for textile production in all of Europe. In Haarlem, he was a pupil of Karel van Mander, with whom he must have studied until 1603 at the latest. He became a master in Haarlem's painters guild in 1610, and his earliest paintings appear to have been the type of merry company scenes popularised by his townsman, Willem Buytewech, and frequently painted by Hals's younger brother, Dirck, in succeeding decades (for a particularly fine example of such a painting, see lot 6 in this sale). By the second decade of the seventeenth century, Hals was chiefly engaged in the production of single, double and group portraits, which would more or less sustain his career for the next half century.

At no point in his career was Hals more fashionable as a portraitist than in the 1630s. The bright local colours of earlier portraits give way to an increased interest in subtle transitions of greys, browns and, above all, blacks. So abiding was Hals's interest in the nuanced effects of black that his countryman and fellow artist, Vincent van Gogh, enviously described some two-and-a-half centuries later how 'that Devil Hals has no less than 27 blacks on his palette'. In his portraits of the 1630s, the silvery cast of his earlier portraits became a richer, more golden one, while his pictorial accents become more restrained and his forms simplified, thereby imbuing the paintings with a greater sense of unity. In these respects, Hals was at the vanguard of taste. Similar changes can be discerned in the tonal landscapes of artists like Jan van Goyen and the monochrome banquets of fellow Haarlemers Pieter Claesz and Willem Claesz. Heda.

In dress too, Hals's portraits of the 1630s convey a degree of restraint not readily apparent in his earlier portraits. Gone are the comparatively ostentatious displays of wealth – richly embroidered black clothing, gold-embroidered stomachers, bobbin lace cuffs, ruffs and caps and colourful underskirts – that appear in portraits like the three-quarter-length portrayals of the wealthy Haarlem brewer Jacob Pietersz. Olycan and his wife Aletta Hanemans of 1625 in the Mauritshuis, The Hague (figs. 1 and 2). The apparent simplicity of the anonymous sitters' dress in the present portraits has led to the supposition that they were Mennonites, a religious sect that made up approximately fourteen percent of Haarlem's population in the period (see P. Biesboer, Collections of Paintings in Haarlem, 1572-1745, Los Angeles, 2001, p. 14).

Some ten or fifteen years before Hals painted these portraits, the Amsterdam-born Leeuwarden poet Jan Jansz. Starter described in his poem 'Mennonite Courtship' the type of clothing that offended Mennonite sensibilities in a fictional account of his courting a Mennonite maid:
She had but look at me to show she was dismayed.
My hair too long, my ruffs unruly,
My cuffs too broad, all starched too bluely,
My breeches too wide, the doublet too tight,
The garters too long, and on my shoes I had roses.
To catch her attention, he changed his clothing and bearing to something she would find more appropriate:
Quite changed in my manners, my speech and my dress.
My coat plain and black, my hair cut short,
My ruff, whitely starched, as flat as a board,
And not a tassel to be seen on my whole attire.
(cited in S. Slive, Frans Hals, London, 2014, p. 172).
Comparison with Hals's portraits of the Mennonites Lucas de Clercq and his wife Feyntje van Steenkiste of circa 1635 lends credence to the theory of the present sitters' confessional sensibilities (figs. 3 and 4; The City of Amsterdam; on loan to the Rijksmuseum, Amsterdam). Like the portraits in Amsterdam and Starter's recommendation, here the anonymous woman wears modest white cuffs with minimal lace trimming largely hidden beneath her sleeves, while both sitters don simple, out-modish ruffs. Alison McNeil Kettering, however, has rightly noted that the choice of sober black clothing is linked 'not with the sitters' religious affiliation, but with their class and political identification…and their notion of portraiture's function' (see A.M. Kettering, 'Gentleman in Satin: Masculine Ideals in Later Seventeenth-Century Dutch Portraiture', Art Journal, LVI, 1997, p. 43). Indeed, only three years after Hals painted this pair of portraits, he depicted Paulus Verschuur, a wealthy Rotterdam merchant and member of the city's council –a position that necessitated his membership in the Dutch Reformed Church – in similarly staid attire (fig. 5; New York, The Metropolitan Museum of Art).

This pair of paintings would almost certainly have been commissioned to commemorate the anonymous sitters' marriage. As is traditional for such works, the male sitter is portrayed to his wife's right, a position of honour and authority. He places his right hand over his heart as a gesture of avowal, while both parties hold a pair of comparatively simple deerskin gloves. A deftly applied muted red stroke on one of the gloves in the woman's hand offers the only hint of local colour found in either painting. Gloves were costly, fashionable accessories that signified their owner's wealth and status. For this reason, they were often presented as tokens of love or gifts at weddings, with special pairs given by the groom to his bride (for a full discussion of the symbolic associations of gloves, see M. de Winkel, Fashion and Fancy: Dress and Meaning in Rembrandt's Paintings, Amsterdam, 2006, pp. 86-88).
PROVENANCE
Of the 36 pendant portraits identified by Seymour Slive in his catalogue raisonné, the present pair is the finest of only three that remain together in private hands. Though their early history is unknown, at the beginning of the twentieth century they passed successively through several of the most important collections of Dutch paintings formed in the period. First published by Hofstede de Groot in a short article for Onze Kunst in 1911, they were at the time in the collection of M.E. van Gelder at his château in Uccle near Brussels. Van Gelder owned several further paintings by or attributed to Hals as well as Rembrandt's exquisite Portrait of Petronella Buys sold in these rooms on 7 December 2017 (£3,368,750). Shortly thereafter, they were acquired by the Canadian railroad magnate Sir William Cornelius Van Horne, in whose house they were given pride of place (fig. 6). Only a few years before acquiring the present pair of paintings, Van Horne lent several paintings to what was arguably the finest exhibition of Dutch paintings ever assembled – the Hudson-Fulton exhibition curated by Wilhelm Valentiner and held at The Metropolitan Museum of Art in 1909 as part of celebrations commemorating the 300th anniversary of Henry Hudson's discovery of the Hudson River. In addition to landscapes by Aelbert Cuyp and Philips Koninck, two of the most desirable Dutch painters in the early years of the twentieth century, Van Horne lent his magnificent Portrait of Samuel Ampzing by Frans Hals, now in a private collection. The present pair of portraits must have appealed to Van Horne not only due to their obvious quality, in which Hals's distinct brushwork can be fully appreciated, but because they presented a different side of the master's work when compared with the small-scale copper portrait that he had acquired several years earlier.
'In his exaggerated brusqueness, his risky contrasts, his informal carelessness, there is always the hand of a bountifully talented painter, and even the sign of a certain kind of genius'
(Théophile Thoré-Bürger)

FRANS HALS'S LEGACY
Though Hals is today regarded, alongside Rembrandt, as the greatest Dutch portraitist of the Golden Age, his work found comparatively little interest among connoisseurs of the eighteenth and early nineteenth centuries. His name is absent from many of the contemporary discussions of seventeenth-century Dutch and Flemish portraiture, which focus instead on the likes of Sir Anthony van Dyck, Sir Peter Paul Rubens, Rembrandt and Bartholomeus van der Helst. When his name does appear, he is inevitably misunderstood and described as the great London art dealer C.J. Nieuwenhuys did in 1834: 'several of his works were so negligently executed with regard to the finish; for that reason it may easily be conceived that many amateurs do not esteem them, and thus they are to be obtained at very low prices' (see C.J. Nieuwenhuys, A Review of the Lives and Works of Some of the Most Eminent Painters, London, 1834, p. 131).
Nieuwenhuys's claim about Hals's paintings achieving modest prices at auction in the years before his writing is borne out by early sale catalogues. The highest recorded price for a painting by Hals at a Paris auction before 1800 was 502 livres, a price achieved for a small bust-length portrait of a woman at the 1780 sale of the collection of Jean-François Leroy de Senneville. At the same sale, a landscape by Adam Frans van der Meulen obtained 1850 livres, while a pair of landscapes by Claude Joseph Vernet brought the astounding sum of 5500 livres. Moreover, masterpieces by the most popular Dutch painters in the period like Paulus Potter and Gerrit Dou routinely brought 5000 livres or more, with Potter's Departure for the hunt (Berlin, Gemäldegalerie) reaching the stratospheric sum of 27,400 livres at the 1772 sale of Étienne-François, duc de Choiseul.

While connoisseurs of the period appear to have taken little interest in Hals's works, artists began to recognise his abilities and import as early as the first decades of the eighteenth century. The great French rococo painter Antoine Watteau, for example, produced at least two drawings after Hals, while, later in the century, Jean-Honoré Fragonard made a drawn copy of Hals's Portrait of Willem Croes in the Alte Pinakothek, Munich. Fragonard's engagement with Hals's paintings is equally evident in works such as his series of fifteen fantasy portraits executed between 1768 and 1772, their dynamic compositions and vigorous, unblended brushwork have a distinctly Halsian quality about them (fig. 7), one that is equally mediated through sources like Rubens's tronies and Tiepolo's oil sketches (for a full account of Hals's impact on eighteenth-century painters, see C.D.M. Atkins, The Signature Style of Frans Hals: Painting, Subjectivity, and the Market in Early Modernity, Amsterdam, 2012, pp. 201-211).

Hals's critical fortunes only began to turn in earnest in the middle of the nineteenth century when the art critic Théophile Thoré-Bürger rediscovered the artist and his work. Thoré, who is celebrated today for his rediscovery of another Dutch painter – Johannes Vermeer – first effused about Hals's work upon seeing two paintings at the seminal Art Treasures exhibition held in Manchester in 1857. As Frances S. Jowell has noted, the critic enthusiastically described 'Hals's consummate mastery and the cheerfulness and spontaneity that emanate from both the subject matter and assumed artistic procedure' (see F.S. Jowell, 'The Rediscovery of Frans Hals', in Frans Hals, exhibition catalogue, New York, London and Haarlem, 1989, p. 64). In short, where earlier commentators found Hals's works unfinished and the colours insufficiently blended, Thoré insisted that 'in his exaggerated brusqueness, his risky contrasts, his informal carelessness, there is always the hand of a bountifully talented painter, and even the sign of a certain kind of genius' (quoted in ibid., p. 65).

Hals's newly regained acclaim would soon manifest itself in the great private and public collections of Dutch and Flemish paintings. While works by Hals were seldom encountered in the leading French collections of the eighteenth century, in the years that followed Thoré's rediscovery of the artist, a number of British collectors acquired key examples of the artist's work. The famed Northbrook collection, for example, only added Hals's Portrait of Pieter Cornelisz. van der Morsch (Pittsburgh, Carnegie Museum of Art) in 1866. Similarly, Richard Seymour-Conway, 4th Marquess of Hertford, whose collection now forms The Wallace Collection, acquired Hals's famed Laughing Cavalier the previous year. Similarly, the first genuine painting by Hals to enter the Louvre was the artist's La Bohémienne, acquired in 1869, while The National Gallery would not obtain such a work until 1876, when it purchased the artist's Portrait of a middle-aged woman with hands folded. For its part, The Metropolitan Museum of Art acquired its first three paintings by Hals upon the 1889-90 bequest of the collection of Henry G. Marquand, this following an earlier purchase in 1871 of a Malle Babbe, now said to be in the style of the artist. The almost manic American taste for Hals at the end of the nineteenth and early twentieth centuries would manifest itself in the subsequent gifts made to the museum by Benjamin Altman, Mrs. H.O. Havemeyer, Collis P. Huntington, Michael Friedsam and Jules Bache, which included eight additional genuine works and one now regarded as a copy after the artist.

Realist painters, too, of the mid-nineteenth century responded to Hals's paintings in a manner and at a rate previously unknown. Having seen Hals's Malle Babbe (Berlin, Gemäldegalerie) on exhibition for the first time in Munich, Gustave Courbet expressed his admiration for the artist in a remarkable copy, now in the Hamburger Kunsthalle (fig. 8). In the second half of the nineteenth century, a startling number of painters produced copies after Hals's works: Mary Cassatt, William Merritt Chase, Max Liebermann, John Singer Sargent and James Ensor, to name but a few. Others, including Edouard Manet, responded more indirectly to the master's paintings: his Le Bon Bock, for example, exhibited at the Salon of 1873 and today in the Philadelphia Museum of Art, Philadelphia (fig. 9), was widely considered a paraphrase of Hals's paintings. After the critic Albert Wolff suggested that Manet had put 'water into his beer', the painter Alfred Stevens retorted that it was 'pure Haarlem beer' (quoted in ibid., p. 71). But it was Vincent van Gogh who perhaps understood Hals better than any other painter of the period. In a letter from October 1886, he praised Hals as 'a colourist among colourists, a colourist like Veronese, like Rubens, like Delacroix, like Velasquez' (The Complete Letters of Vincent van Gogh, London, 1958, II, p. 424). Following two centuries of neglect, Hals had, at long last, found his rightful place in history.
'That Devil Hals has no less than 27 blacks on his palette'
(Vincent van Gogh)
Clementine Sinclair, Head of the Old Masters Evening Sale and Henry Pettifer, Head of Old Masters London, commented: "We are very pleased with the results for the Old Master Paintings offered this evening, which achieved the highest evening total for Old Masters in December at Christie's London since 2009. A number of outstanding prices were achieved, setting new artists' records, including for: the Frans Hals pair of portraits from The Eric Albada Jelgersma Collection; the Sir Thomas Lawrence Portrait of Lady Selina Meade; arguably the most important Golden Age painting by a female artist left in private ownership, Merry Company, by Judith Leyster; and the second highest price at auction for a work by Pieter Brueghel the Younger. The strong total for the first part of The Eric Albada Jelgersma Collection reflects the quality and scope of the collection which is one of the most important private collections of Golden Age Dutch and Flemish pictures to have been formed in living memory. Following well received international pre-sale tours of highlights, the evening attracted global interest from collectors and institutions, with registered bidders from 29 countries across 4 continents."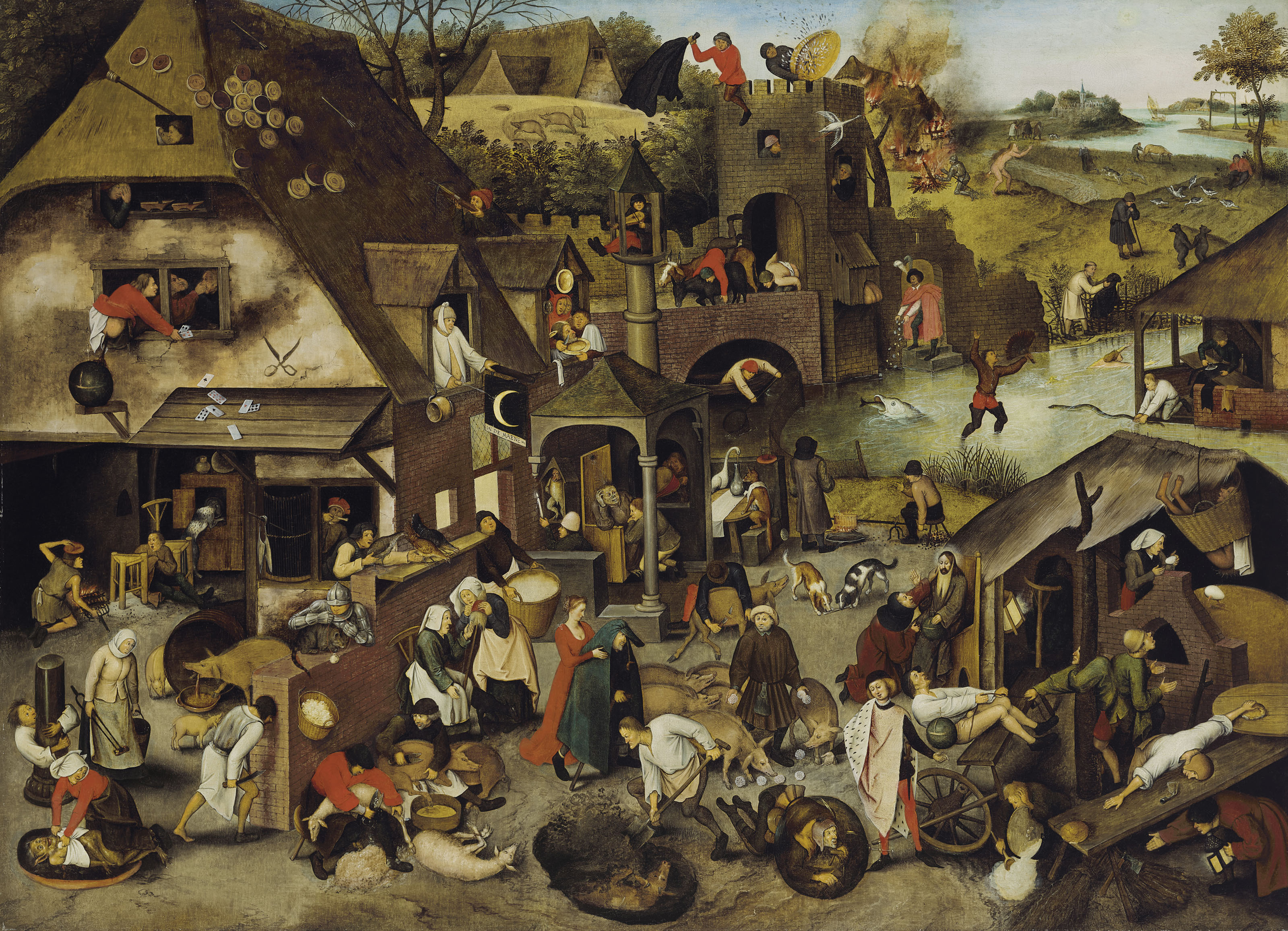 Lot 7. Pieter Brueghel, the Younger (Brussels 1564/5-1637/8 Antwerp), The Netherlandish Proverbs, oil on canvas 47 ¾ x 65 5/8 in. (121.3 x 166.7 cm). Estimate GBP 3,500,000 - GBP 5,500,000. Price realised GBP 6,308,750 (EUR 7,072,108) (USD 8,024,730) to An Anonymous. 2ND HIGHEST PRICE ACHIEVED FOR THE ARTIST AT AUCTION. © Christie's Images Ltd 2018
Provenance: Jonkheer Adriaan Johan Hugo Repelaer van Spijkenisse (1845-1884), Brussels, and by inheritance to his brother,
Jonkheer Johan Adriaan Paulus Repelaer van Spijkenisse (d. 1913), Haarlem, and by descent to,
Jonkheer O.S. Repelaer van Spijkenisse; Christie's, Amsterdam, 6 May 1993, lot 99, as 'Attributed to Pieter Brueghel II'.
with Johnny van Haeften, London, 1994, as 'Pieter Brueghel II', from whom acquired by the present owner.
Literature: G. Marlier, Pierre Brueghel le Jeune, Brussels, 1969, p. 128, no. 6, where incorrectly given as in the van den Bergh collection, The Hague, July 1888.
K. Ertz, Pieter Brueghel der Jüngere (1564-1637/38), Lingen, 1988, I, pp. 70-1, no. E6, illustrated.
R. Duckwitz, Brueghel Enterprises, exhibition catalogue, Maastricht and Brussels, 2001, p. 61, fig. 5.
Note: Pieter Brueghel the Younger based this animated scene, teeming with figures, on an original composition by his father, Pieter Bruegel the Elder (Berlin, Gemäldegalerie, Staatliche Museen). It visualises the vernacular and wit of the sixteenth-century Netherlandish people in the figurative representation of over one hundred proverbs. Proverbs and sayings had long been collected in compendia, however, interest in them reached new levels at this time. The best-known compendium was Erasmus's Adagia, published in 1500, which explained around eight hundred proverbs and sayings from classical antiquity to biblical times.

Bruegel the Elder's Netherlandish Proverbs, inscribed with the date '1559', was created five years before his son Pieter Brueghel the Younger (who adopted an 'h' in his name) was born, and almost forty years before the latter painted his earliest surviving dated copy. It was one of the Elder's earliest works and as a composition incorporating small isolated performances of proverbs across a large theatrical space it had no direct precedent. Frans Hogenberg's circa 1558 engraving of The Blue Cloak certainly provided Bruegel with inspiration (fig. 1), as he gave the cuckolding motif centre stage in his own work, with the unfaithful wife placing the 'blue cloak' of deception on her gullible husband, and later made it part of the title of the work. Hogenberg's engraving depicted many of the proverbs and sayings that Bruegel transformed and multiplied into a complex visual opus that made veiled references to the uncertainties of his time.

Although Bruegel the Elder's Proverbs was still in Antwerp in 1668, when it was documented as part of the collection of Pieter Stevens, there is no evidence to suggest that it was still in the artist's possession at the time of his death. While none of the surviving sources establish what happened to his workshop and all of his paintings, drawings and designs, what is evident from comparing the copies produced by the younger Brueghel and his studio is that they were based on a model other than his father's original picture. Klaus Ertz records nine autograph versions of this composition by Brueghel the Younger (op. cit., pp. 68-75), two of which are smaller works on copper. He considers the present work to be one of the finest autograph variants, most comparable to probably the earliest surviving version in the Stedelijk Museum, Wuyts-Van Campen in Lier (ibid., no. E1), which is dated to 1607, the year around which Ertz also dates the present picture. Along with the Lier version, the present work is grouped by Ertz with two other works that are characterised by their closeness to Bruegel the Elder's prototype: that in the Koninklijk Museum voor Schone Kunsten, Antwerp (ibid., no. E3), and the picture offered at Sotheby's, London, 9 April 1986, lot 22 (ibid., no. E7). Although the copies typically follow the Elder's original with astonishing precision, none are absolutely identical to the prototype, with many showing both minor and in some instances significant differences, additions and omissions. This suggests that Brueghel the Younger had the inclination to add something of his own inventiveness.

While no preparatory drawing of the Elder's original is known, infra-red reflectography of the panel indicates that the younger Brueghel's compositions are in fact closer to the original's underdrawing than to the finished painting (see Duckwitz, op. cit., pp. 58-79). Close comparison of the prototype's underdrawing and the copies reveals many shared elements that do not appear in the original finished painting: in all of the Younger's versions, for example, the legs of the man in the pillory are stretched out, as they are in the prototype's underdrawing, where the man also plays his fiddle in front of a cracked brick wall, subsequently overpainted by Bruegel the Elder with a hedge. Similarly, one figure is missing from all the copies – a man kissing a ring on the tower door – and neither is he visible in the original underdrawing. This suggests that Brueghel the Younger's versions were based on highly detailed drawings or cartoons by his father, which must have included colour instructions, since the colours in all the copies remain consistent.

Associating himself with literati such as the cartographer Abraham Ortelius and the Dutch moralist Dirck Volckertszoon Coornhert, Pieter Bruegel the Elder injected sixteenth century proverb usage with the power of Medieval theological symbolism in his Netherlandish Proverbs. Though Catholic, Bruegel identified with the moral and religious teachings of Coornhert, which centred on man's personal relationship with God and his duty to overcome sin, which he was believed to be driven to by folly. Bruegel won the admiration of his contemporaries both for his fidelity to nature and as a disciple of Hieronymus Bosch, visually adopting both the artist's sense of unrestrained pandemonium and satire to warn against the greed and avarice of humanity, as if extending the brawling crowds of Bosch's The Haywain (fig. 2; c. 1512-15; Madrid, Museo del Prado) into the folly of the Proverbs. Unlike man's central position as the lord of creation in Italian Renaissance art, he is here incidental to the plenitude of nature and the universe, to the cycle of birth and death, to growth and decay.

For a list of the proverbs depicted in this picture in the original Flemish, see G. Marlier, Pierre Brueghel le Jeune, Brussels, 1969, pp. 123-127, figs. 52 and 52bis.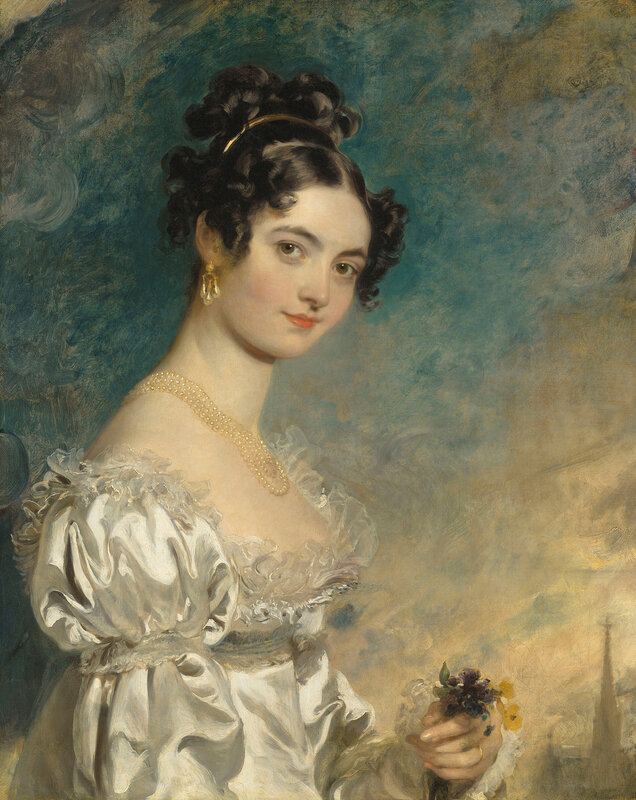 Lot 36. Sir Thomas Lawrence, P.R.A. (Bristol 1769-1830 London), Portrait of Lady Selina Meade (1797–1872), half-length, in an ivory satin dress, with the spire of St. Stephen's Cathedral, Vienna, beyond, oil on canvas, 30 1/8 x 25 in. (76.5 x 63.5 cm.). Estimate GBP 800,000 - GBP 1,200,000. Price Realised GBP 2,288,750 (EUR 2,565,689) (USD 2,911,290) to an Anonymous. WORLD RECORD PRICE FOR THE ARTIST AT AUCTION. © Christie's Images Ltd 2018
Provenance: A gift from the artist to the sitter's brother, Richard Meade, 3rd Earl of Clanwilliam (1795-1879), and by descent in the family.
Literature: D.E. Williams, The Life and Correspondence of Sir Thomas Lawrence, Kt., London, 1831, II, pp. 168 and 251.
Lord R. Sutherland Gower, Sir Thomas Lawrence, P.R.A, London, 1900, p. 149.
Sir W. Armstrong, Lawrence, London, 1913, p. 151.
K. Garlick, 'A catalogue of the paintings, drawings and pastels of Sir Thomas Lawrence', Walpole Society, XXXIX, 1964, pp. 140-141.
K. Garlick, Sir Thomas Lawrence, A Complete Catalogue of the Oil Paintings, Oxford, 1989, p. 236, no. 552, pl. 72.
M. Levey, Sir Thomas Lawrence, New Haven and London, 2005, pp. 215-17, no. 114.
Exhibited: London, Royal Academy, 1820, no. 140.
London, Royal Academy, 1951, no. 203.
London, National Portrait Gallery; and New Haven, Yale Center for British Art, Thomas Lawrence: Regency Power and Brilliance, 21 October 2010–5 June 2011, no. 42.
Note: This picture of the young Lady Selina Meade was painted in 1819 during Lawrence's six-month stay in Vienna, where he had travelled to execute a number of the celebrated full-length portraits to commemorate the allied victors over Napoleon. Commissioned by the Prince Regent, later King George IV, these portraits, which were later hung in the Waterloo Chamber at Windsor Castle, secured Lawrence's fame throughout Europe and his reputation as the finest portraitist of his generation.

The sitter was the second daughter of Richard Meade, 2nd Earl of Clanwilliam (1766-1805), and his wife Caroline, Countess of Thun (1769-1800), daughter of Count Franz Josef Anton von Thun und Hohenstein. Selina's maternal grandmother, Maria Wilhelmine, presided over a celebrated salon in Vienna and was an important patron of both Mozart and Beethoven. When Selina was orphaned in 1805 she became the ward of her brother Richard Meade, 3rd Earl of Clanwilliam (1795-1879), but while she remained in Vienna to be raised by her aunt, Christina, Princess Lichnowsky, her brother was sent to school in England. Selina was brought up in a highly cultured and musical household, where the young Beethoven regularly performed at the Lichnowsky's Friday concerts. In 1821, she seems to have been courted by Lord Granville Leveson-Gower, who sat to Lawrence for the superb Van- Dykian full-length portrait now at New Haven (Yale Center for British Art; 1804), but in the same year she married Count Karl Johann Nepomuk Gabriel Clam-Martinic (1792-1840), the Austrian statesman and Field Marshall Lieutenant, with whom she had three children.

Clanwilliam eventually joined the diplomatic service and attended the Congress of Vienna in 1814 before serving as Private Secretary to Lord Castlereagh from 1817 to 1819. Castlereagh and his half-brother, Charles William Stewart, 3rd Marquess of Londonderry, both of whom sat to Lawrence (1809-10; and 1812; both London, National Portrait Gallery), were important patrons of the artist. The Clanwilliam and Londonderry families, along with the Abercorns, were part of a nexus of Northern Irish nobility that provided Lawrence with key commissions from the early 1790s. Crucially for the development of Lawrence's career it was the 3rd Marquess of Londonderry who asked the Prince Regent, who had never patronised Lawrence, to sit for the full-length which the artist exhibited in 1815 (Private collection), the success of which helped secure Lawrence the commission for the series of portraits for the Waterloo Chamber. As Lawrence later recognised, it was this 'mission' that 'led to all subsequent distinctions in my profession' (Williams, op. cit., p. 467).

When Ambassador to the Court of Vienna, to which he was appointed in 1814 at the time of the Congress, Londonderry also played an active role in arranging Lawrence's triumphant continental progress to take likenesses for the Waterloo portraits. Tsar Alexander sat to Lawrence in Londonderry's presence when at Aix-La Chapelle for the Congress of 1818 and Lawrence stayed with his friend when he arrived in Vienna later that year to finish his portrait of Francis I of Austria and execute other works for the series, including those of Prince Schwarzenberg and Charles, Archduke of Austria. It was presumably through Castlereagh and his half-brother that Lawrence met Clanwilliam and in turn his sister, whose portrait was later described as a 'cadeau' from the artist (Letter from The Earl of Clanwilliam to Lawrence, 15 September 1823, RA LAW 4/ 161). Clanwilliam remained a close friend of the artist and was one of the pallbearers at Lawrence's funeral.

Lawrence's portrait of Lady Selina is an outstanding example of the artist's work from this key moment in his career, when his reputation as the leading portraitist of his generation was rapidly gaining momentum. The sitter has the appearance of having just entered the composition from the left, turning her head to meet the gaze of the viewer. The focus is unquestionably on the sensitive treatment of her beguiling face and high-piled black hair, masterfully offset by the gold headband, pearl earrings and strands of pearls. The sensitive and highly finished handling of the head is in deliberate contrast to the virtuoso brushwork employed for her white satin dress and fluidly brushed in background. The local colour used for the posy of flowers in her left hand draws the viewer's attention to the distant spire of the Stefansdom, the city's cathedral. As Michael Levey has observed, 'the handling is buoyant, raising appropriate echoes of Rubens' (op. cit., p. 216). Indeed, the artist James Northcote compared Lawrence's progress across Europe in this ambassadorial role with that of the great seventeenth-century Flemish master, when he wrote that he hoped his friend's 'high employment … wd. raise the credit of English Art abroad and make it more respected at Home' (The Diary of Joseph Farington, 4 January 1819, p. 5309).

Writing soon after his arrival in Rome in the spring of 1819 to his friend and patron John Julius Angerstein, Lawrence describes Lady Selina as 'in beauty and interesting character, one of the most distinguished persons in Vienna' (cited in Williams, op. cit., p. 168). Lawrence was evidently entranced by the subject of this portrait and made a drawing of Lady Selina, dated April 1819 (Christie's, London, 14 July 1992, lot 31), before his departure from Vienna for Rome.

Lawrence's pride in the portrait is confirmed by his decision to exhibit the picture at the Royal Academy in 1820, the year he was elected President, following the death of Benjamin West. Before its arrival in London, the picture travelled with Lawrence to Rome as part of a group of twelve paintings that were shown to Pope Pius VII, whose full-length portrait for the Waterloo Chamber (which marks a unique instance of a British artist being commissioned to paint a Pope for a Protestant monarch) is one of the undisputed masterpieces of European portraiture.

Selina's portrait received considerable acclaim when shown at the 1820 exhibition and was the subject of a two-part review in the London Magazine. The critic John Scott praised the work for representing 'the essential look of female beauty' (London Magazine, June 1820, p. 697). However, in the second part of the review, Thomas Griffiths Wainewright, writing under the pen name of 'Janus Weathercock', took Lawrence to task for the sitter's direct gaze, which he evidently considered to be unashamedly brazen: 'Ha! there's Lady Selina Meade. very tasty indeed! without the least truth of colour though! The throats of Sir Thomas's women always look as if they were rubbed over with pearl-paint. Yet, still, nobody else could do them so well' (London Magazine, June 1820, p. 701).

By 1823, Clanwilliam evidently wished to take the portrait with him to Berlin when he was named minister-plenipotentiary, but in August of that year Lawrence wrote, entreating his friend to 'let me have a fine line Engraving taken of Lady Selina's Portrait ... The picture has now been known in Austria, Italy and England. The original, popular wherever she has appeared and Count Clam can have no objection to the publication of the Countess' portrait knowing that she but shares in this picture with characters of her own purity and station, the most elevated in Europe … I shall have it engraved by the most skilful artist, who will be but too happy to begin it' (Letter from Lawrence to The Earl of Clanwilliam, 20 August 1823). Eventually, despite Clanwilliam's misgivings about his sister being 'in the window of the printshop', he agreed for the picture to go to the engraver Charles Heath. In a letter to Lawrence (dated 11 June 1824), Leveson-Gower, Selina's previous suitor, mentions Clanwilliam's reluctance to part with the picture for this purpose, and remarks of his need to be 'tranquilized' over the prospect of his sister appearing on the print market. The print, entitled 'Selina' and showing the sitter without the spire of the Stefansdom in the distance (fig. 1), was eventually published in 1828 when it appeared as the frontispiece of the first edition of the literary journal, The Keepsake.

The inclusion of the Stefansdom spire in Lawrence's original may have been intended to underscore the close ties of the Clanwilliam family with the Austro-Hungarian Empire. Lady Selina's husband, Count Clam-Martinic, was aide-de-camp to Emperor Francis (1768-1835), and her sister Caroline's husband, Count Paul Szecheny, acted as his Chamberlain. However, the most obvious reason for its inclusion was in homage to Lady Selina's mother, Caroline, Countess of Thun, for whom, as an Austrian Roman Catholic, the Cathedral would have held a special significance. Though the female members of the Clanwilliam family had Catholic ties, either through birth or marriage, Clanwilliam himself married the protestant Elizabeth, fourth daughter of the 11th Earl of Pembroke by his second wife Catherine Woronzow, daughter of Count Semyon Romanovich Woronzow, Russian Ambassador to the British Court between 1785 and 1800.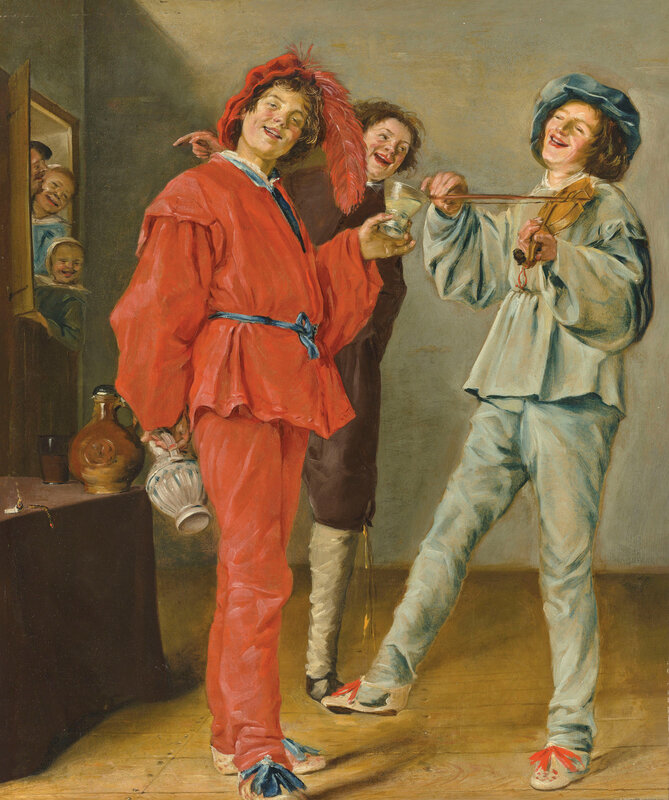 Lot 12. Judith Leyster (Haarlem 1609-1660 Heemstede), Merry Company, oil on canvas, 29 3/8 x 24 7/8 (74.5 x 63.2 cm.). Estimate GBP 1,500,000 - GBP 2,500,000. Price realised GBP 1,808,750 (EUR 2,027,609) (USD 1,808,750) to an Anonymous. WORLD RECORD PRICE FOR THE ARTIST AT AUCTION. © Christie's Images Ltd 2018
Provenance: Sir George Donaldson, London, circa 1903.
Frederick Muller & Co., Amsterdam, April 1908.
with Thomas Agnew & Sons, London, 1910.
R.W. Pettigrew; Christie's, London, 8 February 1929, lot 129 (175 gns. to Wiss).
M. van den Honert, Blaricum, and by descent to the following,
Dr. and Mrs. P.L. Galjart, Soest, by 1984, until 1986.
with P. de Boer, Amsterdam, 1987.
with Noortman, London and Maastricht, 6 January 1988, from whom acquired.
Literature: 'The Dutch Exhibition at the Guildhall, The Old Masters', The Burlington Magazine, II, 1903, p. 55, as 'catalogued as being collaborations by Hals and Judith Leyster, but beyond the potent influence of the former they have nothing to do with him'.
J. Harms, 'Judith Leyster: Ihr Leben and ihr Werk', Oud-Holland, XLIV, 1927, pp. 145-7 and 237, fig. 8.
G.D. Gratama, 'Het Portret van Judith Leyster door Frans Hals', Oud-Holland, XLVII, 1930, p. 71.
S. Slive, Frans Hals, London, 1974, III, p. 116, L2-2.
F.F. Hofrichter in A. Sutherland Harris and L. Nochlin, Women Artists: 1550-1950, Los Angeles, 1976, p. 139.
F.F. Hofrichter, 'Judith Leyster's 'Self Portrait': Ut Pictura Poesis', Essays in Northern European Art. Presented to Egbert Haverkamp-Begemann on his Sixtieth Birthday, Doornspijk, 1983, pp. 107-8.
C. Moiso-Diekamp, Das Pendant in der holländischen Malerei des 17. Jahrhunderts, Frankfurt, 1987, p. 361.
F.F. Hofrichter, Judith Leyster: A Woman Painter in Holland's Golden Age, Doornspijk, 1989, pp. 25, 34, 41-2, no. 9, pl. III.

Exhibited: London, Guildhall, 1893.
London, Guildhall, Catalogue of the Exhibition of a Selection of Works by Early and Modern Painters of the Dutch School, 1903, no. 185, as 'Frans Hals and Lyster (sic.)' (lent by G. Donaldson).
Amsterdam, Frederick Muller, Tentoonstelling van Oude Meesters, 1918, no. 7.
The Hague, Mauritshuis, on loan, 1935-40 (lent by Mrs. van den Honert, Blaricum).
The Hague, International Red Cross Headquarters, on loan (lent by Mrs. van den Honert, Blaricum).
Zurich, Kunsthaus, Holländer des 17. Jahrhunderts, 4 November-20 December 1953, no. 78 (lent by Mrs. van den Honert, Blaricum).
Rome, Palazzo delle Esposizioni, Mostra di Pittura Olandese del Seicento, 4 January- 14 February 1954, no. 80 (lent by Mrs. van den Honert, Blaricum).
Philadelphia, Philadelphia Museum of Art; West Berlin, Gemäldegalerie; and London, Royal Academy of Arts, Masters of Seventeenth-Century Dutch Genre Painting, 18 March-18 November 1984, no. 61 (lent by Mr and Mrs P.L. Galjart, The Netherlands).
Haarlem, Frans Hals Museum, Judith Leyster: A Dutch Master and Her World, 16 May- 22 August 1993, no. 5.
Washington, National Gallery of Art; Haarlem, Frans Hals Museum, Judith Leyster, 1609-1660, 21 June 2009-9 May 2010.
Note: 'There also have been many experienced women in the field of painting who are still renowned in our time, and who could compete with men. Among them, one excels exceptionally, Judith Leyster, called a true leading star in art, as her name indicates'
(Theodorus Schrevelius, Harlemias, ofte, om beter te seggen, de eerst stichtinghe der stad Haerlem, Haarlem, 1648, pp. 384–85)

This witty and engaging scene of three young revellers is a rare work by the greatest female artist of the Dutch Golden Age, Judith Leyster. Painted circa 1629, when Leyster was just twenty years old, it demonstrates both her precocious talent and her ambitions as a painter of modern genre subjects, a field dominated by her male contemporaries, notably Frans Hals. This painting has featured in all the key Leyster exhibitions and was selected most recently for the 2009 exhibition at the Frans Hals Museum in Haarlem and the National Gallery of Art in Washington to mark the four hundredth anniversary of Leyster's birth. Also included in that exhibition was Leyster's celebrated Self-Portrait, circa 1633 (fig. 1; Washington, National Gallery of Art), in which Leyster chose to depict herself in front of a canvas displaying the fiddler from this painting. Merry Company is the most important work by the artist to be sold at auction in a generation.

Anna Tummers, in a booklet published to accompany the 2009 focus exhibition at the Frans Hals Museum, stressed Leyster's status as the only seventeenth-century woman to paint modern figure pieces; the only seventeenth-century female to master a loose painting style; and the first woman in the Western world to be officially recognised by a painters' guild as a 'master painter', in 1633, which gave her the right to have her own workshop, take on pupils and sell her paintings independently (Judith Leyster: De eerste vrouw di meester-schilder werd / Judith Leyster: The first woman to become a master painter, exhibition booklet, Frans Hals Museum, Haarlem, 2009, p. 3). As early as 1628, the minister, poet and historian Samuel Ampzing noted, in his ode to Haarlem, that Leyster painted with 'good and keen insight' ('met goed en kloek verstand', S. Ampzing, Geschiedenis en Lof van de stad Haarlem, Haarlem, 1628, p. 370). Three years after being recognised as a 'master painter', Leyster married the Haarlem genre and portrait painter, Jan Miense Molenaer (c. 1610-1668), and her output reduced dramatically (she gave birth to five children between 1637 and 1650; the distinctive fiddle in this work recurs in paintings by Molenaer, suggesting that it was a shared studio prop). However, the writer and poet Theodorus Schrevelius still singled her out for special praise as a true 'ley-sterr', leading star, in 1648 (op. cit.). Given her remarkable talents and achievements, and the fact that these were clearly recognised during her lifetime, it is extraordinary that her work should then have fallen into obscurity until the late nineteenth-century when her monogram was discovered on a painting of a Carousing Couple (1630; Paris, Louvre), which had been ascribed to Frans Hals for over two hundred years. One possible explanation for Leyster's name being 'lost' is that in her husband's posthumous inventory, which followed her own death by eight years, her paintings were listed as by 'Mrs. Molenaer'. Discoveries of other works by Leyster, many previously attributed to Hals, or as simply anonymous, soon followed. Merry Company was believed to be a collaborative work between Leyster and Hals when it was exhibited at the Guildhall in London in 1903, but is now recognised as a fully autograph work by Leyster.

Hofrichter (op. cit., 1989, p. 41) dated Merry Company to circa 1629 based on similarities in the figure type, lighting and painting technique to Leyster's dated painting of the Serenade in the Rijksmuseum, Amsterdam. She suggested that the costumes of the three principal figures were vaguely reminiscent of the types found in commedia dell'arte, particularly the character of Il Capitano. Cynthia Kortenhorst-von Bogendorf Rupprath (in Judith Leyster: A Dutch Master and Her World, exhibition catalogue, Haarlem, 1993, p. 150) observed that baggy clothes were also a special feature of the zanni, or clowns, of Italian comedy. While Italian troupes made only sporadic appearances in the Netherlands in the first half of the seventeenth century, the likely source for artists like Leyster was probably Callot's Balli di Sfessania, a series of twenty-four etchings from circa 1622 illustrating characters from the commedia, in which the zanni are nearly always shown dancing and merry making (fig. 2; Jacques Callot, Franca Trippa and Fritellino, c. 1622, from the series Balli di Sfessania, etching, Rijksmuseum, Amsterdam). Zanni were typically dressed in white, however, so, following Peter Sutton's earlier suggestion (Masters of Seventeenth- Century Dutch Genre Painting, exhibition catalogue, Philadelphia, Berlin and London, 1984, p. 235), Rupprath concluded that the bright costumes of Leyster's figures were more indicative of carnival revellers (op. cit.). Indeed, commedia dell'arte-type costumes were already incorporated in traditional carnival dress in the sixteenth century. The figure in blue to the right in this painting plays a fiddle, the type usually associated with dancing in contemporary painting, and dancing was an important part of Shrovetide festivities in the lead up to Lent. In her depiction of carnival celebrants, Rupprath suggested (ibid., p. 152) that Leyster may have been influenced by Frans Hals's painting of Shrovetide Revellers of 1616 (fig. 3; New York, Metropolitan Museum of Art), highlighting in particular Leyster's adaption of a Halsian motif in the central figure in the background of the present painting, who gestures to the left, while looking to the right, mimicking the pose of the central figure in Hals's composition. This figure in Leyster's painting draws the viewer's attention to the group of laughing spectators peering through an open window to the left of the composition – a man, woman and child. While the motif of figures peering into a scene became popular in the mid-seventeenth century, in particular in the work of Jan Steen and Jan Miense Molenaer, it was still relatively rare in the early decades of the seventeenth century.

Merry Company may originally have formed a pendant with Leyster's monogrammed The Last Drop (fig. 4; Philadelphia, Philadelphia Museum of Art; Hofrichter, op. cit., 1989, pp. 41-2). These paintings correspond in theme and compositional design, the figures are of a similar type and dress, and even the floorboards in each might indicate a continuous space. These paintings also share the same earliest known provenance, both belonging to Sir George Donaldson in London in the early twentieth century. The current disparity in size between the two pictures indicates that Merry Company has been reduced slightly in format. While the spirit of Merry Company, a daylight scene, is animated and the mood good-humoured, The Last Drop, a night scene, is rather morose and the mood somewhat debauched, with the ominous figure of a skeleton brandishing a skull and an hourglass in the background making clear the moral message of the evil effects of excessive alcohol and tobacco consumption. The contrast of daylight and night-time scenes, and the theme of early light-hearted and later depraved stages of drinking, suggest a cause-and-effect reading of the pair. However, Rupprath suggested (op. cit., p. 154) that the foolishness of revelry is already hinted at in the Merry Company by the inclusion of the figure in red with his plumed beret, an accessory traditionally associated with a foolish person; the Shrovetide was in fact known as the Fool's Festival (Sebastian Brant's, Ship of Fools, Basel, 1494). Despite these moral undertones, the dominant theme of this work remains one of convivial mirth.

Merry Company showcases Leyster's signature painterly technique. Similarly to Hals and Rembrandt, Leyster sketched her compositions directly on to the panel or canvas with her brush, rather than relying on preliminary drawings. This would often result in pentimenti, note for instance the slight readjustments of the middle figure's left leg in this painting. Anna Tummers was keen to distinguish Leyster's loose painting technique from Hals's approach, however, arguing that: 'while she did build on innovations that Hals had introduced into painting, she did so in her own way' (op. cit., p. 7). While Hals painted in a broad and economic manner, often letting the ground show through in areas, Leyster, in contrast, usually applied areas of shade over lighter passages, or combined them wet-in-wet. This can be seen in the modelling of the drapery in this painting, especially in the folds in the red and blue garments.

Merry Company clearly held particular significance for Leyster, since she selected the figure of the fiddler to adorn the easel in her celebrated Self- Portrait, circa 1633, which Hofrichter believes was Leyster's presentation piece to the Haarlem Guild of St. Luke (op. cit., 1983, p. 106): it shows the young artist in a relaxed and confident pose, turning and leaning on the back of her chair, addressing the viewer directly with her mouth open slightly as if in conversation (fig. 1). Infrared imaging of the Self-Portrait revealed that Leyster had originally painted a portrait of a woman or girl on the canvas before her, but must have changed her mind at some point and replaced this with the fiddler from Merry Company. Raupp speculated that the fiddler might relate to the sense of hearing, or be a personification of the sanguine temperament, or indeed a personification of joy, more specifically the joy of artistic creation (H.J. Raupp, Untersuchungen zu Künstlerbildnis und Künstlerdarstellung in den Niederlanden im 17. Jahrhundert, Hildesheim, 1984, pp. 346–47). Hofrichter believes that Leyster chose to include the fiddler in order to highlight and promote her expertise both as a genre painter and as a portraitist, thus demonstrating the versatility of her skills (op. cit., 1983, p. 107). This idea is supported by Wheelock (www.nga.gov/collection/art-object-page.37003.html#entry), who added that Leyster may have selected the fiddler because of the popular success of the Merry Company from which this figure derived, as attested by the numerous copies and variants of the composition that survive: notably a copy at Goodwood House, Chichester, National Trust; a loose copy sold Palais des Beaux-Arts, Brussels 14 December 1954, lot 36; and a variant with Barbara Sweigart, Womelsdorf, Pennsylvania. Wheelock further proposed that by juxtaposing the bow of the violin player with her own paintbrush, Leyster was reminding the view that: 'just as the musician has mastered his instrument to produce music, so too has she mastered the tools of her profession to create equally compelling art' (ibid.). Hofrichter and Rupprath both believe that the fact that this particular figure is introduced into a self-portrait – by definition, a very personal painting – suggests that it held some personal significance for Leyster' (Hofrichter, op. cit., 1983, p. 107, footnote 3; and Rupprath, op. cit., p. 165). Building on her theory that Merry Company held subtle allusions to foolishness that in turn could lead to debauchery, Rupprath concluded that Leyster's decision to include this figure in her Self-portrait may have been a reference to a passage in Karel van Mander's Het Schilder-Boeck of 1604, which echoes a popular Dutch proverb: 'the more a painter he becomes, the wilder he gets' (Hoe schilder, hoe wilder). Whatever the intended meaning of Merry Company, or the significance of its inclusion in the Washington Self-Portrait, it is a tour-de-force in painting and clearly demonstrates that Leyster could compete in the male dominant arena of modern genre painting.

We are grateful to Dr. Frima Fox Hofrichter for her assistance in preparing this catalogue entry.
The Old Masters Day Sale and The Eric Albada Jelgersma Collection Sale takes place on 7 December. Classic Week continues until 14 December.