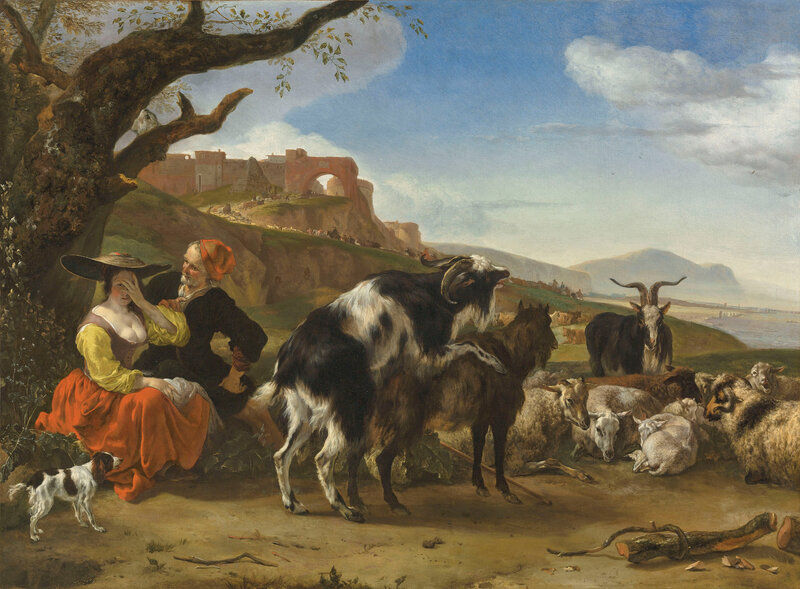 Lot 4. Jan Baptist Weenix (Amsterdam 1621-1659/1661 Huis ter Mey, near Utrecht), Italianate landscape with a shepherd showing a woman his flock, signed 'GIO. BATT. WEENIX' (lower right, on fallen branch), oil on canvas, 35 5/8 x 48 in. (90.5 x 122 cm.). Estimate GBP 100,000 - GBP 150,000. Price Realised GBP 248,750 (EUR 278,849) (USD 316,410) to An Anonymous. WORLD RECORD PRICE FOR THE ARTIST AT AUCTION. © Christie's Images Ltd 2018
Provenance: Cornelis van Lill (d. 1743); his sale (†), at his residence, Dordrecht, 18 June 1743, lot 2 (22 florins).
Augustin Blondel de Gagny (1695-1776); his sale (†), Remy, Paris, 10 December 1776 [=1st Day], lot 136 (5,760 livres to Le Marquis de la Villevielle).
C. Leboeuf, Paris; his sale, Le Brun, Paris, 12 April 1783 [=5th Day], lot 46 (6,121 FF to Vincent Donjeux).
Hendrik van Eyl Sluyter (1739-1814) as 'Van Helsleuter', Amsterdam; Alexandre Joseph Paillet & H. Delaroche, Paris, 25 January 1802 [=1st Day], lot 210 (5,001 FF to Nicolas Lerouge).
Cardinal Joseph Fesch (1763-1839), Rome; his sale (†), Rome, 26 March 1844, lot 752.
M. Bourlon de Sarty, Paris; his sale, Hôtel Drouot, Paris, 9 March 1868 [=1st Day], lot 19 (963 FF).
Anonymous sale [Mademoiselle Lemercier, 16 rue de Marignan]; Hôtel Drouot, Paris, 15 June 1942, lot 42 (31,500 FF to Savin Boulevard M[...]).
Private collection, France.
with Bob P. Haboldt & Co., Paris, 1990-1991, from whom acquired.
Literature: G. Hoet, Catalogus of Naamlyst van Schilderyen, met derzelver prijzen zedert een langen reeks van Jaaren zoo in Holland als op andere Plaatzen in het openbaar verkogt. Benevens een Verzameling van Lysten van Verscheyden nog in wezen zynde Cabinetten, The Hague, 1752, II, p. 91.
C. Blanc, Le trésor de la curiosité, Paris, 1857, I, p. 338; 1858, II, p. 209.
T. M. Lejeune, Guide théorique et pratique de l'amateur de tableaux; études sur les imitateurs et les copistes des maitres de toutes les écoles dont les oeuvres forment la base ordinaire des galeries, Paris, 1864, II, p. 497.
E. Bénézit, Dictionnaire critique et documentaire des peintres, sculpteurs, dessinateurs et graveurs de tous les temps et de tous les pays par un groupe d'écrivains spécialistes français et étrangers, Paris, 1976, X, p. 668.
F.J. Duparc & L.L. Graif, Italian Recollections: Dutch Painters of the Golden Age, exhibition catalogue, Montreal, 1990, p. 197, fig. 67.
A.A. van Wagenberg-Ter Hoeven, Jan Baptist Weenix The Paintings: A Story of Versatility, Success and Bankruptcy in Seventeenth-Century Holland, Zwolle, 2018, p. 186-189, no. 77, illustrated.
Exhibited: The Hague, Mauritshuis, The Amateur's Cabinet, Seventeenth-Century Dutch Masterpieces from Dutch Private Collections, 10 October 1995–7 January 1996, no. 30.
Apeldoorn, Paleis het Loo Nationaal Museum, Vorstelijk Vee. Vier eeuwen Nederlandse veerassen, 9 May-28 July 2002.
Note: This humorous painting, which was only rediscovered in recent decades, is a masterpiece within the oeuvre of the Italianate landscapist Jan Baptist Weenix, who spent four formative years in Italy. The buildings in the background here probably derive from monuments like the Pyramid of Gaius Cestius and the Castel Sant'Angelo that Weenix would have encountered while in Italy. Upon his return to the Netherlands in the second half of the 1640s, Weenix continued to stage his paintings within Italianate settings dotted with Roman ruins, signing them, as here, with the Italianised Gio[vanni] Batt[ist]a Weenix. In 1649, Weenix settled in Utrecht, where there was a ready market for such relatively large scale works with pastoral themes.

Despite their reputation for sobriety, a broad swath of Dutch artists, among them Frans van Mieris I and Jan Steen, included animals in their work to suggestively reference erotic acts. Here, an impish bearded peasant directs the attention of a young shepherdess to a billy goat mounting a nanny goat. Though she covers her eyes in an attempt at modesty, she nevertheless peeps through her spread fingers to catch a glimpse of the amorous detail. The young woman's sexual desires are perhaps intimated as well through the foliage behind her. It has been convincingly argued that the imagery of a vine entwining a tree in Dutch painting recalls one of the Latin poet Catullus's carmina in which this motif is likened to an eager bride 'full of desire for the bridegroom' (see D.R. Smith, 'Courtesy and its discontents: Frans Hals's "Portrait of Isaac Massa and Beatrix van der Laen"', Oud Holland, C, 1986, p. 6).

The woman must have been based on a live model who travelled in the artist's circle, for she appears in more than a dozen of Weenix's paintings, always wearing the giant hat to shade her from the sun (see F.J. Duparc and L.L. Graif, Italian Recollections: Dutch Painters of the Golden Age, exhibition catalogue, Montreal, 1990, pp. 196-197). The painting may also have served as inspiration for a print subsequently included in the fourth volume of Jan Harmensz. Krul's Pampiere wereld ofte wereldsche oeffeninge of 1681.

During its history, this painting has passed through many of the most important collections of Dutch paintings ever assembled. It first appears at the sale of the eminent collection formed by the merchant Cornelis van Lill held in Dordrecht in 1743, which also included paintings by Sir Peter Paul Rubens, Jan Steen and Frans van Mieris. It was subsequently in the collection of the French connoisseur Augustin Blondel de Gagny, housed at his hôtel particulier in the Place Vendôme, which also included a number of masterpieces that are today in the Louvre, including works by Sir Anthony van Dyck, Gabriel Metsu, Nicolas Poussin and Claude Lorrain. It was probably in Blondel de Gagny's collection that the painter and writer Jean-Baptiste Descamps first encountered the work, singling it out for praise as 'un beau Paysage' alongside comparable paintings by Weenix in the collections of Jean de Julienne, the Elector of the Palatinate, Willem Lormier and Gerrit Braamcamp (J.B. Descamps, La vie des peintres flamands, allemands et hollandois, II, Paris, 1754, p. 311). It was then in the famed Amsterdam collection of Hendrik van Eyl Sluyter and, later, that of Napoleon's uncle, Cardinal Joseph Fesch.
Christie's. Important Old Master Paintings from The Eric Albada Jelgersma Collection: Evening sale, London, 6 december 2018