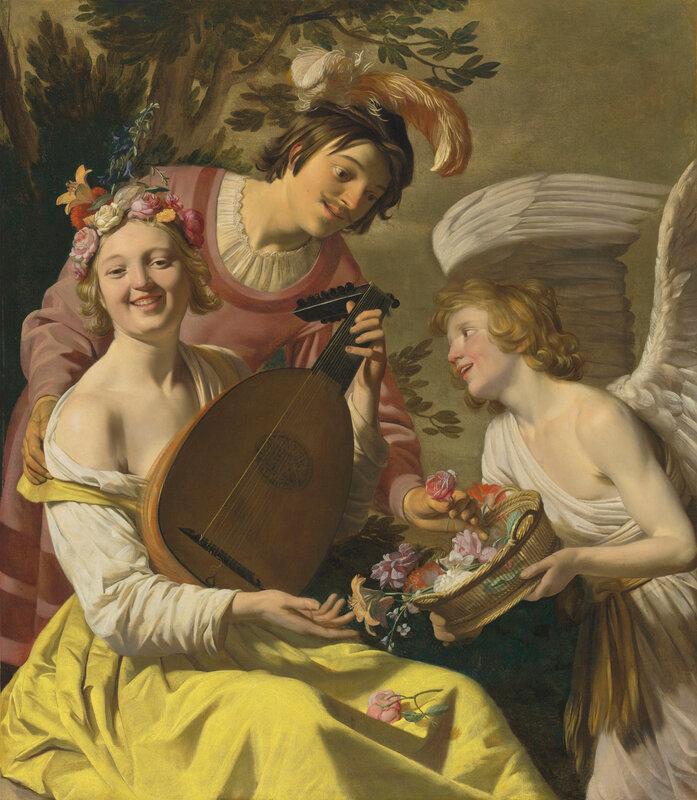 Lot 5. Gerrit van Honthorst (Utrecht 1592-1656), Allegory of love, oil on canvas, 50 7/8 x 44 1/8 in. (129.3 x 114 cm.) Estimate GBP 500,000 - GBP 800,000. Price Realised GBP 548,750 (EUR 615,149)(USD 698,010) to An Anonymous. © Christie's Images Ltd 2018

Provenance: Private collection, Hamburg, since at least 1966.
Anonymous sale; Kunsthaus am Museum-Carola von Ham, Cologne, 20-23 March 1991, lot 1070, as 'Utrecht Caravaggist 17th C' (630,000DM).
with Galerie Arnoldi-Livie, Munich, 1992-1996.
with Noortman, Maastricht.
Private collection, Switzerland.
with Galerie Neuse, Bremen, 21 December 2000, from whom acquired.
Literature: J.R. Judson, 'A New Honthorst Allegory: Can This be Love?', Shop Talk: Studies in Honor of Seymour Slive: Presented on His seventy-fifth Birthday, Cambridge (MA), 1995, pp. 128-129, and 338-339, fig. 1.
J.R. Judson & R.E.O. Ekkart, Gerrit van Honthorst, 1592-1656, Doornspijk, 1999, pp. 168-170, no. 207, fig. 107, pl. XVI, as 'Shepherdess with a lute, shepherd and cupid (Allegory of Love?)'.
Exhibited: Utrecht, Centraal Museum; Frankfurt am Main, Schirn Kunsthalle; and Luxembourg, Musée National d'Histoire et d'Art, Het Gedroomde Land. Pastrorale schilderkunst in de Gouden Eeuw, 1993-1994, no. 28, as 'Allegory of Spring'.
San Francisco, Fine Arts Museums of San Francisco/Legion of Honor; Baltimore, Walters Art Gallery; and London, National Gallery, Masters of Light: Dutch painters in Utrecht during the Golden Age, 13 September 1997-7 August 1998, no. 58, as 'Allegory of Spring (also known as Allegory of Love)'.
Utrecht, Centraal Museum, Utrechts Gouden Eeuw; Caravaggisten en Italianisanten uit Nederlands bezit, 29 June-23 September 2001, no. 32.
's-Hertogenbosch, Noordbrabants Museum; Louvain, Stedelijk Museum Vander Kelen-Mertens; and Zwolle, Waanders Uitgevers, De Vier Jaargetijden in de kunst van de Nederlanden 1500-1750, 2002-2003, no. 88, as 'Allegory of Spring and Love'.
Note: This joyful picture dates to the early maturity of Honthorst, when he had established himself as one of the most popular and prolific artists in Europe. With its life-affirming joie de vivre, it had long been interpreted as an allegory of spring, with the young woman centre stage, flowers crowning her hair, understood to personify the season itself, while the winged figure in this reading represents Zephyr, blowing in his gentle wind. It has more recently been convincingly argued, however, that the picture instead represents an allegory of love, with the same winged figure in fact being Cupid rather than Zephyr. The roses in the woman's hair stand as a symbol of love itself, while the lute she holds has, of course, plentiful amorous associations. Music was certainly a strong motif in Honthorst's oeuvre, where it is used and re-used to suggest flirtation, lovemaking and promiscuity. Here, it more likely alludes to the spiritual harmony and pleasures of love. Indeed, the picture typifies Honthorst's keen sense of his audience and his skill in summoning up atmosphere. His figures, harmoniously arranged, are overtly playful and sensual, and such is their sunny countenance and engaging demeanour that is hard not to spontaneously share in their conviviality. J. Richard Judson suggests that this picture, with its warm tones and painterly execution, may date to 1624-6, and that it is possibly the first of this type of pastoral picture that would be in such demand in subsequent years (op. cit., 1999).

Born in Utrecht, Honthorst trained with Abraham Bloemaert before departing for Rome, where he was first documented in 1616. His stay in Italy, thought to have lasted between seven and ten years, had an enduring impact on his style: inspired like many of his contemporaries by the revolutionary impact of Caravaggio, he created his own interpretation of chiaroscuro, brilliantly using tenebrist effects to earn himself commissions from the most important patrons in Rome and Florence, including Cardinal Scipione Borghese, Cosimo II de' Medici and Vincenzo Giustiniani. His return to Utrecht was feted in 1620, when a party was thrown in his honour at 'Het Poortgen' ('The Little Gate') on 26 July, an event documented by Arnout van Buchell. He would become a key figure in the artistic culture of the city in the following decade, serving as dean of the Utrecht Guild of St Luke for several years. In this time he continued to produce typically Caravaggesque pictures, invariably lit by an artificial light source within the composition, which confirmed his position as one of the leading members of the so-called Utrecht Caravaggisti, alongside Dirck van Baburen and Hendrick ter Brugghen. In the mid-1620s, however, he began to modify his palette, introducing more vivid colours as he steadily abandoned chiaroscuro. It was a style that was well suited to the changing tastes of the era when the courts of Europe, including that of Prince Frederik Hendrik at The Hague, favoured pastoral and Classical themes, at the time when Dutch pastoral poetry and emblematic literature flourished. Honthorst mastered this shift in style and tone, just as he had chiaroscuro, painting pictures that explored classicising themes. In some cases he took up scenes from specific sources, notably in his 1625 picture Granida and Daifilo (Utrecht, Centraal Museum), which interprets a passage from a pastoral play by Pieter Cornelisz. Hooft. Other pictures, such as this lot, continued the exploration of allegory and symbolism that was such a feature of the Dutch Golden Age.
Christie's. Important Old Master Paintings from The Eric Albada Jelgersma Collection: Evening sale, London, 6 december 2018