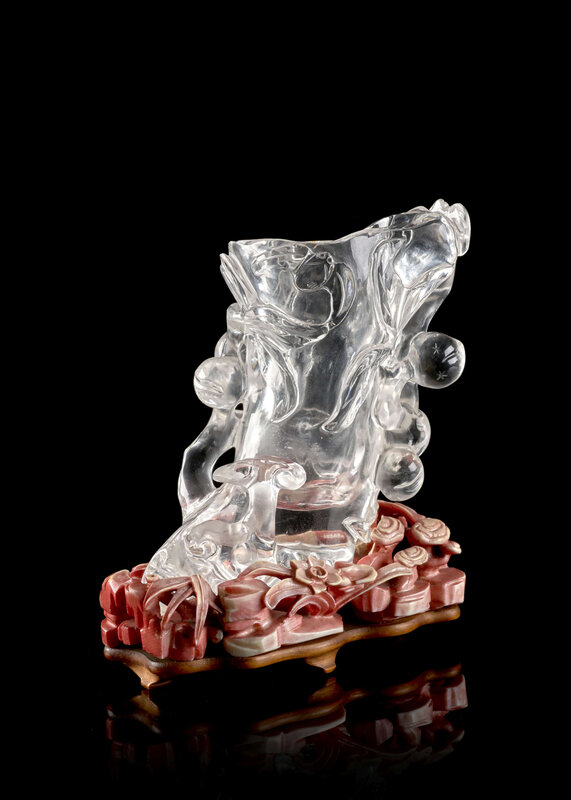 Lot 35. A carved rock crystal vase and its stained ivory and wood stand, China, Qing dynasty, late 19th century. Hauteur du vase : 9 cm (3 1/2 in.). Estimation 600 - 800 €. Vendu 4 160 €. © Artcurial
En forme de tronc d'arbre, sculpté en relief de lingzhi, pêches et chauves-souris, socle en bois et ivoire teinté sculpté de lingzhi; petits éclats.
On y joint une attestation d'expertise par Monsieur Michaël Combrexelle, expert près la Cour d'Appel de Paris, qui sera remise à l'acquéreur.
Cette attestation établit que cet objet d'art travaillé, a été réalisé dans des éléments en ivoire d'Elephantidae spp (I/A), spécimen dit pré-convention et au vu de son ancienneté antérieure au 1er juin 1947, son utilisation commerciale dans l'UE est permise ainsi que sur le territoire national français conformément à l'arrêté ministériel du 4 mai 2017, relatif à l'interdiction du commerce de l'ivoire d'éléphants et de la corne de rhinocéros.
En revanche une demande de CITES de ré-export sera nécessaire pour tout acheteur qui souhaiterait l'exporter hors de l'UE après la vente.
Artcurial. Vente Art d'Asie - 10 décembre 2018