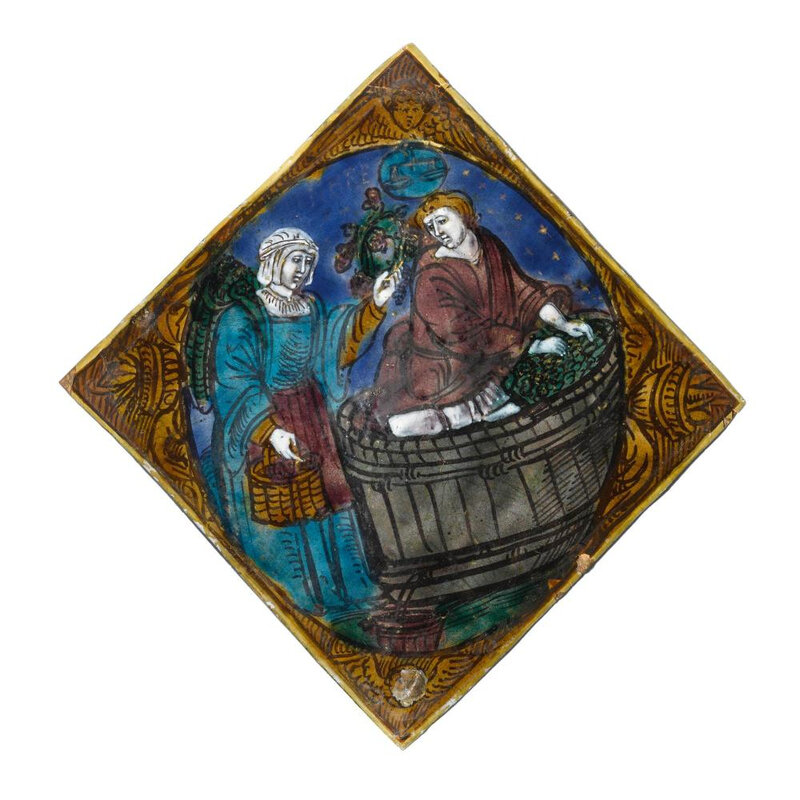 Lot 68. Circle of Colin Nouailher (active 1539 - after 1571) French, Limoges, circa 1540-1570, Six Plaques with the Labours of the Month and Zodiac Signs; 13 by 13cm., 5 1/8 by 5 1/8 in. each. Estimate £12,000 - £18,000. © Sotheby's.
depticting the zodiac signs Pisces, Taurus, Cancer, Leo, Virgo and Libra, and inscribed respectively (excluding Pisces): AVRIL; IVNVS; IVLLET; AVST; and SEPTENBRE; three plaques with old inventory numbers 9470 to the reverse; partially gilt painted enamel on copper.
Note: Labours of the Month cycles - depicting the rural activities that commonly took place in certain months of the year - have a long tradition throughout the Middle Ages and also became a popular theme for Limoges enamellers, particularly in the second half of the sixteenth century. The best known examples of these cycles are by artists such as Pierre Reymond, Pierre Courteys or the Monogrammist I.C.; their iconography mainly derived from two series of copper engravings by the engraver Étienne Delaune, dating from the 1560s. The present plaques – some of the earliest examples of the Labours in Limoges enamel – however are directly based on a calendar with woodcuts which was published in Paris in 1499 under the title 'Compost et kalendrier des bergères'. An almost similar series of the Labours – although executed as roundels and consisting of 10 plaques – has been in the collection of the Herzog Anton Ulrich-Museum in Brunswick (Müsch, op. cit., nrs. 28-37, pp. 116-121) since circa 1785. Based on their painting style and specific enamelling technique, the Brunswick plaques, as well as the present plaques, can be clearly associated with the work of Colin Nouailher, perhaps even being by Nouailher's own hand or workshop.
RELATED LITERATURE: I. Müsch, Maleremails des 16. und 17. Jahrhunderts aus Limoges, cat. Herzog Anton Ulrich-Museum, Braunschweig, 2002