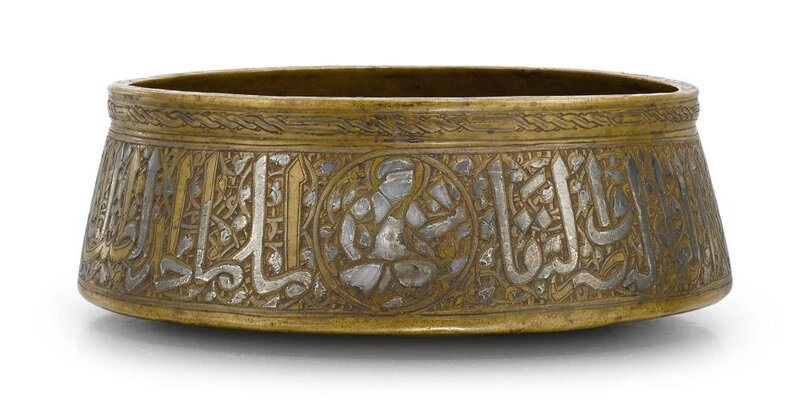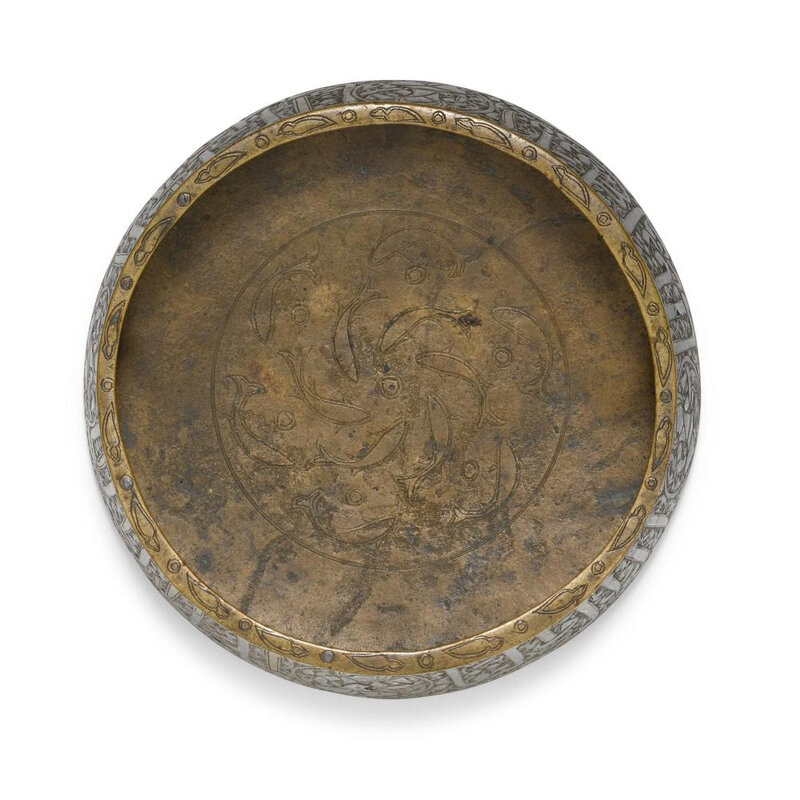 Lot 189. An early Mamluk silver-inlaid brass bowl, Egypt, 14th century; 5cm. height.; 16cm. diam. Estimate £12,000 - £18,000. © Sotheby's.
with large silver-inlaid engraved calligraphic band between foliage, interspersed with four roundels containing seated figures, the underside engraved with a central stylised sun motif surrounded by six roundels containing figures, remnants of silver inlay, incised swimming fish to interior.
Provenance: By repute, Count Don Enrico Lucchesi Palli, 11th Principe di Campofranco (1861-1924)

Count Enrico Lucchesi Palli together with his cousin Enrico Prince of Bourbon Parma, Count of Bardi, and other notable relatives embarked on a journey around the world between 1887 and 1891, which also took them to Alexandria, Egypt, where this bowl was most likely acquired;
thence by descent.
Inscriptions: Benedictory.
Note: The Mamluk period represented a time of great architectural and cultural achievement. Mamluk metalwork, as well as other types of decorative art, is renowned for its high calibre workmanship and recognisable motifs. This inlaid brass basin is no exception. The large amount of brassware surviving from the Mamluk period attests to the popularity of this metal which began to be used heavily during the thirteenth and fourteenth centuries due to its resemblance to gold and silver.

The base of the dish is particularly noteworthy as it depicts a sun surrounded by six roundels containing figures; each most likely personifying one of the known celestial bodies of the time. The figure with the crown would have represented the moon, the scribe is Mercury, the oud player depicts Venus, Mars holds a sword, Jupiter in this case is depicted with two fish, and Saturn with a pickaxe. This base can be compared to that found in the Bargello Museum in Florence (E. Baer, Metalwork in Medieval Islamic Art, New York, 1983, p. 249). Further examples are discussed by Stefano Carboni, Following the stars: Images of the Zodiac in Islamic Art, The Metropolitan Museum of Art, New York, 1997).