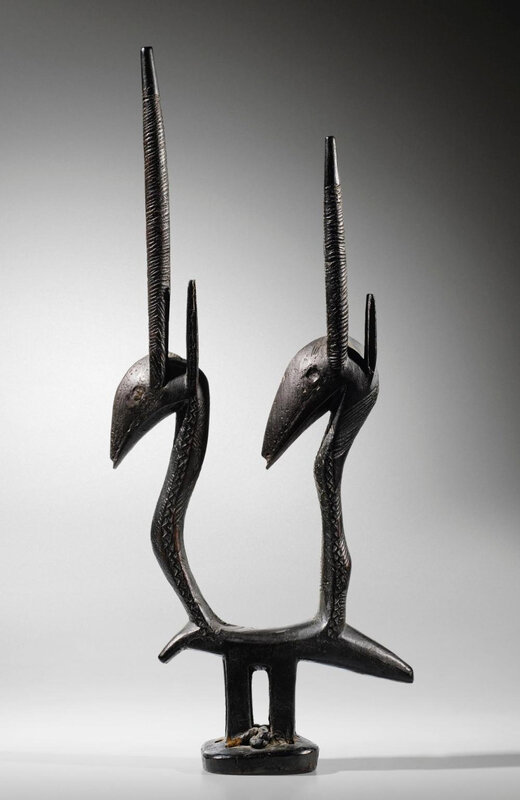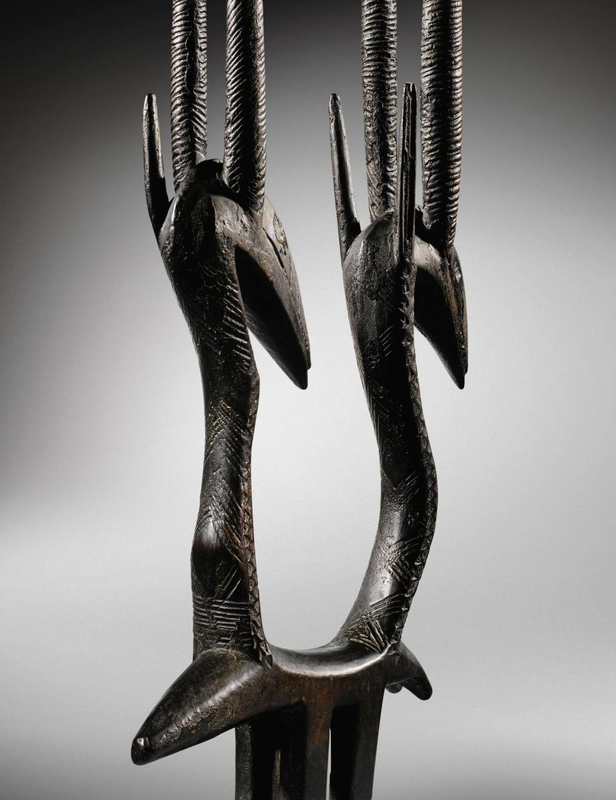 Lot 177. Cimier ciwara, Bamana, Mali; haut. 65 cm ; 25 1/2 in. Estimate 300,000 — 400,000 EUR. Lot Sold: 693,000 €. © Sotheby's.
Provenance: Collection Gaston de Havenon (1904-1993), New York
Transmis par descendance
Quay (de) et Lombrail, Paris, Collection Gaston de Havenon, 30 juin 1994, n° 11
Collection André Schoeller (1930-2015), Paris, acquis lors de cette vente
Collection privée, Paris , acquis en 2002.
Exhibited: Washington D.C., Museum of African Art, African Art: the de Havenon Collection, 30 mai - 3 octobre 1971
Paris, Galerie Ratton-Hourdé, Tyiwara, juin 2001
Zürich, Rietberg Museum, Bamana : Afrikanische Kunst aus Mali, 9 septembre - 9 décembre 2001.
Literature: Robbins, African Art in American Collections, 1966, n° 9
Robbins, The de Havenon Collection, 1971, n° 56
Zahan, Antilopes du soleil. Arts et rites agraires de l'Afrique Noire, n° 1F57
Ratton-Hourdé, Tyiwara, 2001, p. 53
Colleyn, Bamana : Afrikanische Kunst aus Mali / Bamana, The art of existence in Mali / Bamana, un art et savoir-vivre au Mali, 2001, p. 216, n° 198.
Note
: Cette sculpture exceptionnelle, icône de l'ancienne collection de Gaston de Havenon, présente une morphologie extrêmement rare au sein des coiffes verticales
ci-wara
: elle est composée de deux créatures de taille égale partageant le même corps, et dont l'identification est ambigüe.
Selon Jean-Paul Colleyn, lors de la présentation de ce cimier dans l'exposition Bamana: Un art et un savoir-vivre au Mali au Rietberg Museum : "dans tous les styles de ci wara connus, la dimension fantastique d'êtres hybrides défiant l'entendement ordinaire l'emporte largement sur le souci de réalisme" (p.204). C'est cette indifférence au réalisme figuratif qui a tant attiré les artistes modernistes et les a poussés à s'inspirer de l'art africain. Cette coiffe constitue un exemple édifiant du type d'œuvres qui exerça sur eux une profonde influence.
Avec ses formes stylisées et sa patine exceptionnelle, rendue croûteuse du fait de son âge et de son utilisation, cette coiffe n'est comparable qu'à de très rares autres œuvres. En terme de qualité, elle s'apparente en particulier, avec sa patine sombre et brillante et ses délicates scarifications géométriques, à la mère à l'enfant ci wara de la collection Silver (Sotheby's, New York, 13 novembre 2017, lot 16). En termes d'innovation et d'individualité, elle peut être comparée à la coiffe "en zigzag" de la collection de William Rubin : toutes deux s'agencent en une composition hautement moderniste et stylisée. Ici, le motif en zig-zag, délicatement gravé, serpente sur le cou de l'antilope et s'harmonise avec ses modelés ondulés. Selon Alisa LaGamma à propos du cimier Rubin, le motif en zigzag pourrait avoir un rapport symbolique avec « une illustration de la trajectoire du Soleil autour de la Terre » ou « des méthodes mathématiques utilisées par les Bamana et les Dogon pour représenter géométriquement […] la rotation des corps célestes observée empiriquement » ou encore avec les voyages épiques de héros de la culture voyageant entre le ciel et la terre. (La Gamma, Genesis, p. 121)
La solide assise géométrique de la base et des pieds forme un contraste saisissant avec la fluidité des lignes et les courbes des cous, des têtes arquées et des amples cornes cylindriques gravées en spirale. Les deux animaux présentent une symétrie dans leur posture et se renforcent dans leur association; leurs formes empreintes d'un dynamisme expressif étaient autrefois également magnifiées par la performance dansée. Ce chef-d'œuvre saisissant transcende toutes les autres pièces du corpus. Unique par sa forme, il est considéré comme l'une des plus belles œuvres de l'art Bamana.
This exceptional sculpture, an icon from the former collection of Gaston de Havenon, displays exceedingly rare morphology among the vertical posture ci wara headdresses, in its formation of two creatures of equal size who sit atop the headdress but who are ambiguous in their definition.
In the accompanying book to the exhibition at the Rietberg Museum, Bamana: Un art et un savoir-vivre au Mali, Colleyn writes "In all the styles of ci wara known for sure, the fantastical dimension of hybrid beings defying ordinary understanding, far outweighs the concern for realism" (p.204) (original French as follows: dans tous les styles de ci wara connus en effet, la dimension fantastique d'etres hybrides defiant l'entendement ordinaire l'emporte largement sur le souci de realisme ), it is this disregard for figurative realism which so enticed Modernist artists to take African Art as inspiration for their paintings and sculpture and this headdress presents a perfect example of the type which acted as influence.
With its stylised form and exceptional patina, encrusted in many places from age and use, this headdress can only be compared to a few other examples. For its quality it can be compared to the mother and child ci wara formerly in the Silver collection (Sotheby's, New York, November 13th, 2017, lot 16); both share a dark, glossy patina and subtle, geometric scarification. For stylistic innovation and individuality it can be compared to the "zig-zag" headdress formerly in the collection of William Rubin; they both display highly modernist and stylised designs. In this example the same zig-zag motif is present; delicately incised it snakes up the necks of the antelope, harmonising with their undulating contours. LaGamma writes in discussion of the ex-Rubin headdress, that the zig-zag motif could relate symbolically to "an illustration of the trajectory of the Sun around Earth" or "mathematical methods used by the Bamana and Dogon to represent geometrically […] empirically observed spiral motions of heavenly bodies" or even the epic journeys of culture heroes travelling through heaven and earth. (La Gamma, Genesis, p. 121)
The solid geometrics of the base and legs of the present example contrast directly with the fluidity of lines and curvature of the shapes within the necks, the arced heads and sweeping cylindrical horns with a textured spiralled surface. The two figures are mirrored in their posture, and enhanced through their pairing; their forms imbued with expressive dynamism, once heightened through performance. This striking masterpiece transcends all other examples within the corpus, displaying unique form it is distinguished as one of the finest works within all Bamana art.
Sotheby's. Arts d'Afrique et d'Océanie, Paris, 12 décembre 2018