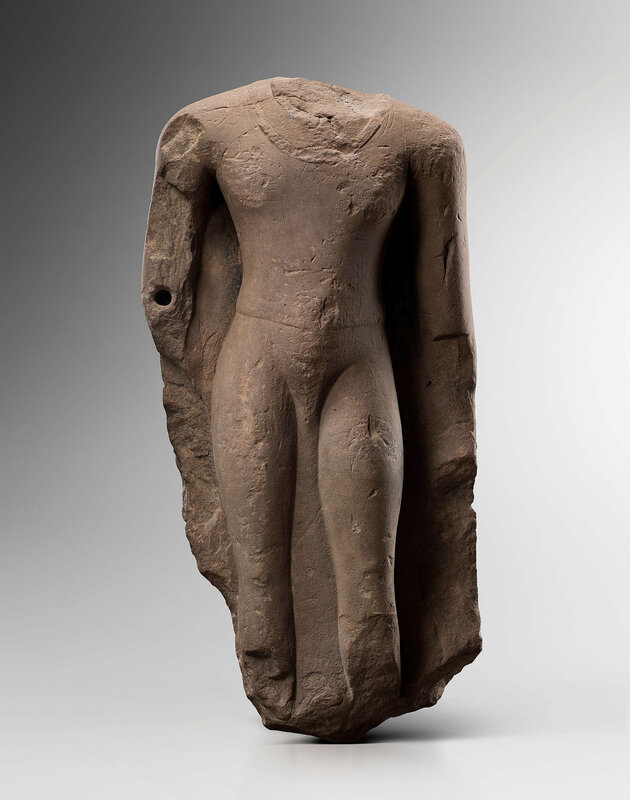 Torso of Buddha, Gupta period, 5th-6th century, Northern India, Uttar Pradesh, possibly the Sarnath region. Sandstone. H 75 cm. © Grusenmeyer-Woliner at BRAFA 2019, Stand 97d.
Provenance: Zen Oriental Art Gallery, Brussels; private collection, March 2000.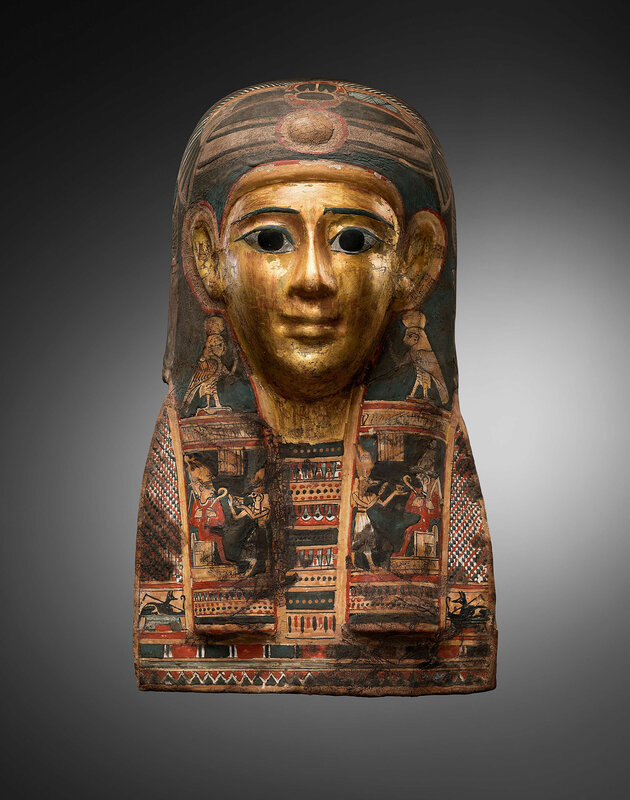 Mummy mask, Egypt, Ptolemaic period, 305-30 BC. Polychrome and gilt cartonnage. H 44 cm. © Grusenmeyer-Woliner at BRAFA 2019, Stand 97d.
Provenance: private collection, January 1998.
Literature: S. Grusenmeyer, Foire des Antiquaires de Belgique XLIII, Brussels, 1998, lot n° 4.
Bete-Guro Gye mask, Ivory Coast, 19th century. Wood, iron and hair. H 27 cm. © Grusenmeyer-Woliner at BRAFA 2019, Stand 97d.
La galerie Grusenmeyer a ouvert ses portes à Bruxelles en 1980. Représentant la deuxième génération d'antiquaires, Karim et Isabelle Grusenmeyer, en association avec Damien Woliner depuis janvier 2016, n'ont de cesse d'améliorer la qualité et la diversité des oeuvres proposées. Spécialisée en sculpture, archéologie, bijoux et arts décoratifs en provenance d'Asie du Sud-Est, de Chine et d'Inde, la galerie Grusenmeyer-Woliner n'hésite pas à cultiver son éclectisme en mélangeant des oeuvres d'origines et de cultures diverses. Une attention particulière est apportée à l'étude et à l'esthétique des oeuvres afin de donner garantie et satisfaction complètes aux acheteurs. Elle compte parmi sa clientèle des conservateurs de musées, des collectionneurs avertis, des professionnels ainsi que des décorateurs et amateurs d'arts. Karim Grusenmeyer est membre de la Chambre Royale des Antiquaires et Négociants en Oeuvres d'Art de Belgique et de la Chambre Belge des Experts en Oeuvres d'Art. Karim et Isabelle Grusenmeyer sont membres fondateurs des 'Editions 5 Continents', créées à Milan en 2002 par Eric Ghysels. Publications: 'Spirals of Ancestors', 2003; 'Gods and Ancestors – Sculptural Art from Asia', 2007; 'The Ancestor Transcends – Sculptural Art from Asia and Oceania', 2008; 'A World of Sculptures', 2016. Toute l'actualité et les dernières acquisitions de la galerie se retrouvent sur le site www.grusenmeyer-woliner.com.
Rue des Minimes 17, BE-1000 Brussels - karim@grusenmeyer.be - www.grusenmeyer-woliner.com