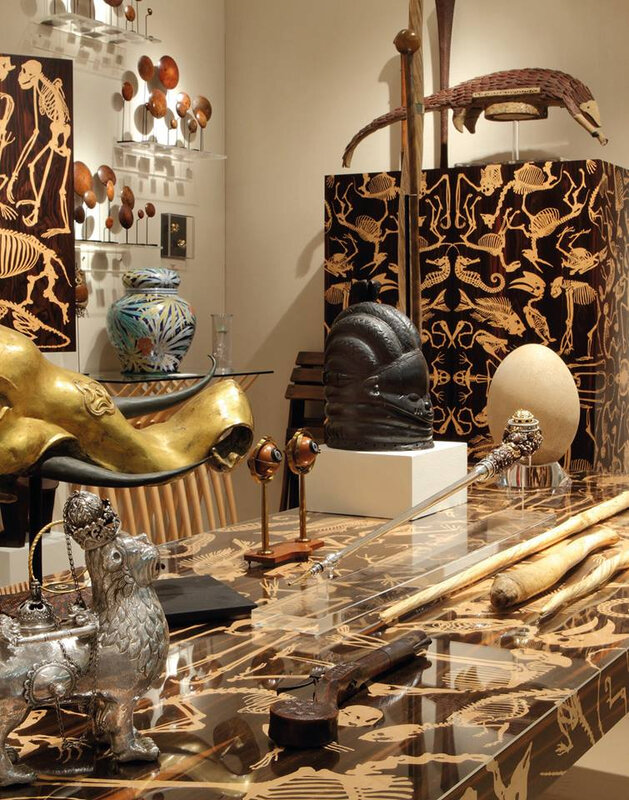 © Christie's Images Ltd 2019
LONDON.- Christie's will hold the auction of Peter Petrou Tales of the Unexpected in London on 30 January 2019. This eclectic sale epitomises the addictive and contagious passion for collecting which underpins the most intriguing collections, invariably sparked by insatiable curiosity and a sense of joy. Presenting an opportunity to travel around the world in 150 lots, spanning 3,000 years of history from 1000 BC to the 21st Century, the sale comprises early sculpture, decorative arts, science and natural history, Japanese, Chinese and Indian works of art, alongside the ethnographical and the plain unusual. With estimates starting from £300 to £100,000, the collection is expected to realise in the region of £1 million. The 10-day pre-sale public exhibition will open on 14 January, providing a veritable feast for the eyes and the imagination.
Benedict Winter, Head of Sale: "Christie's is thrilled to offer the collection of Peter Petrou, whose infectious taste has delighted clients for over forty years with his diverse, and at times eccentric, take on human history. With so many categories of artistic creation represented, Tales of the Unexpected represents an exciting and intriguing journey through the world and will captivate collectors, seasoned and new."
Peter and Leonora Petrou commented: "We have enjoyed curating exhibitions at fairs in New York and London including the Winter Show on Park Avenue, Grosvenor House, Masterpiece and PAD, where we have been able to express our wide-ranging interests and incorporate unexpected and diverse art objects from around the world and from many periods in history. This eclectic combination has led to meeting an equally exciting range of people who have become clients and friends and it is these people whose tastes we wish to continue to nurture. This is why we have decided after over forty years of exhibiting to accept Christie's extremely kind offer to host a 'Peter Petrou sale' and concentrate our energies on the smaller number of collectors with whom we have built close relationships. We hope people will enjoy our stories through ages and cultures and take away with you an unexpected piece of history."
Post War and Contemporary Art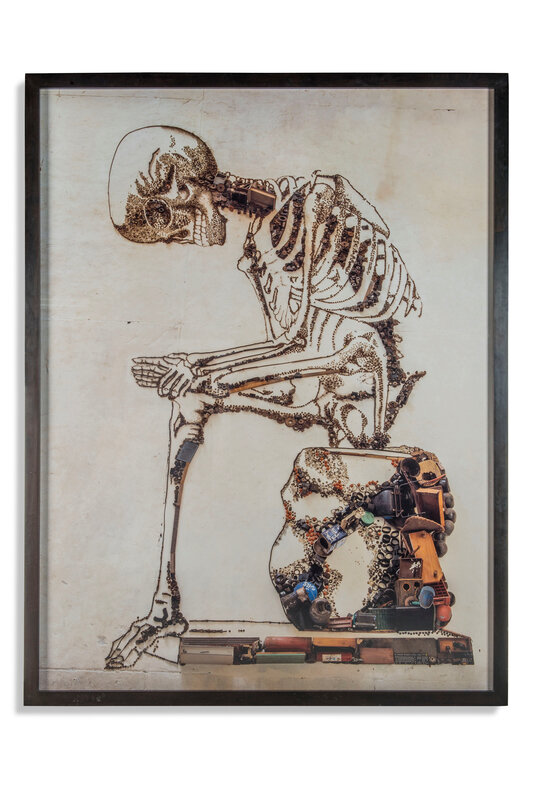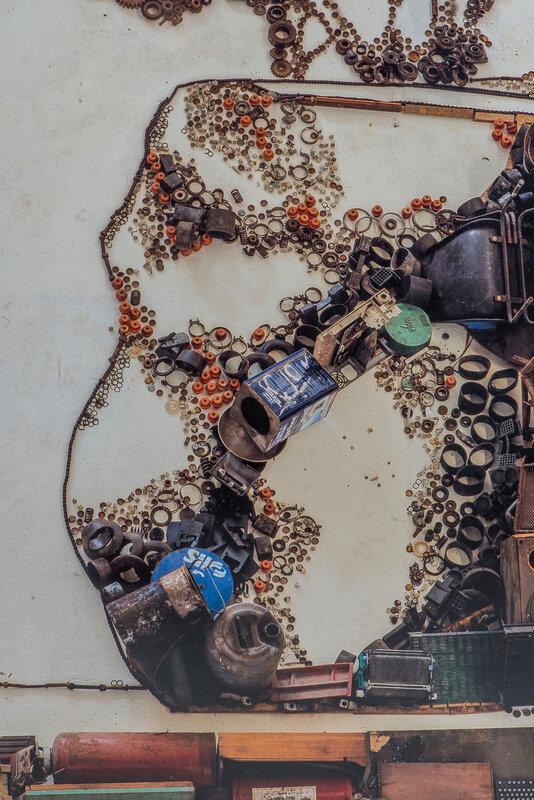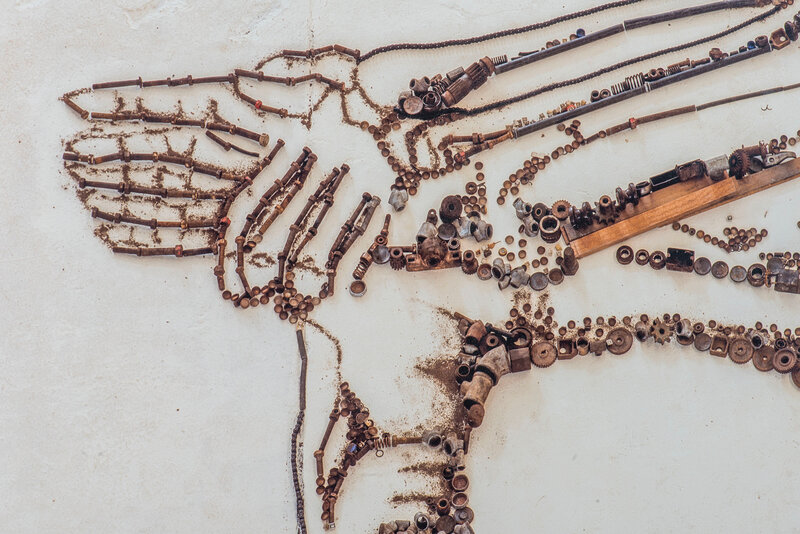 Lot 10. Vik Muniz (Brazilian, B. 1961) Anatomy, after Francesco Bertinatti (Pictures of Junk) digital chromogenic print 89 x 71 in. (226.1 x 180.3 cm.). Estimate: £10,000–15,000 (€12,000–17,000). © Christie's Images Ltd 2019
Literature: P. Corrêa do Lago, ed., Vik Muniz Obra Completa, 1987-2009: Catálogo Raisonné, Rio de Janeiro, 2009, p. 557 (another example illustrated).
Note: Vik Muniz is a Brazilian artist and photographer. Initially a sculptor, Muniz grew interested with the photographic representations of his work. Primarily working in series, Muniz incorporates the use objects such as diamonds, sugar, thread, chocolate syrup and in the present lot's case 'waste' in his practice to create bold, ironic and often deceiving imagery, challenging pre-conceptions of pop culture and art history. The present lot is a re-imagination of Francesco Bertinatti's lithograph from Elementi di anatomia fisiologica applicata alle belle arti figurative (Elements of physiological anatomy applied to fine figurative arts), published in Turin from 1837-39.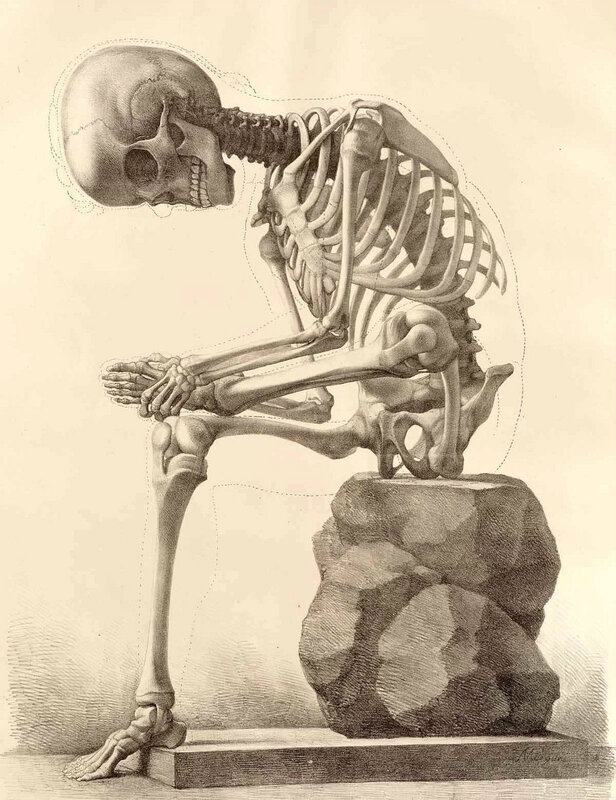 Francesco Bertinatti's lithograph from Elementi di anatomia fisiologica applicata alle belle arti figurative (Elements of physiological anatomy applied to fine figurative arts), published in Turin from 1837-39.

Other works from the 'Pictures of Junk' series have achieved excellent results at auction including Sotheby's, New York, 22 November 2016, lot 217 ($31,250, including premium), Phillips, London, 18 May 2017, lot 82 (£22,500, including premium) and Dorotheum, 29 November 2018, lot 500 (€32,500, including premium).
Design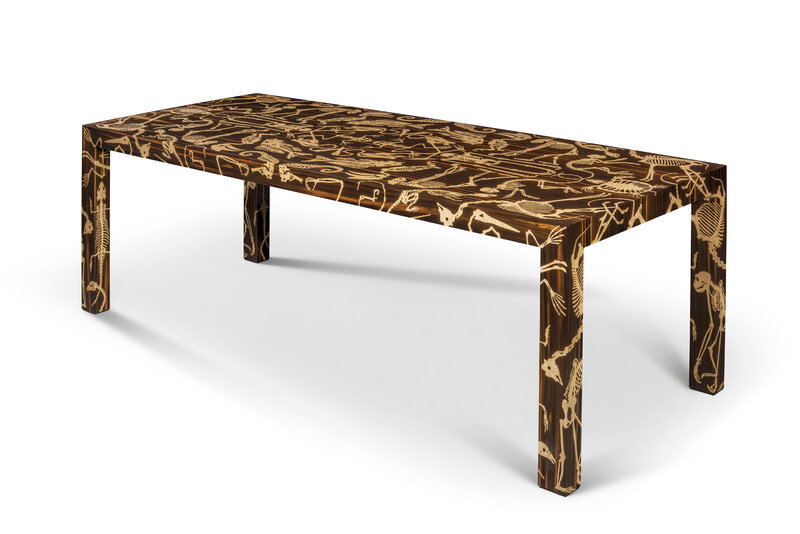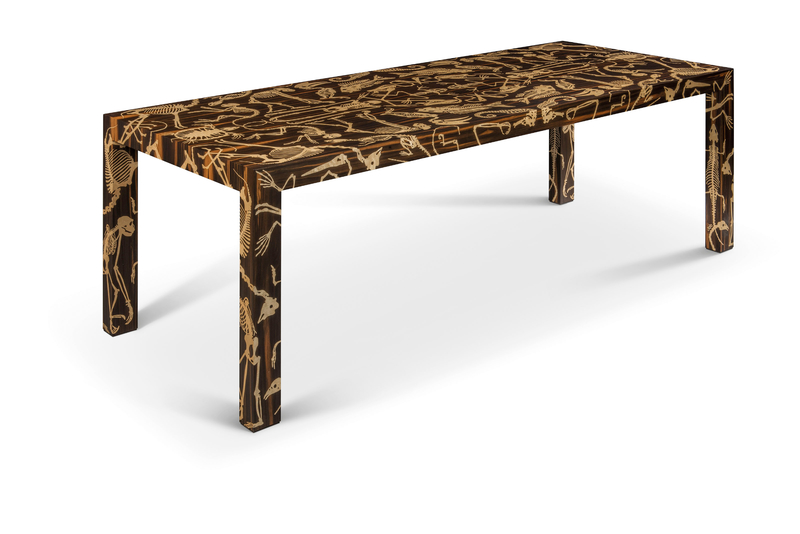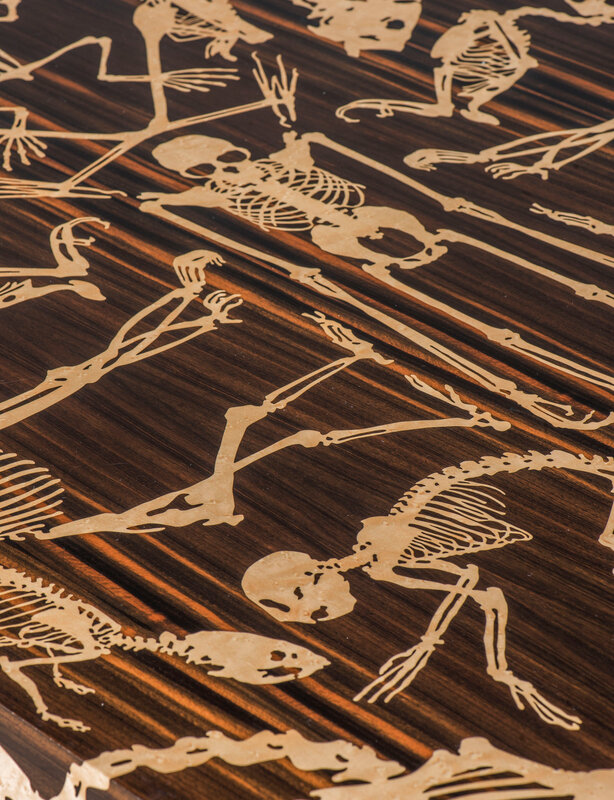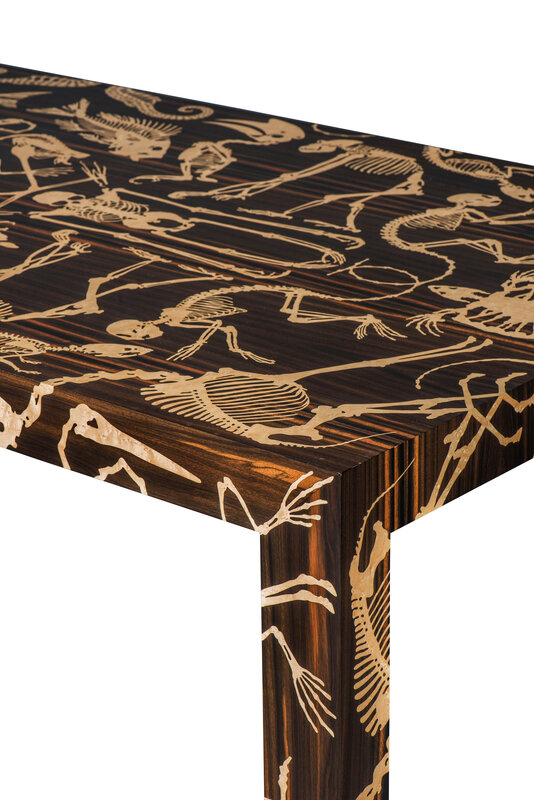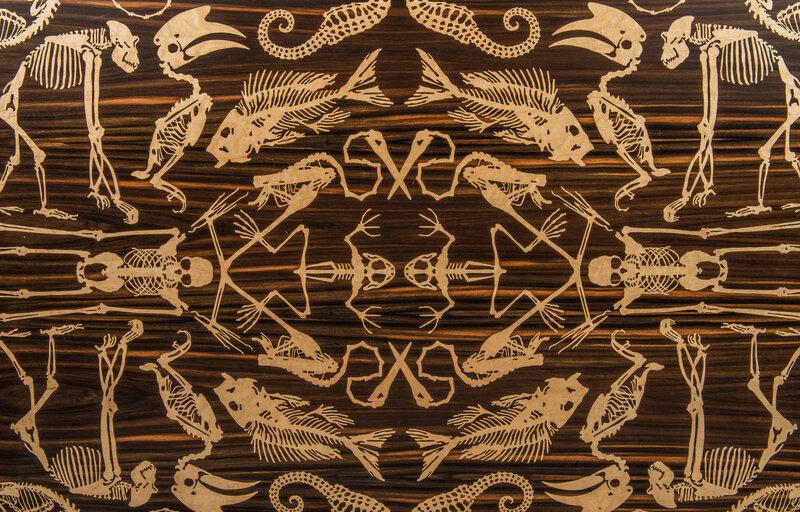 Lot 101. Studio Job (Founded 2000), Table, from the 'Perished Collection', 2006, produced by Studio Job, the Netherlands, from the edition of 6, one leg inlaid with Job Macassar ebony with laser-cut bird's eye maple marquetry 30 in. (76 cm.) high; 88Ω in. (225 cm.) wide; 35Ω in. (90 cm.) deep. Estimate: £30,000–50,000 (€34,000–55,000). © Christie's Images Ltd 2019
Note: Job Smeets and Nynke Tynagel founded Studio Job in 2000 with a shared vision: a studio with a Renaissance spirit, where traditional and modern techniques are blended to produce superbly crafted and strictly limited editions. In the years since, they have gained an international standing as contemporary pioneers of personal expression, and their studio employs craftspeople from over twenty guilds to develop Gesamtkunstwerk – a synthesis of creativity embracing multiple art forms. A similar piece by Studio Job was included in their 2016 retrospective at the Museum of Arts & Design in New York, while a related bench was exhibited at the Victoria and Albert Museum, London in 2009. Studio Job have forged ahead with their creative energy, recently completing a four-year regeneration project at the Faena art centre, in collaboration with Argentinean property developers Faena.
Their work in furniture has been recognised and celebrated internationally; most notably, they were named one of the Financial Times's Top 10 Influential Designers, and nominated for the 2014 Designer of the Year by the Wallpaper Design Awards.
An identical table from the collection and edition was sold Phillips, New York, 7 March 2013, lot 42 ($68,500, including premium).
Comparative Literature: International Design Yearbook, 21, New York, 2006 p. 217 (for a related work from the series).
G. Williams, Telling Tales: Fantasy and Fear in Contemporary Design, exh. cat., Victoria and Albert Museum, London, 2009, p. 97 (for a related from work the series).
J. Smeets and N. Tynagel, The Book of Job, New York, 2010, pp. 102-107 and 288 (for related works from the series).
A. Lindemann, Collecting Design, Cologne, 2010, p. 135 (for a related work from the series).
J. Smeets, Studio Job: Monkey Business, New York, 2016, pp. 80-81 (for a related work from the series).

Japanese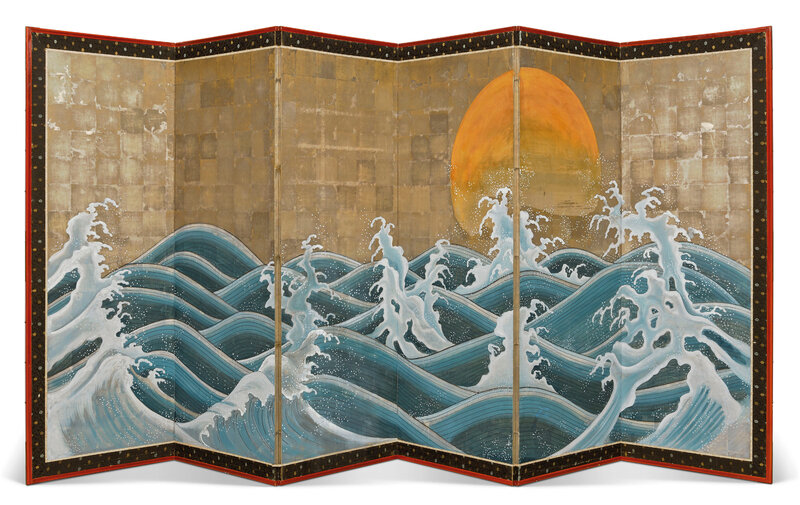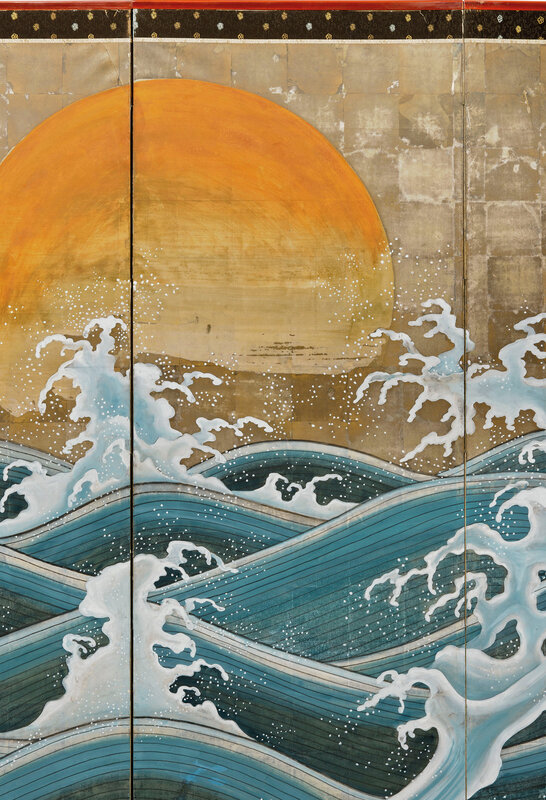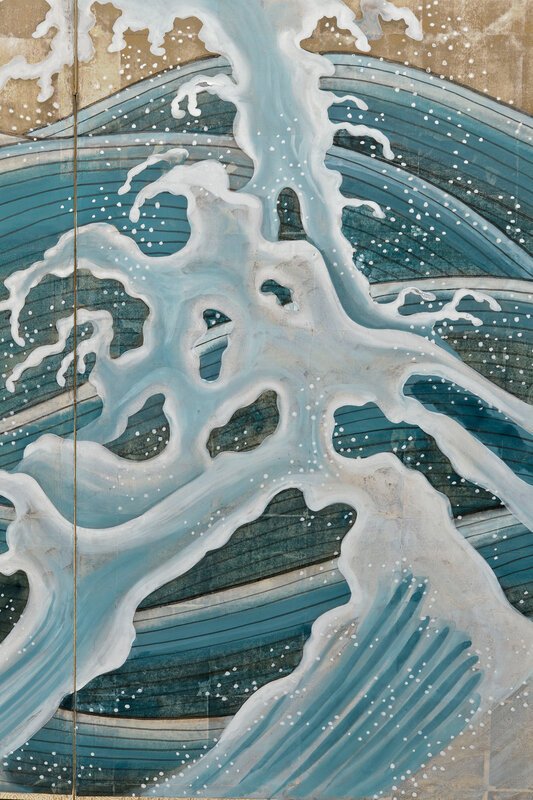 Lot 41. A Japanese Gilt and Polychrome-Decorated Six Fold Screen, Meiji Period (Late 19th-early 20th century); 68 ¼ in. (173 cm.) high; 147 ¾ in. (375 cm.) overall. Estimate: £6,000–10,000 (€6,700–11,000). © Christie's Images Ltd 2019
The screen depicting a glowing sun above a waves.
Note: The sun is particularly symbolic in Japanese tradition and the sun is central to the official flag of Japan, this interesting screen therefore celebrates not only Japanese culture but also the traditional earlier art form of ariso byobu (rough sea screens) which were popular in Japan from the sixteenth century, works which influenced the famous work The Great Wave off Kanagawa by Hokusai.
Chinese


Lot 86. Two Imperial Chinese dated Suzhou 'Golden Bricks', Qing dynasty, Qianlong Period, dated 1749 and 1784. The tiles: 28 ¼ x 27 ½ in. (72 x 70 cm.). The stands: 27 in. (68.5 cm.) high. Estimate: £15,000–25,000 (€17,000–28,000). © Christie's Images Ltd 2018
Each of square form, inscribed to the side with a date and place of manufacture, the brick of dark grey tone, later mounted on red-lacquered stands.
Provenance: Anonymous sale; Sotheby's, London, 10 May 2017, lot 292.
Note: Bricks of this superior quality made for the Imperial Palaces became known as Golden Bricks, possibly because of the metallic sound they made when tapped or more likely due to their high value. Although bricks and tiles had been made in China since 1000 B.C. the craft of making these extremely large, hard wearing, dark and lustrous floor tiles for the royal palaces was a particularly long and complicated process requiring a specific very fine clay from Suzhou. According to the Ming Dynasty (1368 - 1644) Illustrated Book on the Selection of Bricks, after being put in the kiln, they were smoked with husks for a month, burnt with firewood chips for another month, with twigs for a third month and pine branches for another 40 days. After the 130 days they were allowed to cool and were taken out of the kiln. The cost of making just one brick was equivalent to the cost of 50 kilos of rice. Another account reports that during the reign of the Ming Emperor Jiajang it took three years to produce just over 5,000 bricks of this quality averaging 5 per day.
The fired bricks, each one inscribed with the date of manufacture, measurements and the name of the craftsman who made them or his supervisor would be transported to the capital by the Hangzhou-Beijing Grand Canal, solely for the use of the emperor. Finally, the laying of the bricks, as with their making was minutely prescribed: one bricklayer with two helpers ground and polished each one to fit its neighbour precisely and they were soaked with raw tung oil to a lustrous dark finish resembling black jade. The Emperor Qianlong who reigned for 60 years is known for eliminating the Turk and Mongol threats in the north east, enlarging the Empire by creating Xinjiang (1.6 million square km ) and reinforcing Chinese authority in the south and east as well as his sponsorship of a compilation of Chinese Classics although he was also responsible for the destruction of all writings with an anti Manchu slant.
Science and Natural History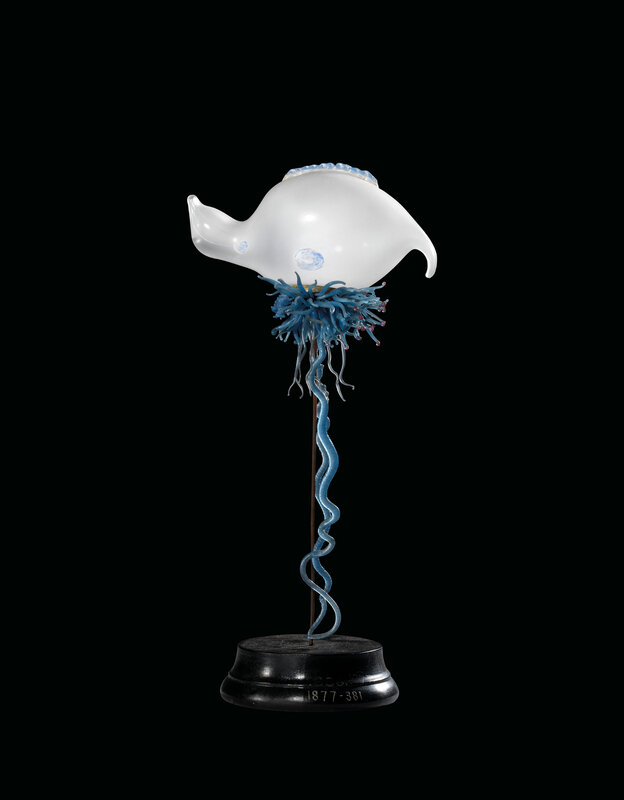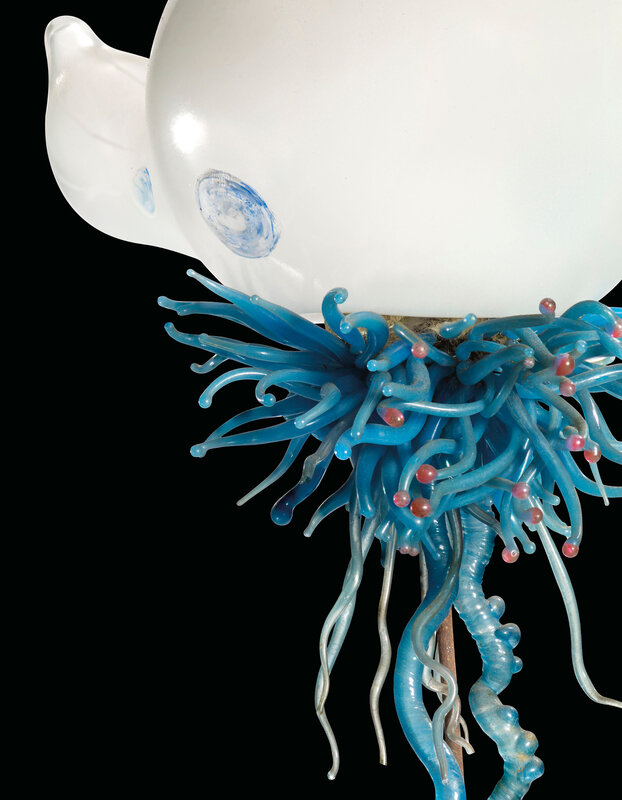 Lot 46. A glass model of a Portuguese Man O' War, Leopold Blaschka, circa 1877; 8½ x 4 x 3in. (21.5 x 10 x 8cm.). Estimate: £15,000–25,000 (€17,000–28,000). © Christie's Images Ltd 2019.
Modelled smaller than life the glass both stained and painted to reveal structures of Physalia physalis , supported on stand with painted ex inventory number 1877-381.
Provenance: Acquired by the Science Museum, London in 1877.
Deaccessioned 1925-27.
Note: Leopold Blaschka (1822-95) was a Czech jeweller working in Dresden who turned his attention to his passion: natural history. His glass models of plants and sea creatures were highly prized and commissioned by several universities and natural history museums of the late 19th century, where indeed almost all extant examples of his (and his son's) work survive. We know of only one other glass jellyfish in private hands.

The need for a glass didactic models of these jellyfish is that their soft bodies are incredibly difficult to preserve, and when suspend in jars with fluid loose their colour quickly and are thus not a good representation of the appearance of the animal in life. Coloured and translucent glass is of course the perfect material to use, but the difficulty of working in the medium is such that the quality of the Blaschkas work has never been equalled since.
Antiquities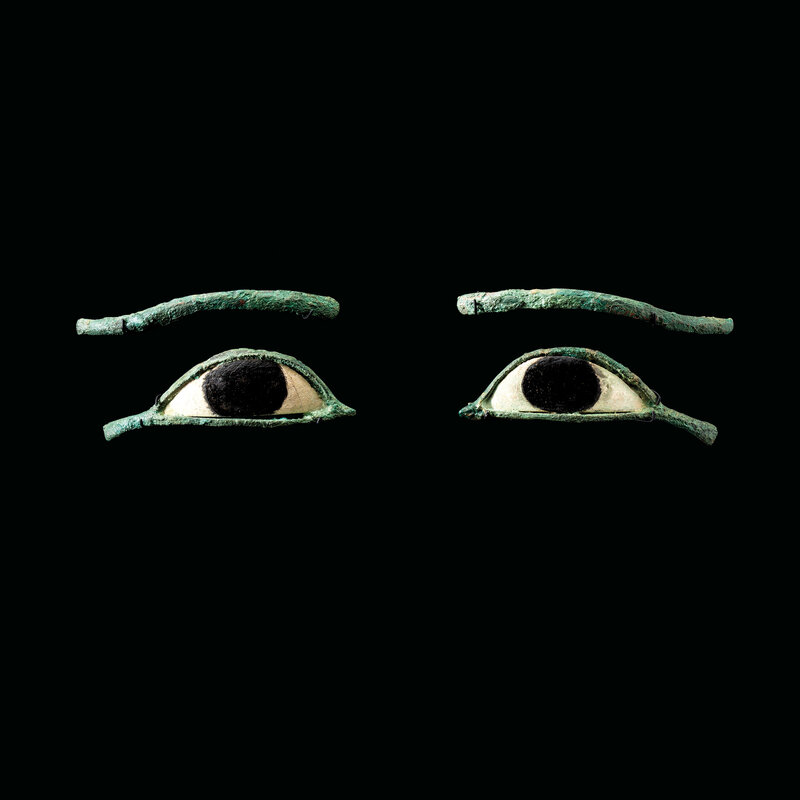 Lot 5. A pair of Egyptian bronze eyes and brows, Third Intermediate Period - Late Period, 21st-30th Dynasty, circa 1070-332 B.C. Each 3 ¾ in. (8.5 cm.) long. Estimate: £5,000–8,000 (€5,600–8,800). © Christie's Images Ltd 2019.
The lids with extending cosmetic lines, the interiors inlaid with white stone sclerae, the irises in black glazed composition, together with conforming brows.
Provenance: with N. Koutoulakis, Paris and Geneva, 1960s.
Anonymous sale; Christie's, New York, 5 December 2012, lot 147.
Arms and Armour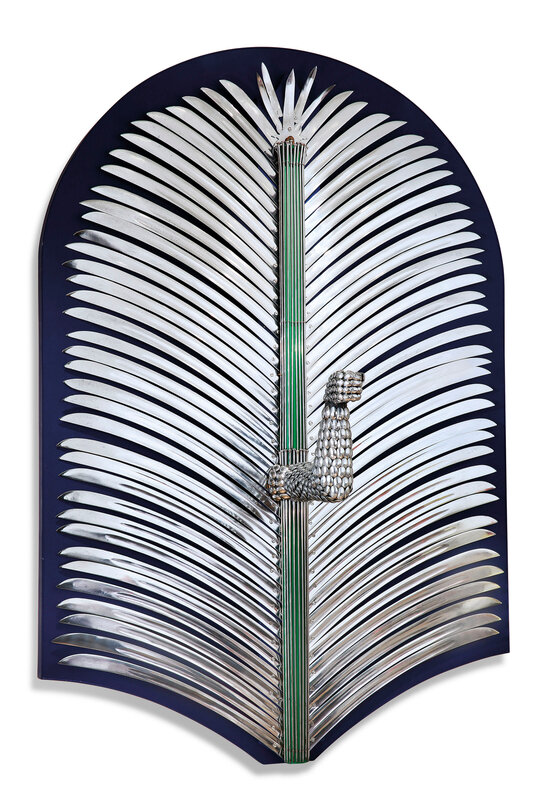 Lot 50. A decorative trophy from the Coldstream Guards Officers' Mess, from the Battle of Waterloo, circa 1815; 91 ¾ in. (233 cm.) high; 64 ¼ in. (163 cm.) wide. Estimate: £30,000–50,000 (€34,000–55,000). © Christie's Images Ltd 2019.
Comprising radiating blades of French and British light cavalry sabres from the Battle of Waterloo, in the shape of a palm frond, embellished with a projecting armature made from the butcaps of numerous pistols, the central support composed of metal ramrods, surmounted by a spontoon blade.
Provenance: The Coldstream Guards.
With Warner Daley, London.
The Forbes Collection Cañon House, Blanca Trinchera Ranch, Colorado.
Literature: Forbes. M., More than I dreamed, 1989, p. 193, illustrated pp. 194-5.
Note: This victory palm leaf displays arms taken from the field of Waterloo. It consists of seventy-six British 1796 patterned light cavalry sabre blades forming a palm frond, while the top is formed from four Infantry Officer's sword tips and a French spontoon blade. The central stem is adorned with 21 Brown Bess musket ramrods bearing a large protruding arm encased in the butt caps of flintlock pistols. Many of the sabres bear cuts and chips along the blade; damage caused in combat against French cavalry during the Battle of Waterloo.

This historic Trophy of Arms hung for many years in the Officers'' Mess of the Coldstream Guards, and held the associated regimental colours. The Coldstream Guards form part of the Brigade of Her Majesty's Foot Guards in the House Division, and are the oldest regiment in the British Army with continuous active service. Originally formed in 1650 by Cromwell, the Coldstream Guards have served with distinction in almost every campaign fought since by the British Army. Notable campaigns include Portugal and Spain under the Duke of Wellington, the Crimean War, and both World Wars. It was the 2nd Coldstream battalion that fought at the Battle of Waterloo, on Sunday 18th June 1815.

Interest in Waterloo memorabilia and particularly Wellingtonia have peaked in recent auction records; a cloak believed to have belonged to the Duke of Wellington at the battle was sold Sotheby's, London 14 July 2015, lot 24 (£47,500, including premium).
Ethnographical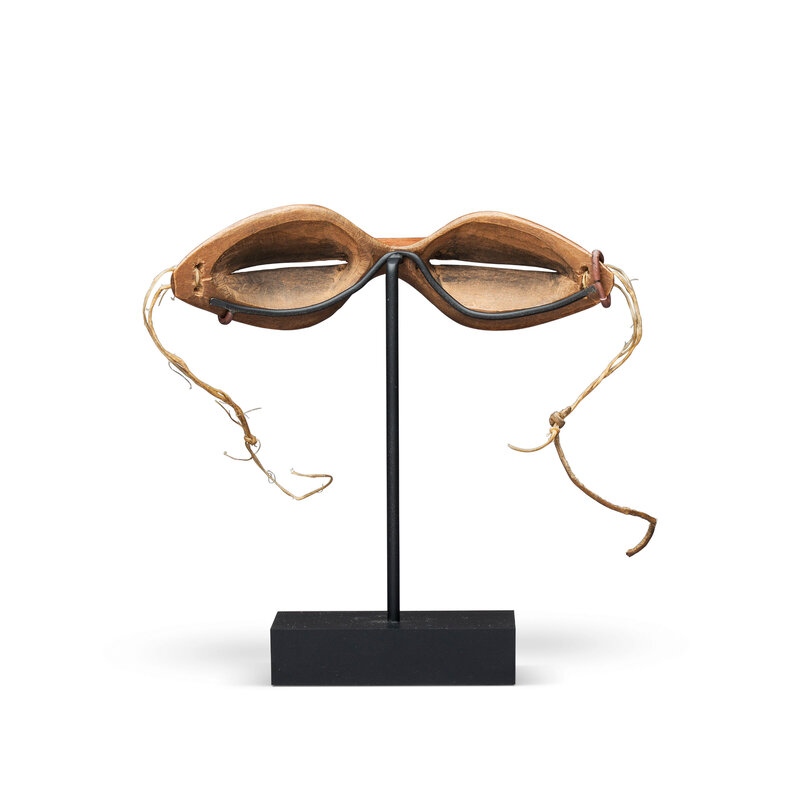 Lot 1. A pair of Inupiaq Spruce Snow Goggles, Alaska, 19th century. With stand: 5 7/8 in. (15 cm.) high; 5 ¼ in. (13.5 cm.) wide. Estimate: £3,000–5,000 (€3,400–5,500). © Christie's Images Ltd 2019.
Provenance: Private Collection, Santa Fe, New Mexico.
Note: These interesting snow goggles were used by the Inupiaq during particularly harsh weather.
Silver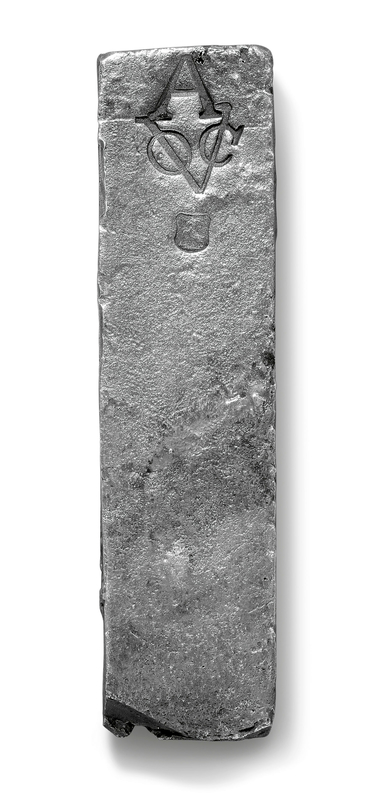 Lot 21. A Dutch East India Company (V.O.C.) Silver ingot from The Rooswijk Cargo, stamped with the mark of the Amsterdam chamber of the VOC, with assay masters mark of a rampant goat, circa 1739; 6 ½ in. (16.5 cm.) long and smaller, 57 ozt. 17 dwt. (1,800 gr.). Estimate: £3,000–5,000 (€3,400–5,500). © Christie's Images Ltd 2019.
Note: The Rooswijk was a Dutch East Indiaman which foundered after grounding on the Goodwin Sands at the end of 1739. She had been bound from Amsterdam and the Texel to Jakarta with a precious and general cargo. The site, discovered in 2005 and now a designated site under the Protection of Wrecks Act 1973, has already yielded some 1,000 artefacts including some 553 silver ingots like the present examples. The ingot, along with the others found, are each approximately 4 lbs and made from silver mined in Mexico before being sold to the Amsterdam Chamber of the VOC and further destined for use in the coinage of Batavia. Other examples from the cargo were sold Christie's's, London 24 May 2018, lot 488 (£5,250, including premium) and Christie's, London, 14 November 2018, lot 519 (£5,000, including premium).
Sculpture
Lot 105. An Italian polychrome-painted wood sculpture of Saint Sebastian, early 16th century, Emilia or Le Marche; 63 in. (160 cm.) high, overall. Estimate: £8,000–12,000 (€8,900–13,000). © Christie's Images Ltd 2019.
Note: The depiction of Saint Sebastian has been one of the most prevalent in Western art, reaching its zenith in the 15th century when artists such as Mantegna, Botticelli and Titian all depicted the dying saint. His handsome and youthful appearance, combined with the gruesome brutality of his death, continues to fascinate artists today.
Comparative Literature: R. Casciaro, Rinascimento scolpito. Maestri del legno tra Marche e Umbria, exh. cat. Convento di San Dominico, Camerino, Milan, 2006, pp. 208-213, nos. 43-44.
Drawings and Watercolours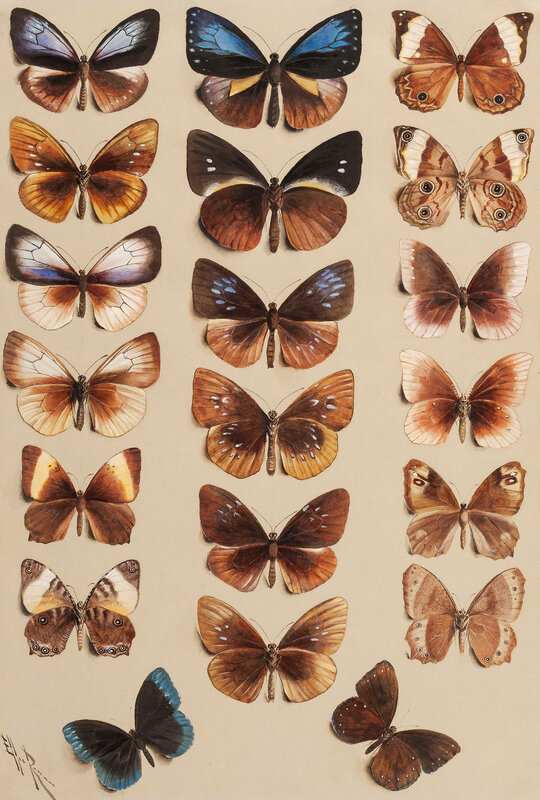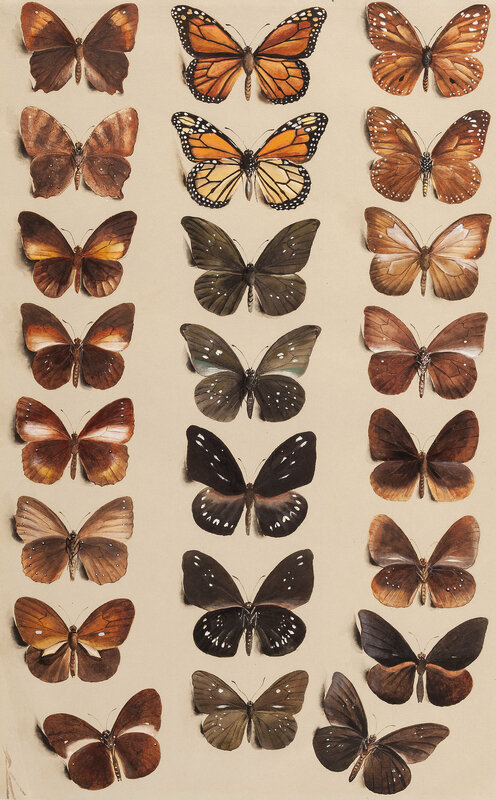 Lot 94. Marian Ellis Rowan (1848-1922), A pair of studies of butterflies,watercolour with bodycolour on grey paper. The sheets: 21 x 13 in. (53.3 x 33 cm.) and 21 ¼ x 14 in. (54 x 35.5 cm.). Estimate: £6,000–10,000 (€6,700–11,000). © Christie's Images Ltd 2019.
One comprising twenty-four in three columns; the other twenty in three columns, each signed (lower left) (2).
Provenance: Blanche (Bli) Ryan, the artist's sister, thence by descent to
Merlin Montagu Douglas Scott.
South East Asian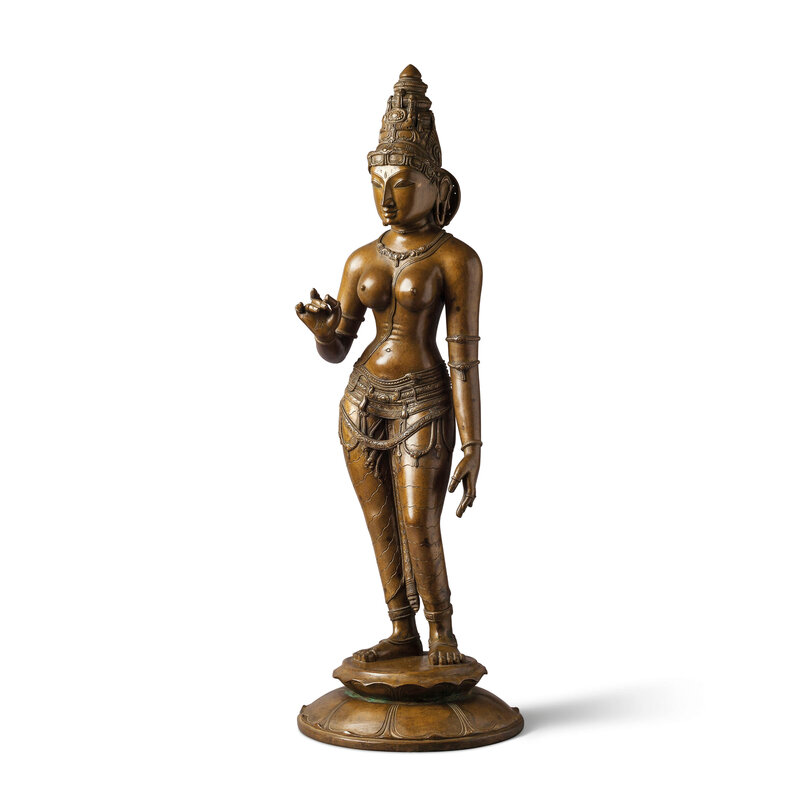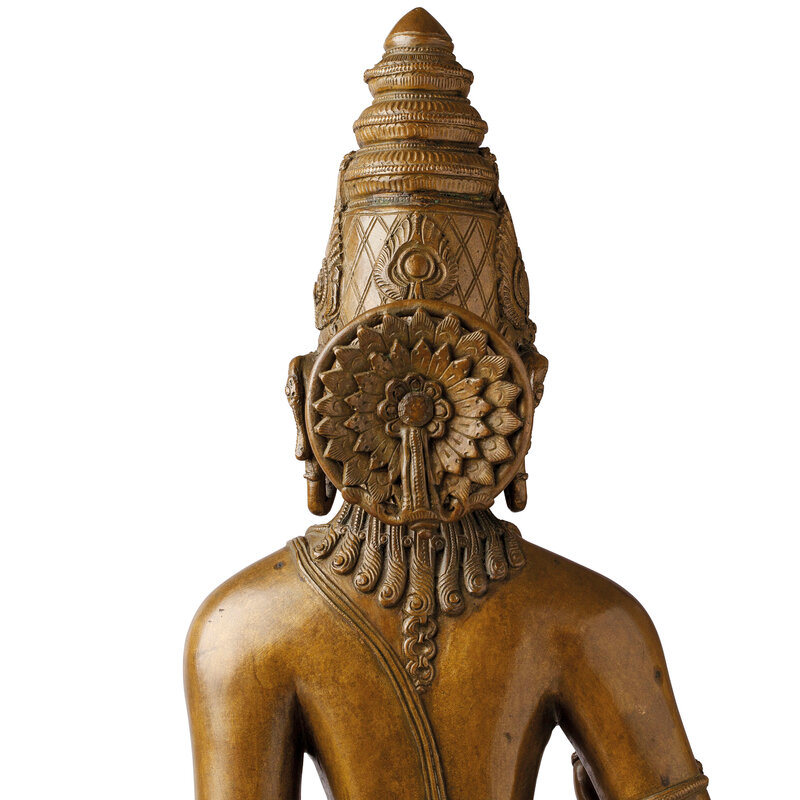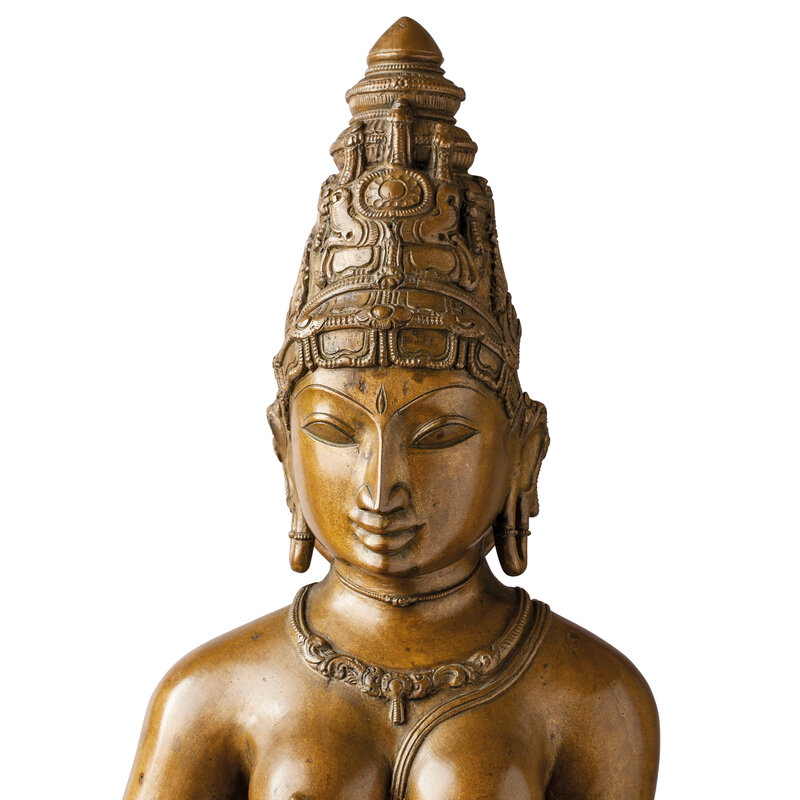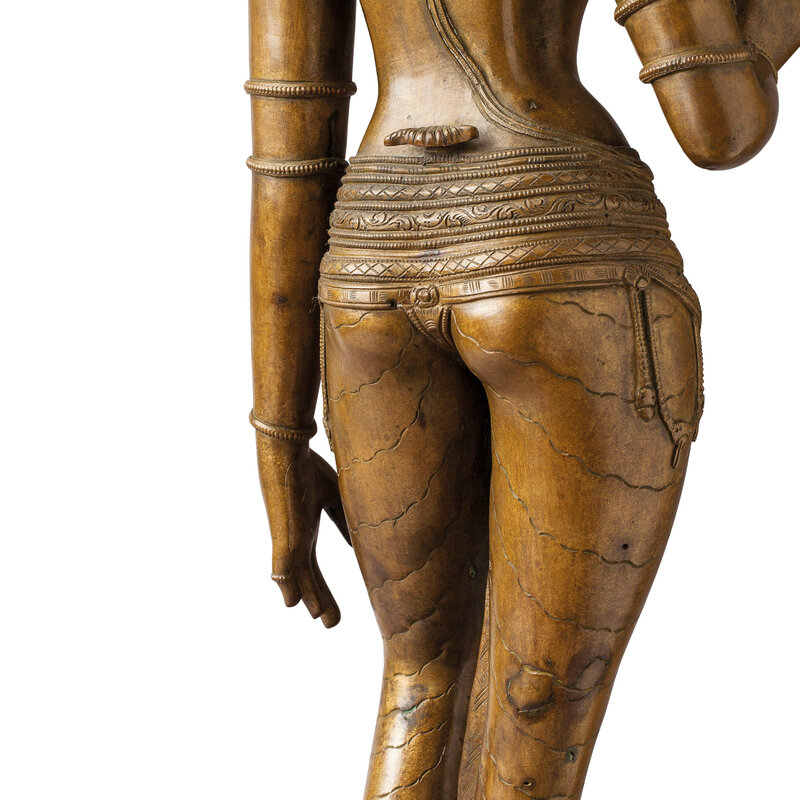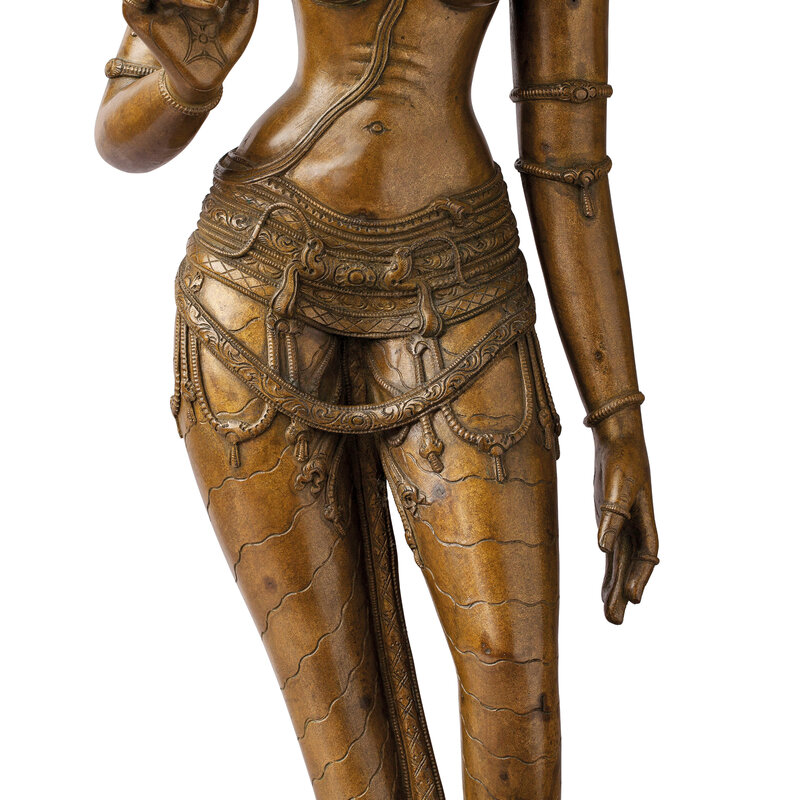 Lot 36. An Indian bronze figure of the Goddess Parvati, 20th century; 29 ½in. (75cm.) high; the base 10in. (25.4cm.) diameter. Estimate: £6,000–10,000 (€6,700–11,000). © Christie's Images Ltd 2019.
Standing in tribhanga pose.
Provenance: The Collection of Dr. Hans Wolfgang Schumann (b. 1928).
Note: This beautiful Parvati figure was formerly in the collection of leading Buddha scholar and Indologist Hans Wolfgang Schumann, who has published extensively on Indian religiosity. He is the author of numerous reference books on India and Buddhism to which he had converted and was awarded the Rabindranath Thakur Culture Prize for Literature in India in 2000.
In Hindu tradition, Parvati and her husband Shiva are known as quarrelsome gods so it is no surprise that Parvati bore Karttikeya, the god of war and is also the mother of Ganesh, the elephant headed god whose own father quarrelled with him and cut off his head, replacing it with the first animal that was found - the elephant.
STORIES THROUGH AGES AND CULTURES – insights shared by Leonora Petrou:
"May I have a look around?" said the five-year-old Peter, imitating his father as they entered the local antique shop. The only objects at the little boy's eye level were books, and the kindly elderly gentleman (to whom he would later be apprenticed) was delighted to sell the dusty, gold edged, leather bound tomes to the enthusiastic collector for pocket money - refusing any payment at all if it should be a Bible!

The little girl stared across the lake at the reflected concrete curves and glass façade of the Presidential palace of Brasilia. Having arrived from the cobbled streets and overwhelmingly ornate, gilded baroque churches of the old capital, Bahia, the Modernist city perched high in the mountains appeared incomprehensible, but completely wonderful, to the eight-year-old Leonora.

These were seminal moments, each sparking a life-long search to understand beauty in all its forms. Later, in each other's company, our particular interests merged and developed and our collections found their narrative in the sense of history expressed by each object. No artwork is merely decoration: each expresses the culture of the people by whom it was made.