The Chinese works of art in the collection of Walter and Phyllis Shorenstein are spectacular in their beauty, technical excellence and historical importance. Following the recent and immense success of Treasures From the Shorenstein Collection, including important glass, imperial porcelain and fine jades sold in our Hong Kong rooms, Christie's New York is pleased to offer ancient bronzes, early ceramics and sculpture, jade carvings, and the very rare and important 12th century Yunnanese gilt-bronze figure of Acouye Guanyin (lot 1294) from this most prestigious collection.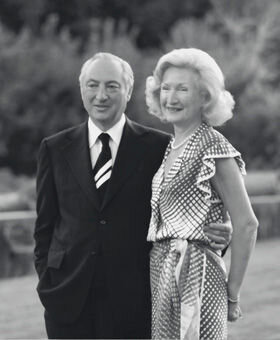 Both Walter and Phyllis Shorenstein will be remembered for their immense contribution to the city of San Francisco's cultural, educational and social life, as well as for their generous and thoughtful charitable works. This was eloquently described by Mayor Frank Jordan in a tribute to the Shorenstein's when he said that they: 'consistently helped make this city a better place for all of us'. One of the beneficiaries of their financial and personal support was the Asian Art Museum of San Francisco. Phyllis Shorenstein was one of the founders of the museum, which opened in Golden Gate Park in 1966, serving as a board member for many years, and being a commissioner right up to the time of her death in 1994. Over a 20-year period the Shorenstein family donated many fine examples of art from China, Japan, Korea, India, and other Asian countries, to the museum. In recognition of all the Shorenstein's had done for the Asian Art Museum, in May 1994 one of its galleries was named in honor of the family.

The Shorenstein's home was a testament to their passion for beautiful and rare objects, where, in addition to the works of art on the walls and display shelves, guests would encounter the world-record setting exquisite porcelain moonflask with underglaze-blue and overglaze-rose enamel decoration next to a superb pink glass vase, or the magnificent molded and carved ruby glass ewer next to the rare Yunnanese gilt-bronze figure of Acouye Guanyin, placed on pieces of fine European furniture. Christie's colleagues also recall a delightful dinner in the garden of the Shorenstein's Portola Valley home during which Mr. Shorenstein had to excuse himself to take a telephone call from former president Jimmy Carter, and on returning to the table immediately rejoined the lively conversation on Chinese art.

Phyllis Shorenstein was a passionate collector of Chinese glass, and amassed a superb collection with the scholarly help of the late Dr. Clarence Shangraw. Mrs. Shorenstein once mentioned to Dr. Shangraw that the glass in her cabinets reminded her of 'a chorus line of color' - a wonderfully evocative phrase, which was adapted to provide the name for an exhibition of glass, from three of America's top collections, held at the Asian Art Museum of San Francisco in 1995. The catalogue of this exhibition was dedicated to Phyllis Shorenstein's memory, and the dedication noted that: 'She championed excellence in Asian Art'. This pursuit of excellence shines through in Walter and Phyllis Shorenstein's collection of Chinese Art.
Lot 1289. A large painted red pottery jar, Neolithic period, Banshan culture, Gansu province, 3rd century BC; 15½ in. (39.5 cm.) high. Estimate $3,000 - $5,000. Price Realized $8,125. © Christie's Images Ltd 2011.
The sloping upper body painted in black and dark red with sweeping spirals enclosing serrated edges, with a wave band below, the cylindrical neck painted with a dogtooth band below a band of fishnet pattern, with a pair of thin tabs projecting below the rim, and with a pair of lug handles applied at mid-body, the surface burnished.
Provenance: Andrew Kahane, Ltd., New York, 5 December 1988.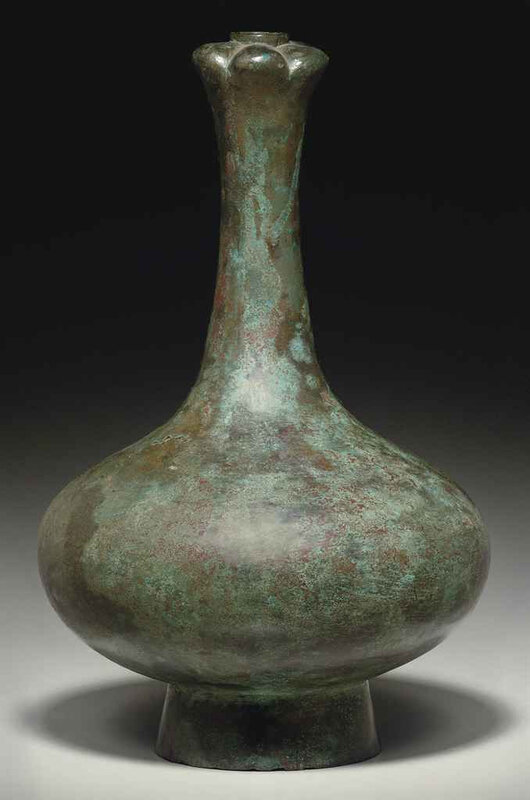 Lot 1290. A bronze bottle-form vessel, hu, Han dynasty (206 BC-AD 220); 14 1/8 in. (36 cm.) high. Estimate $3,000 - $5,000. Price Realized $8,125. © Christie's Images Ltd 2011.
The compressed globular body raised on a tall foot and tapering to a slightly waisted neck terminating in six thick lobes that surround the short cylindrical mouth, with mottled green and russet patina.
Provenance: Michael Goedhuis, London, 1988.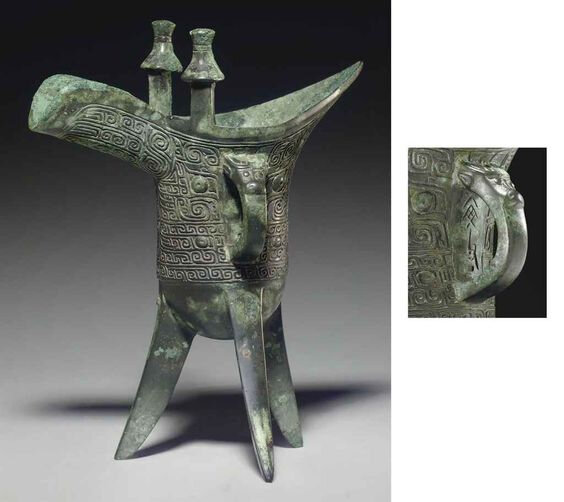 Lot 1291. An unusual bronze ritual tripod vessel, jue, Late Shang dynasty, 12th-11th century BC; 8 3/8 in. (21.4 cm.) high. Estimate $30,000 - $50,000. Price Realized $314,500. © Christie's Images Ltd 2011.
The deep body raised on three slightly curved blade-form supports and crisply cast around the sides with two registers of taotie masks, those in the lower register dissolved in small scrolls, the larger masks in the upper register more defined and framed by quills on the sides, the mask on one side interrupted by a three-character inscription cast beneath the handle that issues from a bovine mask, with further scrolls on the underside of the spout, and with a pair of tall posts with reel-shaped posts rising from the rim, with dark grey patina and malachite encrustation.
Provenance: Kochukyo Co., Ltd., Tokyo, January 1976.
Note: The inscription may be read, X Fu Ding (X 'Father Ding'). The first character may be a clan name.

It is very rare to find a jue cast with two registers of taotie masks. Compare two other jue with similar arrangement of decoration, the first illustrated in Shang Ritual Bronzes in the National Palace Museum Collection, National Palace Museum, Taipei, 1998, pp. 144-5, no. 7, and the second illustrated by S.D. Owyoung in Ancient Chinese Bronzes in the St. Louis Art Museum, St. Louis, 1997, no. 22.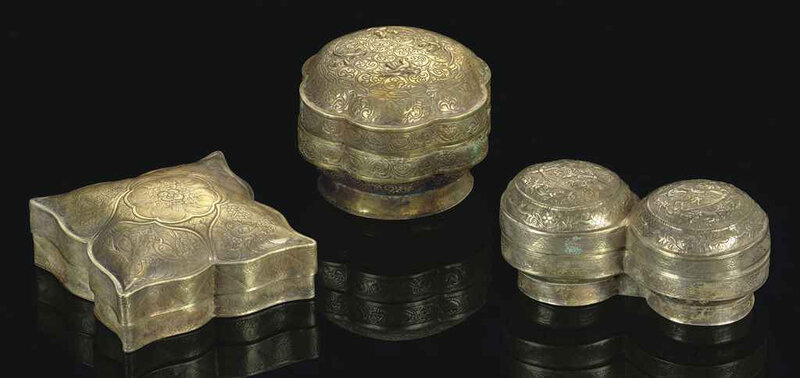 Lot 1292. Three silver-gilt repoussé boxes and covers, Liao-Song dynasty or later; 4, 6 and 5¼ in. (10, 15.3 and 13.3 cm.) across. Estimate $7,000 - USD 9,000. Price Realized $25,000. © Christie's Images Ltd 2011.
One of hexafoil form, the domed cover chased with four parrots in flight against a ground of foliate scroll above a key-fret border and a band of similar scroll interspersed with birds in flight, with a wide band of palmette scroll at the rim of the cover and box, and further foliate scroll on the sides of the box, raised on a spreading pedestal foot; one of lobed square shape, the cover chased with a flower head in the center and pairs of doves amidst flower sprays in the corners, with similar flower decoration within a zigzag pattern on the sides; the third a double box of joined circular sections raised on a conforming foot, the two domed halves of the cover chased with long-tailed birds in flight amidst flowers on a fine ring-punched ground, with bands of diaper pattern at the rims.

Lot 1294. A rare and finely cast gilt-bronze figure of Acuoye Guanyin, Dali Kingdom, Yunnan province, 12th century; 17 7/8 in. (45.4 cm.) high; 19 in. (49.5 cm.) high including tabs. Estimate USD 500,000 - USD 800,000. Price realised USD 4,002,500. © Christie's Images Ltd 2011.
Cf. my post: A rare and finely cast gilt-bronze figure of Acuoye Guanyin, Dali Kingdom, Yunnan province, 12th century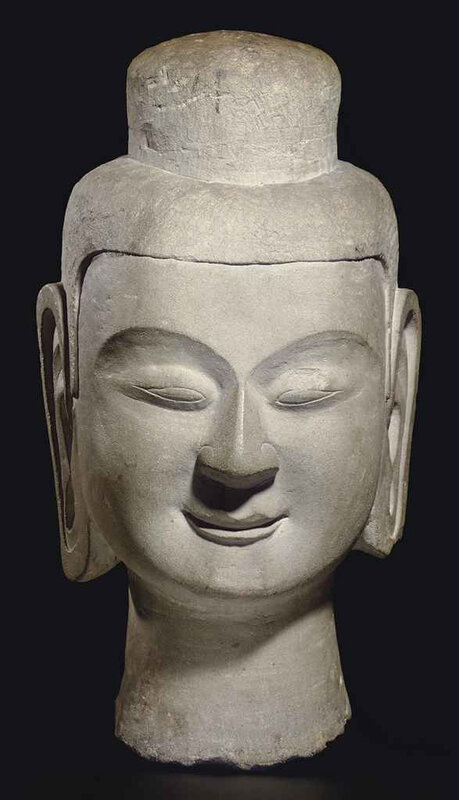 Lot 1296. A rare large stone head of Buddha, Northern Wei dynasty, 6th century BC; 17 in. (43.2 cm.) high. Estimate USD 150,000 - USD 250,000. Price realised USD 338,500. © Christie's Images Ltd 2011.
Crisply carved with gentle expresssion, the mouth set in a slight smile above the well-defined chin, and the eyes partially closed below the arched brows, with large ears, the hair and usnisa simply defined, the stone of buff color.
Provenance: Aphonse Khan Collection, Paris.
Companie des Indes et de la Chine, Paris, 1976.
Note: The sculpture at Gongxian in Henan province embodies the last stage in a process of Sinification that Buddhist art underwent during the Northern Wei dynasty. The figures have softer, rounded contours with gentle smiles, downcast eyes with fleshy eyelids and large pendulous ears, all of which can be seen in the present lot. In addition, many of the cave sculptures at Gongxian were carved in such high relief that they were almost free standing. The present head was likely carved in this fashion, as evidenced by the presence of carving in areas at the back, which suggests that it was not carved as a flat wall relief, and stood at least somewhat away from the wall. For further examples of stone Buddhas from Gongxian with similar facial features, see Zhongguo Meishu Quanji - Diaosu bian, vol. 13. Beijing, 1989, pp. 17, 21 and 29, where figures from caves 1, 3 and 4 are illustrated.
Christie's. Fine Chinese Ceramics and Works of Art Part I and Part II Including Property from the Arthur M. Sackler Collections, 24 March 2011, New York, Rockefeller Plaza