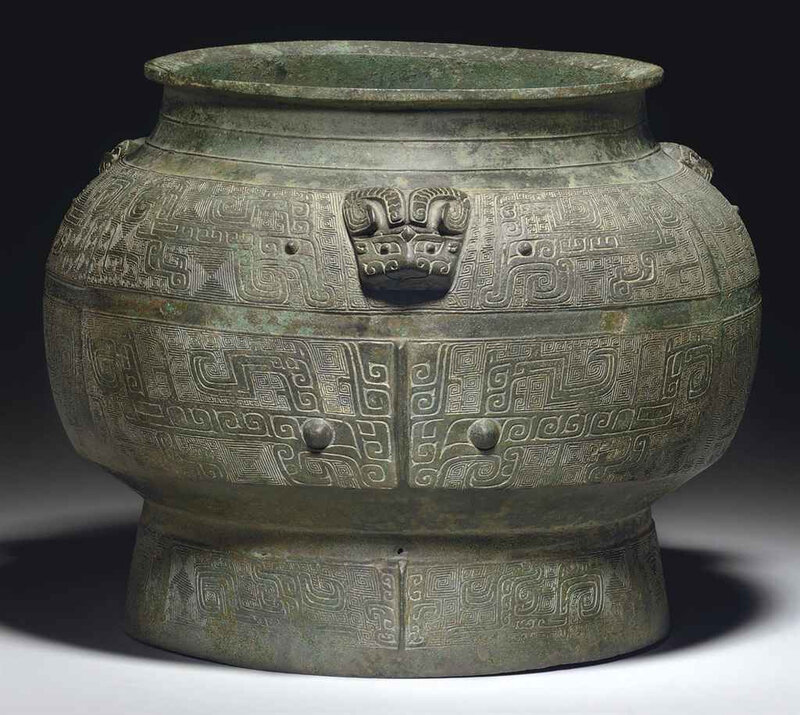 Lot 1239. A rare and finely cast large ritual bronze wine vessel, pou, Shang dynasty, 11th century BC; 11 in. (27.9 cm.) high. Estimate USD 400,000 - USD 600,000. Price realised USD 1,022,500. © Christie's Images Ltd 2011
Raised on a tall, slightly splayed foot crisply cast with addorsed dragons centered around short flanges and masks cast in low relief, the lower register of the body cast with three large taotie masks with bulging eyes beneath a plain, narrow band and a wider band of dragons confronted around three bovine masks cast in high relief on the wide shoulder, each band reserved on a leiwen ground and all beneath two bow-string bands below the everted rim, the smooth surface with some milky green malachite encrustation.
Provenance: Yamanaka, Kyoto.
Shigezo Nakanishi collection, Kyoto.
Bunzo Nakanishi collection, Kyoto.
Private New York collection.
Acquired in Brussels in 1994.
The Tsui Museum of Art.
Exhibited: Exhibition of Antique Porcelain, Metalwork and Stoneware, Osaka Arts Society, December 1932, pl. 2.
Note: Pou seem to have been common in the transitional period between the Erligang and Anyang periods, but appear to have become less popular in the later Anyang period, and by the Zhou dynasty were no longer being made.
This exceptional pou is noteworthy for its particularly fine casting and impressively large size. A pou of slightly smaller size (26 cm. high) with similar cast decoration and similar large bovine masks cast in relief on the shoulder is illustrated by R.W. Bagley, Shang Ritual Bronzes in the Arthur M. Sackler Collections, Washington D.C. and Cambridge, 1987, p. 334, no. 57. Also illustrated, p. 337, fig. 57.3, is another very similar pou (26.5 cm. high) in the Museé Cernuschi, Paris. Further comparable pou of approximately the same size include the example illustrated in Shang Ritual Bronzes in the National Palace Museum Collection, Taipei, 1998, pp. 388-9, no. 65 (26.2 cm. high); one excavated in 1974 from the Cai Family Tomb in Chenggu county illustrated in Bronzes of Shang and Zhou Dynasties Unearthed in Shaanxi Province, Beijing, 1979, p. 107, no. 122 (25.5 cm. high); and the pou of slightly larger size (29.4 cm. high) excavated from Wulang Temple in Zhenggu county, Shaanxi province, illustrated in Zhongguo Qingtongqi Quanji - 4 - Shang(4), Beijing, 1998, p. 102, no. 105. The eyes of the taotie masks and dragons on this last example excavated in Zhenggu county are flat-cast and do not bulge out in relief as they do on the present pou and the other aforementioned examples.
Christie's. Fine Chinese Ceramics and Works of Art Part I and Part II Including Property from the Arthur M. Sackler Collections, New York, 24 March 2011