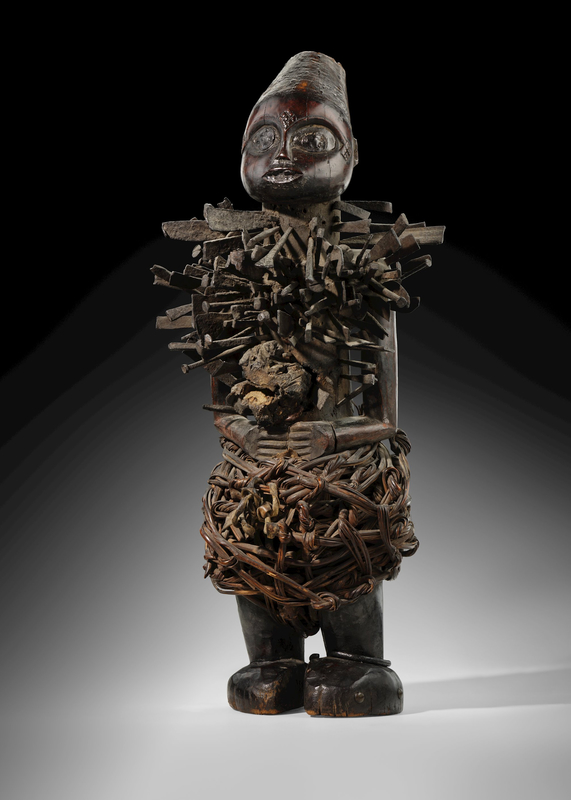 Bakongo Statue, Democratic Republic of the Congo, Late 19th century. Wood, metal, pigments and vegetal fibres. Height 53 cm (20.9 in.). © Claes Gallery at TEFAF Maastricht 2019, Stand 601.
Provenance: Max Itzikovitz, France.
Exhibited: Iris and B. Gerald Cantor Center for Visual Arts, Stanford University, Stanford, California, September 2011-August 2013; San Francisco, De Young Museum, 'Embodiments. Masterworks of African Figurative Sculpture', 31 January - 5 July 2015.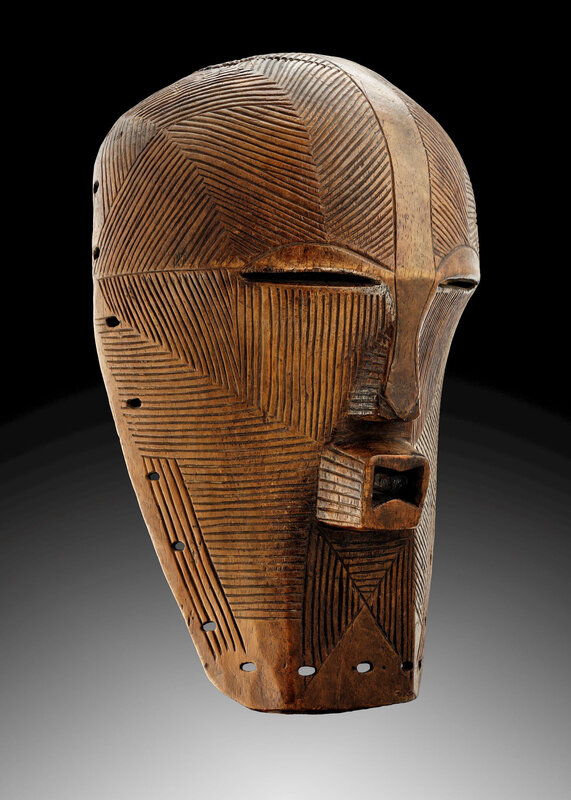 Songye Kifwebe Mask, Republic Democratic of the Congo, Late 19th-early 20th. Wood with pigments. Height 44 cm (17.3 in.). © Claes Gallery at TEFAF Maastricht 2019, Stand 601.
Provenance: Pierre Dartevelle Collection, Belgium; Onghena Collection, Belgium.
Didier Claes has been immersed in African tradition and culture since childhood. Numerous expeditions to the Congo enabled him to further his knowledge and he spent ten years supplying specialist dealers in Brussels, Paris and New York with exceptional pieces. Since 2000, he has presented his own selection of works at a variety of prestigious international fairs. Claes opened his first gallery in 2002 in the famous Sablon district of Brussels, devoting himself to high quality art objects from important Western collections. In 2008, Claes participated in the prestigious fair TEFAF in Maastricht for the first time. Other projects also occupy him. Vice-president of Bruneaf, he co-curated the exhibitions 'Mestach l'Africain' and Congo mythical masks in 2009 in Brussels. In 2011, he curated 'Arts d'Afrique. Voir l'invisible' at the Musée d'Aquitaine in Bordeaux and directed the creation of the book 'Empreintes d'Afrique: l'art tribal au fil des fleuves' published by Editions 5 continents. His nomination as vice-president of Brafa in 2012 cemented his reputation in the art world. This year also marked his first participation in the Biennale des Antiquaires at the Grand Palais in Paris. In 2015, Claes curated the exhibition Uzuri wa Dunia ['beauties of the world' in Swahili], which brought 130 masterpieces together in the old Nonciature in Brussels, to celebrate Bruneaf 's 25th year. Galerie Didier Claes is now located in a new space near Avenue Louise, where the best modern and contemporary galleries have recently gathered. His clients include numerous American and European collectors, international museums and art centres.
TEFAF Maastricht, March 16-24, 2019, Stand 601. Claes Gallery Rue de l'Abbaye 14 1050 BrusselsBelgium +32 24141929 Visit website