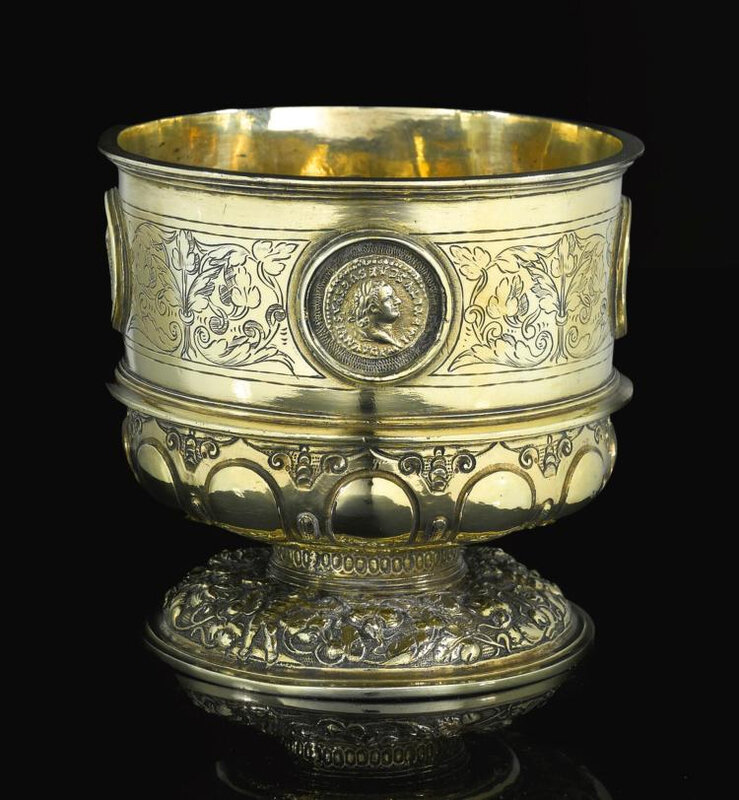 Lot 7. A German silver-gilt Stacking 'Munzbecher', Hans Kellner, Nuremberg, 1592-94; 8.9cm., 3 1/2 in. high; 245gr., 8oz. 3dwt. Estimate 8,000 — 12,000 GBP. Lot sold 65,000 GBP. Courtesy Sotheby's 2017.
the upper body applied with four casts after antique Roman coins between engraved foliate scrolls, lower body chased with lobes and strapwork, circular foot cast and chased in high relief with dancing putti in leafy scrolls, underside initialled 'L M L'.
Associated Literature: Timothy Schroder, The Gilbert Collection of Gold and Silver, Los Angeles, 1998, pp. 137-138.
Hannelore Muller, The Thyssen-Bornemisza Collection, European Silver, Sotheby's, London, 1986, pp. 172-173.
Karin Tebbe et al., Nurnberberger Goldschmiedkunst 1541-1868, Band I, Nuremberg, 2007, no. 422 (17) pp. 211-213.
Note: Three other examples of this beaker are known. Two were sold from the collection of Sydney J. Lamon, Christie's London, November 28, 1973, lots 65 and 66. These were subsequently acquired for the Thyssen-Bornemisza collection and added to an example which had been purchased by Baron Heinrich Thyssen-Bornemisza before 1938. Like the present beaker, two of these are also initialled 'M'.
The ornament on the beaker is typical of Nuremberg work for the first half of the 16th century. This looking back to an older Germany, appears to have been favoured by Nuremberg Patrician families such as the Loffelhöltz. A Beaker in the Sir Arthur Gilbert collection, also by Hans Kellner, circa 1590 has the Loffelhöltz arms surrounded by similar etched ornament of the 1530's.
Sotheby's. From Earth to Fire, London, 4 May 2017