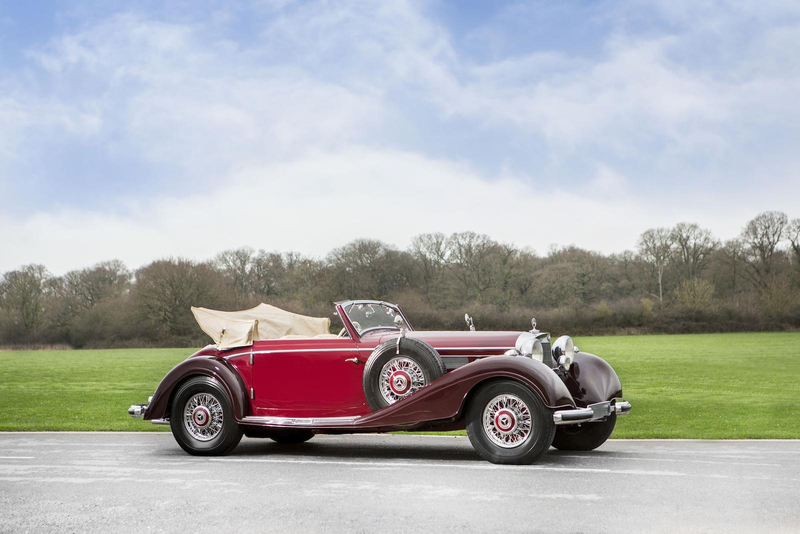 Lot 240. Formerly the property of His Majesty King Hussein bin Talal, former King of Jordan, 1939 Mercedes-Benz 540 K Cabriolet A. Coachwork by Sindelfingen. Chassis no. 408386. Estimate € 1,700,000 - 2,300,000 (£ 1,500,000 - 2,000,000). © Bonhams
•Excellent continuous provenance
•Rare five-speed gearbox and attractive Cabriolet A coachwork
•Beautiful colour combination and fresh to the market
Note: Together with its predecessor the 500 K, the magnificent Mercedes-Benz 540 K was arguably the most noteworthy production model offered by the Stuttgart firm during the 1930s, representing the pinnacle of its pre-war achievements. A development of the 500 K, whose independently suspended chassis it shared, the 540 K was powered by a 5.4-litre supercharged straight-eight engine. The 540 K was one of the first models developed under Mercedes' new chief engineer, ex-racing driver Max Sailer, successor to Hans Nibel, who had died in November 1934 aged only 54. Mercedes-Benz's flagship model, it featured the company's famous Roots-type supercharger system in which pressing the accelerator pedal to the end of its travel would simultaneously engage the compressor and close off the alternative atmospheric intake to the carburettor. This system had been thoroughly proven on the preceding series of Dr Ferdinand Porsche-conceived S-Type cars that had dominated racing during the 1920s, and in effect the 540 K was the last supercharged production Mercedes until relatively recent times.
Launched at the Paris Salon in October 1936, the 540 K was hailed by Mercedes-Benz as conjuring up 'visions of breath-taking exploits of racing cars and drivers of international fame, but also of superlative comfort and coachwork of exquisite beauty, fine paintwork, brightly polished metal, the finest hardwoods and leather - massive and yet outstandingly attractive bodies - in short: the car for the connoisseur.' It had an engine that developed 115PS un-supercharged or 180PS (178bhp) with the compressor engaged, while the gearbox was a four-speeder but with a direct top gear rather than the overdrive ratio used on the earlier 500K. With the supercharger engaged, the 540 K's blown straight eight gave it a top speed approaching 110mph (177km/h) which was matched by servo-assisted hydraulic braking. Its performance potential was such that Mercedes-Benz in the UK retained racing driver Goffredo 'Freddy' Zehender as technical adviser and demonstration driver, since the super¬charged Mercedes was one of the few genuine 100mph road cars available in the 1930s.
Tested by Britain's Motor magazine, the 540 K was judged to have less heavy steering and handling than its predecessor, the 500 K, plus an even more comfortable ride, even though the same all-round independent suspension layout with parallel links and coil springs at the front and swing axles at the rear was retained. The Motor's test car returned 102mph over the timed quarter-mile with the supercharger engaged and 85mph with it disengaged. The servo-assisted brakes came in for fulsome praise, the blower was found to be relatively quiet and the springing more comfortable than that of the 500 K, while the steering and handling also compared favourably with that model.
In May 1938, the 540 K was tested by Motor's rival magazine Autocar and achieved the highest maximum speed of any road-test car up to that date: carrying three passengers, the car reached 104.65mph (168.5km/h) on the race circuit at Brooklands, Surrey. 'One's foot goes hard down, and an almost demonical howl comes in,' reported test driver H S Linfield. 'The rev counter and speedometer needles leap round their dials: there is perhaps no other car noise in the world so distinctive as that produced by the Mercedes supercharger.'
Late in 1938, a revised 540 K made its appearance, with oval-section chassis tubes instead of channel frame members, while the adoption of sodium-cooled valves followed the company's highly successful racing practice. The manufacturing record of the 540 K reveals its exclusive nature: 97 being produced in 1936, 145 in 1937, 95 in 1938, and 69 in 1939 before the war ended series production (though three more were built up to July 1942). A late model, the example offered here, '408386', has the exceptionally rare five-speed gearbox introduced in 1939. In recent years, the rarity, style and performance of these big supercharged Mercedes have made them one of the most sought-after of all classic cars on the few occasions they have come to the open market.
Delivered in Germany in April 1939, chassis number '408386' was first owned by Henry Ford Cooper, Liberia's Consul-General to Hamburg. Cooper was appointed in 1936; he left Germany in 1943 and with it, his Mercedes. It remained in continual use during this time as evidenced by the replacement of the original block, a frequent commonality among late cars during this period.
In 1954 it was purchased in Hamburg by a US soldier, Lieutenant Peter Rose. By this point, the car had been cosmetically modernized with parts from the contemporary Mercedes-Benz 300 series. After returning home to New York with his Mercedes, Lt Rose sold the car to Grant Kingore, a New York City art dealer. Kingore owned Windermere, one of the greatest of the fabulous estates located at Southampton, Long Island.
The Mercedes remained in Kingore's family, passing to his grand-niece Susan Andrews. In 1976 it was purchased from Andrews by Leland Gohlike of St Paul, Minnesota. In October 1978 Dr Harald Alfers of Düsseldorf, Germany purchased the car and shipped it back to Germany. In 1985, Dr Alfers sold the Mercedes to His Majesty King Hussein bin Talal, the governing monarch of Jordan who reigned from 11 August 1953 till 7 February 1999.
A world-class car collector with a passion for the products of Mercedes-Benz, King Hussein is the only head of state ever to visit the Mercedes-Benz Classic Centre in Stuttgart. In 1987, the King's 540 K was invited by Lord Montagu of Beaulieu to display at the 'Ten Important Motor Cars' event, held at The Royal Albert Hall in London, which famously featured the sale of a Bugatti Royale. Subsequently, rather than being kept in The Royal Auto Museum in Amman, the 540 K was clearly the favourite of his large automobile collection as it travelled extensively with King Hussein rather than idle in his museum.
A full restoration was carried out in 1990-1991 by marque and model specialist Reifen Wagner in Landshut outside of Munich, Germany. At this time the car was converted to right-hand drive as King Hussein intended to keep the Mercedes in the UK at Buckhurst Park, his Windsor residence, a conversion that is easily reversible. The livery was changed to its present lovely red and burgundy and an interior re-trim in tan leather to match the new convertible hood. This imposing and immaculate interior retains its original inlaid mother-of-pearl detailing.
Offering elegant two-seater accommodation allied to breathtaking performance, this rare and stylish 540 K cabriolet represents the very best that money could buy in the late 1930s and is a fine example of this classic German model. As its maker said: 'a car for the connoisseur'.
In the ownership by the late monarch's family for the past 34 years it is offered for sale directly by them and represents what may be a once in a lifetime opportunity for the serious collector.
Autrefois propriété de Sa Majesté le Roi Hussein ben Talal de Jordanie
Mercedes-Benz 540 K Cabriolet A 1939
Carrosserie Sindelfingen
Châssis n° 408386

•Excellentes origines de bout en bout
•Boîte cinq vitesses, une rareté ; séduisante carrosserie de Cabriolet A
•Magnifique harmonie de teintes ; première mise en vente

Dans la lignée de sa devancière la 500 K, la magnifique Mercedes 540 K était sans conteste le modèle le plus remarquable proposé par Stuttgart pendant les années 1930 ; elle représentait le summum de la production d'avant-guerre. Extrapolée de la 500 K dont elle reprenait le châssis à roues indépendantes, le 540 K était équipée d'un huit-cylindres en ligne suralimenté de 5,4 litres. C'était l'un des premiers modèles développés sous la supervision du nouvel ingénieur en chef de Mercedes, l'ancien pilote Max Sailer, qui avait succédé à Hans Nibel, décédé en novembre 1934 alors qu'il n'avait que 54 ans. Ce vaisseau amiral de Mercedes était équipé du célèbre système de compresseur Roots propre au constructeur, pour lequel il suffisait d'appuyer à fond sur l'accélérateur pour enclencher le compresseur et couper l'alimentation atmosphérique du carburateur. Ce dispositif avait été complètement mis au point sur la précédente génération de voitures, les Type S conçues par le Dr Ferdinand Porsche, qui avaient été les reines des circuits dans les années 1920. La 540 K fut la dernière Mercedes suralimentée de série jusque dans un passé récent.

La 540 K avait été lancée au Salon de Paris 1936. Mercedes l'avait présentée comme la voiture qui mariait "les prouesses spectaculaires des voitures de course et de leurs célèbres pilotes, mais aussi le confort à son summum, une carrosserie d'une beauté exquise, une peinture parfaite, des chromes étincelants, les boiseries et les cuirs les plus raffinés, des dimensions imposantes mais agréables à l'œil, en somme : la voiture des connaisseurs." Son moteur développait 115 PS en version atmosphérique et 180 PS (178 ch) lorsque le compresseur était enclenché. Sa boîte à quatre rapports était dotée d'une quatrième en prise directe et non plus de l'overdrive des premières 500 K. Compresseur enclenché, le huit-cylindres en ligne suralimenté de la 540 K l'emmenait à 177 km/h, une vitesse qui restait maîtrisée grâce à des freins hydrauliques assistés. C'était l'une des rares routières des années 1930 capables d'un véritable 160 km/h et son potentiel de performances était tel que Mercedes-UK avait engagé le pilote Goffredo 'Freddy' Zehender en tant que conseiller technique et pilote de démonstration.

Lors d'un essai de la 540 K, le magazine britannique Motor avait trouvé sa direction et son comportement moins lourds que ceux de sa devancière, la 500 K, et il l'avait jugée plus confortable, alors qu'elle était équipée de la même suspension à roues indépendantes, avec doubles triangles et ressorts hélicoïdaux à l'avant et essieu oscillant à l'arrière. Lors du passage aux 400 mètres, Motor avait relevé une vitesse de 164 km/h avec compresseur et de 137 km/h sans. Ses freins assistés n'avaient remporté que des éloges, son compresseur avait été jugé assez silencieux et sa suspension plus confortable que celle de la 500 K ; sa direction et sa tenue de route avaient également été mieux perçues que celles de cette dernière.

En mai 1938, un essai effectué par Autocar, le concurrent de Motor, avait permis d'atteindre la vitesse la plus élevée jamais obtenue sur une routière : chargée de trois passagers, la voiture avait atteint sur le circuit de Brooklands (Surrey) la vitesse de 168,5 km/h. "On écrase l'accélérateur et l'on entend un hurlement quasi-démoniaque," rapportait H. S. Linfield, l'essayeur. "Les aiguilles du compte-tours et du tachymètre balayent leur cadran. Il ne doit pas exister au monde un bruit automobile aussi caractéristique que celui du compresseur Mercedes."

Fin 1938 apparaît une 540 K modifiée : son châssis fait appel à des tubes ovales et non plus à des profilés en U et son moteur reçoit des soupapes refroidies au sodium, dans la droite ligne des définitions utilisées avec succès par Mercedes en compétition. Les archives de fabrication de la 540 K soulignent son caractère exclusif ; elles font état de 97 voitures produites en 1936, de 145 en 1937, de 95 en 1938 et de 69 en 1939, avant que la guerre ne vienne mettre fin à leur production ; il y en aura toutefois trois autres de fabriquées jusqu'en juillet 1942. La 408386 mise en vente est l'un des derniers exemplaires produits ; elle est équipée de la boîte cinq vitesses lancée en 1939, très peu diffusée. Ces dernières années, la rareté, le style et les performances de ces grosses Mercedes suralimentées ont fait qu'elles figurent parmi les voitures de collection le plus recherchées, les rares fois où il y en a une mise sur le marché.

Le châssis n° 408386 fut livré en Allemagne en avril 1939 à Henry Ford Cooper, consul général du Libéria à Hambourg, où il avait été nommé en 1936. Celui-ci quitta l'Allemagne en 1943, en y laissant sa Mercedes. Elle est restée utilisée en permanence pendant ces années, ainsi qu'en témoigne le remplacement de son bloc d'origine, une opération courante sur les voitures de cette époque.

Elle fut achetée en 1954 à Hambourg par un militaire américain, le lieutenant Peter Rose. Son aspect avait alors été modernisé par le montage de pièces de la Mercedes 300, le modèle du moment. Après son retour à New York avec sa Mercedes, le lieutenant Rose la vendit à un ami, Grant Kingore, un marchand d'art de New York qui était le propriétaire de Windermere, l'une des plus belles de ces merveilleuses propriétés de Southampton, dans l'Etat de Long Island.

La Mercedes resta dans la famille de M. Kingore ; elle fut transmise à sa petite-nièce, Susan Andrews. Celle-ci la revendit en 1976 à Leland Gohlike, de St Paul, dans le Minnesota. Puis en octobre 1978, le Dr Harald Alfers, de Düsseldorf, l'acheta et la ramena en Allemagne. Et enfin, il la vendit en 1985 à Sa Majesté le roi Hussein ben Talal de Jordanie, qui régna du 11 août 1953 au 7 février 1999.

Le roi Hussein était un collectionneur de voiture de niveau mondial, passionné de Mercedes ; il est le seul chef d'Etat à avoir jamais visité le Mercedes-Benz Classic Centre de Stuttgart. La 540 K du roi fut invitée en 1987 par Lord Montagu of Beaulieu à participer à l'évènement "Les dix plus importantes automobiles", qui se tenait à Londres au Royal Albert Hall et qui fut le cadre de la vente d'une Bugatti Royale. Par la suite, la 540 K n'est pas restée recluse au Musée automobile royal d'Amman (Jordanie), mais elle a au contraire beaucoup accompagné le roi Hussein dans ses déplacements. C'était clairement sa préférée parmi toutes celles de son immense collection.

Une restauration complète fut effectuée en 1990-1991 par Reifen Wagner, un spécialiste de la marque et de ce modèle, basé à Landshut, près de Munich. Et puisque le roi Hussein souhaitait la conserver au Royaume-Uni, à Buckhurst Park, sa résidence de Windsor, elle fut à cette occasion transformée en direction à droite, transformation qui est facilement réversible. Elle fut par ailleurs repeinte dans sa merveilleuse couleur actuelle, rouge/bordeaux, et son intérieur fut refait en cuir brun assorti à sa nouvelle capote. Cet intérieur imposant et immaculé a encore ses finitions incrustées de nacre.

Ce cabriolet 540 K rare et racé, ses deux élégantes places et ses performances à couper le souffle représentent ce que l'argent pouvait acheter de mieux à la fin des années 1930. C'est un témoin raffiné du classicisme allemand et, ainsi que le disait son constructeur, "une voiture de connaisseur".

Cette voiture est depuis ces 34 dernières années la propriété de la famille du défunt roi, et c'est directement elle qui la met en vente. Elle constitue ce qui pourrait bien être pour tout collectionneur sérieux l'occasion de sa vie.
Bonhams. Les Grandes Marques du Monde au Grand Palais, Paris, The Grand Palais, 7 Feb 2019