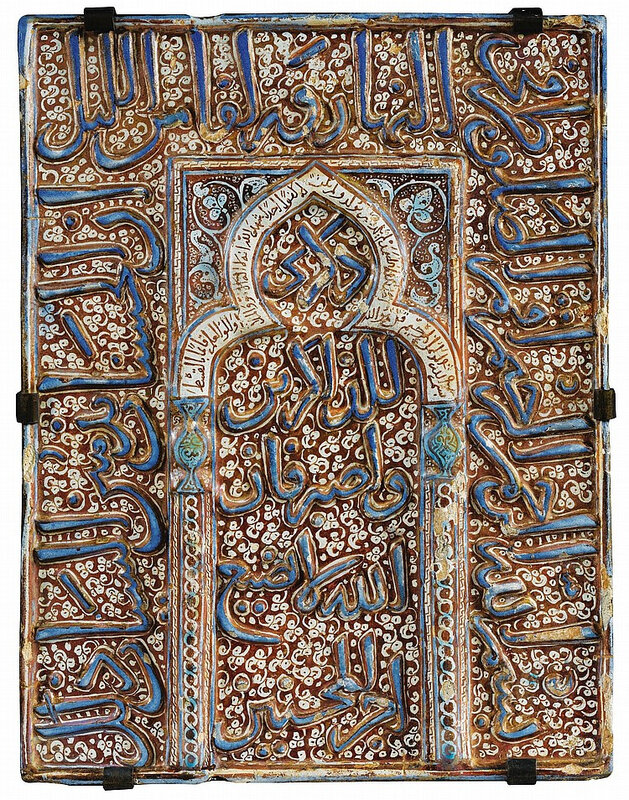 Lot 228. A large and impressive Ilkhanid lustre mihrab tile, Persia, 13th-14th century; 48 by 36.5cm. Estimate 20,000 — 30,000 GBP. Lot sold 413,000 GBP. © Sotheby's 2016.
moulded in relief with an opacified tin glaze enhanced with cobalt blue and turquoise over-decorated in lustre, the central arched panel enclosing an inscription on a ground of spiralling floral tendrils, split-palmettes within the spandrels, bordered by a calligraphic band also in relief, set in old metal mount.
Provenance: Purchased on 2 March 1922 by Émile Moreau, Governor of the Bank of Algeria, then Governor of the Banque of France in the first half of the 20th century.
inscriptions.

In the borders: Qur'an, chapter XI (Hud), verses 114-115.

In the centre (with parts repainted): Qur'an, chapter CXII (al-Ikhlas) and Qur'an, chapter III (Al 'Imran), part of verse 18.

Note: Following the devastating invasion of the Mongol hordes in the 1220s, the ceramic industry in Persia declined momentarily, only to be revived by a fresh approach and innovative design vocabulary. The use of lustre plays a prominent role in this expansion, and huge complexes, with monumental mihrab shrines were built, combining cobalt-blue, turquoise and honey-lustre tiles. Notable examples include the mihrab from the shrine at Mashhad, dated 640 AH/1242 AD (now in the Shrine Museum, Mashhad), the mihrab from the Imamzada Habib ibn Musa in Kashan, dated 667-670 AH/1268-71 AD (Iran Bastan Museum, Tehran, inv. no.3289), and the Mihrab from the Imamzada Ali ibn Ja'far, in Qumm, signed and dated 734 AH/1334 AD (now in the Iran Bastan Museum, Tehran, inv. no. 3270). A further magnificent example originally came from the Maidan Mosque in Kashan, dated to 623 AH/1226 AD, and now in the Museum für Islamische Kunst, Staatliche Museen, Berlin (inv. no.I. 5366) (For a further discussion and citation on these examples, see Watson 1985, pp.122-149).
Kashan mihrabs of this period are particularly impressive due to their size, variance in thickness and the unstable nature of the firing process at this time with pieces of this size. The even lustre that can be seen on this tile is particularly remarkable given the difficulties in controlling the passage of air throughout the kiln. The present example would have probably formed part of a central section from a larger mihrab panel as cited above. Two close comparables are in the Victoria and Albert Museum, London, inv. no. C.1977-1910, and the Metropolitan Museum of Art, New York (inv. no.09.87), both which include stylised mosque lamps as part of their design, echoing their close relationship with light, through the medium of lustre and their function as propagators of the Divine word.