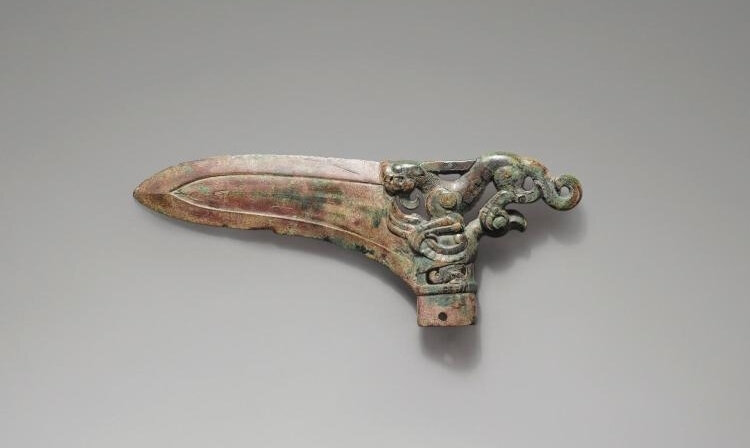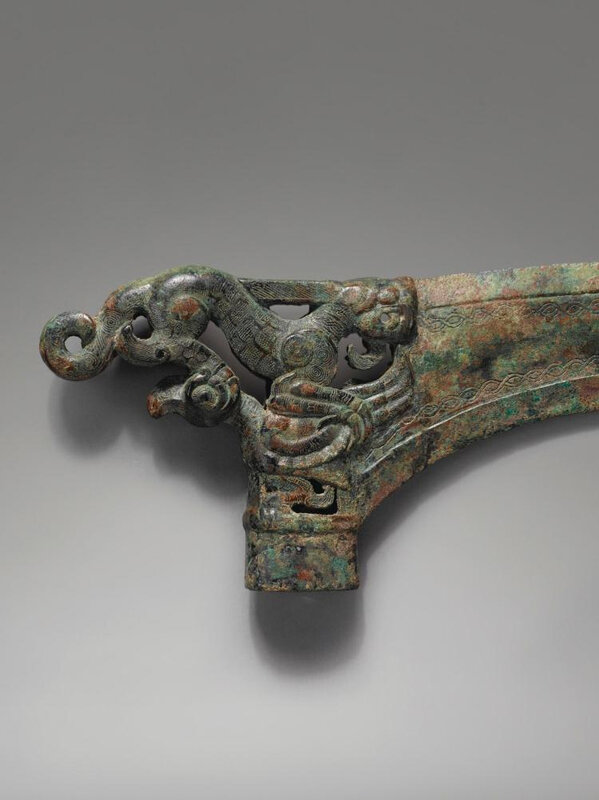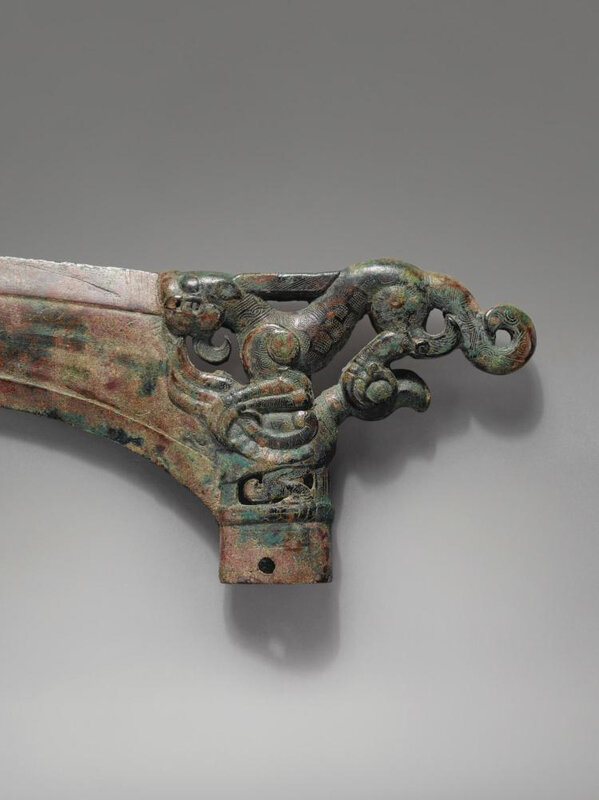 Lot 36. Hache-poignard en Bronze, Qu, Dynastie des Zhou Orientaux, époque Printemps-Automne. Long. 17 cm. Estimation 12,000 — 15,000 EUR. Lot Vendu 50,000 EUR. Courtesy Sotheby's 2015.
cordelettes entrelacées, le nei en forme d'un félin, la gueule ouverte pourvue de quatre crocs, sous la mâchoire une barbiche présentant de fines stries, les oreilles dirigées en arrière et collées contre la tête, le corps porte des écailles accusées, la partie supérieure des pattes de devant ornée de spirales, les pattes de derrière pourvues d'un aileron en forme de tête d'oiseau, le quadrupède saisissant dans ses griffes un oiseau inversé, au bec crochu, l'oeil rond, la prunelle encerclée d'une zone à fond granuleux, un collier autour du cou, le corps couvert d'écailles striées, les ailes en partie ornées de fines stries formant des arcs brisés reproduisant des plumes et un serpent aux détails très finement incisés, couvert d'une couche verdâtre à la surface rugueuse avec des incrustations, D.W 33/105.
Exhibited: Bronzes Chinois des Dynasties Tcheou, T'sin & Han, Musée de l'Orangerie, Paris, 1934, no. 71.
Literature: O. Janse, 'Le Style du Houai et ses Affinités. Notes à Propos de Quelques Objets de la Collection David-Weill', in Revue des Arts Asiatiques: Annales du Musée Guimet, vol. VIII (1934), pp. 159-183, pl. LI.4.
Georges Salles, Bronzes Chinois des Dynasties Tcheou, T'sin & Han, Paris, 1934, cat. no. 71 (not illustrated).
Note: Numerous dagger-axes were discovered and collected in the Huai valley areas of Anhui and Jiangsu by Orvar Karbeck and others. Many of them found their way into western collections. An almost identical bronze dagger axe cast with a tiger surmounting a bird and a snake and of the same size was included in the 1954 Venice exhibition of Chinese art, see Jean-Pierre Dubosc, Mostra d'Arte Cinese, Palazzo Ducale, Venice, 1954, cat. no. 102. Another example from the Stoclet Collection, is published in Otto Kuemmel, Joerg Truebner zum Gedaechtnis. Ergebnisse seiner Letzten Chinesischen Reisen, Berlin, 1929, pl. 24.
Sotheby's. Trésors de la Chine ancienne de la collection David David-Weill, Paris, 16 Dec 2015