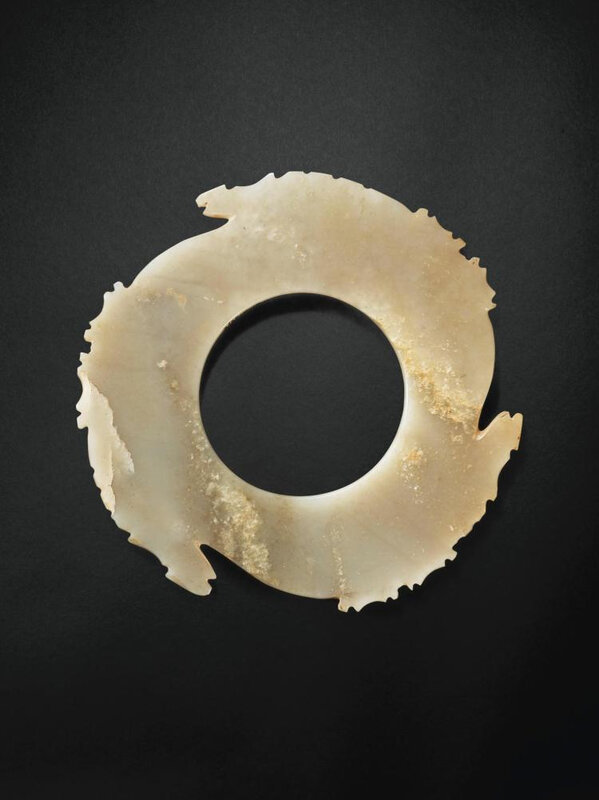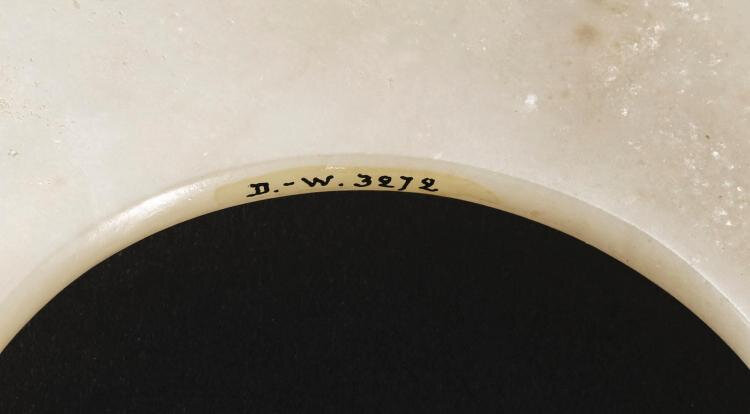 Lot 39. Disque archaïque cranté en Jade, xuanji, époque Néolithique - Dynastie Shang, ca. 2000 - 1500 avant J.-C. Diam. 14 cm. Estimation 20,000 — 30,000 EUR. Lot Vendu 291,000 EUR. Courtesy Sotheby's 2015.
la pierre découpée en forme de disque percé au centre d'une large ouverture centrale aux bords lisses, les bords extérieurs sculptés de trois crans crénelés et dentés formant trois arcs, chaque arc se terminant en une dent acérée, la pierre translucide au doux poli d'une couleur jaune clair ponctuée de taches blanchâtres, D.W 3272.
Exhibited: Arts de La Chine Ancienne, Musée de l'Orangerie, Paris, 1937, no. 88.
Literature: Georges Salles, Arts de La Chine Ancienne, Paris, 1937, cat. no. 88 (not illustrated).
Note: Of smaller size, this notched disc has an entirely different character from the large notched disc in the David-Weill Collection (lot 24). The deep grooves have bifurcated ends and the series of serrations almost entirely follow the length of each arc giving the disc a very dynamic character. The slightly translucent jade links it to two discs of similar size from the Winthrop Collection, illustrated in Max Loehr and Louisa G. Fitzgerald Huber, Ancient Chinese Jades from the Grenville L. Winthrop Collection in the Fogg Museum, Harvard. University, Cambridge, Massachusetts, 1972, nos. 106 and particularly 107; and an example from the Hotung Collection, published in Jessica Rawson, Chinese Jade from the Neolithic to the Qing, London, 1995, p. 163, no. 8:1.
Sotheby's. Trésors de la Chine ancienne de la collection David David-Weill, Paris, 16 Dec 2015