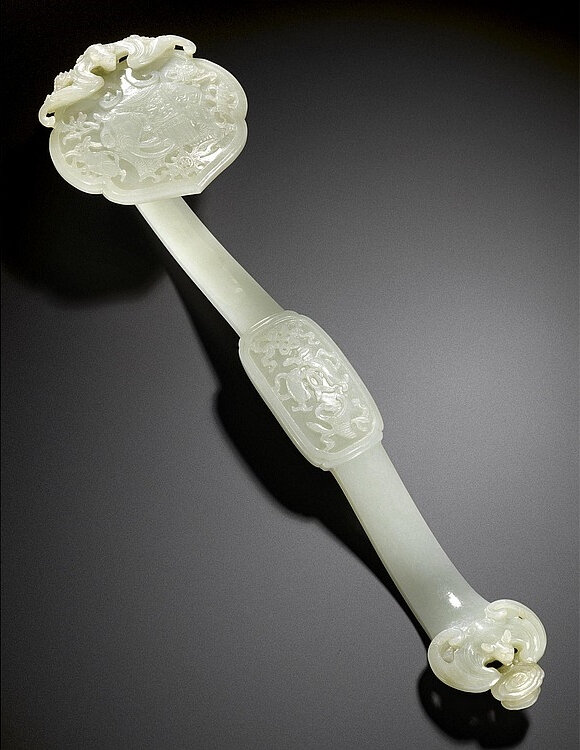 Lot 2721. A celadon white jade 'bajixiang' ruyi sceptre, Qing dynasty, Qianlong period (1736-1795); 43 cm., 17 in. Estimate 600,000 — 800,000 HKD. Lot Sold 2,780,000 HKD. Courtesy Sotheby's 2010.
the slender sceptre of an S-shaped profile, the head carved with a standing elephant wearing a tasseled cloth, surrounded by five Buddhist emblems, all below a high-relief bat with wings spread in flight amid swirling clouds, the curved shaft decorated with three other emblems, the foot further adorned with a bat and clouds, the stone of a celadon-tinged white tone.
Provenance: Collection of a European Countess.
S. Marchant & Son Ltd., London.
Exhibited: Post-Archaic Chinese Jades from Private Collections, S. Marchant and Son Ltd., London, 2000, cat. no. 69.
Note: The present ruyi sceptre is notable for the varying levels of carving, from the head that is rendered in low-relief to the bats that are modelled in the round. Compare ruyi sceptres of this form and composition but carved with different motifs on the head, such as one in the National Palace Museum, decorated with the bajixiang , illustrated in Masterpieces of Chinese Ju-I Sceptres in the National Palace Museum, Taipei, 1974, pl. 2; and another in the Alan and Simone Hartman collection, published in Robert Kleiner, Chinese Jades from the Collection of Alan and Simone Hartman, Hong Kong, 1996, pl. 160.
A talisman presented to bestow good fortune, the ruyi sceptre itself and the carved decoration imbue this piece with rich auspicious symbolism. The origins of the sceptre are associated with Buddhism and it is thought to have developed from back-scratchers used by monks and holy figures during the pre-Tang times. The sceptre was later adapted by Daoists who introduced the lingzhi fungus-form head. Lingzhi fungus was thought to have magical and supernatural powers and was one of the important ingredients in traditional Chinese medicine. Daoists associated ruyi fungus with immortality; hence the reference to longevity made it an ideal auspicious gift. It was under the Yongzheng emperor that the tradition of the ruyi, which literally means 'as you wish', was revived. Sceptres became an imperial object and were presented to the Emperor or members of the imperial family and high officials as auspicious gifts on occasions such as promotions, birthdays and New Year celebrations.
The elephant is a pun for 'sign' (xiang) and symbolises strength and wisdom, while the bat (fu) is a pun for 'blessings'. The popular bajixiang motif represents longevity and is believed to bring peace and blessings.
Sotheby's. Fine Chinese Ceramics & Works of Art, Hong Kong, 08 Oct 10.