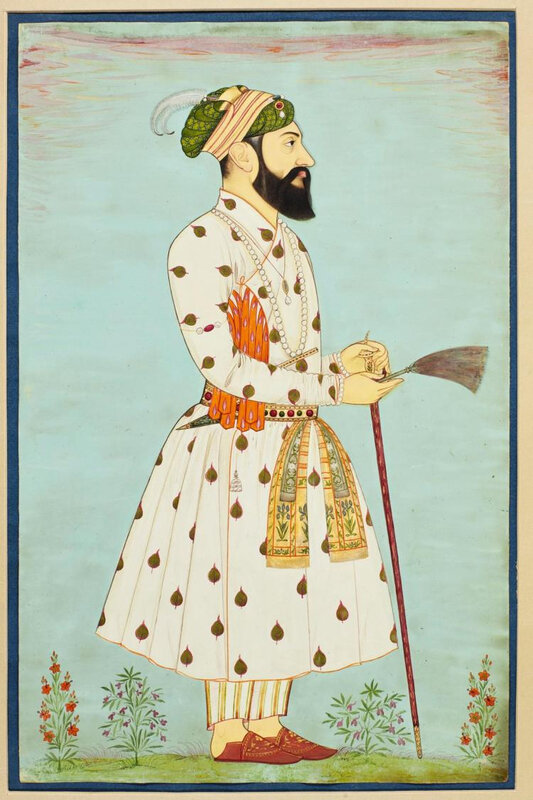 Lot 127. A large portrait of Emperor Alamgir (Aurangzeb) at the age of sixty, India, Deccan, probably Golconda, circa 1700, gouache with gold on paper, inscribed on reverse in ink in Persian 'Aurangzeb' and in Latin 'Arangseeb etatis sue: 60 an', framed, 42.9 by 27.5cm. Estimate 15,000 — 25,000 GBP. Lot sold 18,750 GBP. Courtesy Sotheby's 2017.
Provenance: From an album probably commissioned in India by a Dutch traveller circa 1700.
Sold in these rooms 13/14 April 1976, lot 267.
Arthur Tooth and Sons, London, circa 1977.
Note: The album from which this and the following lot originate contained nineteen large scale portraits of Mughal rulers, princes and ancestors, and was very probably commissioned in Golconda about 1700 by a Dutch traveller. The album was entitled 'Mongolsche Keysers' and each painting bore an inscription on the reverse in Dutch and/or Latin in an early hand identifying the subject. In the present case the inscription is in Latin and reads 'Arangseeb etatis sue: 60 an' ('Aurangzeb at the age of 60'). There is a further inscription of identification in Persian that simply reads 'Aurangzeb'. Another painting in the album depicts Aurangzeb at the age of 80 (Waddington and Tooth Galleries, London, Indian Paintings from the 17th to 19th centuries, May-June 1977, no.5), meaning it cannot have been painted before 1698 (Aurangzeb was born in 1618 and died in 1707). The album was sold in these rooms 13/14 April 1976, lot 267.
Many albums of portraits of Mughal and Deccani rulers were collected in India by Dutch and other European travellers in the late seventeenth and early eighteenth century. A possible candidate for the patron of the present series was Cornelius de Bruyn, whose Voyages de Corneille le Bruyn par la Moscovie en Perse, et aux Indes Orientales, published in Amsterdam in 1718, is illustrated with engravings similar to these portraits. Single portraits from the present album have appeared in these rooms as follows: 12 October 1981, lot 34; 15 October 1997, lots 72 and 73; at Sotheby's New York, 21 March 2002, lot 218, and at Christie's, London, 24 April 1990, lots 85 and 86. An album with similar but smaller portraits is in the Rijksmuseum, Amsterdam (RP-T-00-3186), and others are in the British Museum (1974,0617,0.2) and the Bibliothèque Nationale, Paris (Estampes, Od 32 and Od 61, see Hurel 2010, nos.230 and 234, pp.167-173).
Sotheby's. Arts of the Islamic World, London, 26 april 2017