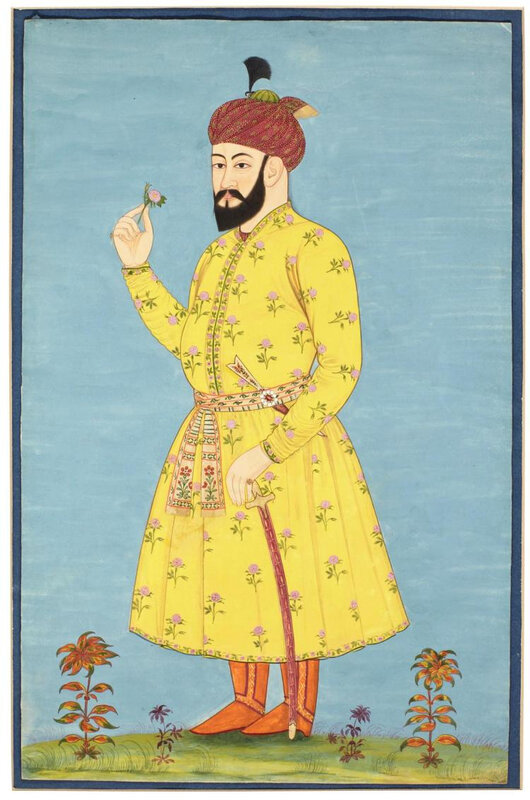 Lot 128. A large portrait of Umar Sheikh Mirza of Ferghana, India, Deccan, probably Golconda, circa 1700, gouache with gold on paper, inscribed on reverse in black ink in Persian 'Sheikh Umar', in Devenagari in red ink 'Umar Shyk…', and in black ink in Dutch 'Ommer Sjeigh varder van hamaon', framed; 42.8 by 27.2cm. Estimate 15,000 — 25,000 GBP. Lot sold 18,750 GBP. Courtesy Sotheby's 2017.
Provenance: From an album probably commissioned in India by a Dutch traveller circa 1700.
Sold in these rooms 13/14 April 1976, lot 267.
Arthur Tooth and Sons, London, circa 1977.
Note: The album from which this and the previous lot originate contained nineteen large scale portraits of Mughal rulers, princes and ancestors, and was very probably commissioned in Golconda about 1700 by a Dutch traveller. For further information and discussion see footnote to previous lot.
On the reverse of the present portrait are three inscriptions. The Persian and Devanagari inscriptions simply identify the subject as Umar Sheikh, but the Dutch inscription also states that he was the father of Humayun (varder van hamaon). In fact he was the grandfather of Humayun, being Babur's father, ruler of the Ferghana Valley and fourth son of Abu Said Mirza the Timurid ruler. He was revered as one of the ancestors of the Mughal dynasty
Sotheby's. Arts of the Islamic World, London, 26 april 2017