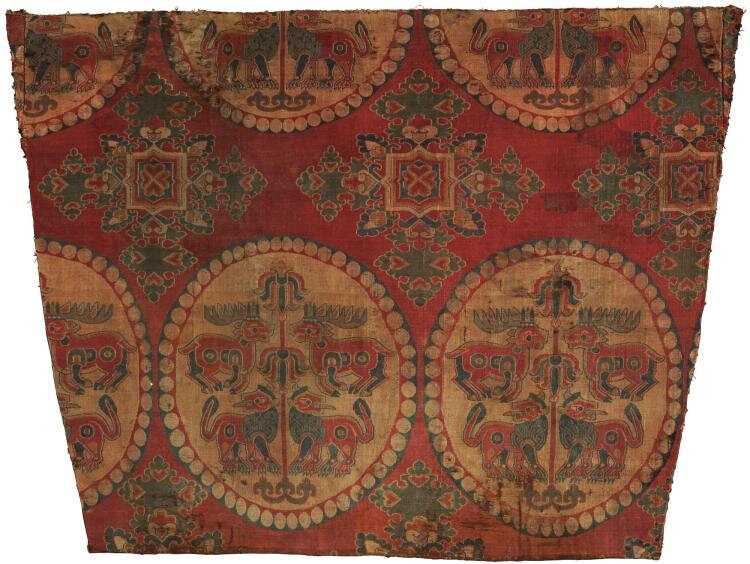 Lot 161. A fine silk samite fragment with confronted deer and lions, Central Asia, Sogdiana, 8th-9th century; 47.5 by 64cm; 53 by 69cm mounted. Estimate 20,000 — 25,000 GBP. Lot sold 22,500 GBP. Courtesy Sotheby's 2017.
a large fragment, woven in weft-faced polychrome compound twill with red, green, honey and blue threads, the design comprising pearl roundels containing facing stags and lions between a stylised tree, with foliate medallions between.
Note: Designed with the favoured pearl roundels linked to both Persian and Chinese traditions, this elegant textile, alongside the previous two lots, speaks to the unique style and decoration of Sogdian textile production and the multi-layers of symbolism it depicts.
Within each pearl roundel features two confronting deer above facing lions between a stylised tree. The space in between the roundels is filled with a symmetrical quatrefoil enclosing palmettes. Although not appearing directly in confrontation on the present example, the lion and deer are natural enemies in the animal kingdom, and often, as inspired by Sassanian royal iconography, the depiction of feared animals and their victims allude to the relationship between the powerful ruler and his enemies. This particular motif carries a strong association with power and potency, and possibly was meant to refer to the wearer himself.