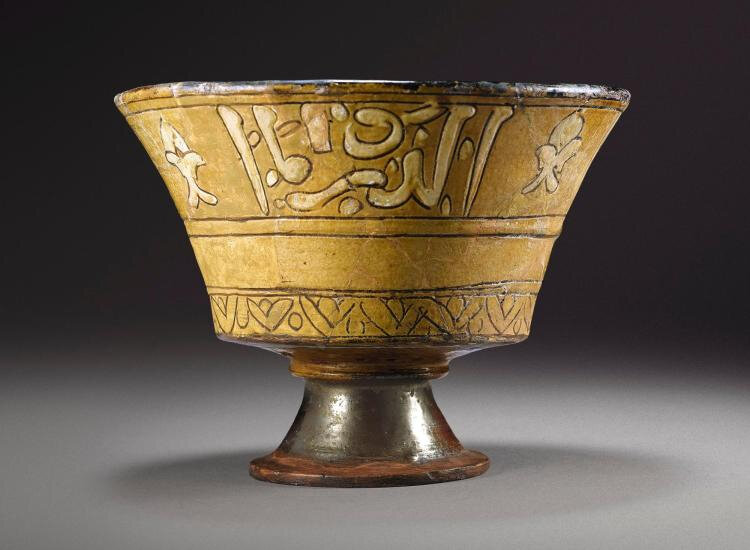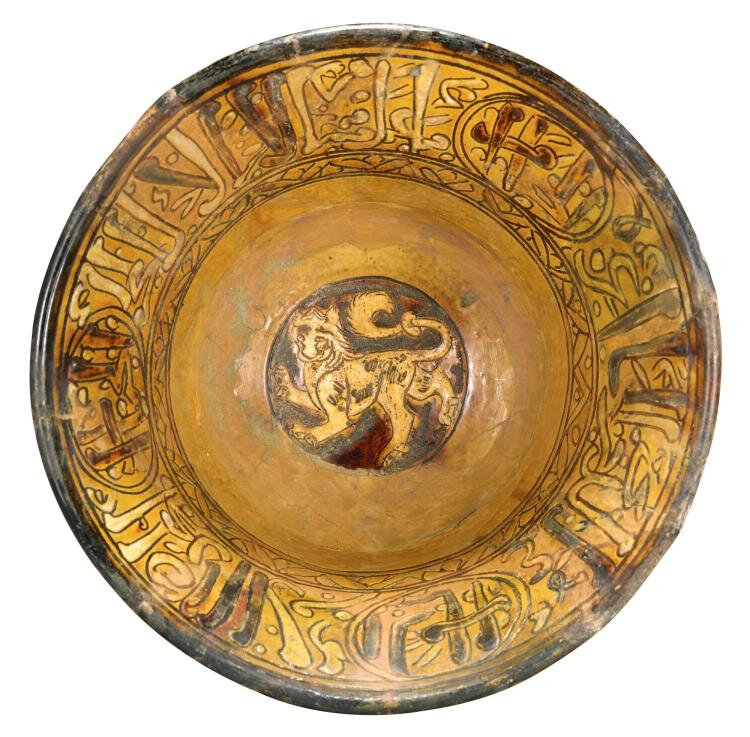 Lot 179. A rare Mamluk sgraffito pottery bowl with lion of Baybars, Egypt, circa 1260-77 AD; 26cm height , 20cm max. diam. Estimate 15,000 — 25,000 GBP. Lot sold 18,750 GBP. Courtesy Sotheby's 2017.
of deep form with everted rim, on a short splayed foot, the earthenware body incised with white engobe, underglaze slip and inglaze-painted, featuring the lion of Baybars in the centre.
Note: Inscriptions: Around the inner wall:
'One of what was made for the Exalted Amir… well-served, the Amir (?), the Treasure house [of excellence] … may [God] glorify him'
In the cartouches around the wall: 'His Excellency …'
On the other wall, repeat of: 'Religion (?) and …'
The lion featured in the centre of the bowl is generally associated with the heraldic blazon of Sultan Baybars (r.1260-77 AD), the first great Mamluk Sultan, although it is seen on a number of other vessels, indicating it was used by other patrons as well. A similar Mamluk bowl is in the Al-Sabah Collection, Kuwait (illustrated in Jenkins 1983, p.83) and in the Victoria and Albert Museum, London (inv. no. C.163-1932). Also, a fragment featuring a lion is in the Kelsey Museum of Archaeology, University of Michigan (inv. no. KM 1965.03.0052).