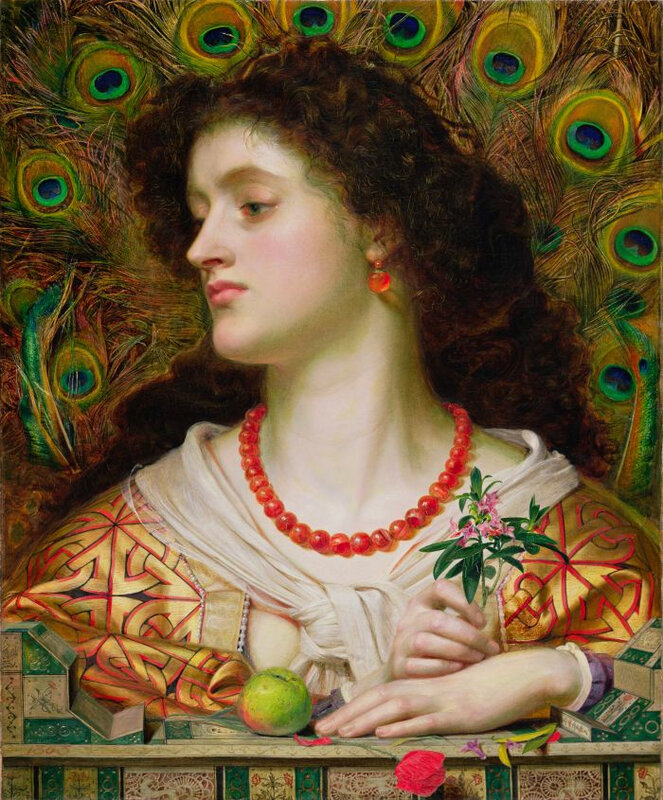 Frederick Sandys, Vivien, 1863. Huile sur toile, 64 x 52,5 cm. Manchester Art Gallery © Manchester Art Gallery / Bridgeman Images.
LAUSANNE.- The Fondation de l'Hermitage is presenting a major exhibition on English painting of the Victorian period (1837-1901). A selection of nearly 60 works, most on show for the first time in Switzerland, illustrate the diversity and fascinating originality of 19th-century English art. The great upheavals of the Industrial Revolution are reflected in striking genre scenes depicting different facets of modern life in the Golden Age of the British Empire, from the expansion of cities and public transport to the emergence of the middle classes and homeworking. Other artists choose to focus on landscape or portray their ideals of beauty in subjects taken from history and literature.
Joseph Mallord William Turner, Landscape with Water, 1840-1845 huile sur toile, 121,9 x 182,2 cm. Tate, accepted by the nation as part of the Turner Bequest 1856 © Tate, Londres 2019.
From Turner to Whistler via the Pre-Raphaelites
The exhibition foregrounds three generations of painters active in the Victorian era, starting with J. M. W. Turner (1775-1851), one of the most celebrated British landscape artists of his day, whose magisterial oeuvre was a forerunner of Impressionism. The focus then shifts to the Pre-Raphaelite Brotherhood, founded in 1848 by students at the Royal Academy in London, including John Everett Millais (1829-1896) and Dante Gabriel Rossetti (1828-1882). This group sought to throw off academic conventions, calling for a return to nature and taking inspiration from the Italian Primitives, in accordance with the precepts of art critic John Ruskin (1819-1900). In the 1860s a second generation of artists headed by Edward Burne-Jones (1833-1898), and usually known as the Aesthetic Movement, drew on a wide range of sources, from mediaeval legends to literature, poetry, British theatre and Antiquity. Antiquity was also central to the work of Lawrence Alma-Tadema (1836-1912), who achieved immense success in his own lifetime with his precisely detailed style. The exhibition culminates in a presentation of two singular figures of the Victorian period, James Abbott McNeill Whistler (1834-1903) and John Singer Sargent (1856-1925), both cosmopolitan artists of American origin.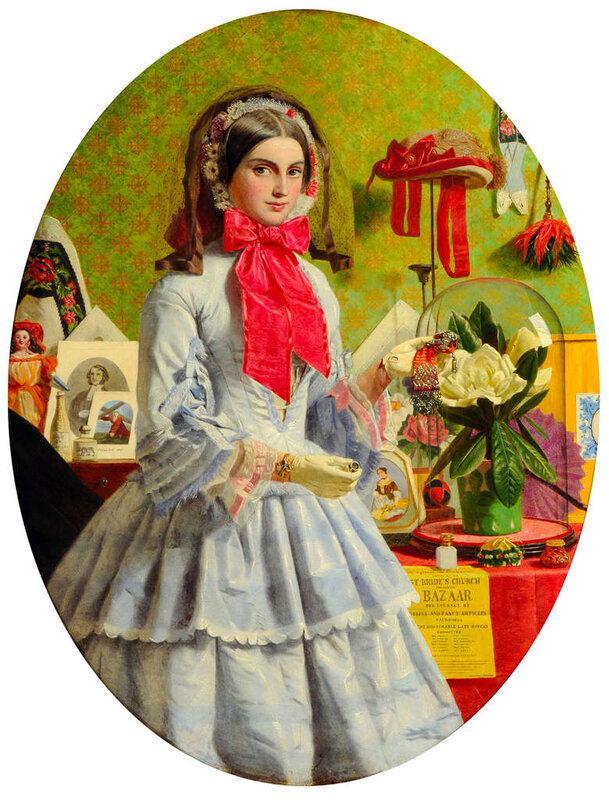 James Collinson, At the Bazaar, 1857 huile sur panneau, 60,6 x 45,7 cm, Museums Sheffield, Graves Gift 1929 © Museums Sheffield.
A section on Victorian photography
The loan of a very fine set of photogravures from the Fondation William Cuendet & Atelier de Saint-Prex has enabled curators to enhance the exhibition with a selection of works by the most important British photographers of the 19th century, including Thomas Annan, Julia Margaret Cameron, Peter Henry Emerson, Francis Frith, David Octavius Hill and Robert Adamson, Robert Howlett, Henry Peach Robinson and William Henry Fox Talbot. To complete this section the exhibition presents a portfolio of portraits of Jane Morris, one of the pre-Raphaelite muses.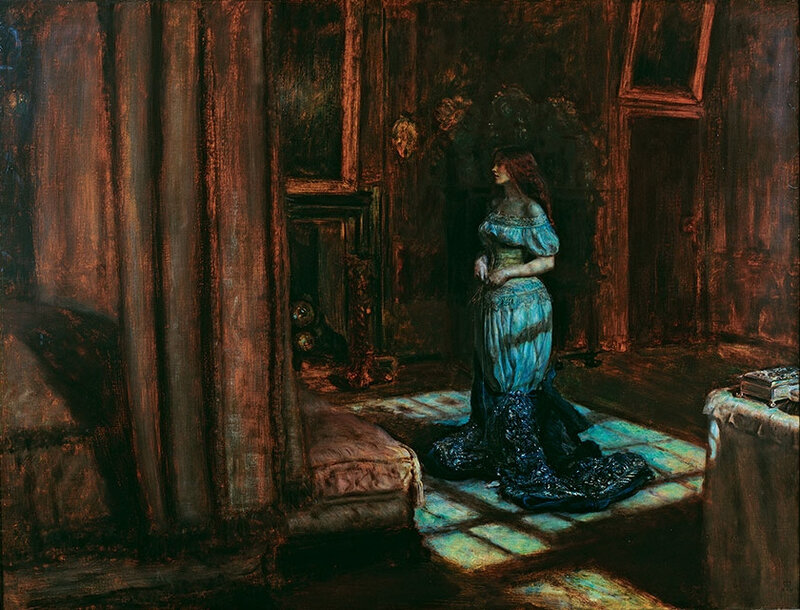 John Everett Millais, The Eve of Saint Agnes, 1863. Huile sur toile, 117,8 x 154,3 cm. Her Majesty Queen Elizabeth II © Royal Collection Trust / Her Majesty Queen Elizabeth II 2019.
Prestigious works
The works on display have been lent by major British institutions, including the Tate, the Royal Collection / HM Queen Elisabeth II and the Royal Academy of Arts, all in London, the Ashmolean Museum in Oxford, the Manchester Art Gallery, the National Galleries of Scotland in Edinburgh and the Hunterian in Glasgow.
Alfred Edward Emslie, Bending Sail after a Gale, 1881, huile sur toile, 68 x 102 cm, Collection privée © photo TDR
Unusual visitor guides
In addition to the free audio-guides in French and English and a fun activity for younger visitors, organizers will be staging many events and activities directly related to English Painting from Turner to Whistler, including a series of lectures by William Hauptman, Vincent Delay and Mary Anne Stevens, workshops looking at Art on stage! jointly run with La Manufacture - Haute école des arts de la scène, Murder Mystery evenings and English Breakfast and Afternoon Tea, with guided tours of the exhibition and art workshops for children, adults and families.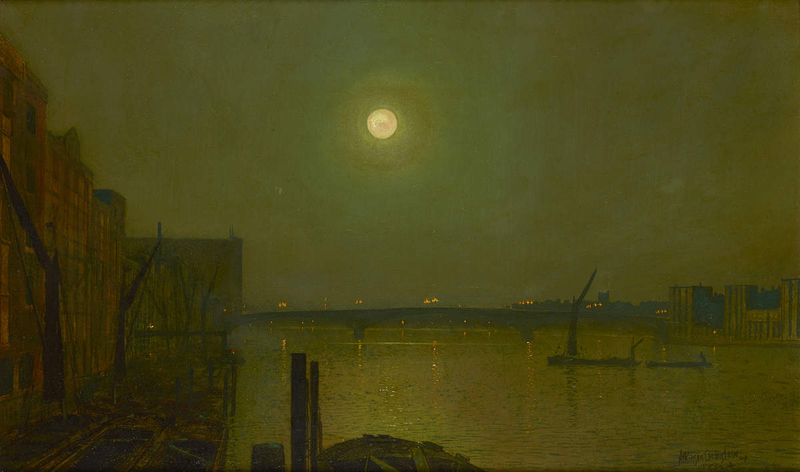 John Atkinson Grimshaw, View of Southwark Bridge at Night, 1882 huile sur panneau, 29,3 x 49,5 cm The Ashmolean Museum, Oxford, accepted by HM Government in lieu of Inheritance Tax on the estate of Sir James Colyer-Fergusson and allocated to the Ashmolean Museum, 2005 © Ashmolean Museum, University of Oxford.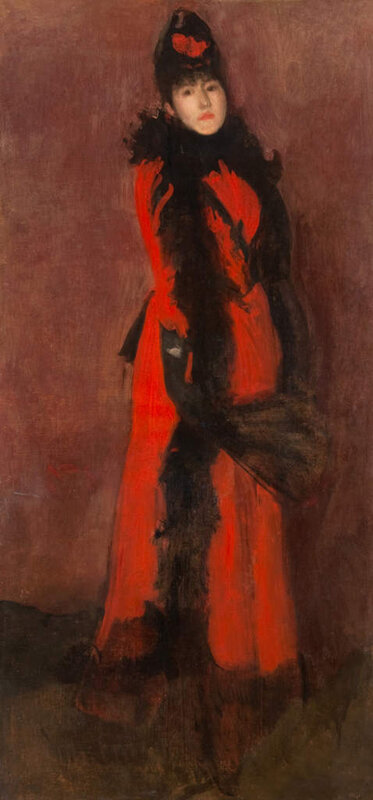 James Abbott McNeill Whistler, Red and Black : The Fan, 1891-1894, huile sur toile, 187,4 x 89,8 cm, The Hunterian, University of Glasgow © The Hunterian, University of Glasgow 2019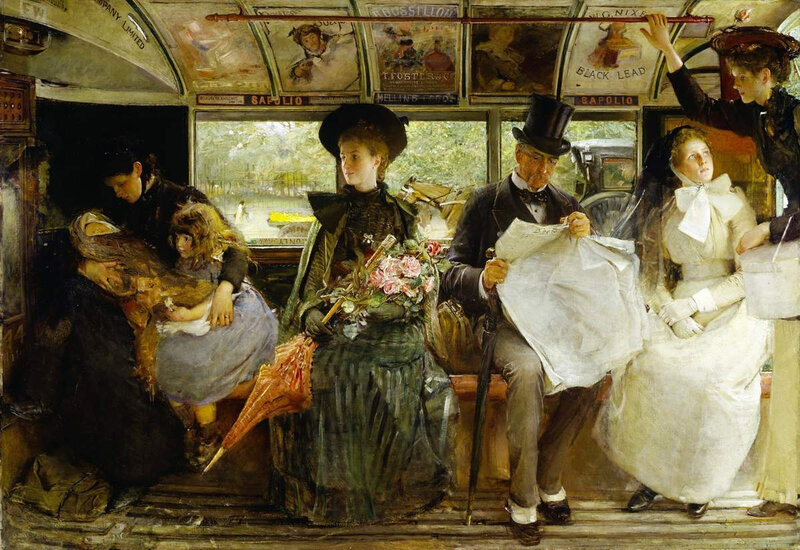 George William Joy, The Bayswater Omnibus, 1895 huile sur toile, 120,6 x 172,5 cm Museum of London © George William Joy / Museum of London.