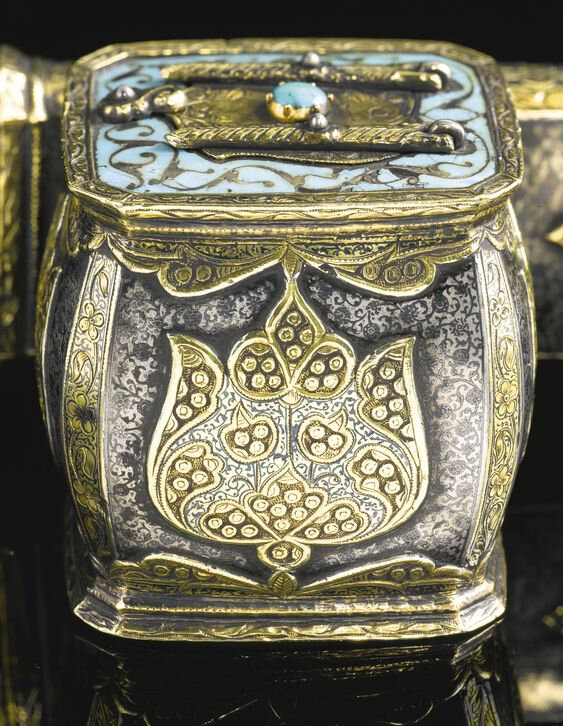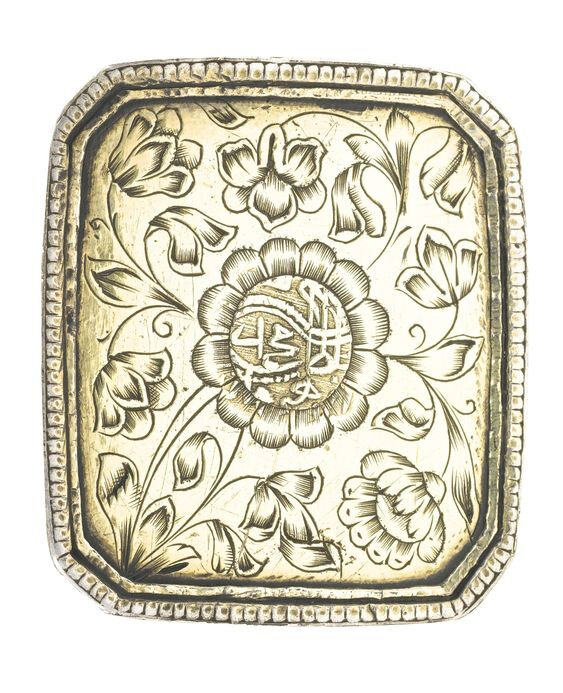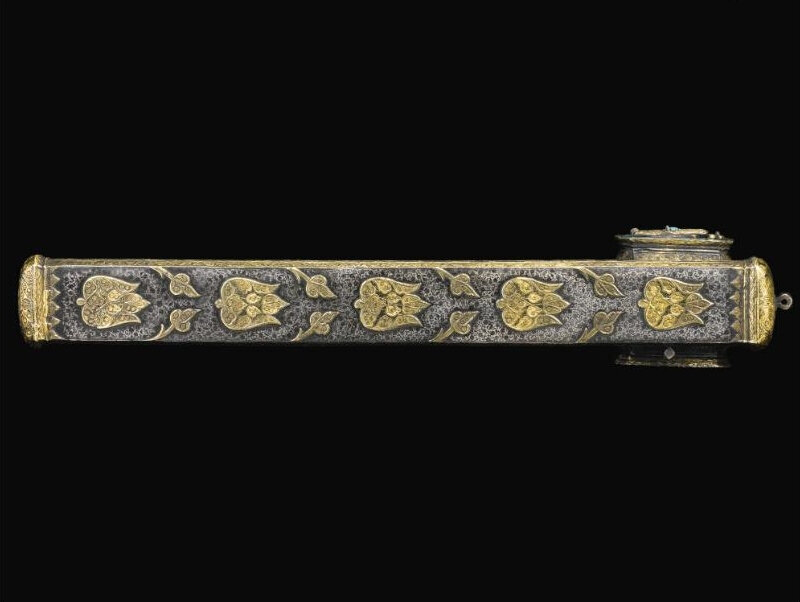 Lot 160. An imperial Ottoman silver-gilt and nielloed penbox (divit) bearing the tughra of Mehmed IV (r.1648-87), Turkey, second half 17th century; 29.7cm. length. Estimate 100,000 — 150,000 GBP. Price realised 314,500 GBP. © Sotheby's 2014
the surface set with silver-gilt tulip motifs with engraved and incised designs on a ground entirely covered in niello decoration comprising tight floral scrolls, the inkwell lid with turquoise enamel and set with turquoise stone, the underside stamped with the tughra of Sultan Mehmed IV within an incised flowerhead
Provenance: Ex-private collection, Belgium, mid-20th century
Note: This magnificent penbox not only demonstrates great beauty and technical sophistication, it also represents one of the earliest known examples of its type.
Stylistically it is similar to, but predates, a number of examples of silver penboxes from the period of Ahmed III (r.1703-30), illustrated in Kürkman 1996, pp.152-5. Whereas these examples tend to be of a simpler design, a body armour suite, also from the period of Mehmed IV, made for the Janissary Mustafa Ağa and dated 1093 AH/1682 AD, displays the same quality of niello-work as the present penbox (ibid, p.146). Furthermore, the form, comprising a long rectangular holder for the reed pens and cubic-form inkwell, was not yet as widespread as it would become after the period of Ahmed II (r.1691-95), and diverges from the classical ovoid shape (see for example three penboxes from the mid-sixteenth century illustrated in Roxburgh 2005, p.358, nos.342-344).
The sublime attention to detail and refinement of the nielloed design covering the entire pen box is worthy of the finest illuminations, recalling courtly production of the early sixteenth century. It is comparable to the floral scroll work on an illuminated tughra of Suleyman the Magnificent, circa 1540-50, in the Topkapi Palace Museum (inv.no. G.Y.1400).
It is also noteworthy to observe the repeat pattern of gilt tulip heads set on each side of the penbox, testifying to the esteem in which this flower was held by the Ottomans, particularly in the seventeenth century. Considered the most highly-regarded flowers in Ottoman culture, tulips were often depicted on artworks and used in romantic poems to describe the cheeks of the loved one.
Sotheby's. Arts of the Islamic World, London, 09 april 2014