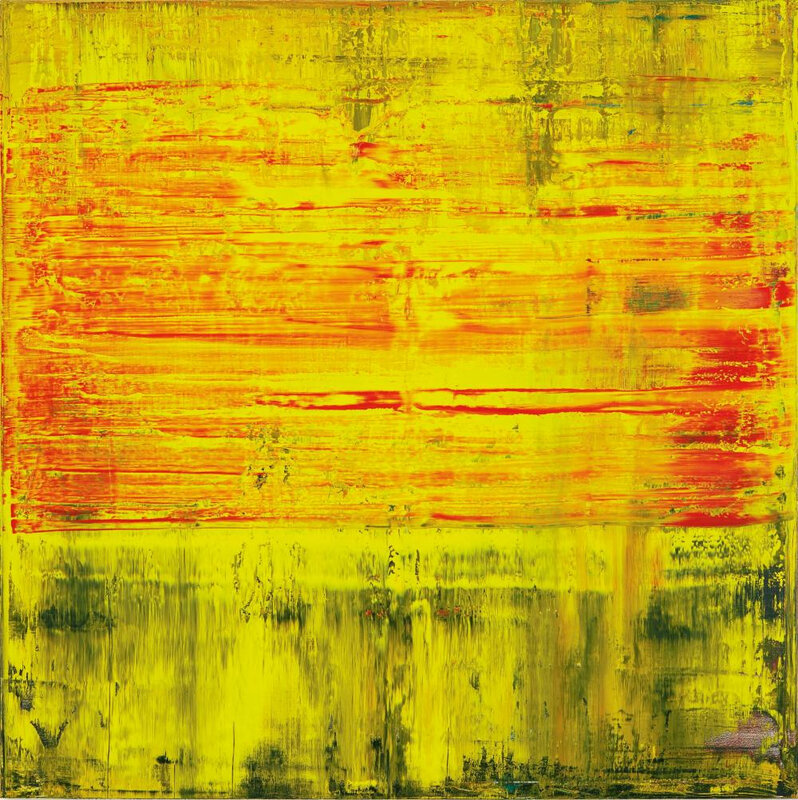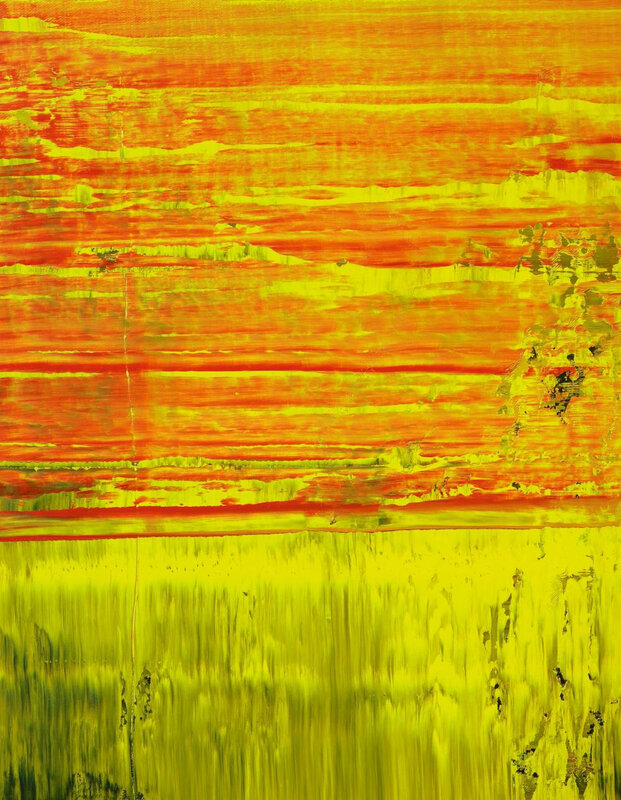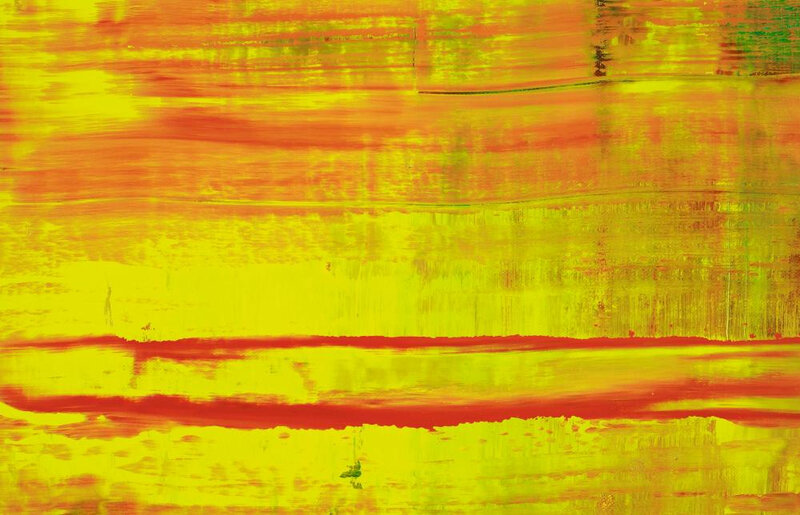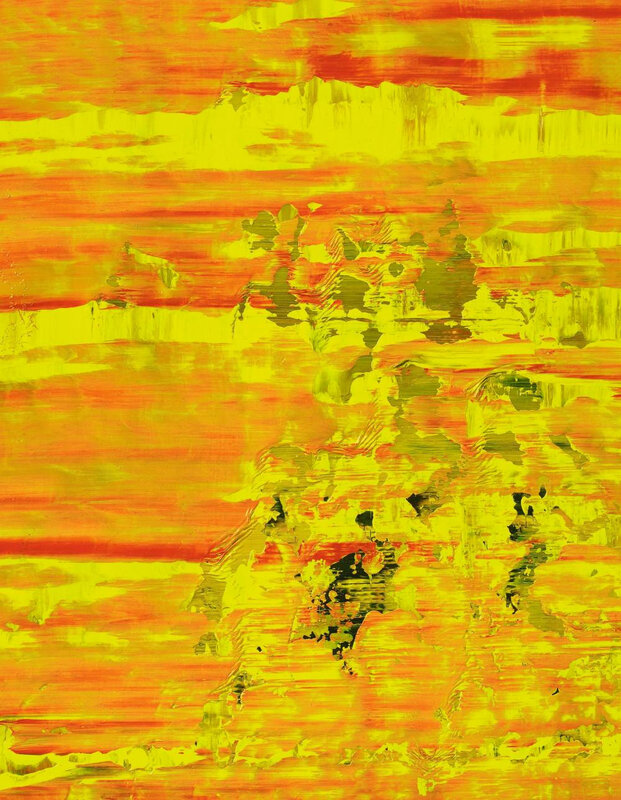 Lot 21. Gerhard Richter (b. 1932), Abstraktes Bild, oil on canvas, 180 by 180 cm. 70 7/8 by 70 7/8 in. Estimate £6,000,000 - £8,000,000. Courtesy Sotheby's 2019.
Provenance: Marian Goodman Gallery, New York
Acquired from the above by the present owner.
Exhibited: New York, Marian Goodman Gallery, Gerhard Richter: Abstract Paintings, November 2009 - January 2010, no. 46, illustrated in colour.
Literature: Christian Lotz, The Art of Gerhard Richter. Hermeneutics, Images, Meaning, London 2015, p. 174 (text).
Note
: "
Richter's painting explores the enigmatic juncture of sense and non-sense. His paintings encircle, enclose the real as that which it is impossible to say: the unrepresentable
."
Birgit Pelzer, 'The Tragic Desire' in: Benjamin H. D. Buchloh, Ed., Gerhard Richter: October Files, Massachusetts 2009, p. 118.
Chromatically arresting and compositionally complex, Abstraktes Bild is a masterwork from Gerhard Richter's incredible opus of abstraction – an aesthetic investigation that has preoccupied the seminal artist for more than four decades. This painting belongs to the very same series that Richter was filmed working on in Corinna Belz's 2011 documentary, Gerhard Richter: Painting; a film that gives wonderful insight into the working methods of one of the most significant artists of the last century. In the documentary, the viewer is witness to Richter's painterly practice in which agency and choice is pitted against the unpredictable swipes and aleatory effect of the squeegee. Here, we see the complicated and often frustrating process in action, in real time. Charting the development of a series of paintings designated 910 in the artist's catalogue raisonné between April and September in 2009, the film specifically focusses on the creation of 910-1: the sister work to the present canvas which is housed in the Fondation Carmignac, Paris. Indeed, each measuring an imposing 180 by 180 cm and sharing a striking yellow abstract composition, 910-1 and 910-2 (the present work) are the largest paintings in this seven-part sequence.
Richter's freeform abstract paintings constitute the most renowned, and profound, cycle of the artist's career, of which the present work is a landmark feat of conceptual and painterly achievement. From 1986 onwards, following a corpus of nascent abstractions executed between the years of 1980-85, Richter relinquished any planned elements of form and structure in favour more predominantly of the indeterminate scrape and accretion of the 'squeegee'. Chance, layering, erasure, chromatic power and compositional counterpoint became wielded by the artist to sublime effect. By the Twenty First Century, when the present work was created, Richter's abstract aesthetic had matured into an emotive expression of pure and unadulterated colour. Abstraktes Bild is ablaze with myriad sunset hues in dazzling yellow against fields of radiant orange and deepest aubergine; it is a symphony in paint. Horizontal veils of stuttering impasto in the top two thirds of the composition present a riposte to the vertical drag of wide strokes at the base of the picture plane, both of which are punctuated by finer and more nuanced accents. The result is a mesmerising, effervescing field in which painterly elements both spar against and complement each other while the paint's chromatic value injects this piece with an undisputed brilliance.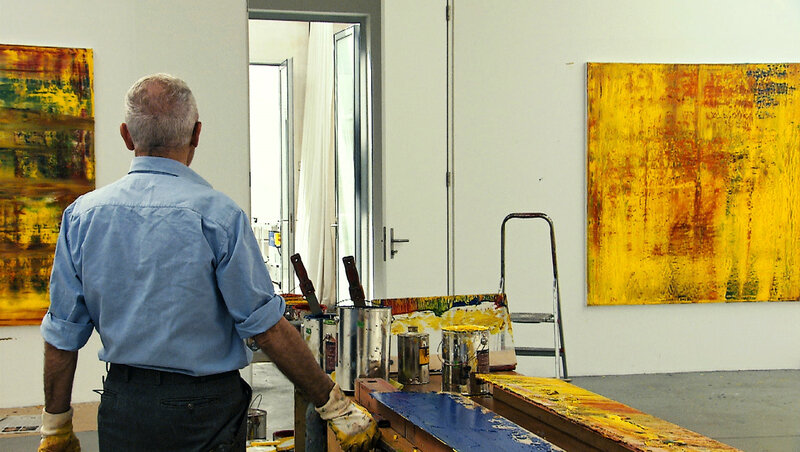 Film still from Gerhard Richter: Painting, Dir. Corinna Belz, Zero One Film 2011. image: © Piffle Medien, Berlin. Artwork: © Gerhard Richter 2019 (08022019).
Texture, colour and structure are deployed in Abstraktes Bild with spectacular force and sensitivity to engender a seductive painterly synthesis visually aligned to an exquisite and strikingly atmospheric evocation: rendered overwhelmingly in vivid, luminescent yellow, structural strips and impastoed ridges of thick oil paint delineate a schema of painterly revelations which disband into under-layers of burning, fiery orange, and shadowy indigo-violet. Suggestive of light and dark, the buoyant and the dense, these emblematic hues ripple and vibrate across the surface in a synthesis of hypnotic allure. Herein, the present work draws a uniquely evocative dialogue with a plethora of art historical references, from the resolutely contemporary to the distinctly canonical. In its utterly self-referential language of abstraction, Abstraktes Bild at once invokes the vast and meditative canvases of Mark Rothko, the vibrant Abstract Expressionist paintings of Willem de Kooning, and the searing electric glow of one of Dan Flavin's fluorescent light sculptures. In the same moment, it seems to allude to the aesthetic and atmospheric congruencies of Claude Monet's Sunset in Venice (1912), Georges Seurat's proto-scientific treatment of light and colour, Piet Mondrian's geometric abstractions, and Gustav Klimt's jewel-like treatment of the Austrian landscape. Breathtaking in its iridescent beauty, Abstraktes Bild captures an atmosphere akin to a Post-Impressionistic translation of a hazy, ember sky as the sun rises or falls over rippling water. Fluttering dreamily in and out of such visual elicitations, the present work nonetheless returns, again and again, to its self-reflexive surface value, as a two-dimensional canvas adorned in paint. As Birgit Pelzer remarks, "Richter's painting explores the enigmatic juncture of sense and non-sense. His paintings encircle, enclose the real as that which it is impossible to say: the unrepresentable" (Birgit Pelzer, 'The Tragic Desire' in: Benjamin H. D. Buchloh, Ed., Gerhard Richter: October Files, Massachusetts 2009, p. 118).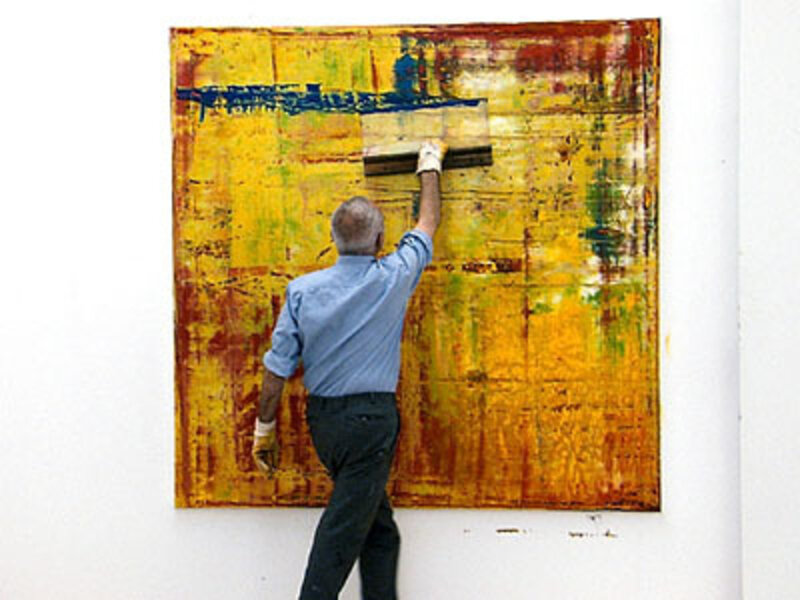 Film still from Gerhard Richter: Painting, Dir. Corinna Belz, Zero One Film 2011. image: © Piffle Medien, Berlin. Artwork: © Gerhard Richter 2019 (08022019).
Though comprising seemingly innumerable tonal variations and intimations of abyssal layers beyond the picture plane, Abstraktes Bild simultaneously presents an evocation and a cancellation of the kind of transcendental sacred image space pioneered by Mark Rothko, Barnett Newman, and Franz Kline. Ineluctably glorious in its enveloping celebration of colour, its experience of unbridled structure and compound chromatic affect is nonetheless disrupted and offset by an enshrouding static drone. Considering this visual conundrum, art historian Benjamin H. D. Buchloh notes, "[I]f the ability of colour to generate this emotional, spiritual quality is presented and at the same time negated at all points, surely it's always cancelling itself out. With so many combinations, so many permutational relationships, there can't be any harmonious chromatic order, or compositional either, because there are no ordered relations left either in the colour system or the spatial system" (Benjamin H. D. Buchloh, 'An Interview with Gerhard Richter', 1986 in: ibid., pp. 23-24). Much like a palimpsest in its layered surface and repeated working over, Abstraktes Bild resembles a restless confluence of many paintings at once. The exuberant strata of paint bear the ghosts of previous accretions and colour juxtapositions applied, erased, remade and obliterated over again. Such chromatic and compositional negations represent Richter's rebuttal of the bold idealism of 1950s abstraction: "Pollock, Barnett Newman, Franz Kline, their heroism derived from the climate of their time, but we do not have this climate" (Gerhard Richter cited in: Michael Kimmelmann, 'Gerhard Richter: An Artist Beyond Isms', The New York Times, 27 January 2002, n.p.). Rather, the climate we do have, and the climate Richter's entire production concerns itself with, is our contemporary age of the photographic – and more recently still, the digital.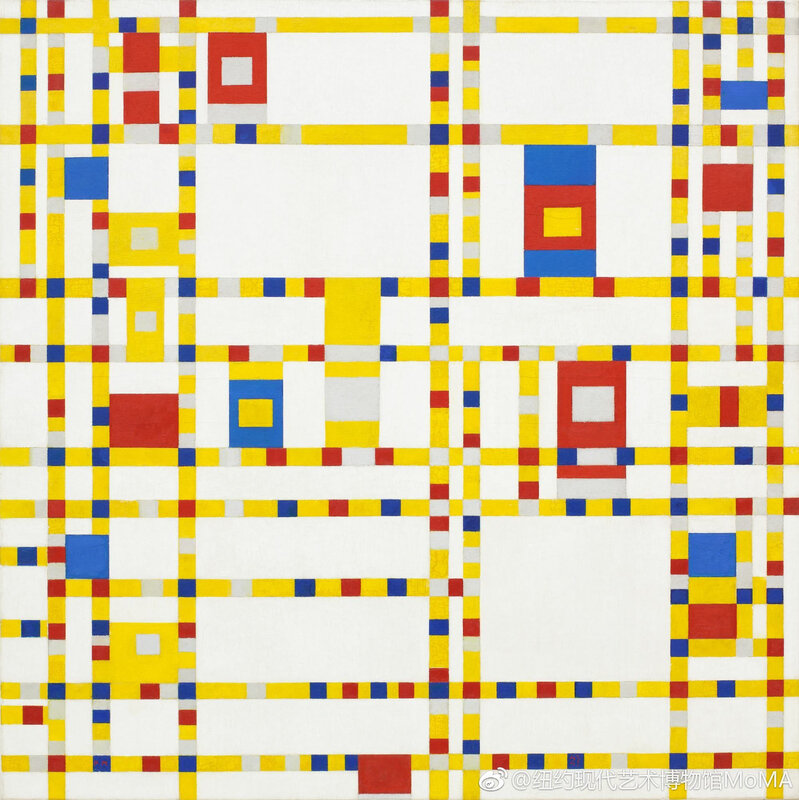 Piet Mondrian, Broadway Boogie Woogie, 1942-43, The Museum of Modern Art, New York. Image: © Digital image, The Museum of Modern Art, New York/Scala, Florence
Coming full circle from the earliest Photo Paintings, the present work witnesses the full induction of the squeegee as the principal compositional agent. As redolent in Abstraktes Bild, the sheen of immaculate colour and complex permutations mimic the aesthetic of a cibachrome print, while a distinctly photographic quality is compounded by the out-of-focus consistency of the sweeping accretions of paint. Evoking a blurred, fragmented or half-remembered image, and imploring the same cognitive viewing experience as his photo works, the hazy coagulation of endlessly scraped pigment forms an extraordinary rejoinder to the canon of abstraction via the photographic, mechanical and the aleatory. Within the sheer excess of layering and dynamic compositional facture, this painting emits an extraordinary wealth of enigmatic yet recognisable evocation. The incessant erasure and denial of formal resolution induces a reading of phenomological forms associated with those found in nature. Readily evoking natural experiences such as rippling water, sedimentary erosion, heat waves, or in the case of the present work the glow of the sun over the horizon, Richter's abstract works derive their affect from a spontaneous naturalism. Where Richter's Photo Paintings fall away into abstraction, the Abstrakte Bilder return us to a suggestion of endless referentiality.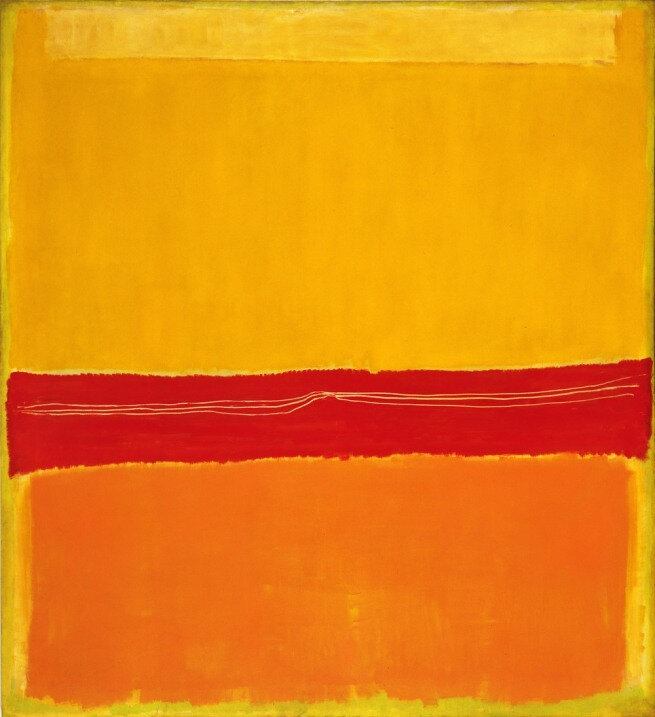 Mark Rothko, No. 5/No. 22, 1950, The Museum of Modern Art, New York. Image: © 2019 Digital image, The Museum of Modern Art, New York/Scala, Florence. Artwork: © 1998 Kate Rothko Prizel & Christopher Rothko ARS, NY and DACS, London.
As made explicit by Kaja Silverman, Richter has made claims to paint "like a camera" even when photographic content is absent from his work (Gerhard Richter cited in: Kaja Silverman, Flesh of My Flesh, California 2009, p. 173). Speaking in overarching terms of his wider painterly project in 1972, Richter explained: "I'm not trying to imitate a photograph… I'm trying to make one. And if I disregard the assumption that a photograph is a piece of paper exposed to light, then I am practicing photography by other means… [T]hose of my paintings that have no photographic source (the abstracts, etc.) are also photographs" (Ibid). In making this analogy with the camera, Richter embraces the fact that perception and the way we view the world today is entirely mediated by the photograph and its technological proliferation. Thus, where the camera "does not apprehend objects, it sees them", the Abstrakte Bilder elicit the capacity of painting to propagate a true semblance of perception and appearance – mediated and distorted as it is by the lens of memory, time, emotion and, indeed, technology. To quote Hal Foster: "The semblance that concerns Richter is of a 'second nature'… a culture-become-nature bathed in the glow of the media, a semblance permeated with photographic, televisual, and now digital visualities" (Hal Foster, 'Semblance According to Gerhard Richter' in: Benjamin H. D. Buchloh, Ed., op. cit., p. 126). Evident across the manifold exposures and variegation of the present work, the crackling, distortive fuzz within Richter's endlessly applied layers of pigment unmistakably bears the aesthetic mark of photographic reproduction. Indeed, Abstrakes Bild and its oleaginous layers of unrestrained colour delivers an effect that is at once utterly evocative of natural phenomena and photographic exposure.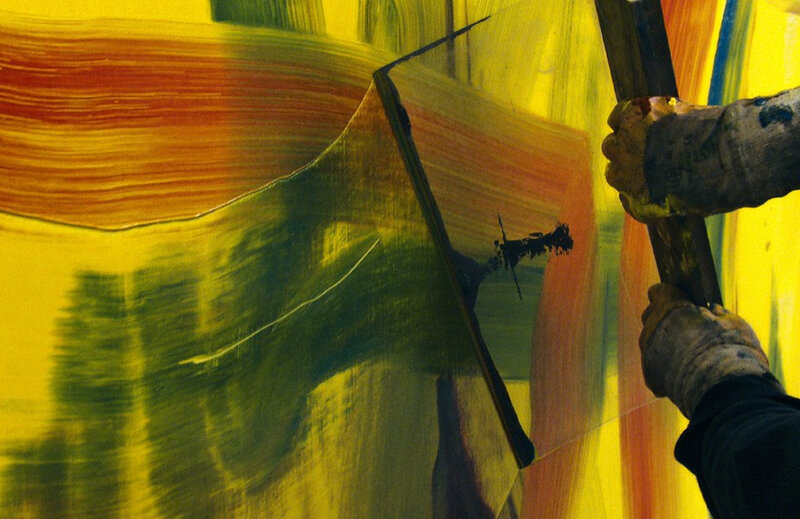 Film still from Gerhard Richter: Painting, Dir. Corinna Belz, Zero One Film 2011. Image: © Piffle Medien, Berlin. Artwork: © Gerhard Richter 2019 (08022019)
As many scholars of Richter's work have identified, the collective title for the abstract paintings, Abstrakte Bilder, is laden with significance. Translating approximately to Abstract Pictures, its title intimates that the artist is not creating paintings but rather making pictures, as Richter himself has inferred. The abstract works thus propose a liminal post-photographic space, forged within the blur of the artist's Photo Paintings and fully articulated in his mature, large-scale squeegee abstractions. Art historian Peter Osborne explicates: "Richter's abstract images are images of this image space itself. In this respect they are still 'photo paintings', but in an ontologically deeper sense than the phrase conveys when used as a designation for the earlier, more particularistically 'photo-based' work" (Peter Osborne, 'Abstract Images: Sign, Image and Aesthetic in Gerhard Richter's Painting' in: Benjamin H. D. Buchloh, Ed., op. cit., p. 109). Composed of miraculous sheens of vibrant, eye-popping colour, this painting's purely abstract field unmistakably bears the mark of televisual or technological opticality through its immersive, almost digital glow. Furnished by the mechanistic dissemination and destructive scrape of the squeegee, the present work possesses the irrepressible beauty of a Rothko or de Kooning that has been processed through Richter's de-sublimatory lens and transfigured into a glorious, post-conceptual affirmation of painting for the digital age.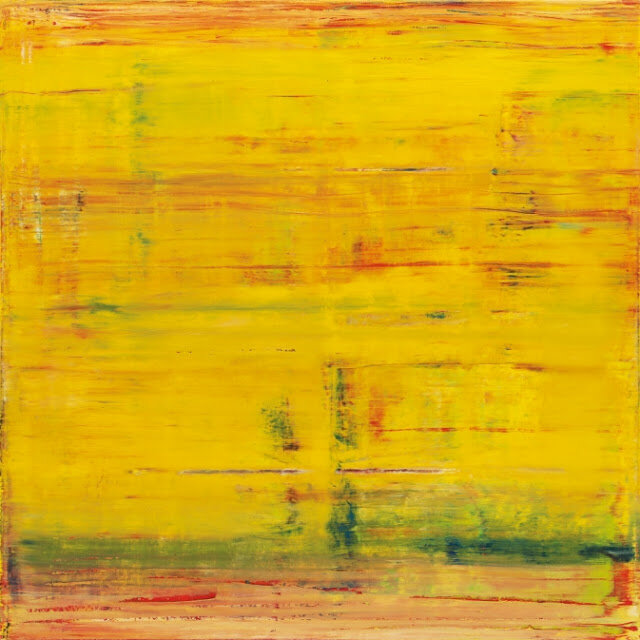 Gerhard Richter, Abstraktes Bild (910-1), 2009, Fondation Carmignac, Paris. Image/Artwork: © Gerhard Richter, 2019
Gerhard Richter's unprecedented art of abstraction stands as the ultimate culmination to the revolutionary journey of his career, during which he has ceaselessly interrogated the evolving limits of representation, the nature of perception, and the operations of visual cognition according to our ever-changing environment. Variously evoking something of Monet's sunset landscapes, Rothko's spiritual exuberance of transformative colour, and de Kooning's transferal of the figural to the abstract, Richter's abstractions are at once endlessly allusive and entirely unique. Herein, the vast expanse of Asbtraktes Bild is replete with spectacular colour, texture and form; an unadulterated expression of intangible force as delivered by the world's greatest living painter. Within the field of this canvas, acts of unfathomable conception have touched something not quite of this realm, creating, in short, something that is phenomenal.
Sotheby's. Contemporary Art Evening Auction, London, 05 Mar 2019, 07:00 PM