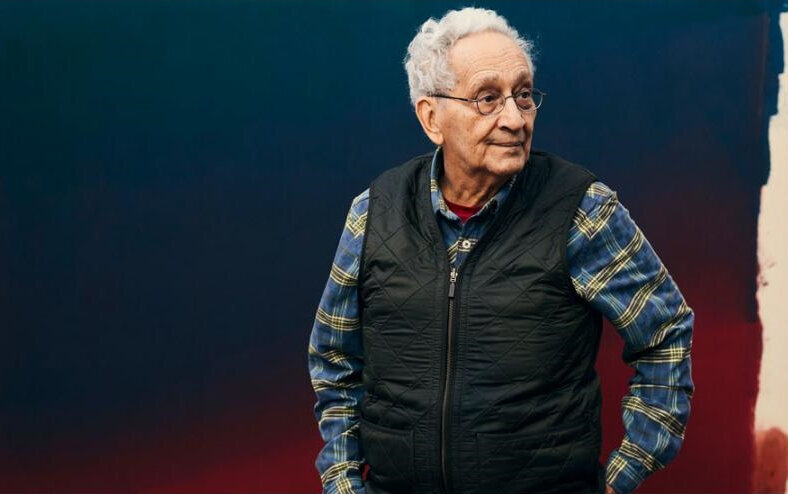 Frank Stella photographed at his home in front of Jules Olitski's 1964 work Hot Ticket (detail), 2019. Photo: Christopher Gregory / New York Times / Redux / eyevine. Artwork: © Estate of Jules Olitski/VAGA at ARS, NY and DACS, London 2019
NEW YORK, NY.- Christie's will present Continuum: Selected Works from Frank Stella's Personal Collection, works personally selected by the artist that will be offered across Christie's Sales in London and New York throughout 2019, including works in The Art of the Surreal, London, 27 February; Post-War & Contemporary Art Evening Sale, London, 6 March; Old Master Paintings, New York, 2 May; and Post-War & Contemporary Art Evening Sale, New York, May 2019.

Barrett White, Executive Deputy Chairman, Post-War and Contemporary Art, New York, remarked: "Frank Stella is unequivocally one of the great artists of our time. He is an artistic polymath—an expert on Renaissance Art, a teacher of architecture, a trailblazing painter, a brilliant printmaker and an innovative sculptor. The selection that we present here illustrates one of Stella's lesser known facets: his passion as a collector. Continuum: Select Works from Frank Stella's Personal Collection is a group of works that have influenced Stella's life and creative process. They are personal relics from his private life—gifts from artists and a major acquisition made as a celebration of his son's birth—as well as landmark examples by Stella himself. What sets this selection apart is its expansive range, stretching across artistic movements and more than half of a millennium, from Northern Renaissance portraiture, to Surrealism, and on to the work of his peers, this group goes to show how the course of art history has informed Stella's revolutionary practice over the course of his career."

Stella remains a voracious student whose interests span many different periods and movements. From the work of the Old Masters, including painter Jan Sanders van Hemessen, the Surrealism of Joan Miró, the early works of David Hockney, to the paintings of peers such as Helen Frankenthaler, he has specifically sought out works by artists that excite and inspire him, acquiring many examples for his own personal collection. Beginning with his iconic Black Paintings in the late 1950s, and followed by his bold geometric canvases of the late 1960s and early 19790s, Stella challenged the accepted traditions of art history, including how to deal with the inherent contradictions of two-dimensional painting. But his work has always been rooted in a deep knowledge and appreciation of what had gone before him. His combination of scholarship and artistic ability produced a dialogue that would come to define postwar art history and secure Frank Stella's place as one of the most influential artists of his generation.
THE ART OF THE SURREAL | LONDON | 27 FEBRUARY 2019
Joan Miro's Peinture, 1927 (estimate: £1.2-1.8 million/ $1.6-2.4 million) is one of the final and most experimental works of Joan Miró's radical and much celebrated series of 'oneiric' or 'dream' paintings, which the artist began in Paris in 1925 at the height of his involvement with Surrealism. Among the most radical works of Miró's career, these paintings saw the artist create a magical universe of signs, line and color that would define his life's work. Seeking to liberate painting from convention, and eliminate references to the external world, these radically simplified paintings, 'receptacles for dreams', saw Miró channel a subconscious, interior world onto his canvases. Purely abstract, works such as Peinture saw Miró go beyond painting to create a new form of art entirely freed from reality and representation. Revealing a new type of pictorial space, and evoking the void, these groundbreaking works paved the way for generations of artists that followed.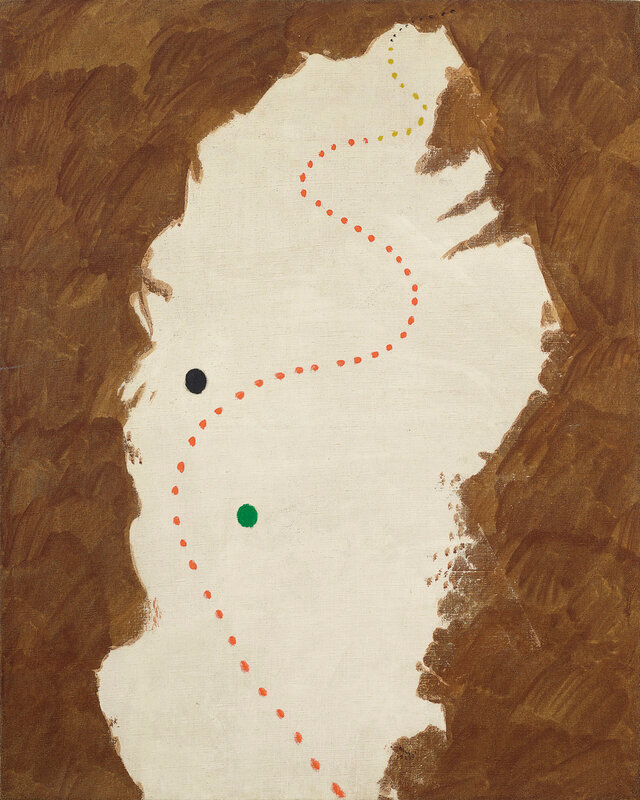 Lot 126. Joan Miró (1893-1983), Peinture, signed and dated 'Miró. 1927.' (lower centre); signed and dated again 'Joan Miró. 1927.' (on the reverse) oil on canvas 35 3/4 x 28 1/2 in. (90.9 x 72.5 cm.) Painted in 1927. Estimate: £1,200,000 - £1,800,000. © Christie's Images Ltd 2019.
POST-WAR AND CONTEMPORARY ART EVENING SALE | LONDON | 6 MARCH 2019
Held in Stella's collection for over five decades, A Realistic Still Life, 1965 (£1.5-2 million/ $1.9-2.4 million) is one of an important group of works by David Hockney that were shown in his acclaimed second solo exhibition 'Pictures with Frames and Still Life Pictures' at Kasmin Gallery, London. It was widely exhibited, including in Hockney's major retrospective of 1988-89, which opened at the County Museum, Los Angeles, before travelling to the Metropolitan Museum of Art, New York, and Tate, London. A Realistic Still Life is one of several 'still lifes' that Hockney created in playful response to the work of American Abstractionists, while also parodying Paul Cézanne's influential dictum to 'treat nature in terms of the cylinder, the sphere, and the cone'. In a tongue-in-cheek dialogue with both his contemporaries and the masters of the past, Hockney offers a bold riposte to the received wisdom of Modernist painting and signals the singularity of his own work among the currents of his time.

Stella himself had famously situated paintings as objects, rather than depictions of illusory space, with his 1964 statement that 'What you see is what you see'. In the keen, self-conscious intelligence of Hockney's A Realistic Still Life, he clearly saw a kindred spirit. Hockney – who would later pay tribute to Stella in a 1967 series of lithograph portraits of their mutual friend Henry Geldzahler, which he adorned with miniature proofs of one of Stella's own prints.
Lot 37. David Hockney (b. 1937), A Realistic Still Life, acrylic on canvas,48 x 48in. (121.9 x 121.9cm). Painted in 1965. Estimate: £1,2500,000 - £2,000,000. © Christie's Images Ltd 2019.
OLD MASTER PAINTINGS | NEW YORK | 1 MAY 2019
Jan Sanders van Hemessen's Double portrait of a husband and wife, seated at a table, playing tables ($4-6 million) is unquestionably one of the most exciting Early Netherlandish paintings to appear on the market in years. It is a masterpiece by one of the foremost painters in Antwerp during the second quarter of the 16th. Signed and dated 1532, it is among the earliest life-sized double portraits in Netherlandish art, and represents a wealthy Flemish burgher and his wife, seated at a table in their home, playing an antecedent of the game known today as Backgammon. Though there existed a longstanding tradition of artists representing amorous couples engaged in courtly pursuits such chess and other table games, Hemessen appears to be one of the first painters to include the game in a portrait in this manner. The painting is filled with lavishly-rendered details, including a marvelous still life of fruit, a parrot, and opulent fabrics and jewels. Most likely, many of these objects were imbued with symbolic meaning, particularly the game board, which carried associations of temptations and lasciviousness. The couple, however, are clearly playing on the same team, harmoniously engaged against a common foe - here perhaps interpreted as anyone who would lead them from the virtuous path in the game of life. Stella acquired this magnificent Renaissance oil on panel from Christie's London in 1984, where it was sold by Mary, Countess Crawford and Balcarres, having presumably been in her family's collection since at least the 19th century.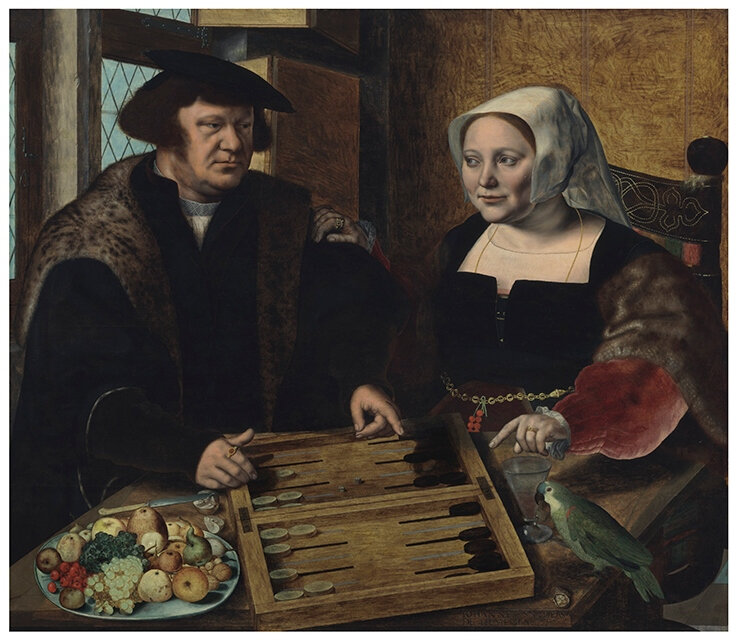 Jan Sanders van Hemessen (Hemessen c. 1504-1556 Antwerp), Double portrait of a husband and wife, half-length, seated at a table, playing tables. Oil on panel, 43 ¾ x 50 3/8 in. Estimate: $4,000,000 - $6,000,000. Price realized: $10,036,000. © Christie's Images Ltd 2019. © Christie's Images Ltd 2019
(Provenance: Probably) acquired by Alexander William Crawford Lindsay, 25th Earl of Crawford and 8th Earl of Balcarres (1812-1880), and by inherence at Haigh Hall, Wigan, Lancashire and elsewhere to
Mary, Countess of Crawford and Balcarres (1903-1994); Christie's, London, 6 July 1984, lot 106, where acquired by the present owner.
Literature: P. Wescher, 'Jan van Hemessen und Jan van Amstel', Jahrbuch der Berliner Museen, XII, 1970, p. 40.
B. Wallen, 'Portraits of Jan Sanders van Hemessen', Oud Holland, LXXXVI, 1971, pp. 71, 75-76, fig. 2.
L. Dresser, European Paintings in the Collection of the Worcester Art Museum, Worcester, 1974, p. 177, note 8.
B. Wallen, Hemessen Style and Iconography, Ph.D. dissertation, 1976, pp. 31, 80-82, 89, 211, 231, no. 10, fig. 38.
B. Wallen, Jan van Hemessen: An Antwerp Painter between Reform and Counter-Reform, Michigan, 1983, p. 288, no. 11, fig. 45.
Christie's Review of the Season 1984, Oxford, 1984, pg. 26, illustrated.
B.P.J. Broos, Meesterwerken in het Mauritshuis, The Hague, 1987, p. 201.
J-M. Lhôte, Histoire des jeux de société: géométries du désir, Paris, 1994, p. 281.
D. De Vos, Hans Memling, Ghent, 1994, p. 115, note 2.
B. Wallen, 'Hemessen family (1) Jan Sanders van Hemessen', J. Turner, ed., The Dictionary of Art, London, 1996, XIV, pp. 380-81.
J-R Triadó, Carlos V y su épocha: arte y cultura, Caroggio, 2000, p. 235.
P.H. Jolly, Picturing the 'Pregnant' Magdalene in Northern Art, 1430-1550: Addressing and Undressing the Sinner-Saint, Farnham, 2014, unpaginated.
Note: Jan Sanders van Hemessen's Double portrait of a husband and wife is one of the most exciting Early Netherlandish paintings to appear on the market in years. It is a masterpiece by one of the foremost painters in Antwerp during the second quarter of the 16th Century. This revolutionary double portrait, prominently signed at lower right along the edge of the table "IOHANNES[S] SANDERS/DE HEME[SSE]N PINGEBAT 1532" and executed on an ambitious scale, is the second earliest work known to be dated by Hemessen and was undoubtedly an important commission for the young artist. In a cozy interior bathed in bright sunlight, a couple enjoys a game of chance and strategy known as tables, an ancestor of backgammon. Seated in a leather chair embellished with a colorful geometric design, the woman is handsomely dressed in a black gown with fur trumpet sleeves over full undersleeves of dark rose velvet. A sheer partlet covers her décolletage, while a crisp linen hood conceals her auburn hair. The lady's waist is cinched by a gold girdle from which hangs a string of rosary beads, their bright coral hue popping against their dark background. The woman's gaming partner is equally fashionably dressed in a black overgown lined with luxurious lynx fur, a cap jauntily perched on his head. Beneath his dark doublet his pristine linen undershirt peeks through, its collar embroidered in blackwork with a pale blue lozenge pattern. Though the sitters have yet to be identified, their costly and stylish attire suggest that they are a wealthy Flemish burgher and his wife.
The couple's game board, made of two hinged wooden compartments, occupies the center of the table before them. The disposition of the black and white draughtsmen, as well the cast dice that together number eleven, reveal that their game is underway. Nearby, several other elements, each painted with such care that it could stand as an image on its own, also grace the table's surface. These include a still-life of ripe fruit, a quince freshly cut with a knife featuring a gilded handle, a glass filled with wine, a bird resembling a blue-fronted Amazon parrot, and a cracked walnut.
There exists in western art a long tradition of representing backgammon and its early variations, the origins of which can be traced back to Mesopotamia. From the medieval period onward, the game was often used as an emblem of vice – following the Gospel of Matthew, soldiers appear in countless crucifixion scenes playing dice at the foot of the cross, and a tables board appears beneath the harlequin figure in Pieter Bruegel's circa1562 The Triumph of Death (Museo del Prado, Madrid). A tables board is equally present in the background of the Magdalene with a Lute (Gemäldegalerie, Berlin), a painting nearly contemporary to the Stella portrait and formerly attributed to Hemessen himself (see B. Wallen, op. cit., 1983, p. 94, fig. 38, as Brunswick Monogrammist). There, the game rests on a table in the room behind the saint, an allusion to the transience of the earthly pleasures enjoyed by Mary Magdalene in her earlier, sinful life (P.H. Jolly, loc. cit.). A 1529 drawing by Pieter Coecke van Aelst (Museum Boijmans-van Beuningen, Rotterdam) makes this message more explicit, showing a poor and ragged peasant handing over a chicken, his last worldly possession, as payment to the young temptress who has soundly beaten him at tables (see G. Marlier, La Renaissance Flemande: Pierre Coecke d'Alost, Brussels, 1966, pp. 88-90, fig. 27).
Yet during this same period, many artists portrayed the game as a courtly pastime, free from any obvious moralizing overtones. Such is the case, for example, with a circa 1450-1475 marginal illumination framing the Annunciation page from a Northeastern French Book of Hours (fig. 1; The Walters Art Museum, Baltimore) and a pen and brown ink drawing of a Seated couple playing trictrac and standing woman playing checkers attributed to Albrecht Dürer, circa 1492-93 (Bibliothèque nationale de France, Paris; see B. Butts, and L. Hendrix, Painting on Light: Drawings and Stained Glass in the Age of Dürer and Holbein, Los Angeles, 2000, no. 7). Scenes like these, featuring well-to-do members of the opposite sex playing tables, typically possess an amorous connotation. Such is the case in the present painting, although it has the distinction of seemingly being the earliest to show the game being played in the context of a portrait (B. Wallen, op. cit., 1971, p. 75).
Hemessen's double portrait may have been commissioned to commemorate a wedding. The painter emphasized the strong connection between the couple by portraying the wife resting her hand on her husband's shoulder as the two gaze intensely at each other. In his 1971 study on the portraits of Jan van Hemessen, Burr Wallen linked the present portrait, then in the Balcarres collection, to the very popular battle of the sexes that continued to rage on in sixteenth-century Europe, although the couple's affable demeanor suggests that the quarrel's playful dimension prevails here. Accordingly, Wallen interprets the composition as an expression of the concordia between the husband and wife. "In fact," he writes, "there may be reason to believe the couple to be united together against a common foe who lies unseen behind the peaceful domestic exterior" (ibid., p. 76). For the scholar, the ominous nature of this opponent could be signaled by the dice, which have landed on five and six, whose combined sum of eleven carried portentous associations in the 16th century. A similar result of a dice roll is seen, as Wallen notes, in the hand of the gambler in Hemessen's 1536 Parable of the Prodigal Son (Musée Royaux des Beaux-Arts, Brussels), a painting in which life's temptations are made explicit.
Though Wallen's interpretation is compelling, one need not necessarily envisage a common foe to read the scene. Rather, it is equally plausible that just a moment ago, the husband and wife were playing opposite one another, as is standard, but he has now come around to be closer to her to discuss a finer point of the game. Indeed, something of note has clearly occurred, as evidenced by the couple's gesturing toward the black draughtsmen nearest her. Presenting his sitters in this manner, Hemessen shows his awareness of the artistic advances of his Italian contemporaries and Renaissance masters, such as Moretto da Brescia, Romanino and Savoldo, but also Raphael, Bronzino and Parmagianino, whose paintings he would have seen during his Italian sojourn, a few years earlier (ibid., pp. 76-77). As Wallen observes, in this double portrait Hemessen 'achieves a compromise between northern and southern aspirations that is weighted on the side of the north and its tradition of pragmatic realism in portraiture, a compromise that is in many ways similar to the contemporary works of Hans Holbein'. (ibid.). Indeed, Hemessen may have had occasion to meet Holbein, who likely visited Antwerp on his trips between England and Basle in 1528 and 1532.
Following a pictorial tradition deeply rooted in Flemish art, Hemessen chose to tilt the table upward, and in doing so, defy the laws of perspective, to give the spectator a better view of its contents. Thoughtfully articulated and centrally positioned, the game itself is at the heart of the composition, but the still-life elements too add another layer of meaning to the scene. Placed close to the picture plane, they recall the symbolic objects carefully arranged on foreground tables in representations of the Virgin in Child in early sixteenth-century Flemish painting. In particular, many of the items here relate closely to those found in Joos van Cleve's Holy Family of circa1512-13 (fig. 2; New York, Metropolitan Museum of Art), thus revealing the enduring appeal of this convention. Especially noteworthy in this respect is the pewter charger piled high with beautifully rendered fruit rich in connotations, such as the apples that signify the Fall of Man, the cherries that evoke paradise and the grapes, which, like the glass of wine on the other side of the table, denote the Eucharist. The walnut, as Saint Augustine tells us, is to be associated with Jesus: its outer hull represents Christ's flesh, its hard shell, the wood of the cross, and its kernels, his divinity.
Common to both paintings is also the elegant knife set at an angle, whose blade catches the light. In the Stella portrait, however, the knife has been used to cut a quince, which in addition to its religious significance, was associated with love, marriage and fertility. In fact, according to Plutarch, brides were encouraged to eat quince, a tradition that was revived in the Renaissance. Andrea Alciati elucidates the reasoning behind this practice in the Emblematum Liber (first published in Augsburg in 1531), under the illustration for the emblem 'Cotonea' (Quince Tree), writing that the fruit should be given to the newly wed because "it is conductive to good taste and disposition, and also that their breath might be sweet / and a seductive charm might linger on their lips" (see A. Bayer et al., Art and Love in Renaissance Italy, New York, 2008, p. 325). The presence of the cut quince can thus be understood in relation to the painting's presumed marital theme. In addition to being a marker of wealth and status, the parrot may also be interpreted in symbolic terms, as it is an emblem of the Virgin Mary. By placing the halved walnut and Parrot close together, Hemessen thus evokes the pairing of Jesus and Mary, Adam and Eve, and a virtuous husband and wife.
Recent study of the painting with infrared reflectography did not reveal significant underdrawing. No major changes to the composition were visible, with possibly one notable exception (fig. 3). The artist appears to have expanded the length and shifted the angle of the table's left and right edges. Further study would be required to confirm that oblique lines and shifts in tonality seen in these areas are not artifacts of the ground preparation or subtle effects in the paint film itself, but if these are, in fact, compositional changes, they could suggest that the still life and wine glass at left were not originally planned, but added at a later stage in the design process.
Though conceived according to the conventions of Early Netherlandish painting, Jan van Hemessen's double portrait is in many ways revolutionary. Independent portraits of married couples were already commonplace in the 15th century, but these were almost exclusively painted on separate panels and designed to be displayed as pendants (see M. Ainsworth, Jan Gossart, p. 276). While a discrete number of Early Netherlandish double portraits painted on single supports that predate Hemessen's painting are known, their sitters almost always appear to be psychologically isolated from one another. Such is the case with Jan Gossart's Portrait of an Old Couple (National Gallery, London), painted just a few years earlier than Hemessen's masterpiece, as well the Double portrait of Dirck Borre van Amerongen and Maria van Snellenberg by the Master of the Amsterdam Death of the Virgin (Musueum Boijmans Van Beuningen, Rotterdam; ibid.). One of the earliest examples is Hans Memling's Portrait of an Elderly Couple, which today is divided between the Preussicher Kulurbesitz., Gemäldegalerie, Berlin, and the Musée du Louvre, Paris, although originally the portraits of the man and woman were joined together with dowels to form a single panel. Notably, in the second half of the 15th century, double portraits on single panels began to develop as a popular format in Germany, and it has been proposed that Hans Memling's Germanic origins inspired him to bring this style to the Netherlands, but some have challenged this idea, arguing that since the genre developed late in the century, Memling's portrait should be viewed as his own invention (see de Vos, op. cit., no. 10; T-H. Borchert, Memling's Portraits, Ghent, 2005, pp. 155-56. The German examples also often appear in architectural settings (see, for example, Thoman or Hans Burgkmair the Elder's 1498 Double portrait of Jakob Fugger and Sybilla Artzt (The Schroder Collection, London), rather than against landscapes.
Strikingly original in its conception, Jan Sanders van Hemessen's double portrait is best understood as a continuation of a tradition of allegorical double portraits whose origins lie in Jan van Eyck's astonishing panel of Giovanni Arnolfini and his Bride (fig. 4; National Gallery, London). Painted in 1434, this small panel represents the Italian merchant and his wife, standing in a bedchamber of a Flemish townhouse. It is filled with objects that appear to have symbolic value relating to the sacrament of marriage, although the painting's precise message and even the identity of the bride have been debated for centuries. Van Eyck's invention seems not to have been immediately imitated, although there are echoes of it in the following decade, with Petrus Christus's Goldsmith in his shop (fig. 5; The Lehman Collection, The Metropolitan Museum of Art, New York), which is now believed by some to represent Willem van Vleuten, goldsmith to the Duke of Burgundy, visited by Mary of Gelders and James II, King of Scots, who are in the process of buying a wedding ring. Like Hemessen's double portrait, Petrus Christus's painting is filled with symbolic and moralizing imagery, in particular the convex mirror, a traditional symbol of vanity, and the worldly temptations reflected therein. An even closer potential source for Hemessen's painting is Quentin Metsys's The Moneylender and his wife(fig. 6; Musée du Louvre, Paris). This signed and dated work was painted in Bruges in 1514. Though not specifically a portrait and not quite life-size, the panel similarly depicts a husband and wife seated at a table in a room filled with carefully described objects. The figures' outdated attire, however, removes them from their contemporary setting, allowing the painting to be read as an allegory of Christian Virtue and the condemnation of avarice (L. Silver, The Paintings of Quenten Massys with a Catalogue Raisonné, Montclair, 1984, p. 212). Yet the remarkable casualness of the sitters' interaction in Hemessen's painting is nowhere to be found in Metsys's work. Instead, for a closer prototype, one can turn to the Master of Frankfurt's Self Portrait with his Wife (fig. 7; Koninklijk Museum voor Schone Kunsten, Antwerp), which was painted around 1496 in Antwerp. The painting measures 31.1 x 47.2 cm and presents the artist and his wife on a single panel, seated before a non-descript background. The couple's tender interaction (the artist has his arm around his wife's waist) as well as the remarkable still life elements on the table seem to anticipate Hemessen's composition. The younger artist would likely have encountered the painting due to his membership in the Antwerp Guild of Saint Luke.
Jan Sanders was born in the village of Hemessen (Hemishem) outside Antwerp. In 1519-20, he was apprenticed to Hendrik van Cleve I. Stylistic evidence suggests that he might next have worked with the Master of the Magdalen Legend at the royal court at Mechelen. There, he could have come in contact with court painters Jan Cornelisz. Vermeyen and Jan Gossart. During the 1520s, Hemessen traveled to Italy, as confirmed by his painted copy of Andrea del Sarto's fresco of Charity in the Chiostro Scalzo, Florence (untraced). In 1524, Jan became a master in the Guild of St. Luke in Antwerp, and soon thereafter established a workshop in that city. In 1545, he married Barbara de Fevere, the daughter of a successful Antwerp cloth merchant. In part due to this felicitous union, but also thanks to flourishing artistic career, he became a man of considerable wealth. In 1548, Hemessen served as dean of the Antwerp Guild of St. Luke. He fathered several children, many of whom became artists in their own right, most famously his daughter, Catharina.
The early history of Hemessen's double portrait is unknown, though it was likely commissioned by the sitters to be hung in their home. At some point, it found its way to Scotland, where it entered the collection of the Earls of Crawford and Balcarres in the East Neuk of Fife. In 1984, the painting was sold at Christie's, London, by Mary, Countess Crawford and Balcarres, where it was acquired by Frank Stella. It has hung in the artist's bedroom ever since.
POST-WAR AND CONTEMPORARY ART | NEW YORK | 15 MAY 2019
Highlights of the collection will be presented at the Christie's New York Evening Sale of Post-War and Contemporary Art on 15 May, including two of the artist's iconic paintings from the 1970s and the only example of a shaped canvas by Stella's friend and colleague, Helen Frankenthaler.

Frank Stella's monumental Lettre sur les aveugles I, 1974 – belongs to the artist's celebrated Diderot series, a group of paintings which built on his iconic Concentric Square format that the artist initiated in 1962. Taking a brief hiatus from these ground-breaking geometric compositions in the late '60s, the following decade Stella would return to them triumphantly with works such as the present example, increasing their scale and the complexity of coloration. The painting's simultaneous formal cohesion and discordant color combinations create a precisely wrought tension within the painting. Lettre sur les aveugles I, epitomizes the artist's output from this important period of his career.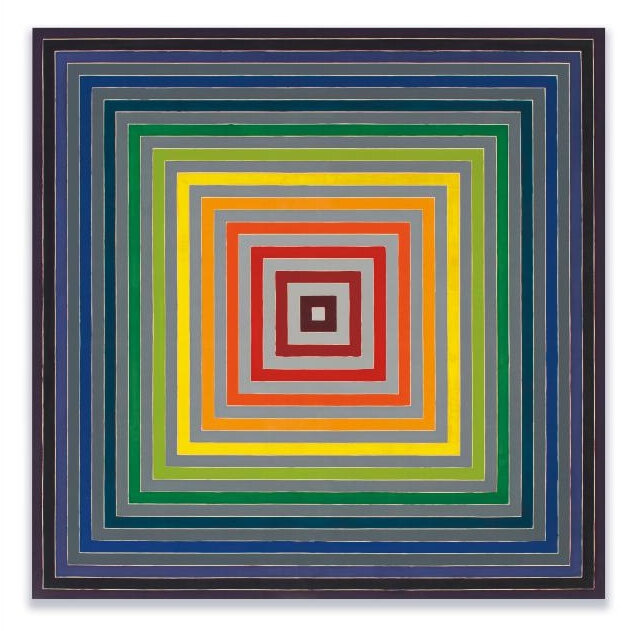 Frank Stella (b. 1936), Lettre sur les aveugles I, 1974. Acrylic on canvas. 141 x 141 in (358.1 x 358.1 cm). Offered in Post-War and Contemporary Art Evening Sale on 15 May 2019 at Christie's in New York. © Christie's Images Ltd 2019
Helen Frankenthaler's Beach Horse, 1959, is the only known example of a shaped canvas by the artist, making it a rare painting in which she strikes a delicate balance between figuration and all-out abstraction. The fact that Stella acquired the only known shaped canvas by the artist, demonstrates his affinity for collecting works that reflect subtle, and yet pivotal moments within artist's careers. It is particularly fitting given his own investigation into the dissonance between painted lines and the shape of the canvas. Around the same time that Beach Horse was executed Stella began to remove sections of paintings that seemed superfluous. The earliest examples — the Aluminium Paintings (1960) and Copper Paintings (1960-1961), were followed by works that extended the concept of the shaped canvas, including the Irregular Polygon canvases (1965-67) and the later Protractor series (1967-71). In the same year that it was executed, Beach Horse was featured in the artist's solo exhibition at the André Emmerich Gallery in 1959 and a year later, was included in her first museum retrospective at the Jewish Museum, where it was hung among several of the most important examples of Frankenthaler's early career.

Helen Frankenthaler (1928-2011), Beach Horse, 1959. Oil on linen. 35 x 154 in (88.9 x 391.2 cm). Offered in Post-War and Contemporary Art Evening Sale on 15 May 2019 at Christie's in New York. © Christie's Images Ltd 2019
Painted in 1967, WWRL, a double concentric square, is a playful extension of Frank Stella's Black Painting series from the late 1950's, in which he approached painting in a highly reductive manner anticipating Minimal Arts' repetitive elements of shape and form, deconstructing the manner in which viewers see the surface of a painting. Stella's maxim, "What you see is what you see", is a take on Warhol's provocative statement: "If you want to know all about Andy Warhol, just look at the surface, there is nothing behind it." The same idea can be applied to Stella, but rather than playing with how far painting can be assimilated into pop culture or the representation thereof, he chooses to keep the use of the paint itself simple: with no inherent rules or boundaries, no center or focus, the paint follows the arbitrary boundaries of its canvas shape. In this sensual "color versus black and white" concentric square diptych, Stella explores yet another way of presenting painting and the canvas outside its "normal" and "rectangular" boundaries in much the same way as in his signature shaped canvases.
Frank Stella (b. 1936), WWRL, 1967. Acrylic on canvas. 62⅝ x 125¼ in (159.1 x 318.2 cm). Offered in Post-War and Contemporary Art Evening Sale on 15 May 2019 at Christie's in New York. © Christie's Images Ltd 2019