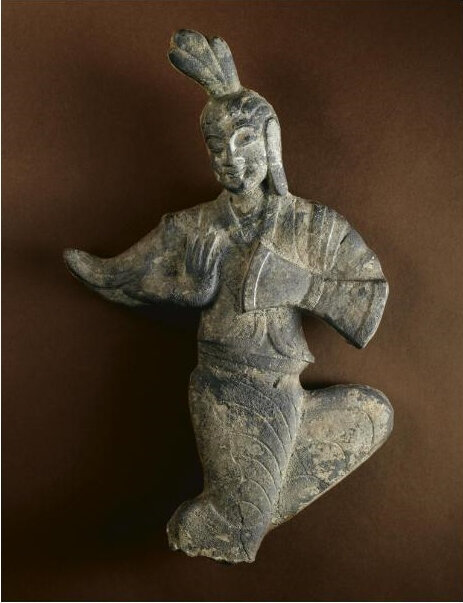 Lot 506. A rare limestone wall fragment of a flying apsaras playing the drum, Northern Wei dynasty, 6th century, Longmen Caves. Height 21 in., 53.4 cm. Estimate 200,000 — 300,000 USD. Lot sold 1,059,200 USD. Photo: Sotheby's.
the charcoal-grey stone finely carved as an apsaras, or angelic being, in flight, dressed in a robe with wide billowing sleeves below a short fitted vest, moving to its left but turning its head sharply to the right while holding in the left arm a small drum, the right arm bent inwards and hand gracefully raised as if about to pat the drum with its slender tapering fingers, with both legs bent and the left knee raised higher than the right beneath the folds of the clinging skirt, delineated by looping rows of incised lines, the serene, child-like face with thin slanted eyes and broad nose flaring above bud lips drawn in a smile above the pronounced chin, all finely formed between one exposed ear with a long pendulous lobe and thick locks of hair swept up into a high topknot, stand.
Provenance: By repute from the Longmen caves, Henan province.
Collection of Mrs. Leonard Elmhirst (until 1938).
Parke-Bernet Galleries, New York, 8th April 1938, lot 76.
Heeramaneck Galleries, New York.
Collection of Albright-Knox Art Gallery, Buffalo, New York, no. 1940:16 (Charles W. Goodyear and Georgia M.G. Forman bequest).
Exhibited: Buddhist Art, Detroit Institute of Arts, Detroit, 1941, cat.no. 51 (illustrated).
Far Eastern Art in Upstate New York, Herbert F. Johnson Museum of Art, Cornell University, Ithaca, Albany, Utica, Syracuse, Rochester and Buffalo, 1976-1977, cat.no. 22 (illustrated).
Literature: Andrew C. Ritchie, Catalogue of the Paintings and Sculpture in the Permanent Collection, Albright Art Gallery, Buffalo, 1949, pp. 130-131, 200, no. 62.
Steven A. Nash, with Katy Kline, Charlotta Kotik and Emese Wood, Albright-Knox Art Gallery: Painting and Sculpture from Antiquity to 1942, Buffalo, 1979, p. 102.
Note: It is rare to find Northern Wei figures of apsarases carved in this exceptionally fine and detailed manner and the present figure, carved in the style characteristic of the many figures found in Longmen, must have added delight and gaiety to its surrounding Buddhist images. The carver has rendered his subject matter to appear light and graceful as if this celestial being is floating, while at the same time displaying an air of elegance and kindness, which are typical of these heavenly maidens or spirits of the cloud and waters in Buddhist mythology.
Figures of apsarases descending to scatter flowers or to play heavenly music upon various instruments, were used to enliven and animate votive altars, triad groups and cave niches, since the main registers of the Buddha with attendant bodhisattvas and arhats were strictly controlled in their depiction and iconography by source texts and sutras. In contrast, the depiction of the peripheral elements in stone sculpture and cave painting was seized upon by these anonymous artists to show their prowess and experiment with the boundaries of pictorial convention. Just as in the famous sites from Gongxian, Xiangtangshan, Yungang and Tianlongshan, scattered through north and central China, surviving fragments of peripheral elements like apsarases and attendants are extremely rare, perhaps even more so than those of their accompanying primary Buddha figures.
Based on their architecture, style and iconography, the completion of the main caves of the Northern Wei period can be divided into three phases: the first phase between 460 and 465 AD; the second phase between 465 and 494 AD; and the final phase between 494 and 524 AD. The present figure stylistically accords with the third and final phase of the construction of the grottoes of Longmen that began after the transfer of the Nothern Wei capital to Luoyang in Henan province in 494 AD. The Buddhist cave temples at Longmen represent the zenith of monumental stone carving works achieved by the Chinese sculptors from the Northern Wei to the Song dynasty, with the most important caves constructed in the first half of the 6th century and during the reign of the Empress Wu Zetian of the Tang dynasty (r.684-704 AD).
As discussed by Xiaoneng Yang in New Perspectives on China's Past. Chinese Archaeology in the Twentieth Century, New Haven, 2004, vol. II, pp. 400-1, "[Caves] built during the Northern Wei period show a transition from the straight and angular carvings of the Yungang Grottoes to the round and soft style characteristic of the finest Longmen sculptures." This trend is often referred to as evidence of the sinicization of the Toba Wei peoples, and is arguably embodied by the present fragment. Apsarases of this phase are carved from dark limestone and are characterized by wearing short tunics and long skirts covering their feet. They have elongated and often whimsical features, a slender accentuated waistline and are generally depicted in a linear style where the carving is more detailed and in some case decorations are more elaborate. A very similar fragment of an apsaras playing a drum, but from the Yungang Caves, is illustrated in Li Yin, Treasures of Ancient Chinese Ceramics, Taiwan, 1997, pp. 21-22. The head of a very similar example of a flying apsaras from the third phase at Longmen is illustrated in Angela Falco Howard (intro.), Chinese Buddhist Sculpture from the Wei through the T'ang Dynasties, National Museum of History, Taipei, 1983, cat.no. 9, p. 109; and a group of apsarases playing various musical instruments can be found in the Longmen caves in situ in cave no. 140, illustrated in Complete Works of Statues in Longmen Grottoes, Beijing, 2002, pls. 200-209. In comparison, a fine example of the earlier Yungang type, also in situ, can be found in cave no. 6, illustrated in Yungang shiku, Beijing, 1991, pl. 125 and cave no. 18 illustrated in Yungang shiku, Beijing, 1977, pl. 75; another group in cave no. 16 included ibid., pl. 79; and one seen in the friezes crowning several Buddha niches in cave no. 6 published in The Yungang Caves, Beijing, 1973, pl. 11.
See also an apsaras holding what appears to be a drum in its hands illustrated in Rokucho no bijutsu, Tokyo, 1976, pl. 214, together with another dancing apsaras in the Osaka Municipal Museum, ibid., pl. 212. A slightly later example of a flying apsaras, included in the International Exhibition of Chinese Art, Royal Academy of Arts, London, 1935, cat.no. 2395, from C.T. Loo, New York and later in the collections of Mrs. Mary Cohen and J.T. Tai, was sold in our London rooms, 14th July 1970, lot 62, and again in our Hong Kong rooms, 30th April 1997, lot 711.
Sotheby's. Fine Chinese Ceramics and Works of Art, including Property from the Collection of the Albright-Knox Art Gallery, Buffalo, New York, 19-20 march 2007.