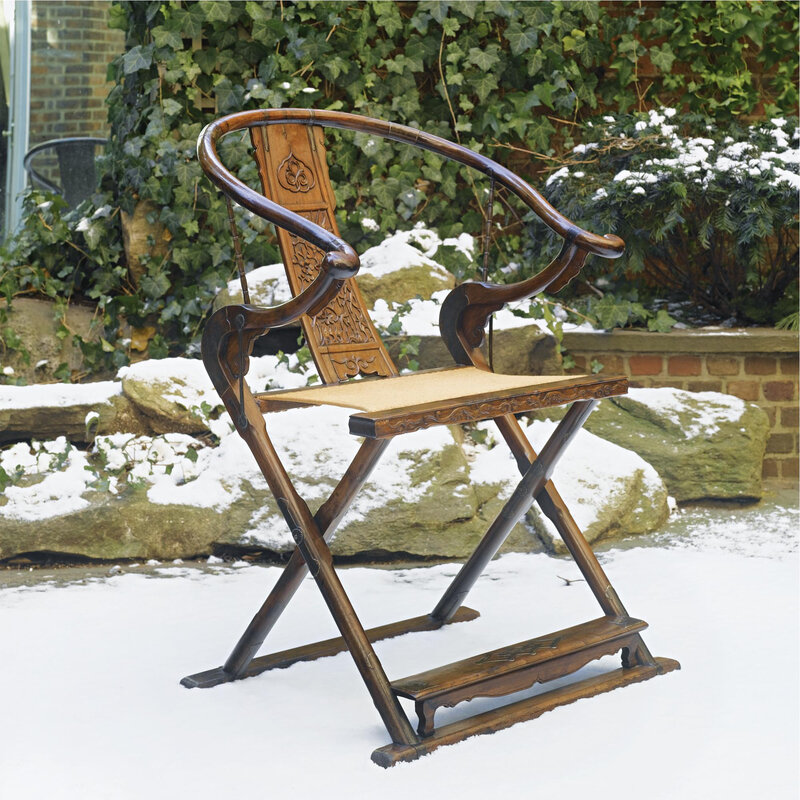 Lot 312. A superbly carved huanghuali folding horseshoe-back chair, Jiaoyi, Late Ming dynasty, 16th-17th Century; 38 1/2 by 27 1/2 by 21 in., 97.8 by 69.8 by 53.3 cm. Estimate 200,000 — 300,000 USD. Lot sold 408,000 USD. Photo: Sotheby's.
with very generously proportioned long three-member looping crestrail with rounded flattened hand-grips, the backsplat finely carved with a ruyi-shaped cloud medallion enclosing vegetal scrolls, above a panel of two birds amidst the 'Three Friends of Winter', pine, prunus, and bamboo, above a shallow cusped apron enclosing vegetal scrolls and beading, with integral spandrels at the joint to the crestrail, the seat frame carved with two qilong separated by three further vegetal scrolls, secured on the folding rounded legs, with squared-surfaces at the intersection and at the strong whiplash curve securing the metal bamboo-form strut supporting the crestrail, with further metal strapwork on the structural joins and at the foot-rest set on the shoe feet.
Note: Folding horseshoe-back armchairs (jiaoyi) are extremely rare and are considered by many to be one of the most elegant forms made by the Chinese cabinetmaker. In the last decade very few examples of this extraordinary form have appeared at auction and there are probably fewer than thirty examples known to exist in both public and private collections, with the main distinguishing factors between them being the decoration of the backsplats and the types of metal mounts.
The present lot belongs to a group of folding horseshoe-back chairs with paneled splats enclosing auspicious motifs. An armchair carved with a central shou character on the splat, formerly in the Royal Ontario Museum, Toronto, and The Museum of Classical Chinese Furniture in Renaissance, California, also reputed to have been used by the Dowager Empress Cixi, and sold at Christie's New York, 19th September 1996, lot 50, is illustrated in Sarah Handler, Austere Luminosity of Chinese Classical Furniture, Berkeley, California, 2001, p. 61, fig. 5.1 and can be counted among this group; as can be one in the Mimi and Raymond Hung Collection, illustrated in R.H. Ellsworth, Chinese Furniture: One Hundred Examples from the Mimi and Raymond Hung Collection, New York, 1996, no.13. The folding chair from a private Scandinavian collection that was sold at Christie's New York, 21st March 2002, lot 24, depicting a qilin amidst cloud scrolls, can also be found on a folding armchair formerly in the collection of Wang Shixiang, now in the Shanghai Museum, but on a pierced ground, and is illustrated on the cover of Chinese Furniture: Selected Articles from Orientations, 1984-1999, Hong Kong, 1999. Two further chairs in this group also have pierced panels. One from the Collections of Mrs. Rafi Y. Mottahedeh and John W. Gruber, sold in these rooms on 19th October 1990, lot 618 and again at Christie's New York, 16th September 1998, lot 32; and the other formerly in the Frederic Mueller Collection and The Museum of Classical Chinese Furniture, sold at Christies New York, 29th November 1990, lot 395 and illustrated in R.H. Ellsworth, Chinese Furniture: Hardwood Examples of the Ming and Early Ch'ing Dynasties, New York, 1970, p. 88, col.pl. 26.
There is another group of huanghuali folding horseshoe-back chairs carved with figural designs - or in one case, none at all - on a single splat, rather than one divided into panels as with the present lot. See, for example, one in the Nelson-Atkins Museum of Art, Kansas City, adorned on the splat with meandering vines above a mountain, illustrated in Sarah Handler, op.cit., p. 62, fig. 5.2; and another two chairs in the Museum of Fine Arts, Boston, carved with a landscape scene to each of the splats. The decoration on the Boston chairs closely relates to that of another folding chair in the Pacific Asia Museum Collection, illustrated by Lark E. Mason, Jr., in 'Examples of Ming Furniture in American Collections Formed Prior to 1980', Chinese Furniture: Selected Articles from Orientations, op.cit., fig. 15, p. 137. A chair from the collection of Chen Mengjia featuring a single ruyi-head medallion is illustrated in Wang Shixiang, Connoisseurship of Chinese Furniture: Ming and Early Qing Dynasties, Hong Kong, 1990, pl. A90, the mate to which was sold in these rooms, 18th September 1996, lot 311, and is now in the Minneapolis Institute of Arts. See also a chair in the Palace Museum similarly carved with a ruyi medallion on a plain ground, illustrated in The Complete Collection of Treasures of the Palace Museum. Furniture of the Ming and Qing Dynasties (I), Hong Kong, 2002, no. 14. A final folding chair belonging to this latter group includes one from the collection of Dr. Elizabeth Sackler, where the splat is left entirely uncarved, which was sold at Christies New York, 20th September 2001, lot 254.
The basic structure of folding chairs was established in the Song dynasty, and by the Ming had become a designated seat of honor in the households of the upper echelons of society. For a further discussion of folding chairs of this type, see Gustav Ecke, Monumenta Serica, vol. IX, 1944; and Wu Tong, 'From Imported Nomadic Seat to Chinese Folding Armchair', Journal of the Classical Chinese Furniture Society, Spring 1993, p. 38.
The 'Three Friends of Winter' motif found on the present chair is extremely rare. 'The Three Friends of Winter' (suihan sanyou) are the pine (song), bamboo (zhu) and prunus (mei). By the seventeenth century the motif had become a conventionalized auspicious design and frequently appears on ceramics, wood carvings and paintings of the period.
Sotheby's. Fine Chinese Ceramics and Works of Art, including Property from the Collection of the Albright-Knox Art Gallery, Buffalo, New York, 19-20 march 2007