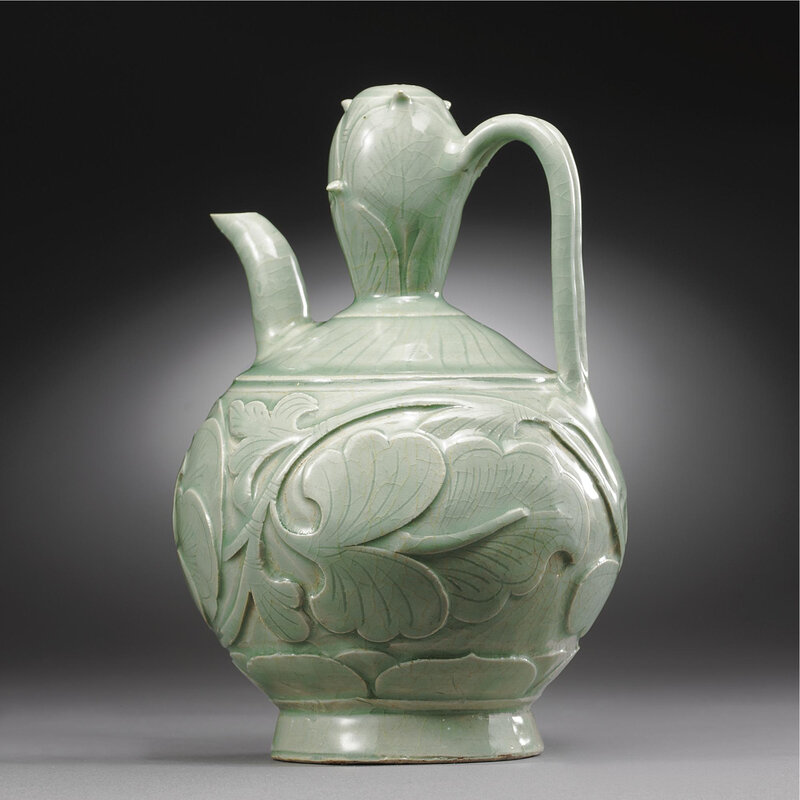 Lot 390. A Magnificent early 'Yaozhou' ('Tongyao') carved double-gourd ewer, Northern Song Dynasty (960-1127); 8 in., 20.2 cm. Estimate 300,000 — 500,000 USD. Lot sold 312,000 USD. Photo: Sotheby's.
well-potted with perfectly balanced proportions, the spherical body supported on a low flared foot, deftly carved in relief with a wide band containing a single peony bloom set beneath the spout, borne on a foliate vine wrapping around the vessel and resting on a skirt of lotus petals, all below a bud-shaped lobe with a small circular opening carved with overlapping lotus petals with tiny raised tips, the shoulders set with a curved spout opposite the double-strap arching handle extending from the upper lobe to the shoulder, covered overall in a sublime glossy pale bluish-green glaze pooling in the recesses.
Note: 'Yaozhou' ewers of this elegant form seem to be among the earliest green-glazed wares made at the 'Yaozhou' type site in Huangbaozhen, Tongchuan county, Shaanxi province, where related pieces can be attributed to the Five Dynasties or early Northern Song period. The 'Yaozhou' kiln complex came into prominence for its striking green-glazed stoneware that appealed to the aristocratic taste and was highly sought after at the time. 'Yaozhou' ware was supplied to the court and the famous Song poet Lu Yu (1125-1210) in his Laoxue biji (Collections of Notes and Essays) mentions that Yaozhou produced greenware that is the same mise ('mysterious colour') as the ware from Yuyao xian.
The present ewer is highly unusual in shape and only one similar ewer with the same bud-shaped neck but missing its handle appears to be recorded and was formerly in the Lord Cunliffe Collection and is illustrated in Regina Krahl, Chinese Ceramics from the Meiyintang Collection, vol. 1, London, 1994, pl. 400; and is also illustrated in G. St. G.M. Gompertz, Chinese Celadon Wares, London, 1958, pl. 35 and Jan Wirgin, Sung Ceramic Designs, Stockholm, 1970, pl. 1, fig. 2 and discussed pp. 20-23. The ewer was also exhibited in The Arts of the Sung Dynasty, OCS, 1960, cat. no. 145 as well as at Bluett & Sons, London, 1988. Very few pieces of this type, characterized by large-scale relief designs, smooth surface texture and glossy light-green glaze are recorded. Although the floral motif is bold, it is harmoniously arranged, thereby showing off the elegant shape of the vessel and the perfect glaze. Mary Tregear in Song Ceramics, London, 1982, p. 102, notes that craftsmen at Yaozhou came close to the potters of 'Ding' ware in the elegant use of decorative techniques, but they had the added advantage in the contrast and clarity given to the decoration by the darker body and green glaze that took on a deeper colour when it formed pools in the relief carving on the vessels. See a 'Ding' ewer illustrated in Liu Tao, Dated Ceramics of the Song, Liao and Jin Periods, Beijing, 2004, p. 22, pl. 2-6.
For examples of ewers with related carved decoration but with a short cylindrical neck and a cover see one included in the exhibition The Masterpieces of Yaozhou Ware, Museum of Oriental Ceramics, Osaka, 1997, cat. no. 23n; and another fragmentary ewer of this type, also from the kiln site, illustrated in Yaozhou Kiln Site, Xi'an, 1992, p. 56. See also an ewer in the Idemitsu collection published in The Beauty of Celadon - Searching for the Forbidden Color, Tokyo, 2006, pl. 21; and an ewer from the Muwen Tang collection and included in the Min Chiu Society exhibition Selected Treasures of Chinese Art, Hong Kong Museum of Art, Hong Kong, 1990, cat.no. 92, sold in our London rooms, 12th November 2003, lot 44.
Ewers of this shape and related floral decoration in relief, but with a spout in the form of a seated lion, can also be found; compare one in the Cultural Museum of Cheng County, Gansu province, illustrated in Zhongguo taoci quanji, vol. 7, Shanghai, 2000, pl. 101; and two others, one illustrated in Regina Krahl, 'The T.T. Tsui Collection of Chinese Ceramics,' Orientations, December, 1989, p. 36, fig. 10, the other included in the exhibition Ice and Green Clouds, Traditions of Chinese Celadon, Indianapolis Museum of Art, Indianapolis, 1987, cat.no. 52.
The dating of this lot is consistent with the results of a thermoluminescence test, Oxford Authentication, Ltd., P106z99.
Sotheby's. Fine Chinese Ceramics and Works of Art, including Property from the Collection of the Albright-Knox Art Gallery, Buffalo, New York, 19-20 march 2007.