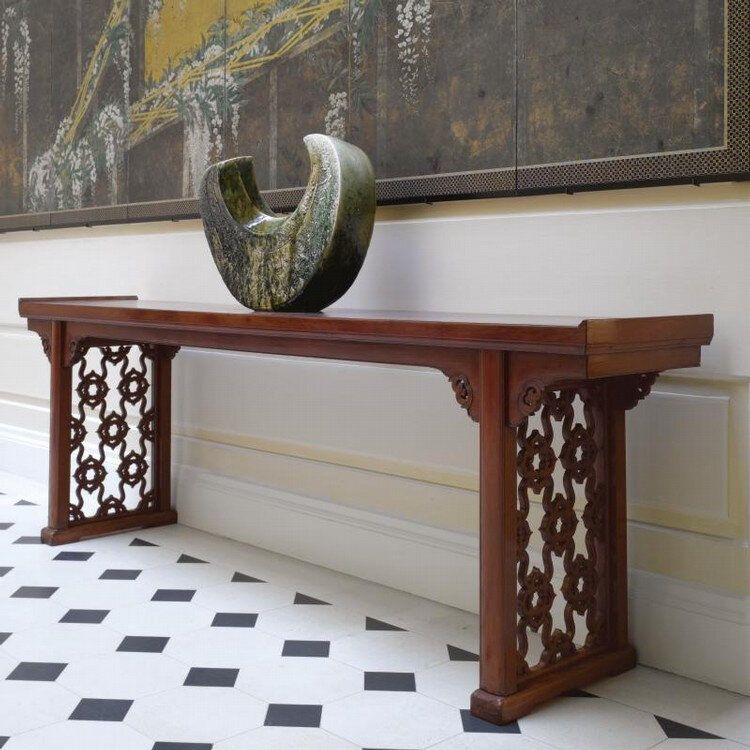 Lot 307. An outstanding huanghuali single-board recessed-leg long table with trellis panels, Late Ming-Early Qing Dynasty, 17th-18th Century; 31 1/2 by 90 3/4 by 18 1/2 in., 80 by 230.5 by 47 cm. Estimate 150,000 — 200,000 USD. Lot sold 180,000 USD. Courtesy Sotheby's
with spectacular thick single-board top with central large 'ghost-face' whorls and flanking subsidiary whorls and superb grain overall, butted on the ends with upright grooved everted flanges, the outer edge with a slight recessive blind rounded border and lower trim of grooved beading, set on pairs of thick rectangular legs edged with further grooved beading and set on thick shoe feet, and enclosing a finely carved trellis of barbed quatrefoils formed by linked hearts, secured by sinuous 'S'-form struts in a regularly-spaced vertically-oriented diaper, with an overhanging plain apron accented with thick beading and shaped spandrels pierced with slightly overlapping double-curls
Note: Fashioned from a substantial piece of huanghuali wood, the present table is a superb example of the lavish use of huanghuali that was possible in earlier times. Tables with everted ends, inset carved panels and recessed legs with shoe feet are classic to Ming period furniture design. The present table conforms to the standard type overall, but is distinguished by the latticework panels on each end. Panels of this type frequently appear on the back and sides of beds and on the gallery shelves of cabinets, and are rarely found on recessed-leg tables. The design of the present cloud-motif is remarkably fluid and, formed from conjoined 'heart-shaped' clouds, resembles the front railings of a huanghuali canopy bed illustrated in Sarah Handler, Austere Luminosity of Chinese Classical Furniture, Berkeley, 2001, fig. 10.9, p. 149; and the railings of a couch in the Nelson-Atkins Gallery, Kansas City, illustrated in The Nelson-Atkins Museum of Art. A Handbook of the Collection, New York, 1993, p. 345. Framed by the elegant curled edges of the spandrels, these gracefully worked panels give the overall design an air of lightness that superbly off-sets the sumptuous weight of the solid-plank top.
Compare a similar recessed-leg table with open 'cruciform' latticework end panels below plainly shaped spandrels, discussed by Wang Shixiang in Connoisseurship of Chinese Furniture: Ming and Early Qing Dynasties, Hong Kong, 1989, no. B93. See also related huanghuali tables of similar proportions including one with dragon side panels illustrated in The Complete Collection of Treasures of the Palace Museum. Furniture of the Ming and Qing Dynasties (I), Hong Kong, 2002, no. 140; another one also with dragons carved in the panels in the Metropolitan Museum of Art, illustrated in Handler, op.cit., fig. 14.16, p. 237; and two slightly smaller examples, one in the Philadelphia Art Museum, illustrated in R.H. Ellsworth, Chinese Furniture: Hardwood Examples of the Ming and Early Ch'ing Dynasties, New York, 1970, no. 56; and the other with ruyi-side panels from the Hung Collection, illustrated in R.H. Ellsworth, Chinese Furniture: One Hundred Examples from the Mimi and Raymond Hung Collection, New York, 1996 no. 62.
Considered among the most formal pieces of Chinese furniture, tables of this type are referred to as 'altar tables' or simply 'side tables'. Most likely meant to be placed in the center of a back wall of a main hall this supremely elegant table is a luxurious expression of classical Chinese furniture design, and its pleasing proportions and rich yet tastefully restrained decoration represent a perfect setting for displaying treasures or occasional ritual offerings.
Sotheby's. Fine Chinese Ceramics and Works of Art, including Property from the Collection of the Albright-Knox Art Gallery, Buffalo, New York, New York, 19 Mar 2007