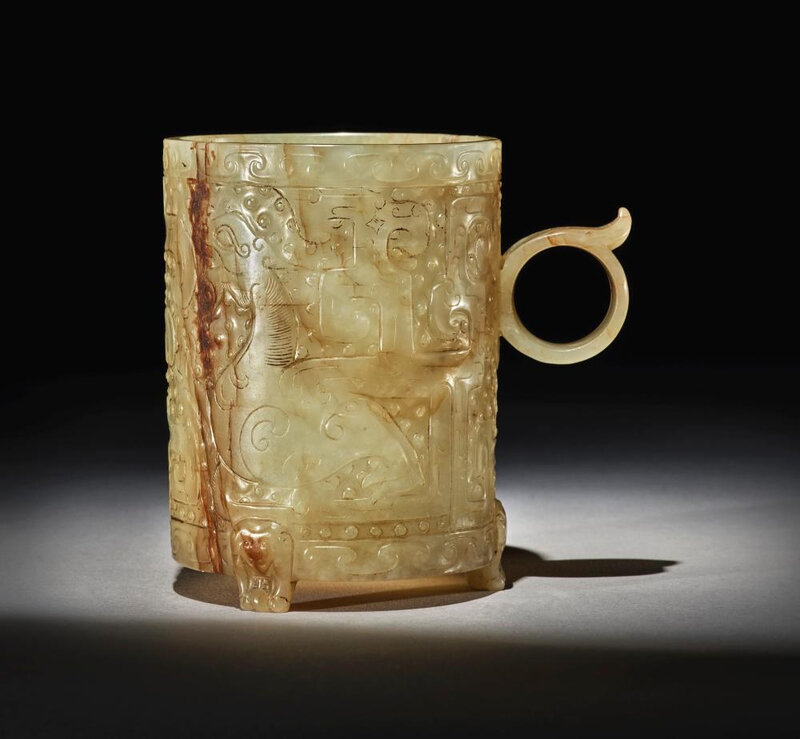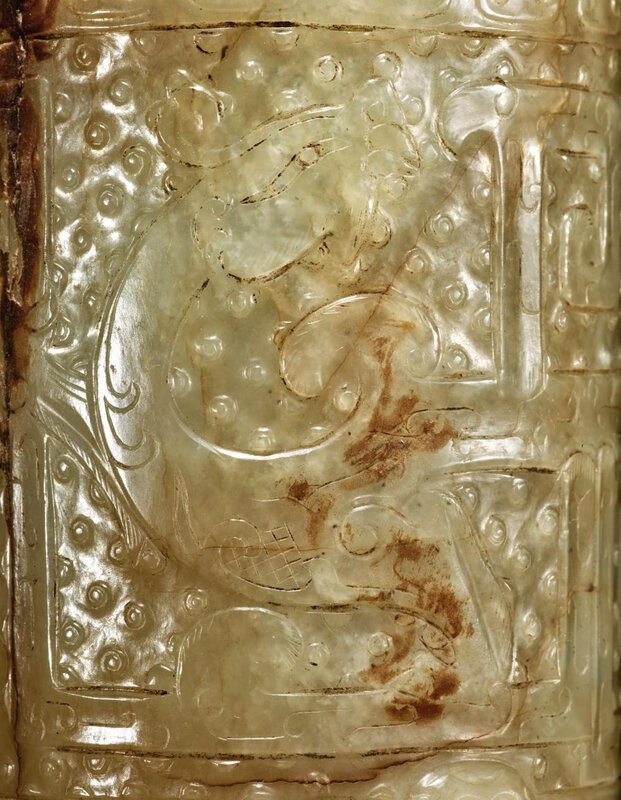 Lot 136. A rare Han-style pale green jade cylindrical cup, Song - Ming dynasty. Height 3 3/8 in., 8.7 cm. Estimate 400,000 — 600,000 USD. Courtesy Sotheby's
the cylindrical vessel supported on three short crouching bear-form feet, set to one side with a circular loop handle with a sharply upswept spur, finely carved with an archaistic design of a dragon in pursuit of a phoenix reserved on a ground of raised bosses bordered by narrow bands of coiled C-scrolls at the base and foot, the yellowish-green stone with russet inclusions.
Provenance: Fritz Low-Beer & Co., New York, 6th April 1950.
Collection of Stephen Junkunc, III (d. 1978).
Literature: Alfred Salmony, Chinese Jade Through the Wei Dynasty, New York, 1963, pl. XXXIX, fig. 2.
Note
: The present cup follows the cylindrical form and archaistic design of Han dynasty prototypes, such as the famous cup and cover in the Freer Sackler Galleries, Smithsonian Institution, Washington D.C., acquired from C.T. Loo in 1947, and extensively published, including in
Hai wai i chen /
Chinese Art in Overseas Collections, Taipei, 1985, pl. 64 and Sueji Umehara,
Shina kogyoku zuroku /
Selected Specimens of Chinese Archaic Jade. Kyoto, 1955. pl. 61.
In Alfred Salmony's posthumously published book Chinese Jade Through the Wei Dynasty, New York, 1963, a number of cups of this type, including the present lot, are illustrated where the author advocates for a Wei dynasty, 4th to 6th century, attribution to the group, see p. 235 and pls XXXVIII and XXXIX-1 and 2. This theory was subsequently disproved following the discovery of a number of similar jade cups from later tombs, including one discovered near Beijing in 1962 in a tomb dated 1676, as recorded in Wenwu, 1963. vol. 1, no. 42, fig. 18. The cup was incised with the name Lu Zigang, suggesting that it was carved by the renowned Suzhou jade carver active in the second half of the 16th century. In 1975, Max Loehr acknowledged the difficulty in attributing a firm date to this group when he illustrated a similar cup with a 'Eastern Han or later' attribution, see Max Loehr, Ancient Chinese Jades from the Grenville L. Winthrop Collection in the Fogg Art Museum, Cambridge, Massachusetts, 1975, pl. 625.
Compare a similar cup, originally illustrated alongside the present lot in Salmony, op. cit., pl. XXXVIII, and subsequently included in the exhibition Chinese Jades throughout the Ages, Victoria and Albert Museum, London, 1975, cat. no. 322, where it was attributed to the 13th-15th century. The same cup was more recently included in the exhibition 5,000 Years of Chinese Jade, San Antonio Museum of Art, San Antonio, 2012, cat. no. 54, where it as described as Song dynasty.
Compare another tripod cup from the collection of Quincy Chuang included in the exhibition Chinese Jades from Han to Ch'ing, New York, 1980, cat. no. 40. Another, in the Asian Art Museum of San Francisco is illustrated in Chinese Jades from the Avery Brundage Collection, Tokyo, 1977, pl. XXXVI where it is attributed to the Song to Yuan period.
A slightly squatter cup, similarly carved with phoenix, but raised on three animal-head feet, attributed to the Song dynasty, in the National Palace Museum, Taipei, see Illustrated Catalogue of Ancient Jade Artifacts in the National Palace Museum, Taipei, 1982, pl. 360.
Sotheby's. Junkunc: Arts of Ancient China, New York, 19 march 2019, 10:00 AM