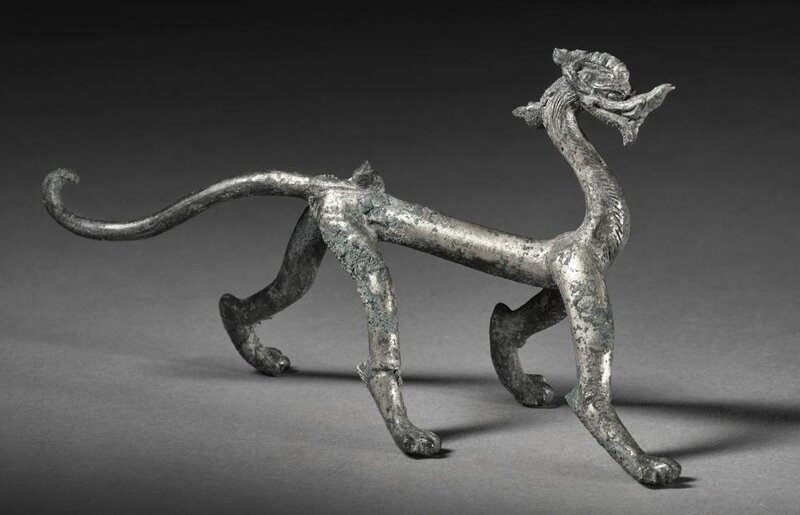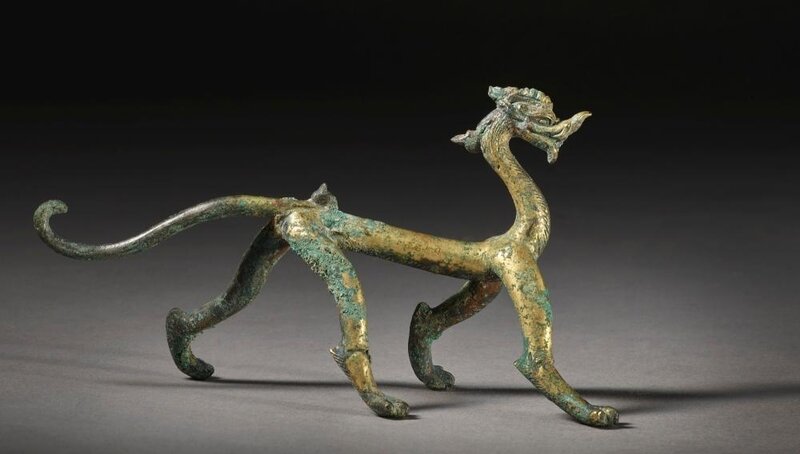 Lot 116. An exceptional gilt-bronze dragon, Six Dynasties (220-589). Length 5 in., 12.7 cm. Estimate 100,000 — 150,000 USD. Lot Sold 375,000 USD. Courtesy Sotheby's.
superbly modeled, the striding dragon cast in suspended movement, its elongated sinewy body raised on four powerful limbs terminating in three-clawed paws, trailed by a long curling tail, the imperious head held high and proud atop a slender S-shaped neck, with a single horn above protruding oval-shaped eyes and a long upturned snout exposing its sharp fangs, the body and mane finely detailed with neatly incised lines, richly gilded and with traces of malachite encrustation.
Provenance: Tonying & Co., New York, 15th February 1946.
Collection of Stephen Junkunc, III (d. 1978).
Literature: 'Oak Park Resident Keeps Priceless Collection of Oriental Art in Bomb Shelter', Chicago Tribune, 7th September 1952, part III, p. 1.
Note: Striking for its powerful dynamism and slender elegance, this striding dragon embodies the majesty and virility entirely commensurate with its role in Chinese cosmology, and belongs to a small number of free-standing sculptures of type produced during the Six Dynasties period.
The dragon, beyond its well-documented associations with the heavens and as a symbol of the emperor, also represented one of the four cardinal directions: the Green Dragon of the East, cosmologically linked to the Black Warrior of the North, the White Tiger of the West and the Red Bird of the South. Together these four animals were regarded as rulers of the seasons and the quadrants, and appeared together from the Western Han dynasty, where they frequently adorned bronze mirrors and tomb decor.
The lithe and sinewy body frozen in suspended movement so remarkable on this dragon can be compared to a number of stone carvings dating to the Six Dynasties. The epitaph cover of the Northern Wei official Yuan Hui (d. 520 AD), discovered in Luoyang, Henan province in 1926 and today housed in the Forest of Steles, Xi'an, is carved with very similar dragons framing the inscriptions, illustrated in Yasushi Nishikawa, Seian hirin, Tokyo, 1966, pls 120-125. Similarly, a set of stamped clay tiles discovered in a Southern Dynasties tomb near Dengxian, Henan province, also adorned with the four directional animals, features stylistically similar dragons, see Annette L. Juliano, 'Teng-Hsien: An Important Six Dynasties Tomb', Artibus Asiae, Supplementum XXXVII, 1980, fig. 22.
A pair of similar gilt-bronze dragons were acquired from C.T. Loo by Grenville L. Winthrop in October 1931, and are today in the Harvard Art Museums (fig. 1), illustrated in the exhibition, Grenville L. Winthrop: Retrospective for a Collector, Fogg Art Museum, Cambridge, Massachusetts, 1969, cat. no. 54. Three similar gilt-bronze dragons were reputedly discovered at the Jincun tombs in Luoyang, Henan province, in 1928 and were documented by Bishop William Charles White (1873-1960) in his book Tombs of Old Lo-yang, Shanghai, 1934, pl. LIV, no. 133. Another, acquired from Yamanaka & Co. in New York in 1932, is today in the Nelson-Atkins Museum of Art, Kansas City (fig. 2), and is illustrated in Ross E. Taggart ed., Handbook of the Collection in the William Rockhill Nelson Gallery of Art and Mary Atkins Museum of Fine Arts, Kansas City, Missouri, 1959, p. 176 (bottom right). The similarities between all these dragons and the relatively narrow timeframe in which they were either published or acquired suggests the possibility that they were all discovered together, in or around Luoyang.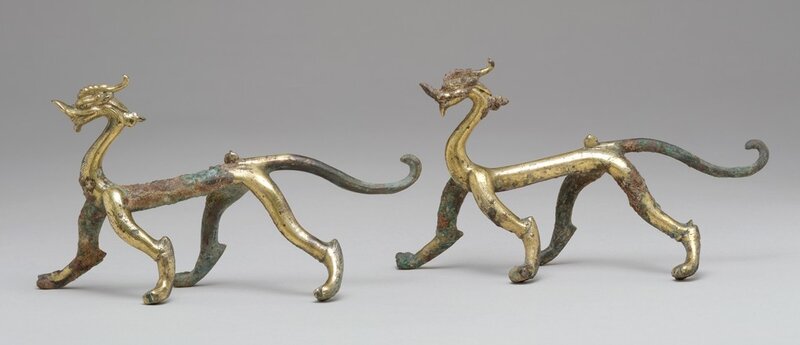 A pair of gilt-bronze striding dragons, Han dynasty, 206 BCE-220 CE, given by Grenville L. Winthrop (purchased from C.T. Loo, New York, October 1931) to the Harvard Art Museums, obj. no. 1943.52.74A,B © President and Fellows of Harvard College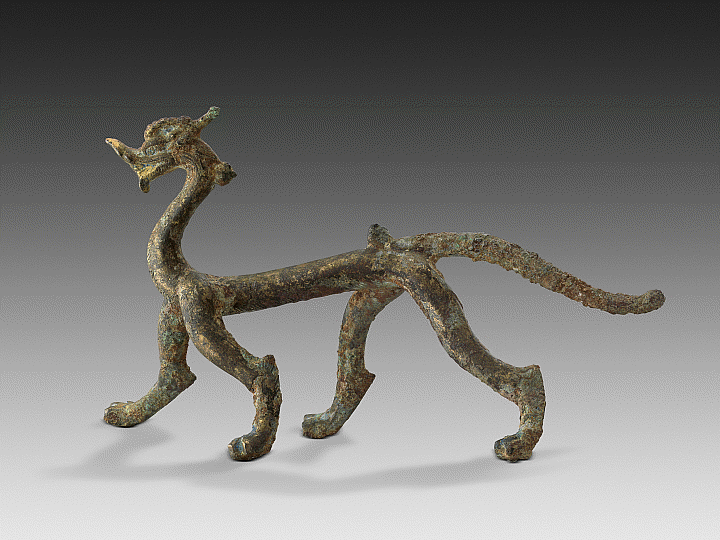 Striding Dragon, Western Han Dynasty (206 B.C.E-9 C.E.). Gilt bronze. The Nelson-Atkins Museum of Art, Kansas City, Missouri. Purchase: William Rockhill Nelson Trust, 32-185/8. Photo courtesy Nelson-Atkins Media Services / John Lamberton.
A slightly larger gilt-bronze striding dragon, with finely incised scales detailing the body and a thin serrated edge following the spine, formerly in the collection of Frederick Mayer, was included in the exhibition Mostra d'Arte Cinese/An Exhibition of Chinese Art, Venice, 1954, cat. no. 159, subsequently sold at Christie's London, 24-25 June 1974, lot 143 and later lent by John D. Rockefeller III to the exhibition Art of the Six Dynasties. Centuries of Change and Innovation, China House Gallery, New York, 1975, cat. no. 37. A similar example, was included in the exhibition, Animals and Animal Designs in Chinese Art, Eskenazi Ltd., London, 1998, cat. no. 15. A larger ungilt example was included in the exhibition Six Dynasties Art from the Norman A. Kurland Collection, Eskenazi Ltd., London, 2018, cat. no. 10. A small number of slightly larger gilt-bronze striding dragons in a variety of striding postures is known. Compare two with the forearms lowered to the ground, as if preparing to pounce; the first, in the Asian Art Museum of San Francisco, illustrated in Réne-Yvon Lefebvre d'Argencé ed., Chinese, Korean and Japanese Sculpture in the Avery Brundage Collection, Tokyo, 1974, pl. 28, the second in the Bristol City Art Gallery, illustrated in P.J. Donnelly, The Animal in Chinese Art, London, 1968, pl. I-c. A third example depicting the dragon with its right forepaw raised and its body arched, is in the Princeton University Art Museum, and was included in the exhibition Dragons in Chinese Art, China House Gallery, New York, 1971, cat. no. 23.
Sotheby's. Junkunc: Arts of Ancient China, New York, 19 march 2019, 10:00 AM