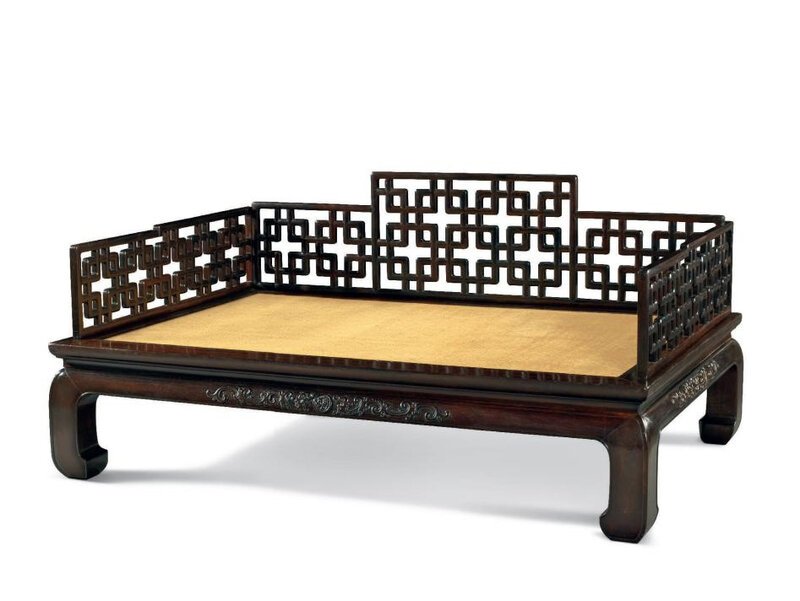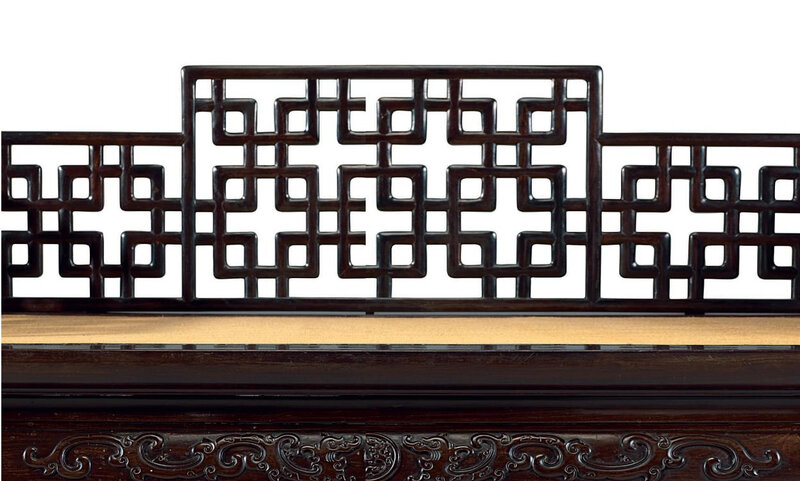 Lot 1668. A large and impressive zitan luohan bed, luohanchuang, 17th-18th century with modifications; 41 in. (104 cm.) high, 86 ¾ in. (220.3 cm.) wide, 57 ¾ in. (146.7 cm.) deep. Estimate USD 400,000 - USD 600,000. © Christie's Images Ltd 2019
The hard mat seat is set into the rectangular frame above the narrow waist and plain, beaded aprons crisply carved with chilong confronted on a central medallion enclosing stylized mythical beasts, the side aprons further carved with chilong confronted on a sash-tied ruyi. The whole is raised on solid, thickly beaded, inward-curving legs. The stepped railings are carved in openwork with an attractive lattice design.
Note: Zitan is a general term which includes numerous species of wood, however, it is commonly agreed that it belongs to the genus Pterocarpus. A purplish-black, fine-grained hardwood, zitan was considered the most prized hardwood by the Chinese. The density of the wood makes this material especially suitable for fine and intricate carving and when combined with its jade-like, lustrous surface made this the preferred material for imperial furniture. Government records dating to the Longqing period (1537-1572) show that even in this early period, zitan already commanded the highest price and was subject to the heaviest import tax. See Wang Shixiang, Connoisseurship of Chinese Furniture, Chicago, 1990, p. 149, for further discussion of the import tax and prices for timber. Due to the scarcity and the expense of this luxurious material, its use was scrupulously monitored and carefully restricted, with severe punishment or fines for irresponsible usage or wastage.
There are only a handful of zitan canopy beds with their original canopy published. An ornately carved six-post zitan canopy bed, dating to the mid-eighteenth-nineteenth century, is illustrated in My Humble House, Zitan, the Most Noble Hardwood, Taiwan, 1996, pp. 138-39. The present bed is an example of a seventeenth-eighteenth century zitan canopy bed that was converted into a luohanchuang. Conversions in Chinese furniture occurred in the Ming and Qing dynasties and it is not surprising that a canopy bed, which can be difficult to accommodate, would have been converted into a much more usable form, such as a luohan bed. It is rare to find a converted canopy bed as carefully and thoughtfully executed as the present bed. The quality of the timber seen in the bed platform and the rails are consistent suggesting that the openwork rails were constructed from material salvaged from the canopy, rails, and other elements. The complete bed must have been an impressive example in both size and workmanship. The luohan bed in its present state is equally as impressive. Modifying a piece of furniture of this large scale would have been a highly complicated venture executed by a master craftsman. The massive, solid and inward-curving, tall legs and the confident finesse of the dynamic carving on the aprons suggest the work of a master woodworking workshop.
Even during the Ming period, sourcing high quality zitan was a challenge. Zitan trees are slow growing and require centuries to fully mature into usable material. Further, the timber in its raw form is twisted or gnarled. The almost flawless timber, relatively free from knots, of the present bed suggest that the master carpenter not only had access to but could afford high quality material.
Christie's. Fine Chinese Ceramics & Works of Art, New York, 22 March 2019