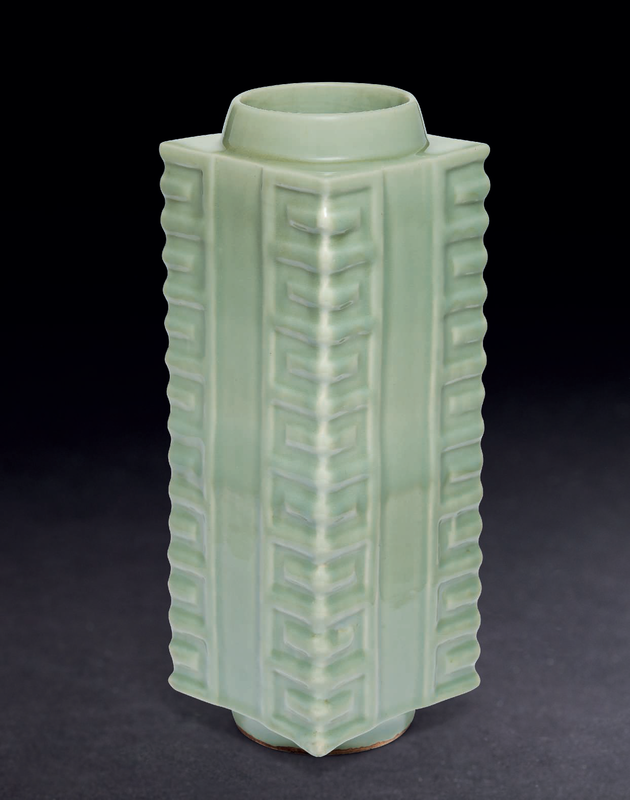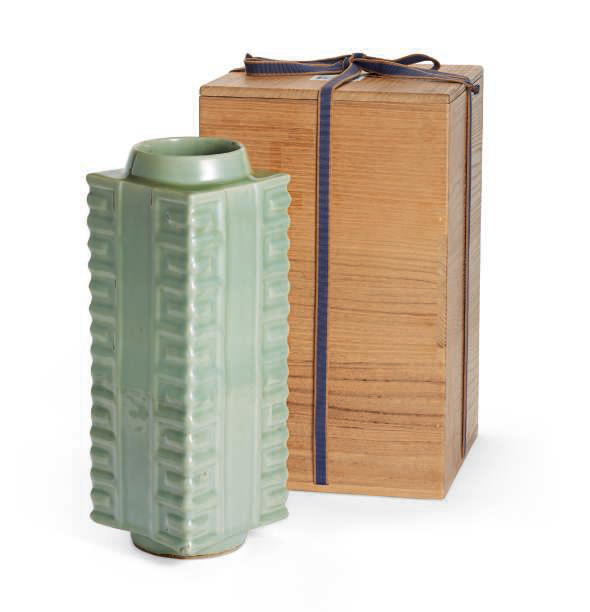 Lot 1741. A rare large Longquan celadon cong-form vase, Southern Song dynasty (1127-1279); 15 ¼ in. (38.6 cm.) high. Estimate USD 400,000 - USD 600,000. © Christie's Images Ltd 2019
Finely potted in imitation of a Neolithic jade cong, the vase has a rectangular body of square section with a cylindrical foot and short neck, and is covered overall with a glaze of rich sea-green color stopping just short of the foot rim to expose the light grey stoneware body.
Provenance: Dr. T. T. Tsui (1941-2010) Collection.
Literature: The Tsui Musuem of Art, Splendour of Ancient Chinese Art: Selections from the Collections of T.T. Tsui Galleries of Chinese Art Worldwide, Hong Kong, 1996, no. 37.
Note: The form of this vase is based on a jade ritual object, cong, that has a cylindrical core and a square exterior, such as the jade cong dating to the Neolithic period, Liangzhu culture, in the Nanjing Museum, included in the exhibition, China: 5,000 Years, Solomon R. Guggenheim Museum, New York, 1998, pl. 5. Such artifacts were enthusiastically collected by the educated elite of the Northern and Southern Song dynasties, prompting the production of contemporary vessels in bronze and stoneware based on the antique prototypes.
Longquan celadon cong-form vases were made in various sizes, as represented by three illustrated in Chinese Ceramics in The Idemitsu Museum, Tokyo, 1987, pls. 466-468, 16 1/8 in., 10 3/8 in. and 9 ¼ in. high, respectively. However, examples of large size appear to be rare, and include the 16 1/8 in.-high vase in the Idemitsu Museum mentioned above; one (16 in.) in the Percival David Collection, currently on loan to the British Museum, illustrated by Margaret Medley in Illustrated Catalogue of Celadon Wares, London, 1977, pl. VII, no. 73; one in the Indianapolis Museum of Art (16 ¼ in.) illustrated by Y. Mino and J. Robinson, Beauty and Tranquility: The Eli Lilly Collection of Chinese Art, 1983, pl. 76; and another (16 1/8 in.) sold at Christie's Hong Kong, 28 May 2014, lot 3402. Other vases of a smaller size include one (11 ¼ in.) in the Shanghai Museum included in the exhibition, Treasures from the Shanghai Museum: 6000 Years of Chinese Art, 1983-1984, pl. XXVI; the example (10 in.) illustrated by R. L. d'Argencé in Chinese Ceramics in the Avery Brundage Collection, San Francisco, 1967, pl. XLIV, fig. A; and the vase (10 in.) in the Qing Court collection, illustrated in The Complete Treasures of the Palace Museum - 33 - Porcelain of the Song Dynasty (II), Hong Kong, 1996, pp. 108-109, pl. 97.
Christie's.

Fine Chinese Ceramics & Works of Art, New York, 22 March 2019