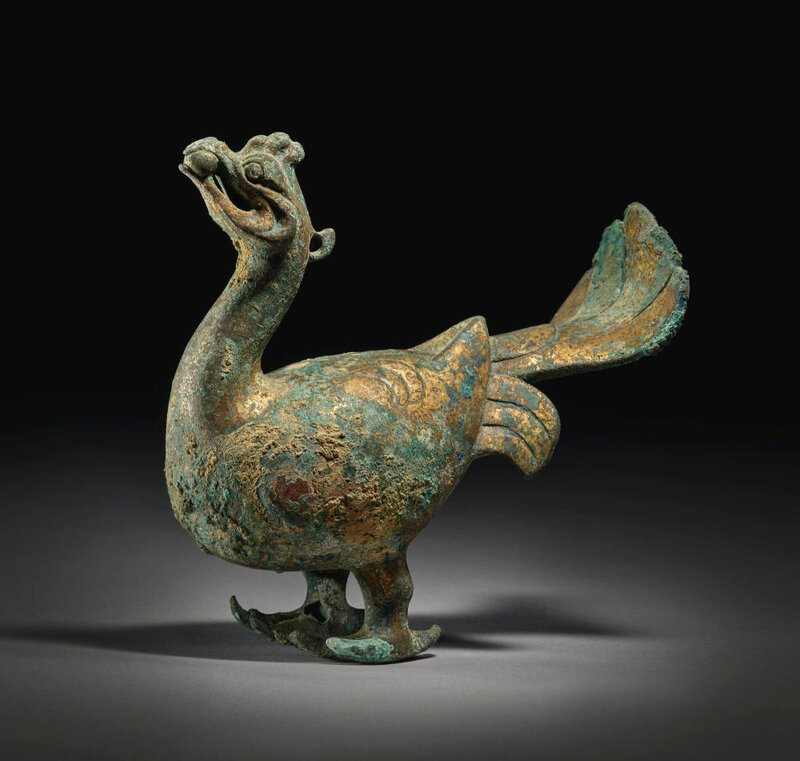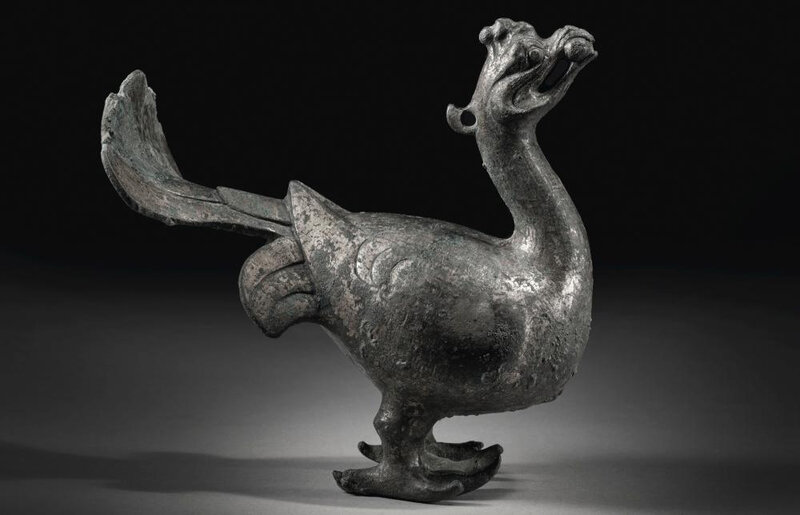 Lot 122. An extremely rare gilt-bronze figure of a phoenix, Han dynasty (206 BC - 220 AD). Length 5 1/4 in., 13.4 cm. Estimate 80,000 — 120,000 USD. Lot Sold 162,500 USD. Courtesy Sotheby's.
solidly cast, the mythical bird cast standing with its wings folded back against its body and its tail fanned out behind it in five broad plumes, the head held high and clasping a 'pearl' in its open beak, the face with bulging eyes beneath a crested crown, the sturdy legs terminating in large upturned talons, the surface incised with feather markings, with an circular loop to the back of the neck, wood stand (2).
Provenance: C.T. Loo, New York, 12th June 1946.
Collection of Stephen Junkunc, III (d. 1978).
Literature: 'Oak Park Resident Keeps Priceless Collection of Oriental Art in Bomb Shelter', Chicago Tribune, 7th September 1952, part III, p. 1.
Note: The present Han dynasty gilt-bronze phoenix is extremely rare, and no close counterparts appear to be recorded. Although a related gilt-bronze phoenix of a slightly smaller size from the Western Han dynasty, also holding a pearl in its beak and with its wings folded, but with a more elaborate tail, was included in the exhibition Ancient Chinese Bronzes, J.J. Lally & Co., New York, 2011, cat. no. 20.
The small aperture at the back of the bird suggests it once had a functional use. As one of the Four Divine Animals - along with the dragon, tiger, and turtle - the phoenix, sometimes referred as zhuque ('Vermilion Bird') in Chinese tradition, was one of the popular subjects for ornamental uses during the Han dynasty.
See a related early Han dynasty gilt-bronze phoenix, serving as the finial on the cover of a lian, published in Seiichi Mizuno, Tenri Sankōkan zuroku [Collection from Tenri Sankokan], Nara, 1967, pl. 74; one with its wings spread, excavated from a Han dynasty tomb near Ding county, Hebei province in 1959, published in 'Dingxian Beizhuang Hanmu chutu wenwu jianbao [A summarized report on the cultural relics excavated from the Han tomb in Beizhuang, Ding county], Wenwu, no. 12, 1964, pl. 1, fig. 3, where it is captioned as an ornamental object for a cover; one similarly modeled with a stocky build, excavated from a Han tomb in Liuqu mountain, Pingdu city, Shandong province in 2003, now in the Pingdu City Museum, Shandong; another of a smaller size and simpler design, excavated from a Han tomb in Bazhang village, Hebei province, now in the Cangzhou Museum, Hebei. See also a gilt-bronze bird with turquoise inlay, catalogued as a peacock, formerly in the Avery Brundage Collection, now in the Asian Art Museum of San Francisco, published in René-Yvon Lefebvre d'Argencé, Chinese, Korean and Japanese Sculpture in the Avery Brundage Collection, Tokyo, 1974, no. 16.
Compare also a Han dynasty bronze lamp, made in the form of a phoenix with its wings spread and tail curled upward, grasping between its beak a circular oil tray, excavated from the Han tomb in Mancheng, Hebei province, published in Mancheng Hanmu fajue baogao [Excavation report of the Han tomb in Mancheng], vol. 2, Beijing, 1980, pl. XXIV, together with an elaborate hardstone-inlaid gilt-bronze twin cup, made with a phoenix standing in the middle, pl. XXV; and another Han green-glazed pottery lamp, decorated with a phoenix similarly modelled holding a pearl in its beaks, published in Seiichi Mizuno, op cit., pl. 171.