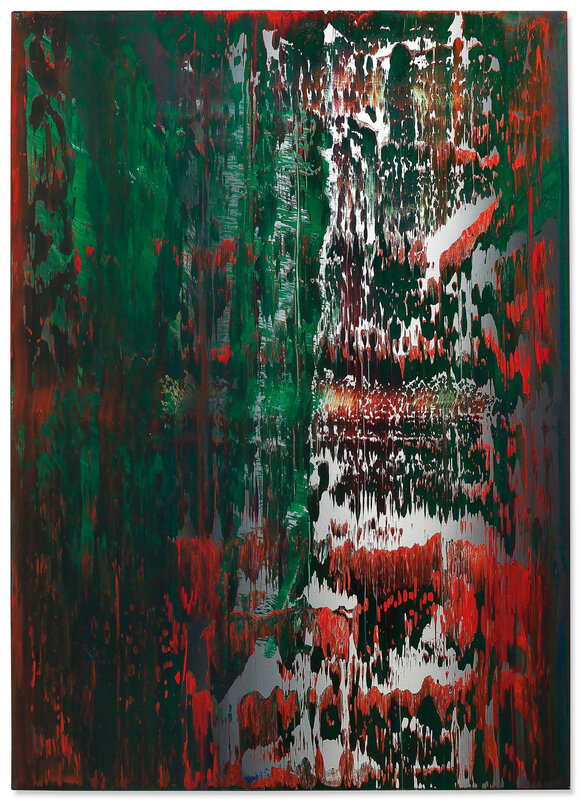 Lot 26. Gerhard Richter (b. 1932), A B, Tower, signed, numbered and dated 'Richter 1987 647-4' (on the reverse), oil on canvas, 55 1/8 x 39 3/8in. (140 x 100cm.) Painted in 1987. Estimate: £3,000,000 - £5,000,000. Price realised £3,131,250. © Christie's Images Ltd 2019
Provenance: Anthony d'Offay Gallery, London.
Private Collection (acquired from the above, 1988).
Anon. sale, Sotheby's New York 16 November 2017, lot 62.
Acquired at the above sale by the present owner.
Literature: Kunst- und Ausstellungshalle der Bundesrepublik Deutschland (ed.), Gerhard Richter, Werkübersicht/Catalogue Raisonné: 1962-1993, vol. III, Ostfildern-Ruit 1993, p. 183, no. 647-4 (illustrated, unpaged).
M. Godfrey & N. Serota (eds.), Gerhard Richter: Panorama, exh.cat., London, 2011, p. 136.
D. Elger (ed.), Gerhard Richter Catalogue Raisonné Volume 3 Nos. 389-651-2 1976-1987, Ostfildern-Ruit, 2013, p. 621, no. 647-4 (illustrated in colour).
Exhibited: London, Anthony d'Offay Gallery, Gerhard Richter: The London Paintings, 1988, no. 13 (illustrated, unpaged; titled 'Tower 6').
Note: 'The titles Richter has given this group of fourteen abstract paintings are not descriptive; they refer in a general associative way to his experiences of the city – to the chapels in Westminster Abbey, to the Tower of London' –Jill Lloyd
A thrilling expanse of complex, layered and beautiful colour, A B, Tower (1987) represents Gerhard Richter's abstract painting at its captivating best. It is one of an important series known as the 'London Paintings' – a group of fourteen works, each named after the various Towers of London and the chapels of Westminster Abbey, that Richter created for his first major commercial show in London at Anthony d'Offay Gallery in 1988. Works from the series are now held in the permanent collections of Tate, London; The Hirshhorn Museum and Sculpture Garden, Washington, D.C.; Los Angeles County Museum of Art; and La Caixa Foundation, Barcelona. In A B, Tower, using his trademark squeegee technique, Richter has scraped, smeared and marbled into being a chromatic chorus of rich and intricate splendour. A gleaming, fissured veil of silvery grey shimmers under and over a dominant field of emerald green. Streaked vertically like a waterfall or the bark of a tree, its stuttering gaps break onto vivid, volcanic flares of orange and vermillion. Richter's method of dragging wet-on-wet paint produces a myriad of effects: shadowy static, bold pearls of liquid hue and sharp, rhythmic flashes come together in a symphonic marvel of light, dark and iridescence.

Although linked to the city of London by its title, the painting is entirely unplanned and non-referential. 'Each picture', Richter has said of his abstract works, 'has to evolve out of a painterly or visual logic: it has to emerge as if inevitably. And by not planning the outcome, I hope to achieve the same coherence and objectivity that a random slice of Nature (or a Readymade) always possesses' (G. Richter, interview with Sabine Schütz, 1990, The Daily Practice of Painting: Writings and Interviews, 1962-1993, Cambridge, MA, 1995, p. 216). This mighty coherence is on full display in A B, Tower, and the work's sense of natural 'rightness' is palpable. While it yields to no single reading, it is tempting to see in its greys and greens a sense of the titular Tower, palely vertical amid the trees by the Thames riverbank. The painting's fiery orange hues conjure a sunset-like warmth, recalling the blazing Impressionist light of sky and water in Monet's own famous London paintings of the Houses of Parliament. Amid these more vaporous effects, its structures of dense, textural darkness have the rough-hewn grandeur of ancient mineral or geological formation, seeming reef-like, oxidised, crystalline. Ultimately, however, this is a work of infinite and wonderful ambiguity. Moving beyond painting as representation, message, or feeling, it magnificently embodies Richter's conception of 'painting like Nature, painting as change, becoming, emerging, being-there, thusness; without an aim, and just as right, logical, perfect and incomprehensible' (G. Richter, 'Notes, 1985', The Daily Practice of Painting: Writings and Interviews, 1962-1993, Cambridge, MA, 1995, p. 121).

'The paintings', Richter has said, 'gain their life from our desire to recognise something in them. At every point they suggest similarities with real appearances, which then, however, never really materialise' (G. Richter, quoted in S. Koldehoff, 'Gerhard Richter. Die Macht der Malerei', Art. Das Kunstmagazin, December 1999, p. 20). It is this dance between concrete associations and total mystery that makes works like A B, Tower so compelling. If the painting is a response to London as a physical place, it operates beyond any usual sphere of cognition, exuding an awe-inspiring unknowability. Richter does not offer the traditional, landscape-based Sublime experience of German Romanticism, nor its latter-day incarnation as found in the work of some American Abstract Expressionists (even if he might at first glance appear to share in their methods). Unlike Jackson Pollock's 'I am nature', this painting is no paroxysm of the ego: like a true 'random slice of Nature', it in fact has no narrative content at all. It is no portal to a spiritual journey, and it is not a record of gestural bodily abandon. Instead, A B, Tower is an uncertain and unclosed realm in which Richter embraces chance as a way of channelling the incommensurability of the world, and open-endedness as a reflection of reality itself. Throughout an astonishingly diverse painterly career, which over more than half a century has engaged with a broad spectrum of the art of his time and of the past – encompassing sophisticated dialogues with photography, portraiture, landscape painting, Art Informel, Minimalism, Pop and more – Richter has never settled for closure. He is a staunch anti- ideologist, grappling problems from a position of fundamental ambivalence. Works like A B, Tower are part of an ongoing exploration of what painting can do, fuelled by a dogged hope that it still has meaning in contemporary life. As Richter describes it, his basic mission is 'To try out what can be done with painting: how I can paint today, and above all what. Or, to put it differently: the continual attempt to picture to myself what is going on' (G. Richter, interview with Amine Haase, 1977, The Daily Practice of Painting: Writingsand Interviews, 1962-1993, Cambridge, MA, 1995, p. 92).

Often, Richter's thinking behind his different abstract series can be illuminated by the figurative works that he created at the same time. In parallel with the abstract 'London Paintings' at the 1988 exhibition, Richter displayed a number of photo-paintings of rural German landscapes. As Jill Lloyd observed in the exhibition's catalogue, 'Frequently the landscape views are empty and distant … There is an even, uneventful distribution of light, and nature is windless and still. Paths and gates lead nowhere in particular, and despite the romantic associations there is a peculiar mood of emotional neutrality, of aimlessness, that pervades the scenes … It is as if we are never allowed to stand at quite the right imaginative distance for our visual and emotive responses to concur; attempts to grasp, to understand, are frustrated' (J. Lloyd, Gerhard Richter: The London Paintings, exh. cat. Anthony d'Offay Gallery, London 1988, n.p.). These photo-paintings mercilessly exposed the optical clichés of landscape painting, and, as in many of Richter's works, made the gulf between reality and any form of representation unnervingly clear. Eerie and impenetrable, they stand in stark contrast to works like A B, Tower, which, stemming from Richter's greatest abstract period, forge their own painterly dimension of exultant beauty, responsiveness, and freedom. While we might never come to terms with the world, A B, Tower stands as a brilliant affirmation that at least, as Richter himself once said, 'Art is the highest form of hope' (G. Richter, 'Text for a catalogue of documenta 7, Kassel, 1982', The Daily Practice of Painting: Writings and Interviews, 1962-1993, Cambridge, MA, 1995, p. 100).
Christie's. Post-War and Contemporary Art Evening Auction, London, 6 March 2019