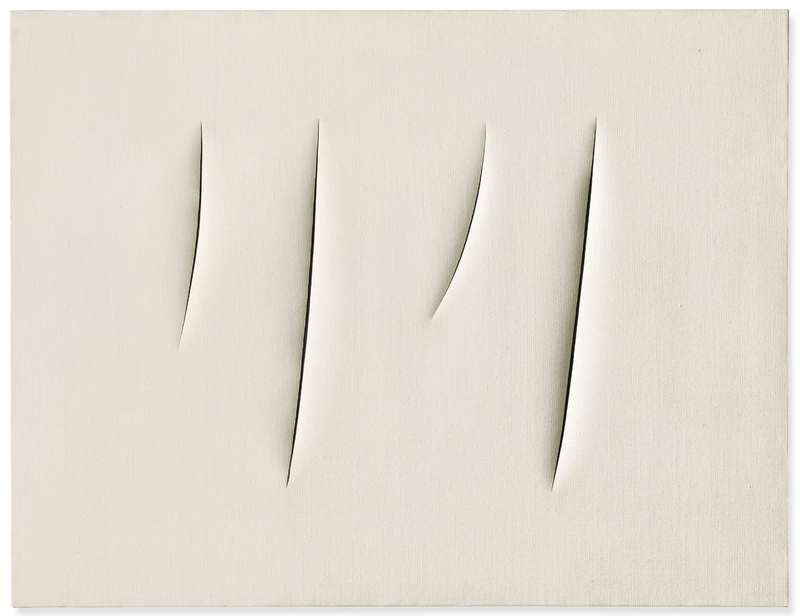 Lot 28. Lucio Fontana (1899-1968), Concetto spaziale, Attese, signed, titled and inscribed 'l. Fontana "Concetto spaziale" "Attese" 1+1-XYZZA' (on the reverse), waterpaint on canvas, 35¼ x 45 7/8in. (89.5 x 116.5cm.) Executed in 1960. Estimate: £2,000,000 - £3,000,000. Price realised £2,291,250. © Christie's Images Ltd 2019
Provenance: Galleria Arco d'Alibert, Rome.
Paolo Nazzaro Collection, Rome.
Bernard Cats, Brussels.
Acquired from the above by the present owner in 2005.
Literature: E. Crispolti, Lucio Fontana, Catalogo Generale, vol. I, Milan 1986, no. 60 T 117 (illustrated, p. 333).
E. Crispolti, Lucio Fontana, Catalogo Ragionato de Sculture, Dipinti, Ambientazioni, tomo I, Milan 2006, no. 60 T 117 (illustrated, p. 502).
Exhibited: Roma, Palazzo delle Exposizioni, X Quadriennale: 2. Situazione dll'arte non figurativa, 1973.
Note: 'I have invented a formula that I think I cannot perfect. I succeeded in giving those looking at my work a sense of spatial calm, of cosmic rigor, of serenity with regard to the infinite. Further than this I could not go' –Lucio Fontana

Spanning over a metre in width, Concetto spaziale, Attese (1960) is a spectacular early example of Lucio Fontana's tagli or 'cuts', which the artist began making in late 1958 and would dominate the triumphant final decade of his practice. The tagli were a philosophical gesture, and creative rather than destructive: in cutting the canvas open, Fontana transcended centuries of picture-plane-bound art history to reveal the infinity of space beyond, in which he saw the limitless future of mankind in the 'spatial era.' Having first pierced the canvas with buchi ('holes') in 1954, Fontana spent some years experimenting with surface ornamentation including glass fragments, impastoed paint and glitter before arriving at the serenity of the monochrome tagli, which constitute the refined apex of his adventurous, constantly evolving formal vocabulary. Its beguiling pure white surface incised with a quartet of vertical incisions, the present work stands among the most inventive early examples within the series. The cuts alternate in a paired dance between greater and shorter lengths, brought to life by their supple, curving motion. This balletic, near-calligraphic arrangement is distinguished by its powerful rhythmic character, exemplifying the drama and elegance with which Fontana deployed his conceptual innovation.

Although he experimented with a wide range of hues in his works, white was Fontana's ultimate colour of choice for the tagli. Towards the end of his life, he was awarded the Grand Prize at the 1966 Venice Biennale for an installation of twenty white canvases potent in their simplicity, each presenting a single vertical incision down the centre. Creating a stark, pristine contrast with the abyssal blackness of his cuts, white also represented for Fontana a 'ground zero' that could open up previously unimagined freedoms, ideas and potentials in the postwar era. Works like the present, their slashed surfaces opening up the fourth dimension in spiritual union with the astronauts who were making bold new steps into space, offer an optimistic vision of man's potential in the unfolding infinity of the universe. 'When I sit down to contemplate one of my cuts, I sense all at once an enlargement of the spirit,' Fontana said. 'I feel like a man freed from the shackles of matter, a man at one with the immensity of the present and of the future' (L. Fontana, quoted in L. M. Barbero, 'Lucio Fontana: Venice/ New York' in Lucio Fontana: Venice/New York, exh. cat. Guggenheim Museum, New York 2006, p. 23).
Christie's. Post-War and Contemporary Art Evening Auction, London, 6 March 2019