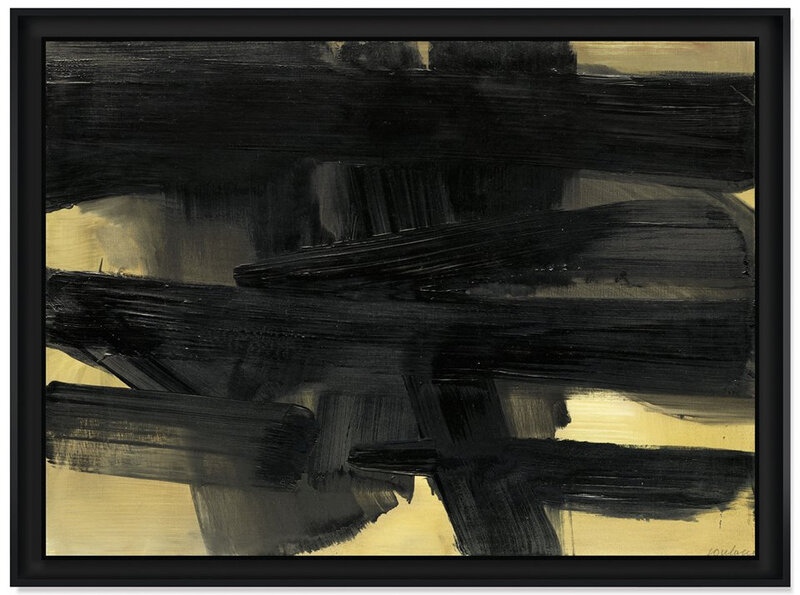 Lot 24. Pierre Soulages (b. 1919), Peinture 73 x 100cm 17 mai 1964, signed 'Soulages' (lower right), oil on canvas, 28 ¾ x 39 3/8in. (73 x 100cm.) Painted in 1964. Estimate: £500,000 - £700,000. Price realised £971,250. © Christie's Images Ltd 2019
Provenance: Kootz Gallery, New York (acquired in 1964).
Galerie de France, Paris (acquired in 1970).
Acquired from the above and thence by descent to the present owner.
Literature: P. Encrevé, Soulages, L'oeuvre complet Peintures II. 1959-1978, Paris 1995, pp. 17, 316 and 317, no. 539 (illustrated in colour, p. 154).
P. Ungar, Soulages in America, New York 2014 (installation view illustrated, p. 101).
Exhibited: New York, Kootz Gallery, Soulages at Kootz, 1965.
Toulouse, Galerie Protée, Soulages, 1972.
Note: 'A painting by Pierre Soulages is like a chord on a vast piano struck with both hands simultaneously – struck and held' –James Johnson Sweeney

With its bold, calligraphic bars of black latticing a field of luminous ochre, Peinture 73 x 100cm, 17 mai 1964 is an exquisite example of Pierre Soulages' uniquely resonant abstract painting. Soulages had first made unified linear compositions in the late 1940s, realising in them the guiding principle of his art – 'The duration of the line having disappeared, time was static in these signs made by summary and direct strokes of the brush; movement is no longer described; it becomes tension, movement under control, that is to say dynamism' (P. Soulages, quoted in J. Johnson Sweeney, Soulages, New York, 1972, p. 22). He experimented with sonorous chiaroscuro effects throughout the 1950s, and gradually began to create complex, translucent colour through scraping away layers of impasto. The present painting displays the radiant, smoky interplay of shadow and light typical of his 1960s work. Broad, interlocking black strokes are dragged vertically and horizontally against a smooth ochre ground; this top-heavy, largely horizontal structure, cut through by a commanding diagonal, forms an imposing yet delicately balanced presence. Varied opacities conjure a rich variety of tone and texture, with swathes of dark, tarry oil paint offset by areas dragged into delicate translucency. This exalting of his material's innate qualities is characteristic of Soulages, who makes every decision based on the painting in front of him. He paints not as a philosopher, narrator or ideologue, but as a painter. Nor, despite winning early acclaim in America during the art world's focal shift from Paris to New York in the 1950s, is he an Abstract Expressionist. Uninterested in communicating his emotions or states of being, he does not aim to record gesture or movement in his brushstrokes. He instead arranges contrasts into a single, forceful surface that is to be apprehended in its totality. As the artist himself says: 'I do not depict, I paint. I do not represent, I present' (P. Soulages, quoted in 'Peindre la peinture', Pierre Soulages: Outrenoir: Entretiens avec Françoise Jaunin, Lausanne 2014, p. 16).

1964 was an important year for Soulages, who had by this point reached renown on both sides of the Atlantic. He showed works in several major group exhibitions, including 56-64, Painting & Sculpture of a Decade at the Tate, London; Documenta III in Kassel; and the Pittsburgh International, where, alongside Ellsworth Kelly, Victor Pasmore and Antonio Saura, he was awarded the 1964 Carnegie Prize for painting. That same year, Soulages refused to participate in Galerie Charpentier's annual L'École de Paris exhibition – which he had shown in on several previous occasions – because he felt it was excluding the work of many young French abstractionists who considered worthy of attention. Even as American Pop Art was gaining prominence on the global stage (an advance marked by Robert Rauschenberg's infamous Golden Lion win at the 1964 Venice Biennale, much to the dismay of French critics), Soulages' single-minded dedication to his vision charged European painterly debates with continued relevance. 'In the years of great dissipation that we are experiencing,' wrote the French critic Dora Vallier, 'where art seems to be losing touch with its essence, where palliatives of "originality" supplant authentic creation, it seems to me necessary to underline the effort of a painter who, in seeking his truth, dug down in painting until, taking support of its very foundations, he could seize and reveal to us one of the aspects of the twentieth century' (D. Vallier, 'Aux antipodes de l'angoisse: Soulages ou l'enracinement de la peinture', XXe Siècle, no. 23, Paris, 1964).

James Johnson Sweeney, an early champion of Soulages as director of the Guggenheim in the 1950s, wrote memorably that 'A painting by Pierre Soulages is like a chord on a vast piano struck with both hands simultaneously – struck and held' (J. Johnson Sweeney, Pierre Soulages, New York, 1972, p. 5). This apt simile captures the sustained, singular intensity of Soulages' work. It is important to distinguish chord from melody: unlike the gestural sequences of Abstract Expressionism, a work like Peinture 73 x 100cm, 17 mai 1964 offers no itinerary to be followed, no temporal anecdote of the artist's feelings poured onto the canvas. Neither lyrical, personal or sentimental, it is instead a single, resonant surface of overall structural energy. Soulages never paints 'from his head' with something already in mind, but rather responds to the paint in front of him, working directly with its viscosity, translucency and colour to build a 'sign' that can be apprehended in an instant. The artwork must not be an illusion, but a presence. To apply the paint, Soulages uses house-painters' brushes or wide, flat scraping tools that he constructs himself, purposely eliding the expressive dimension of the gestural trace. Always using the same neutral format for his titles – painting, dimensions, date – he keeps any extrapictorial meaning firmly at bay, letting the experience of the picture be governed solely by the unique, unfixed dynamic of its abstract forms. Soulages' conception of art's universal, timeless dimension was heavily informed by the rough-hewn grandeur of the prehistoric and Romanesque art that inspired him as a youth in the south of France. 'It's fascinating to think that as soon as man came into existence, he started painting', he says. '… I've always loved black, and I realized that, from the beginning, man went into completely dark caves to paint. They painted with black too. They could have painted with white because there were white stones all over the ground, but no, they chose to paint with black in the dark. It's incredible, isn't it?' (P. Soulages, quoted in Z. Stillpass, 'Pierre Soulages', Interview Magazine, 7 May 2014). Remarkable in its concise power, Peinture 73 x 100cm, 17 mai 1964 is charged with textural life, dark brilliance and condensed energy; anticipating the ultimate breakthrough of the all-black Outrenoir canvases commenced fifteen years later, it reveals Soulages not only as a master of black, but also of light.
Christie's. Post-War and Contemporary Art Evening Auction, London, 6 March 2019