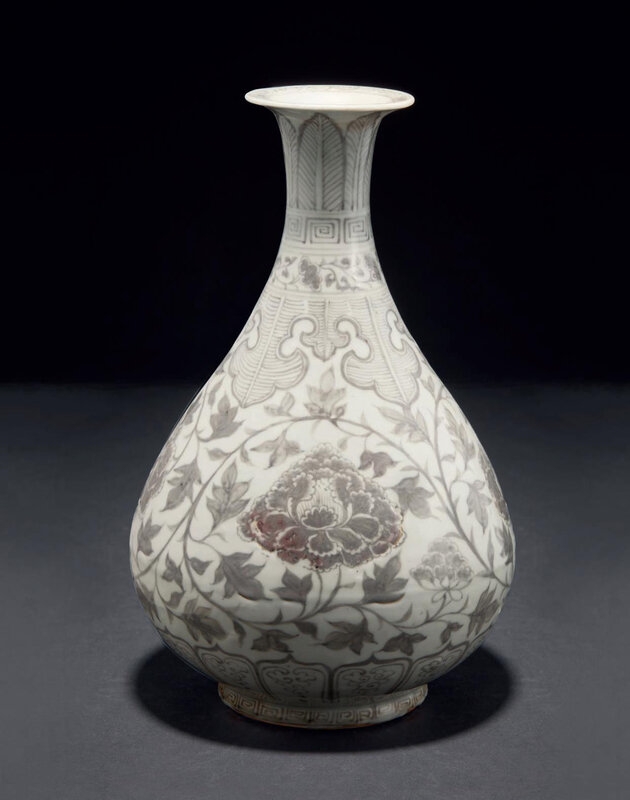 Lot 1624. A rare copper-red-decorated 'Peony scroll' bottle vase, yuhuchunping, Hongwu period (1368-1398); 13 ¼ in. (33.7 cm.) high. Estimate USD 300,000 - USD 500,000. © Christie's Images Ltd 2019
The elegantly potted body is freely decorated in a greyish tone of copper red with four peony blossoms alternately shown in profile and full face and budding flowers borne on scrolling, leafy stems, all between a large cloud collar filled with hatching on the shoulder and lotus lappets containing ruyi-head pendants above a band of key fret encircling the foot ring. The neck is further decorated with upright plantain leaves above bands of key fret and peony scroll, and the top of the mouth rim with a band of classic scroll.
Provenance: Lord Trevelyan, G.C.M.G., C.I.E., O.B.E.
Lady Trevelyan; Sotheby's London, 2 April 1974, lot 193.
Idemitsu Museum of Arts, Tokyo, by 1987.
Dr. T. T. Tsui (1941-2010 ) Collection, Hong Kong.
Fred Li, Hong Kong.
Literature: John Addis, "A Group of Underglaze Red", The Transactions of the Oriental Ceramic Society, London, 1957, vol. 31, pl. Id.
Margaret Medley, Yuan Porcelain and Stoneware, London, 1974, pl. 50A.
Chinese Ceramics in the Idemitsu Collection, Idemitsu Museum of Arts, Tokyo, 1987, no. 626.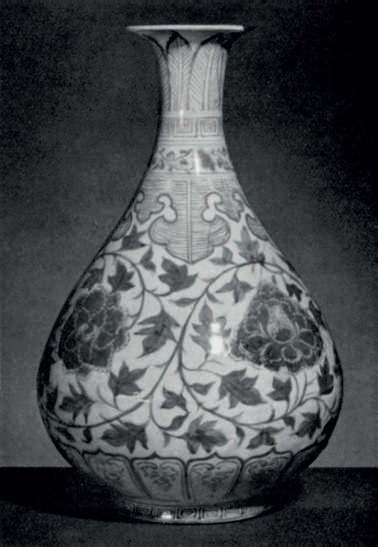 The present vase illustrated in J. Addis, "A Group of Underglaze Red", The Transactions of the Oriental Ceramic Society, London,
1957, vol. 31, pl. Id.
Exhibited: On loan: British Museum, 1958-1973.
Note: Although copper oxide was first used to produce red on high-fired ceramics in the Tang dynasty, its use was limited to a few stoneware pieces with a monochrome copper red-glaze and a larger number of vessels with designs in copper red. This limited use of copper-red decoration continued into the Song dynasty when the first examples of copper-red glazed porcelain appeared. Due to the difficulty of working with copper oxide its use continued to be limited until the Yuan dynasty when there was a concerted effort to master the material. It was during this period that the potters of Jingdezhen experimented with several different techniques in the application of copper red - splashes, reserved decoration and painted decoration. On vessels with reserved decoration, the design was incised into the body of the vessel and the copper red applied as a band that avoided the design. Two of the more successful examples of this type of decoration are the two Yuan-dynasty yuhuchunping illustrated in The Complete Collection of Treasures of the Palace Museum - 34 - Blue and White Porcelain with Underglazed Red, Hong Kong, 2000, pp. 206-207, pls. 191 and 192. Too often, the copper red, due to its fluidity, bled into the design, and eventually the method of painted decoration is the one that came to predominate during the early Ming dynasty.
It was during the Hongwu period (1368-1398) of the early Ming dynasty, that the potters at Jingdezhen were able to more successfully control the fluidity of the copper red, resulting in more reliable results in its application and firing. It was also during this period that the decoration in copper red mirrored that executed in cobalt, or underglaze blue, as did the shapes of the vessels. The shape of the yuhuchunping with its pear-shaped body that tapers to the narrow neck that rises to a flared mouth informed the manner of decoration - a wide band of decoration on the body between narrow decorative bands below and on the neck above. On both the underglaze blue and copper-red-decorated vases of this shape, the decoration most often consists of a wide band of flower scroll above a band of petal lappets, and narrow bands of trefoils (cloud collar), classic scroll and key fret below upright plantain leaves on the neck. Examples are also known with 'The Three Friends of Winter' forming the main band, as seen on two copper-red-decorated yuhuchunping illustrated ibid., pp. 214-16, pls. 199 and 200.

Of the flower scroll-decorated yuhuchunping, the flowers represented are usually peony, lotus or chrysanthemum. It is the first of these flower scrolls that decorate the present vase, as well as two copper-red-decorated examples, also illustrated ibid., pp. 212 and 213, pls. 197-98. Four other vases of this shape, similarly decorated in copper red with peony scroll are illustrated in Mayuyama, Seventy Years, vol. 1, Tokyo, 1976, p. 241, pls. 721-724. All of these have a cloud collar formed by small joined trefoils pendent from the decorative bands at the base of the neck. The cloud collar on the present vase is a very rare variant, as it is larger and composed of large trefoils alternating with smaller trefoils, all filled with hatched lines radiating from a central rib. This rare variant of cloud collar can be seen on two ewers of Hongwu date, one decorated in copper-red with chrysanthemum scroll, in the Victoria and Albert Museum, illustrated by Soame Jenyns in Ming Pottery and Porcelain, London, 1953, and another in blue and white with peony scroll illustrated in Chinese Ceramics in the Idemitsu Museum, Tokyo, 1987, col. pl. 151.
Christie's. Fine Chinese Ceramics & Works of Art, New York, 22 March 2019