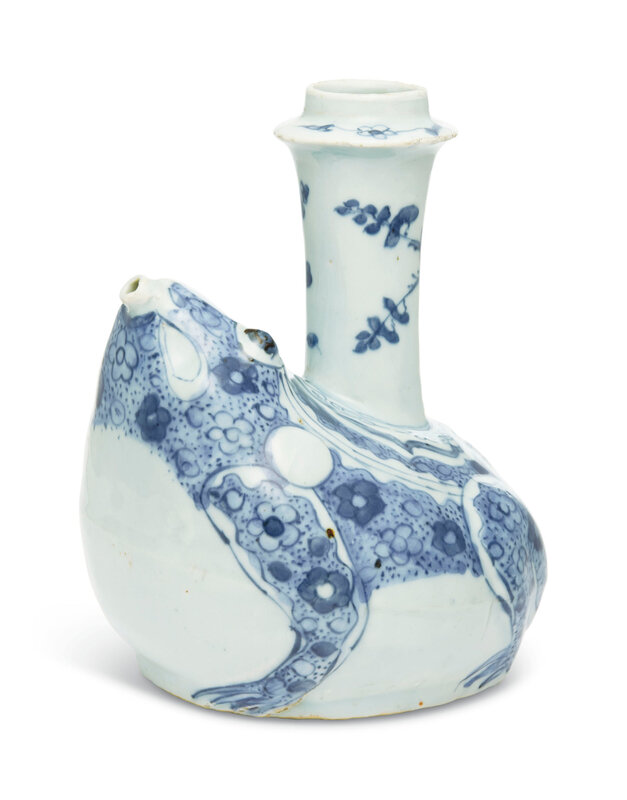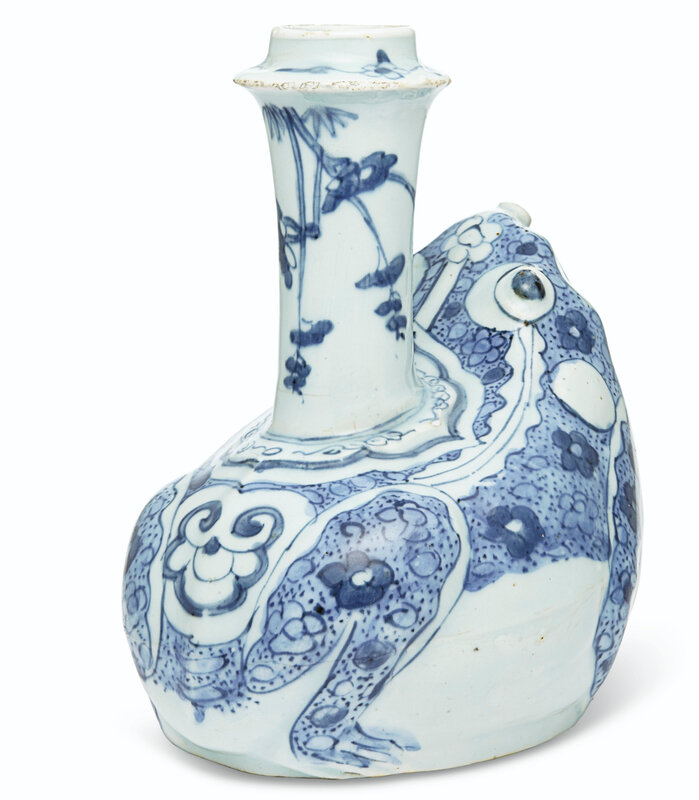 Lot 1631. A rare blue and white 'frog' kendi, Wanli period (1573-1619); 7 ¼ in. (18.4 cm.) high. Estimate USD 40,000 - USD 60,000. © Christie's Images Ltd 2019
The ewer is naturalistically modeled as a frog seated with its head raised, with a short spout issuing from its mouth, and supporting a tall, cylindrical neck on its back. The body is decorated with flower heads below a band of overlapping ruyi-heads around the base of the neck, which is decorated with a bird perched on a blossoming prunus tree.
Provenance: Private collection, Switzerland.
Note: Animal-shaped vessels were popular in China from early times, such as the multiple forms of animal vessels produced in Yue ware during the Jin dynasty. The frog was a particularly important form, since the frog is a symbol of longevity.

Kendis of this unusual form are in several museum collections, including the Princessehof Museum, Leeuwarden, illustrated by M. Rinaldi, Kraak Porcelain, A Moment in the History of Trade, London, 1989, pl. 234, no. 181; the Ardebil Shrine, Tehran, illustrated by John Alexander Pope, Chinese Porcelains from the Ardebil Shrine, London, 1981, pl. 97, no. 29.465; and two in the Topkapi Saray Museum, illustrated by R. Krahl and J. Ayers, Chinese Porcelains in the Topkapi Saray Museum, Istanbul, London, 1986, vol. II, pp. 730-31, nos. 1296 and 1297. Another example in the Percival David Foundation, but with a faceted neck, is illustrated by S. Pierson, Illustrated Catalogue of Underglaze Blue and Copper Red Decorated Porcelains in the Percival David Foundation of Chinese Art, London, 2004, pp. 67-68, no. A669. A further example, but with the neck reduced, is illustrated by J. Harrison-Hall in Ming Ceramics in the British Museum, London, 2001, pp. 283-84 no. 11:16. The example in the British Museum was acquired in India, attesting to the popularity of such vessels across the trading routes and diplomatic exchanges of Asia and Europe. See, also, a 'frog' kendi in the Edward T. Chow Collection Part One, sold at Sotheby Parke Bernet, Hong Kong, 25 November 1980, lot 10.
Christie's. Fine Chinese Ceramics & Works of Art, New York, 22 March 2019