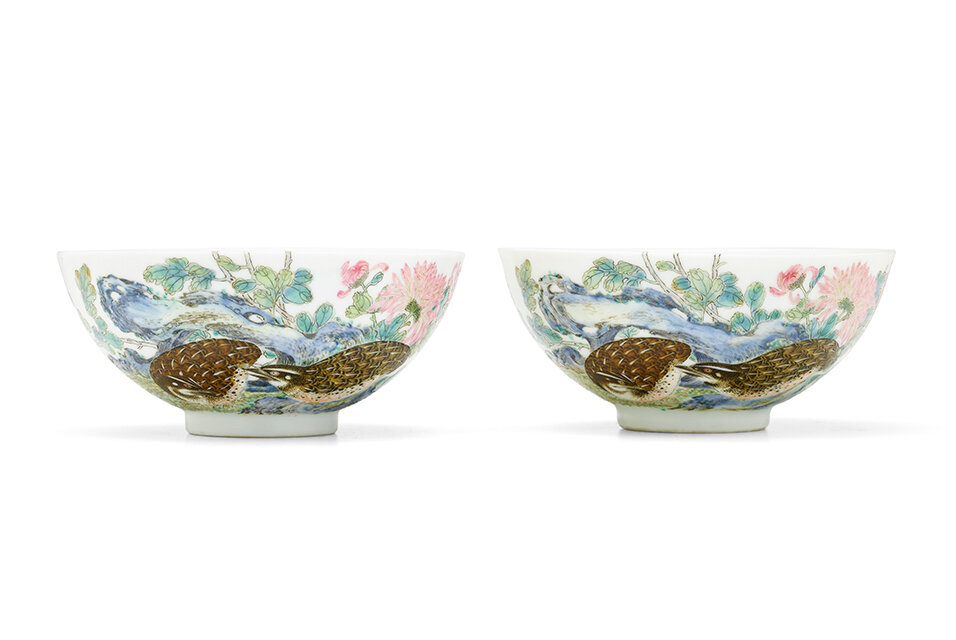 Lot 522. An exceptionally rare pair of Imperial famille rose 'quails and chrysanthemums' bowls, Yongzheng six-character marks and of the period (1723-1735); 3 3/4in (9.5cm) diam. Estimate $300,000–500,000 (€ 260,000 - 440,000). Sold for US$ 1,040,075 (€ 919,769) inc. premium. © Bonhams 2001-2019.
NEW YORK, NY.- Bonhams announces Asia Week New York from March 18 to 20, which includes a series of four auctions - Chinese Works of Art on March 18, Indian, Himalayan & Southeast Asian Art on March 19, Fine Japanese and Korean Art on March 20, as well as a special sale of Fine Japanese Prints including Property from the Collection of the late Bertram and Ruth Malenka. Bonhams will also present an exceptional non-selling exhibition Glass Mountains, Silver Moon, A Special Exhibition of Masterpieces of Japanese Art from a Private Collection and will be on view starting March 14.

Chinese Works of Art
March 18 at 10am
Bonhams sale of Chinese Works of Art features over 260 lots, which includes exceptional furniture, a strong selection of snuff bottles, early pottery, classical and modern paintings. Highlighting the sale is a magnificent and massive pair of huanghuali hat chests with fine inlay decoration, 17th/18th century (estimate: $200,000-300,000). From the Collection of Virginia Hobart (1876-1958) of San Francisco, daughter of timber and mining magnate William S Hobart, is an exceptionally rare pair of Yongzheng mark and period imperial famille rose 'quail' bowls (estimate: $300,000-500,000) and a rare numbered junyao narcissus bowl (estimate: $80,000-120,000). Also featured in the sale is a commemorative solid gold bracelet (1839-1841) a gift to Ellen Wayles Randolph Coolidge, granddaughter of Thomas Jefferson (estimate: $20,000-30,000); a rare gold and silver inlaid 'double fowl' vase, Ming dynasty (estimate: $40,000-60,000); and a 'henan' black glazed russet-painted jar, Northern Song/Jin dynasty (estimate: $8,000-12,000).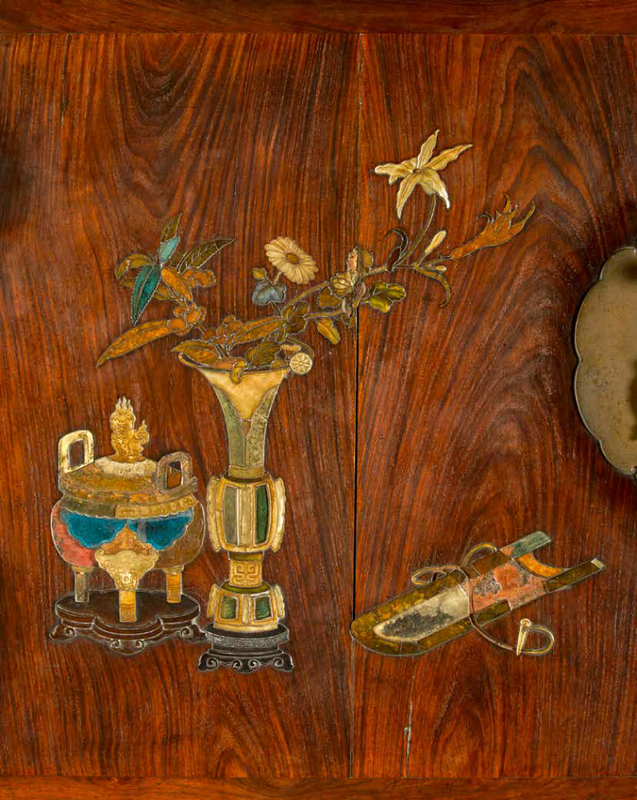 Lot 512. A magnificent and massive pair of huanghuali inlaid hat-chests, 17th-18th century; 34 1/2in (87.6cm) high, 62 1/2in (158.8cm) wide, 32 1/2in. Estimate US$ 200,000 - 300,000 (€ 180,000 - 270,000). Sold for US$ 596,075 (€ 527,126) inc. premium. © Bonhams 2001-2019
Of rectangular form, each frame of mortise and tenon construction with massive well-figured doors of a warm, honey tone and set off by a removable central stile, the front panels finely inlaid with shell, hardwood, glass, soapstone and select hardstones creating a composition of elegantly potted archaistic ritual vessels and other objects for the scholar's table, the doors fastened with etched baitong lockplates and hinges.
Provenance: An American Northwest private collection
An American Southern California private collection.
Note: See a pair of compound cabinets in the Metropolitan Museum of Art, New York, dating from the late 16th to early 17th century, with hat-chests of a closely related size and strikingly similar inlay technique featuring floral motifs.

The use of inlay on furniture in China dates to the Han dynasty, applying semi-precious materials set in wood or lacquer to enhance the object's appearance. By the Ming dynasty the technique was recorded in the Xiushi Lu where varied materials such as coral, amber, agate, ivory and horn were fashioned into intricate compositions of abstract patterns, figural scenes or floral designs. The late Ming artisan Zhou Zhu excelled at this technique, mainly on small table top items, and thereafter the method became known as Zhouzhi (literally Made by Zhou).

The present cabinets illustrate the Zhouzhi style in the transitional Late Ming/early Qing dynasties. With flowering branches arising from archaic-form vessels and objects, the inlay pattern shows an embrace of the guya (classic beauty and elegant taste) aesthetic trend, that touched numerous aspects of Chinese decorative arts during this period.

For an essay on the Zhouzhi inlay see Curtis Evarts, "The Zhouzhi tradition, Inlaid Hardwood Furnishings of the Late Ming and Qing Dynasties" in Liang Yi Collection, Hong Kong, 2007, vol. 3 pp. 62-77.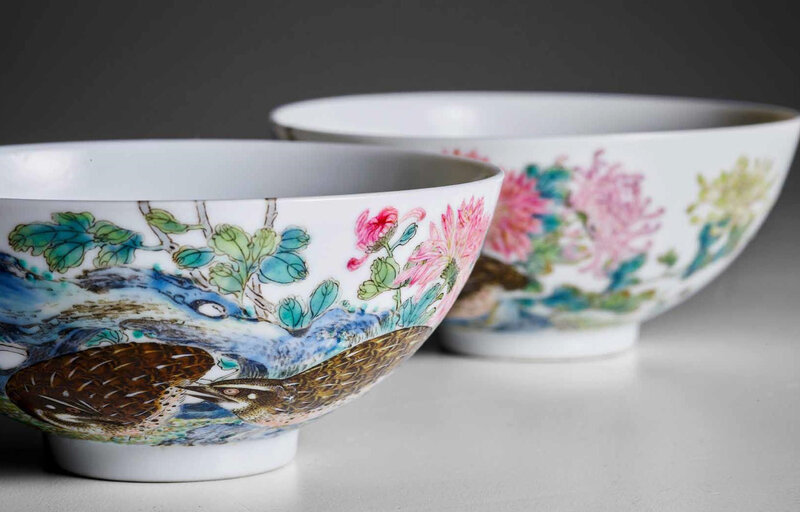 Lot 522. An exceptionally rare pair of Imperial famille rose 'quails and chrysanthemums' bowls, Yongzheng six-character marks and of the period (1723-1735); 3 3/4in (9.5cm) diam. Estimate $300,000–500,000 (€ 260,000 - 440,000). Sold for US$ 1,040,075 (€ 919,769) inc. premium. © Bonhams 2001-2019.
Cf. my post: The Hobart Quail Bowls offered at Bonhams Sale of Chinese Works of Art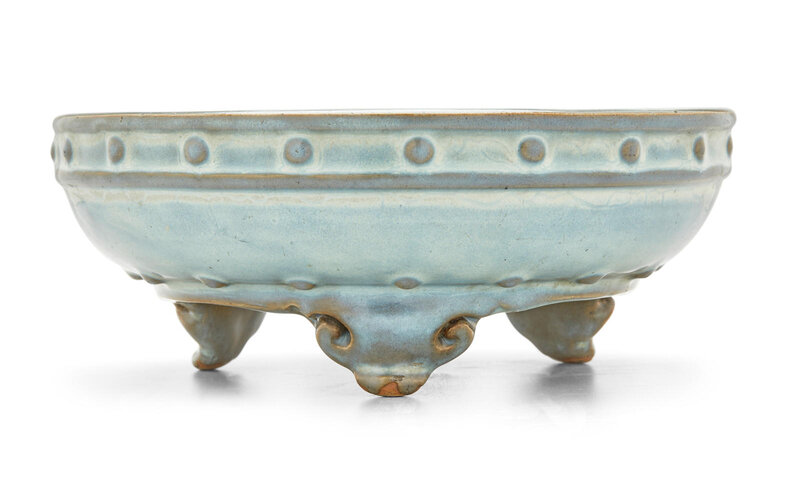 Lot 526. From the Collection of Virginia Hobart (1876-1958) of San Francisco, daughter of timber and mining magnate William S Hobart. A rare Junyao moon-white glazed numbered narcissus bowl, Early Ming dynasty; 8 5/8in (22cm) diam. Estimate US$ 80,000 - 120,000 (€ 71,000 - 110,000). Sold for US$ 150,075 (€ 132,715) inc. premium. © Bonhams 2001-2019
Potted with shallow rounded sides rising from a flat recessed well, supported on three ruyi-shaped feet emerging from the short circular foot ring, the rim bordered with twenty evenly-spaced bosses between two narrow raised ridges, with seventeen further bosses encircling the base just above the foot ring, applied overall with an even milky-blue glaze with characteristic worm-tracks, thinning to a mushroom tone along the raised edges and bosses, the foot incised with the numeral er (two) and washed with a brown glaze turning to olive where the glaze thickens, the bottoms of the feet revealing the gray stoneware body, wood stand.
Provenance: Virginia Hobart (1876-1958), thence by descent.
Narcissus bowls of this type are called guding pen (drum nail basins) because their decoration resembles the heads of the nails used to secure the animal hides to the barrel of Chinese drums. They are the most popular form of 'numbered Junyao' wares, so-called because they are inscribed on the base with numerals from one to ten. Comparisons and studies of these numbered wares suggest that the numbers relate to the size of the vessels, with larger inscribed numbers generally indicating smaller sizes. The current example with the number two has a diameter of 8 5/8in (22cm), while another example inscribed with the number eight, sold at Christie's, Hong Kong, 3 December 2008, lot 2536 has a diameter of 7 3/4in (19.6cm).
The dating of this group of wares has been the subjection of discussion from the opening years of the twentieth century as their large size and complex molding technique sets the numbered Jun containers apart from the subtly formed bowls, jars and vases associated by tradition with the Song and Yuan dynasties. After years of research on the large numbered Jun collection in the Harvard Museums, Robert D. Mowry has made a convincing argument for their manufacture during the early Ming period: see his "Recent Thoughts on the Dating of Numbered Jun Ware" which appeared in the exhibition Junyao, held at Eskenazi Gallery, London, 31 October - 22 November 2013, pp. 11-15.
Examples of numbered Junyao wares in different shades of blue and purple can be seen in a number of important collections. For examples refer to A Panorama of Ceramics in the Collection of the National Palace Museum: Chun Ware, Taipei, 1999 pls.27-36; The Complete Collection of Treasure of the Palace Museum: Porcelain of the Song Dynasty(I), Hong Kong, 1996, pls. 24-28; and Rose Kerr, Song Dynasty Ceramics, Victoria and Albert Museum, 2004, p.39, pl.30.
An example with a similar glaze, inscribed with the number three, and dated to the early Ming dynasty, was sold at Sotheby's, New York, 3 April 2018, lot 3606; and another inscribed with the number two, dated Song/Yuan dynasty was sold in our London rooms, 10 July 2006, lot 82.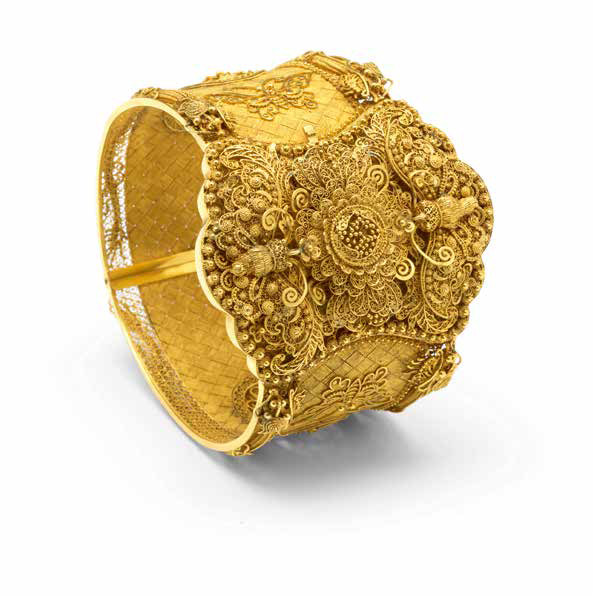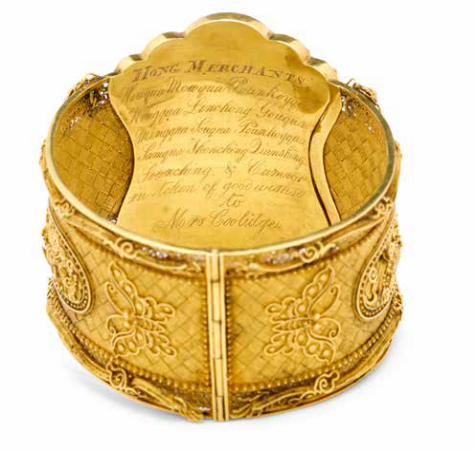 Lot 631. A very rare gold commemorative solid gold bracelet, 1839-1841, a gift to Ellen Wayles Randolph Coolidge, granddaughter of Thomas Jefferson; 18K gold, weight 52.40 grams, 2in (5.1cm) high, 2 1/2in (6.4cm) diam. Estimate US$ 20,000 - 30,000 (€ 18,000 - 27,000). Sold for US$ 187,575 (€ 165,878) inc. premium. © Bonhams 2001-2019
Made of solid gold, composed of two sections curved to fit the wrist and a slide clasp that secures into the front panel with two opposing scalloped and two concave edges, constructed as a shallow container holding an extraordinarily complex cannetille design of a central peony, with butterflies above and below in spun, twisted, flattened and looped threads of gold and beading; the side sections composed of twisted wires creating a basket weave patterned ground surrounding openwork oval reserves of squirrels and grapes, flanked by two facing butterflies of applied flattened gold wires, all set between narrow openwork borders of dragons over cloud scrolls flanking the front panel, the reverse engraved with a commemorative inscription.
Provenance: Dane and Peter Fay.
Note: The choice of designs is rife with meaning. Two facing butterflies,hudie, symbolizes a joyful encounter, xi xiangfeng, referring either to friends, or a husband and wife. Butterflies symbolize happiness and longevity, and placed among flowers symbolizes joy, love and good fortune, dielianhua. Together with a peony it implies, "May you have an accumulation of blessings, wealth and high social status." Each of the curved panels has an openwork reserve containing a tree squirrel and grapes, songshu putao, which imply a wish for ceaseless generations of sons and grandsons. [1]A very similar bracelet in the Walters Art Museum Baltimore, has no maker's mark or inscription and was until recently identified as French. The front panel is a rounded octagon, the convex sides filled with scrolling dragons chasing pearls, and the side reserves separated by flower heads rather than butterflies. There is also another unmarked related example in the K. L. Leung Collection of Export Art. [2] All three appear to be by the same goldsmith.
Although undated, it is most likely that between 1839 and 1841 Chinese merchants in charge of the hongs of Canton presented the gold bracelet to Ellen Wayles Randolph Coolidge (1796-1876) and a covered silver cup to her husband Joseph Coolidge (1798-1879), an American merchant.
Each of these dedicatory pieces was engraved with one of their names and those of fourteen Chinese merchants. The bracelet was crisply engraved: "HONG MERCHANTS / Howqua Mowqua Pounkeyqua / Kingqua Linchong Gouqua/ Mingqua Louqua Pounhoyqua /Lamqua Thonching Quinshing/ Lounching & Cumvor/ in token of good wishse [sic] / to / Mrs Coolidge." This has been described the "most impressive list of all the major hong merchants of the 1830s." [3]
Ellen Wayles Randolph was the granddaughter of Thomas Jefferson (1743-1826), principal author of the Declaration of Independence and third President of the United States (1801 to 1809). She was the favorite granddaughter of Jefferson, and with lived her mother and siblings from the ages of 13 to 28 at Monticello, Virginia, the primary plantation of Jefferson, designed and built by him beginning in 1779.
After traveling in Europe, Joseph Coolidge returned to the United States in 1824 and attended the reunion of Thomas Jefferson and the Marquis de Lafayette at Monticello. While there, he met Ellen whom he married the following year in the parlor at Monticello.
Ellen moved with him to Boston and remained there with her six children while Joseph traveled to China on business. In 1838 she went to London and during her stay kept at journal which has been published as Thomas Jefferson's Granddaughter in Queen Victoria's England: The Travel Diary of Ellen Wayles Coolidge, 1838-1839. [4] She joined her husband in China in 1839.
As a resident in Macau, Joseph Coolidge made two appearances in the diary of Harriet Low, written before Ellen arrived, and then appears frequently in the letters of Robert Bennet Forbes, who became the head of Russell & Co. [5] After Joseph left China in 1844, he and his family lived in Switzerland, spending some years in Europe before returning to Boston. Ellen died in April 1876 and was buried at Mount Auburn Cemetery in Cambridge, Massachusetts, Joseph died in 1879 and is buried next to her.
The silver covered trophy cup was made for Joseph Coolidge by the Chinese silversmith Cutshing (marked, CUT and pseudo London hallmarks). Cutshing worked at No. 8 New China Street, Canton, from about 1850 to about 1870, and possibly from as early as around 1835 when the mark "CU" conjoined was used. An original box with a silver filigree card case bears the label "CUTSHING Gold and Silversmith, New Street No. 8." [6] Although the bracelet is not marked it may have been made by Cutshing who advertized as a goldsmith. The engravings of names on the bracelet and cup are by the same hand. Gold jewelry seems generally not to have been marked, but unmarked gold jewelry by Wonshing, Haoching and Leeching are known through labeled boxes.
The silver cup, in the collection of the Peabody Essex Museum, [7] is engraved in script with the legend, "Presented to Joseph Coolidge Esqre / as a token of respect from his friends ..." and is followed by the same names as on the bracelet, ending with the term "Hong Merchants" in script rather than block letters as on the bracelet. [8] Around the upper half of the cup is depicted a rowing race, one of the few leisure activities allowed Westerners in Canton on the Pearl River. It was said that Coolidge was famous for his rowing.
Neither the bracelet nor the cup are dated. Harriet Low remarked in her journal for August 15, 1832, "Mr. [Joseph] Cooli[d]ge has come out as clerk in the house of R[ussel] & Co." [9] He became a partner in 1834 but he left Russell & Co. 1839 and became a resident partner in Heard & Co., and later an agent for Jardine, Matheson & Co. When Robert Bennett Forbes arrived at Russell & Co., he and Howqua (1769-1843), the principal Hong merchant listed in the inscriptions, leader of the Canton Cohong and for many decades an important ally to American merchants, were against Coolidge continuing in the company and Coolidge was forced out in 1839. [10] Is it possible that the extraordinary cup and bracelet were made then to save face between the Coolidge and the Chinese hong merchants?
A more likely date is 1841 when Coolidge was imprisoned (for two days) by the Chinese when the British attacked Canton during the First Opium War. Much of what he owned, including a cow and a dog, disappeared. The hong merchants were obliged by Chinese authorities to pay damages. [11] As all the hong merchants were responsible for damages, and their names are included on these pieces, it may have been an offering from them in addition to payments. These were extraordinary gifts, as both the bracelet and cup were rarely matched by other gifts of such magnitude to Westerners from the hong merchants.
1 Terese Tse Bartholomew, Hidden Meanings in Chinese Art, San Francisco, 2006, pp.33, 41, 79.
2 Libby Lai-Pik Chan and Nina Lai-Na Wan, eds., The Silver Age: Origins and Trade of Chinese Export Silver, Hong Kong, 2017, p.44. This example has the basket weave ground, a front panel with confronting butterflies, is set with pearls, and is described as gilt silver.
3 Carl L. Crossman, The Decorative Arts of the China Trade, Woodbridge, Suffolk, 1991, p.351.
4 Ellen Wayles Coolidge, edited by Ann Lucas Birle, Lisa A. Francavilla, Charlottesville, VA, 2012.
5 Nan P. Hodges and Arthur W. Hummel, eds., Lights and Shadows of a Macao Life: the Journal of Harriet Low, Travelling Spinster, Woodinville, WA, 2002, Vol. 2, pp.492, 587; Phyllis Forbes Kerr, Letters from China: The Canton-Boston Correspondence of Robert Bennet Forbes, 1838-1840 (Mystic), CT, 1996.
6 Crossman 1991, p.353, plate 222, dated ca. 1850.
7 Peabody Essex Museum, E79992. Gift of Mrs. Edward W. Moore, 1975, to the China Trade Museum. The donor was the granddaughter of Joseph Coolidge. Published while in a private collection, H. A. Crosby Forbes, Chinese Export Silver 1785 to 1885, Meriden, Connecticut, 1975, p. 104, no. 58, illustrated 194 fig. 117 (b) and 195, fig. 117 (a). It was also published in Crossman 1991, p. 364, color plate 121, and in William R. Sargent, Views of the Pearl River Delta: Macau, Canton and Hong Kong, Hong Kong, 1996, pp. 186-187, no 62, referencing its exhibition history.
8 The disparity between the spellings on the bracelet and those referenced in Forbes 1975 may be from the worn condition of the cup.
9 Hodges and Hummel 2002, p. 492.
10 Jacques Downs, Golden Ghetto: The American Commercial Community at Canton and the Shaping of American China Policy, 1784-1844, London, 1997, p. 179.
11 Downs, 1997, p. 195.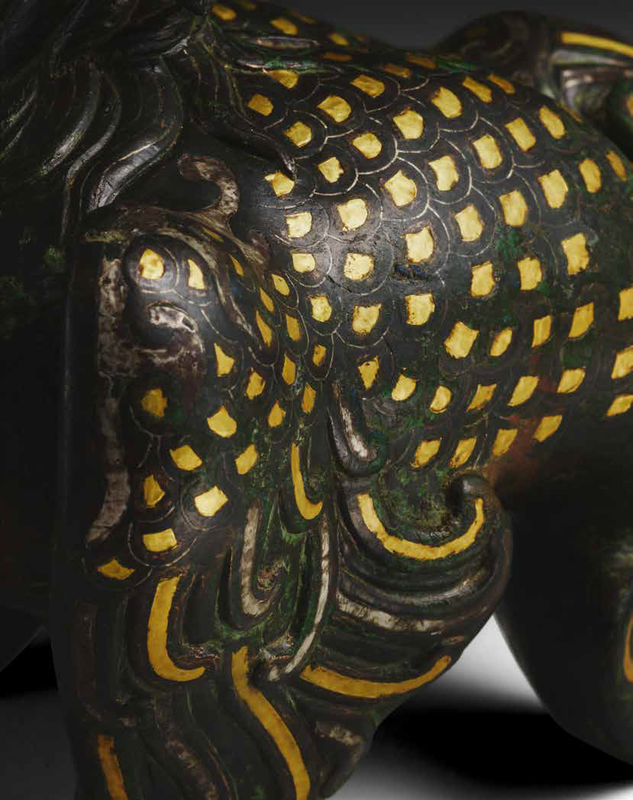 Lot 501. A rare gold and silver inlaid 'double fowl' vase, Ming dynasty (1368-1644); 6 3/4in (17.2cm) high. Estimate US$ 40,000 - 60,000 (€ 35,000 - 53,000). Sold for US$ 75,075 (€ 66,391) inc. premium. © Bonhams 2001-2019
Cast in the form of two birds, joined side-by-side, their necks twisted with the undersides touching and their open beaks forming the mouth of the vase, one wing of each bird and one tail acting as supports, the four legs of the birds neatly tucked under the body, the crests, brows, feathers and plumage all crisply articulated and inlaid with gold and silver to provide a brilliant contrast against the dark-brown bronze.
Provenance: The Gertrude Strong Achilles (1860-1955) Collection, daughter of Henry Alvah Strong of Rochester NY, President of Eastman Kodak company from 1880-1919, and thence by descent.
Note: Gertrude Strong Achilles, known as the 'Kodak heiress' to her friends, was a world traveler - she recorded her travels to Japan in 1899 with her Kodak camera, and her trip to Egypt in 1926, among many others. She was known for her energy, good taste and passion for collecting. After the death of her husband, Henry Leslie Achilles in 1920, she moved to Morgan Hill, California, buying the Fountain Oaks ranch estate, where she lived until her death.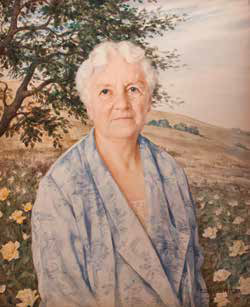 Portrait of Mrs. Achilles. Portrait painted by Elizabeth Shoumatoff, 1933; Courtesy of the owners.
Two similar examples in the collection of the Musée Cernuschi are illustrated in Michel Maucuer, Bronzes de la Chine impériale des Song aux Qing, Paris, 2013, nos. 46 and 47. The style of the inlay on the first example, dated 16th/17th century, is very similar to the inlay on the present lot.

Birds such as these, called tianji, in Chinese, literally meaning heavenly fowl, but often translated as phoenix, have a long history of being cast in bronze. During the Zhou dynasty they took the form of vessels, see for example one illustrated in John Alexander Pope, et. al., The Freer Chinese Bronzes, Vol. I, Washington, 1967, pl. 106; and in the Han dynasty, examples were often made supporting vases on their back or with wheels. A Ming dynasty example of this sort of vessel was sold at Christie's, London, 15 May 2018, lot 77. The tianji continued to be a popular bronze motif in the Song dynasty and continued through to the Ming and Qing dynasties. Two Ming dynasty examples are in the National Palace Museum, Taipei, and illustrated in Through the Prism of the Past, Taipei, 2003, cat. nos III-42 and III-43. Double tianji of the form found in the present lot are relatively rare.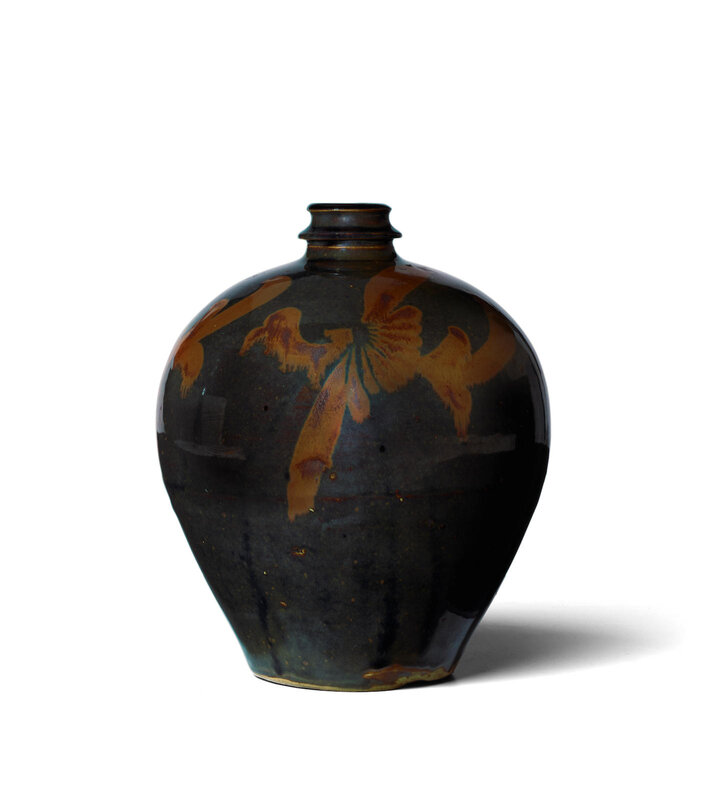 Lot 603. A 'Henan' black glazed russet-painted jar, Northern Song-Jin dynasty; 8 1/4in (21cm) high. Estimate US$ 8,000 - 12,000 (€ 7,100 - 11,000). Unsold. © Bonhams 2001-2019
Of stout meiping-form, the short neck encircled by a flange below the lipped rim, covered overall with a rich lustrous brown-black glaze with a silvery sheen, freely painted around the shoulder in russet slip with three stylized birds in flight, the recessed foot with a spiral pattern, the foot pad unglazed.
Provenance: Ruth and Richard Dickes
Acquired in New York City, 14 November 2000
Indian, Himalayan & Southeast Asian Art
March 19 at 5pm
Bonhams sale of Indian, Himalayan & Southeast Asian Art focuses on private collections from Europe and the USA comprised of approximately 175 lots charting an impressively diverse array Himalayan sculpture and painting, Indian sculpture and painting, Southeast Asian sculpture, and a section devoted to the Art of Sri Lanka. The sale's highlights include a spectacular 17th-century Tibetan gilt bronze sculpture of Mahakala Panjaranata (estimate: $800,000-1,200,000) – an important protector deity in Tibetan Buddhist statecraft. The sale also includes a 15th-century Tibetan gilt bronze sculpture of Bhurkumkuta – an exceptionally rare Buddhist deity worshipped to cure illness – from the prestigious Nyingjei Lam Collection (estimate: $200,000-300,000). Among the sale's Sri Lankan section is a rare and early bronze figure Buddha seated in meditation from the 8th-century (estimate: $40,000-60,000) evoking the great sage's stillness of mind.
Lot 928. A Gilt Copper Alloy Figure of Panjarnata Mahakala, "Lord of The Pavilion", Tibet, circa 17th century. Himalayan Art Resources item no.61915. Estimate US$ 800,000 - 1,200,000 (€ 710,000 - 1,100,000). © Bonhams 2001-2019
Provenance: Sotheby's, New York, 17 June 1993, lot 24
Finely cast and remaining in near-immaculate condition, this ferocious gilded sculpture of Panjaranata Mahakala aptly imparts this protector of Buddhist wisdom's power. Known as "Lord of the Pavilion", this two-armed form of Mahakala is the guardian of the Hevajra Tantra. The Hevajra Tantra is mainly practiced by the Sakya order of Tibetan Buddhism, and thus Panjaranata is considered the Sakya's principal protector deity as well. Although Panjaranata is a rare subject found in bronze sculptures, a few of examples from the Yongle (1402-24) and Xuande (1425-35) periods have survived. The present work, created in or around the 17th century, is an ambitious reinvigoration of the famed Yongle style.
Immediate parallels in style and composition can be drawn between the current lot and Yongle-Xuande examples, such as a Yongle gilt bronze Panjaranata of similar size, preserved in the Potala Palace, published in von Schroeder, Buddhist Sculptures in Tibet, vol. II, Hong Kong, 2001, p.1260, nos.348A&B. Both sculptures depict the deity with his legs bent and turned outward standing on a stiff prostrate corpse while holding a chopper and skull cup in front of his chest. Both sculptures have bases consisting of a single row of long lotus petals with trifurcating tips neatly arranged between thickly beaded rims. Both sculptures have similar superbly gilded surfaces, and share some jewelry elements, such as the five-skull crown with chakra finials and the skull necklace with beaded loops.
This 17th-homage, however, surpasses Yongle-Xuande prototypes in emphasizing the protector-deity's fierceness and immensity. Here, Panjaranata sticks out his tongue from a wide-open mouth, baring his fangs for all to see. The high cheekbones and wrinkled nose further accentuate his ferocity, tantamount to Panjaranata's role as an unrelenting guardian of Buddhism. By comparison, Yongle-Xuande bronzes present the deity more subdued; Panjaranata's mouth is slightly open and his facial muscles are not as tense. For example, see a smaller Yongle mark and period sculpture of Panjaranata Mahakala published in von Schroeder, Indo-Tibetan Bronzes, Hong Kong, 1981, no.145D. The present 17th-century revitalization also adds vigor to Panjanarta's hair. Rather than being pulled into a chignon and secured with a tiara, as with the Yongle-Xuande models, the deity's hair now stands on end, wavy as if bursting into flames. Finally, the prostrate corpse is now striped of any clothing or ornamentation, and rendered with decrepit muscles and emaciated ribs, creating a more forthright depiction of Panjaranata's power.
Another clear and closely related example of this revival of the Yongle-Xuande style is a gilt bronze Panjaranata Mahakala in the collection of the Capital Museum, Beijing (Capital Museum, The Goddess of Mercy in Buddhism , Beijing, 2008, pp.266-7, no.40). Two further closely related gilt bronze examples include a Hevajra in the JPHY Collection and a dancing emanation of Padmasambhava (von Schroeder, op. cit., p.455, no.125D-E, and Neven, Art Lamaique, Brussels, 1975, no.30, respectively). All three figures share near-identical bases, and similar treatments of the prostrate figures, jewelry, and severed heads, as with the present enthralling sculpture.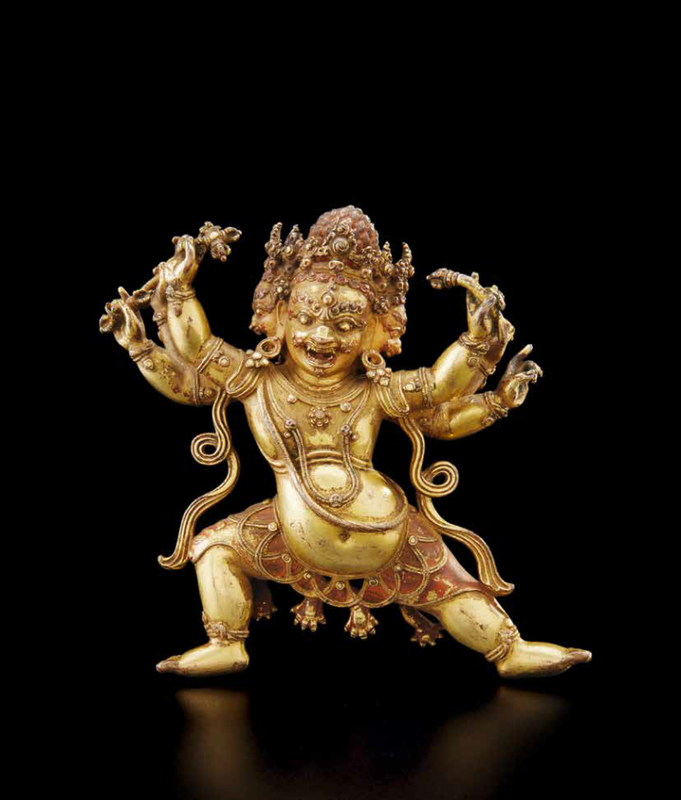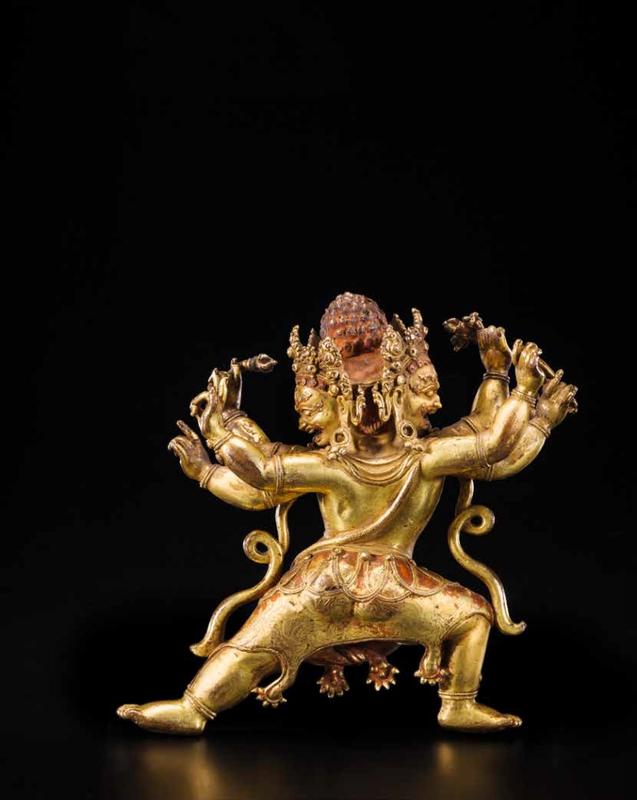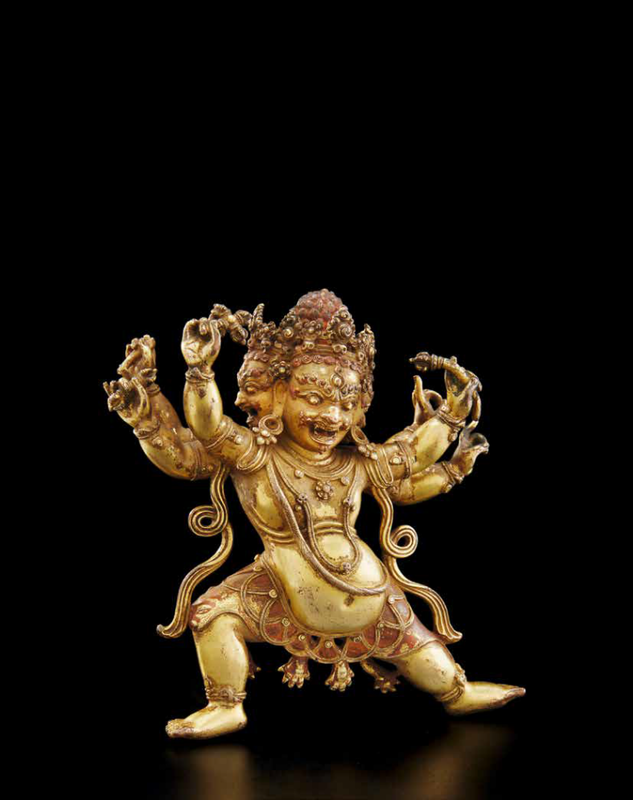 Lot 947. A gilt copper alloy figure of Bhurkumkuta, Central Tibet, 15th century; 5 1/2 in. (13.9 cm) high. Himalayan Art Resources item no.68460. Estimate US$ 200,000 - 300,000 (€ 180,000 - 270,000). © Bonhams 2001-2019
Provenance: The Nyingjei Lam Collection, Hong Kong
On loan to the Ashmolean Museum, Oxford, 1996–2005
On loan to the Rubin Museum of Art, New York 2005-2018.
Published: David Weldon and Jane Casey Singer, The Sculptural Heritage of Tibet: Buddhist Art in the Nyingjei Lam Collection, London, 1999, pp.116, pl.25.
Franco Ricca, Arte Buddhista Tibetana: Dei e Demoni dell' Himalaya, Palazzo Bricherasio, Turin, 2004, fig.IV.55.
Exhibited:The Sculptural Heritage of Tibet: Buddhist Art in the Nyingjei Lam Collection, Ashmolean Museum, Oxford, 6 October - 30 December 1999.
Arte Buddhista Tibetana: Dei e Demoni dell' Himalaya, Palazzo Bricherasio, Turin, June - September 2004 .
Casting the Divine: Sculptures of the Nyingjei Lam Collection, Rubin Museum of Art, New York, 2 March 2012 - 11 February 2013.
This gilt bronze depicts Bhurkumkuta, one of the rarest subjects in Tibetan sculpture. Bhurkumkuta is a healing deity worshipped for eradicating a practitioner's disease. Executed with "supreme mastery", this sculpture is identified by Weldon as perhaps the most accomplished work of Tibetan art in the Nyingjei Lam Collection (Weldon & Singer, The Sculptural Heritage of Tibet, London, 1999, p.116). This gilt bronze is also the finest known sculptural example of Bhurkumkuta.
Bhurkumkuta's fierce imagery serves to convey his assured capacity to eviscerate personal afflictions. Standing firmly in a pratyalidha pose with hands aloft menacingly, his ferocity is vividly captured with a roaring mouth, flamelike eyebrows, moustache and blazing red hair. He holds a visvajra (a double thunderbolt scepter) and vajra, which is symbolic of the immutable quality of the spiritual truth revealed by Shakyamuni. In his presence, there can be no doubt of Bhurkumkuta's capacity to eradicate sickness and disease.
Only two other bronze sculptures of Bhurkumkuta are broadly known: another 15th-century example formerly in the Goldman Collection, (see von Schroeder, Indo-Tibetan Bronzes, Hong Kong, 1981, p.441, no.118E) and a Qing period example in the Katimari Collection (HAR 59542).
Discussing the present bronze's quality and 15th-century dating, Weldon draws attention to close stylistic parallels in painted murals of Gyantse Kumbum in Shigatse, Central Tibet. With its initial structures completed in the first half of the 15th century, the Gyantse Kumbum is one of the grandest monuments of Tibet. Its seventy-five chapels are filled with painted depictions of wrathful deities pertaining to tantric practice. The treatment of the present sculpture's corpulent abdomen closely resembles that painted for one of Gyantse Kumbum's murals of Krodha Trailokyadharsana (Ricca & Lo Bue, The Great Stupa of Gyantse, London, 1993, p.170, no.55). Similarly, the bronze's looping scarves and mesmerizing tiger skin lower garment match those in a mural of Vajrapani (ibid., p.153, no.38).
Also, informing this masterpiece's 15th-century attribution is its incorporation of key elements of early Ming imperial style. The high technical mastery exhibited in bronzes of the Yongle and Xuande imperial workshops are known to have been received with great enthusiasm in Tibet (cf. Weldon, 'The Perfect Image: The Speelman Collection of Yongle and Xuande Buddhist Icons', in Arts of Asia, May-June 1996, pp.64-73). The sculptor's choice of representing this Bhurkumkuta's fine jewelry without inlaid semiprecious stones follows a convention set by the Yongle imperial style. Additionally, the depiction of Bhurkumkuta's scarf swirling in small loops between his torso and arms perfectly balances the sculptural composition, as with a Yongle Mahakala published in von Schroeder, Indo-Tibetan Bronzes, Hong Kong, 1981, p.519, no.145E). Two 15th-century thangkas of Raktayamari and Vajrasattva demonstrate other instances in which the convention of these small loops set by Ming imperial workshops were adopted into fine Tibetan artworks of the 15th century (see Rhie & Thurman, Wisdom and Compassion, New York, 2000, pp.234 & 332, nos.77 & 132, respectively).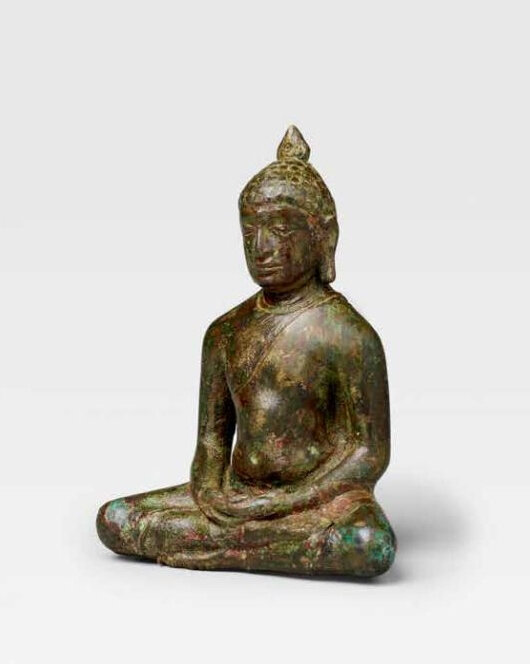 Lot 866. A copper alloy figure of Buddha, Sri Lanka, Late Anuradhapura period, 8th century; 4 in. (10.1 cm) high. Estimate US$ 40,000 - 60,000 (€ 36,000 - 53,000). © Bonhams 2001-2019
Provenance: Private Collection, US, by 1957
Thence by descent.
Published: Phoenix Art Museum, Guardian of the Flame: Art of Sri Lanka, Phoenix, 2003, pp.73 & 82.
Exhibited: Guardian of the Flame: Art of Sri Lanka, Phoenix Art Museum, 8 February - 11 May 2003; The Cantor Art Center, Stanford University, 2 March - 12 June 2005; University of Virginia Art Museum, 21 January - 19 March 2006.
This still Sri Lankan bronze from the Late Anuradhapura period (432-1017 CE) depicts Buddha seated in meditation with an inner quality of transcendent assuredness. Lerner wrote of such bronzes, "The finest Sinhalese art dates to the Anuradhapura period. Unfortunately, relatively few bronze sculptures from this period have survived, and those extant must be considered precious evidence of a once glorious past." (Lerner, The Flame and the Lotus, New York, 1984, pp.46-7, no.13). Because of a number of details incorporating the Gupta aesthetic of Northeastern India, including the sensuous treatment of Buddha's shoulders and waist, this Anuradhapura bronze is an especially rare and early example, demonstrating changes in Buddha's depiction, descending from the lands of his birth, through the art of the Deccan and South India to Sri Lankan shores.

The extraordinary art of the Gupta Empire, spreading across North India and as far as Andhra Pradesh in South India between the 4th and 6th centuries, had a tremendous and lasting impact on Buddhist sculpture throughout Asia, Sri Lanka being no exception. Compare, for instance, a 6th-7th century Northern Indian bronze in the Metropolitan Museum of Art (1987.218.2). Like this Northern Indian example, the present bronze demonstrates key features of the Gupta aesthetic including the figure's beautiful proportions, sloped shoulders, supple waist, bare right shoulder, sheer unpleated robe, interior quietude with downcast eyes. Rather than directly impacting the art of Sri Lanka, the Gupta aesthetic transitioned through the art of Andhra Pradesh, a region with close cultural and religious ties with Sri Lanka from the time of Amaravati (2nd century BCE – 3rd century CE). Such a connection can be observed from the Gupta characteristics displayed on a 7th-8th-century standing Buddha bronze from Andhra Pradesh in the British Museum (1905,1218.1).

This Sri Lankan bronze's sensuous waist and interior stillness capture the Gupta aesthetic so successfully that it certainly dates to before the 9th and 10th centuries and is therefore likely to be among the earliest Late Anuradhapuran bronzes surviving in private hands. Whereas the majority of post-8th-century Sri Lankan bronze sculptures are solid cast, this sculpture is hollow cast, indicating an earlier date. Meanwhile, Listopad asserts that Sri Lanka's delightful flame crowning the ushnisha appears by the 8th century, at first in a diminutive scale like the present example. This informs the bronze's dating to the 8th century, but its close adherence to the Gupta style might make a dating of c.700 more appropriate.
Fine Japanese Prints including Property from the Collection of the late Bertram and Ruth Malenka
March 20 at 10am
Fine Japanese Prints including Property from the Collection of the late Bertram and Ruth Malenka brings together a carefully selected group prints in 184 lots, spanning from the 18th century through 20th century. Leading the sale is an early impression of the iconic Kanagawa oki nami ura (Under the Well of Great Wave Off Kanagawa, known simply as "The Great Wave" (estimate: $250,000-350,000). The Malenka collection also features shin hanga works by notable masters such as, Ito Shinsui, Kawase Hasui, Hashiguchi Goyo and Torii Kotondo. From other sources comes a rare alternate version of Hokusai's Sanka haku-u (Rainstorm beneath the Summit) from the series 36 Views of Mt. Fuji (Estimate: $20,000-30,000). It has rarely appeared at auction and only a few examples exist in museums, including one in the Bibliothèque nationale de France.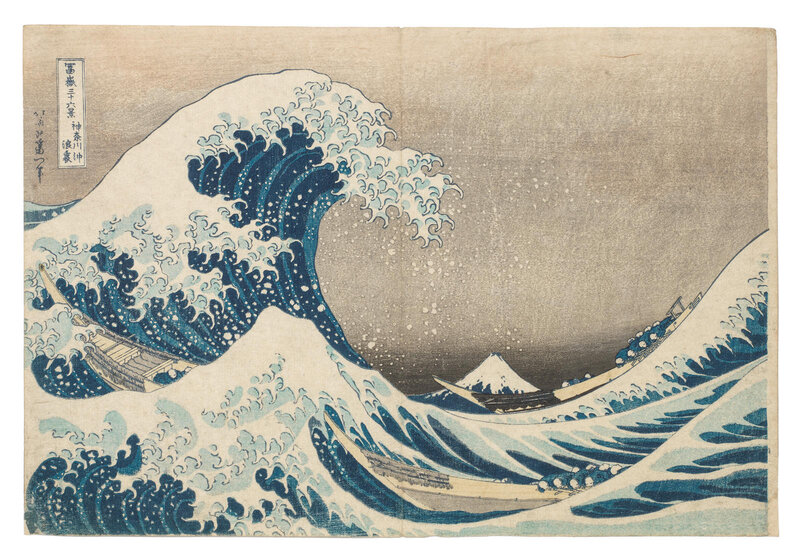 Lot 20. Katsushika Hokusai (1760-1849), Edo period (1615-1868), circa 1830, An oban yoko-e print entitled Kanagawa-oki nami-ura (Under the Wave off Kanagawa), from the series Fugaku sanjurokkei (36 Views of Mount Fuji), signed Hokusai aratame Iitsu hitsu, 10 1/16 x 14 13/16in (25.5 x 37.6cm). Estimate: $250,000-350,000 (€ 220,000 - 310,000). © Bonhams 2001-2019
Lot 168. Katsushika Hokusai (1760-1849), Edo period (1615-1868), 1830-1831 An oban yoko-e print entitled Sanka haku-u (Rainstorm beneath the Summit), from the series Fugaku sanjurokkei (36 Views of Mount Fuji), circa 1830-1831, signed Hokusai aratame Iitsu hitsu, 9 7/8 x 14 7/16in (25 x 37cm). Estimate: US$ 20,000 - 30,000 (€ 18,000 - 27,000). © Bonhams 2001-2019
Fine Japanese and Korean Art
March 20 at 1pm
The sale of Fine Japanese and Korean Art comprises 197 lots, representing works from a variety of collecting categories including ceramics, lacquer, cloisonné, screens, paintings, and arts of the samurai. Featured in the Japanese section are a rare pair of Hampton Court vases, named after a similar pair in Mary's collection at Hampton Court Palace, (estimate: $100,000-150,000); an exceptional tall and fine hexagonal cloisonné-enamel vase decorated with wisteria and butterflies by Yasuyuki Namikawa (estimate: $150,000-200,000); a fully articulated and lifelike silver model of a carp by Takase Kozan (estimate: $80,000-120,000); and a pair of six-panel screens of depicting the flowers of the four seasons from the studio of Tawaraya Sotatsu from a private New York collection (estimate: $40,000-60,000). Highlights from the Korean art section includes a rare white porcelain reticulated flowerpot stand from the 19th century (estimate: $15,000-25,000), and an underglaze copper-red decorated porcelain jar painted with stands of bamboo (estimate: $40,000-60,000), formerly in the collection of Mr. and Mrs. Robert Dickes, included in the groundbreaking exhibition The Art of the Korean Potter held at the Asia House gallery in 1968.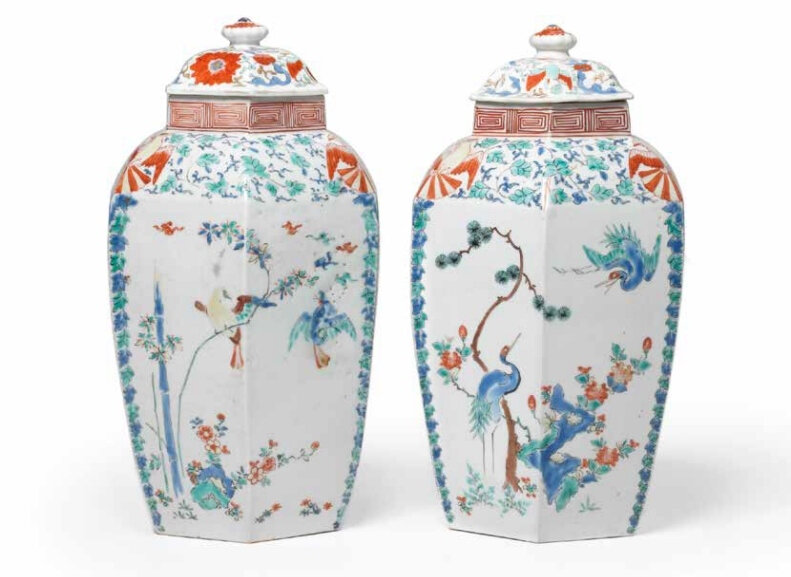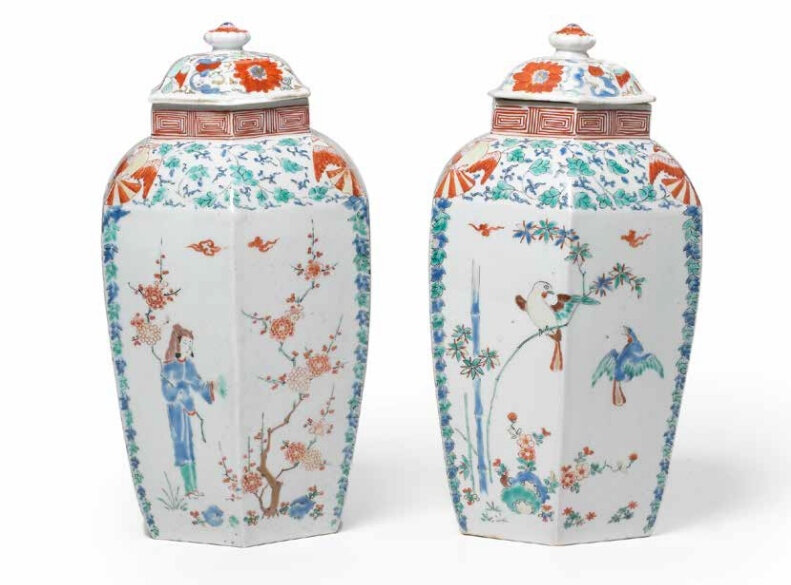 Lot 314. An important pair of porcelain "Hampton Court" jars and covers, Arita ware, Kakiemon type, Edo period (1615-1868), 1670-1690; 12 3/4in (32.3cm) high, including covers. Estimate US$ 100,000 - 150,000 (€ 89,000 - 130,000). © Bonhams 2001-2019
The hexagonal jars each decorated in underglaze cobalt, and blue, green, yellow, red and black enamels over a transparent glaze with figures, birds and flowers arranged as double-panel friezes: one with a hooded figure holding a fan and a branch of prunus, next to a flowering prunus and stylized clouds; one frieze with a standing crane, pine, a camellia, and a flying crane and blossoming camellia bush; and one frieze with a bird and bamboo, and a flying bird above flowers and rocks, each design separated by borders of wisteria, the shoulders painted with three large phoenixes at the corners against a ground of leafy scrolling vines, the neck decorated with fretwork, the covers European decorated in Kakiemon style.
Note: The passion for Japanese porcelain in Europe was at its height at the end of the 17th century when William III and Mary acceded to the English throne in 1689. Mary's mania for Kakiemon porcelain soon set off a craze among European nobility, and "porcelain rooms" became the central gathering place of well-to-do ladies. These six-sided vases, known as Hampton Court Vases, named after a surviving pair in Mary's collection in Hampton Court Palace, became so popular that by the 18th century, copies were being produced in European porcelain factories. Mary assembled an impressive collection of porcelain between 1689 and her death in 1694. It is unclear from inventory records made at that time and after the dispersal of her collection which "six-sided coloured jarr" is which and precisely when the jars entered the Royal Collections. However, inventories of William and Mary's holdings made in 1697 and 1699 list approxiately 1000 porcelains and delftware. It may be that the Chinese and Japanese porcelains still at Hampton Court, which include hexagonal covered jars, are part of the 1694 legacy to Arnold Joost van Keppel, 1st Earl Albemarle. For other Hampton Court jars see John Ayers, et al., Porcelain for Palaces: The Fashion for Japan in Europe 1650-1750, exh. cat., London, Oriental Ceramic Society and British Museum, 1990, no. 151; Nishida Hiroko and Ohashi Koji (eds.), Kakiemon ten: Yoroppa ni kaikashita iro-e jiki (Kakiemon Exhibition: Polychrome Overglaze Enamel Decorated Ware That Flourished in Europe), Fukuoka, Asahi Shinbunsha, 1993, no. 36; and Yabe Yoshiaki, Kakiemon, vol. 20 of Nihon toji taikei, Tokyo, Heibonsha, 1989, no. 37.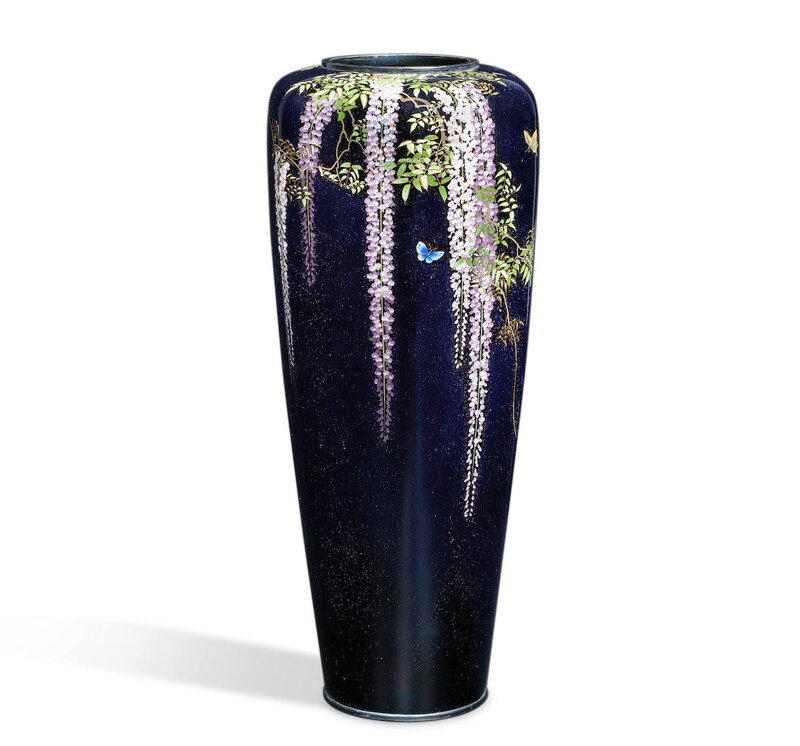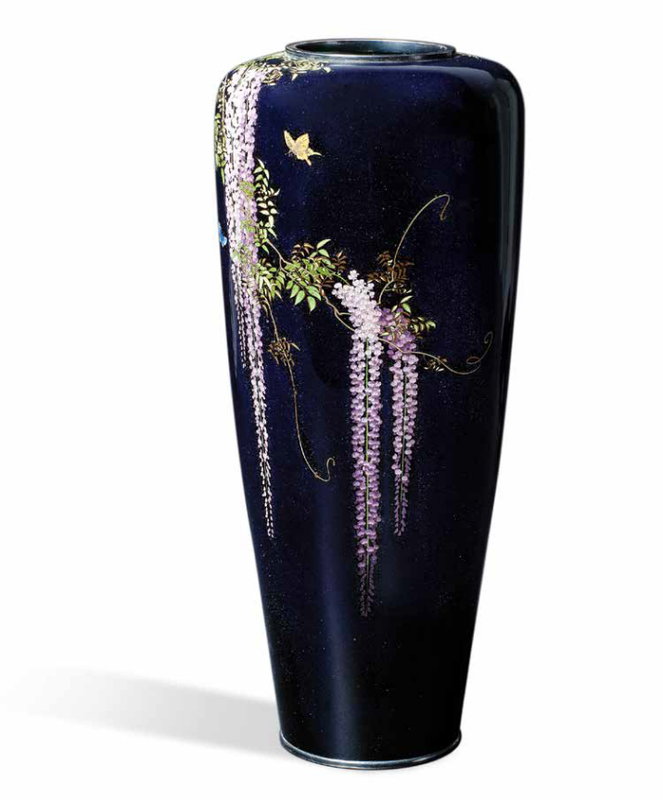 Lot 248. Namikawa Yasuyuki (1845-1927), A large and important hexagonal cloisonné-enamel vase, Meiji era (1868-1912), circa 1900; 12 1/4in (31.1cm) high. Estimate US$ 150,000 - 200,000(€ 130,000 - 180,000). © Bonhams 2001-2019
The tall vase with high shoulders tapering to the foot and worked in colored enamels and varying thicknesses of gold wire with butterflies in long trailing branches of wisteria against a midnight-blue ground, the mounts silver, signed on the underside Kyoto Namikawa

Note: These three ornamental shippo (cloisonné-enamel) vases are outstanding products from the workshop of Namikawa Yasuyuki, one of the very greatest exponents of cloisonné enameling during the Meiji era (1868–1912). Modest and reserved, yet single-minded, Yasuyuki overcame early financial and technical failures to build a cloisonné business that, by the 1890s, employed 20 or more highly skilled specialist craftsmen in a large complex in Kyoto that included workshops, a showroom, a family residence, and a garden with a fishpond. He used these facilities to create a carefully contrived "authentic" private retail experience that was described in admiring detail by American and European travel writers, selling his choicest wares directly to private clients, as well as carrying out imperial commissions and participating in international expositions. Between 1876 and 1904 Namikawa Yasuyuki won 11 overseas awards and in 1896 was among the first artist-entrepreneurs appointed to the order of Teishitsu Gigeiin (Artist-Craftsman to the Imperial Household).
The small jar (lot 247) is a fine example of Namikawa Yasuyuki's mature early production, with detailed wirework covering most of the surface; By the early years of the twentieth century he had perfected his techniques to the point where the melted glass pastes (enamels), when they cooled, adhered so securely to the copper base that he could indulge in broad areas of highly polished uninterrupted color, limiting his use of the thin metal ribbons called cloisons to passages of intricate polychrome decoration. As the British traveler Herbert Ponting observed, "Namikawa's fame rests as much on the lustre and purity of his monochrome backgrounds as on the decoration of his ware" (Herbert Ponting, In Lotus-Land Japan, London, Macmillan, 1910, p. 62). The mature Namikawa Yasuyuki style is seen to magnificent effect in the unusually tall hexagonal vase (lot 248) featuring his favorite wisteria motif.

Along with his great contemporaries Namikawa Sosuke of Tokyo (no relation) and Ando Jubei of Nagoya (lot 252), Namikawa Yasuyuki created a craze for shippo, in the space of three decades taking the medium from clumsy imitation of Chinese wares to sophisticated and delicate eclectic visual fantasies that helped define Japanese art for worldwide collectors of the Edwardian generation. After more than fifty years of neglect, shippo re-emerged onto the market toward the end of the twentieth century, attracting a new and enthusiastic wave of connoisseurs and even prompting a re-evaluation of this export-oriented art form in Japan, where a comprehensive exhibition held in 2017 confidently presented Namikawa Yasuyuki as a design revolutionary who reinterpreted and packaged Japanese visual culture for a global audience (see Hida Toyoro and others, Namikawa Yasuyuki shippo, Meiji shippo no yuwaku: Tomei na kuro no kansei[Namikawa Yasuyuki and Japanese Cloisonné, The Allure of Meiji Cloisonné: The Aesthetic of Translucent Black], Tokyo, Mainichi Shinbunsha, 2017).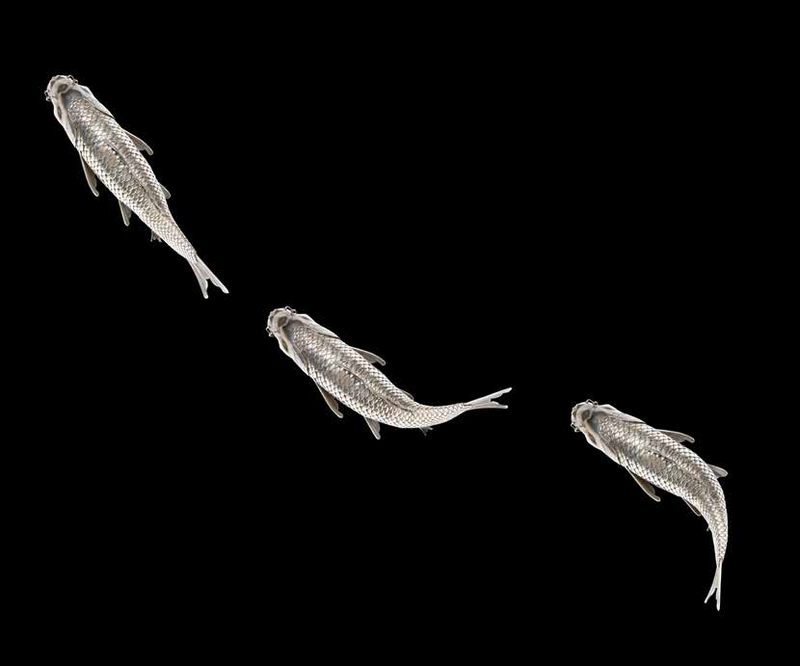 Lot 243. Takase Kozan (1869-1934), A fine silver articulated model of a carp, Meiji (1868-1912) or Taisho (1912-1926) era, late 19th-early 20th century; 12 3/4in (32.3cm) long. Estimate US$ 80,000 - 120,000(€ 71,000 - 110,000). © Bonhams 2001-2019
Realistically rendered, the fins, mouth, eyes and tail intricately detailed and constructed of smoothly moving parts, signed on the underside with chiseled signature Kozan and with a kao.
Note: Born in Kanazawa the eldest son of Takase Kanatake, Kozan started working in the export department of Ikeda Seisuke's export company in Kobe, in 1883 and transferred in 1887 to the metalworking division of the factory's Kyoto branch, where he learned metalworking techniques from Tomiki Isuke. In 1893, he became independent and started a business selling metalwork both domestically and abroad, soon becoming famous for his articulated studies of sea life and insects. In 1910, the artist was honored when the Crown Prince (later the Taisho Emperor) purchased several of his astonishingly realistic articulated insects during a visit to Kyoto. A nearly identical, but slightly smaller silver model of a carp by Kozan was sold in Bonhams, London November 6, 2014, lot 382.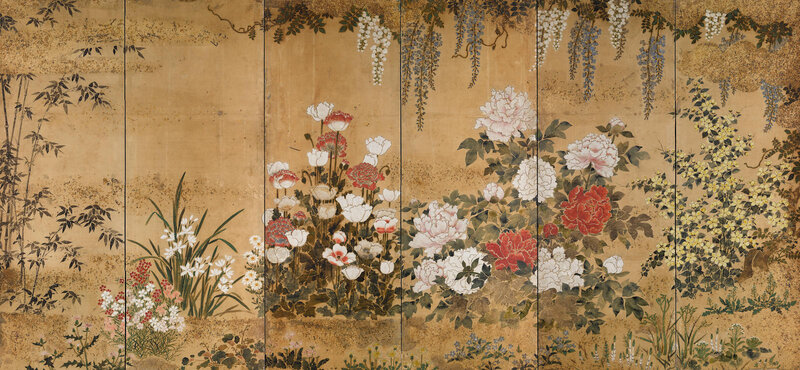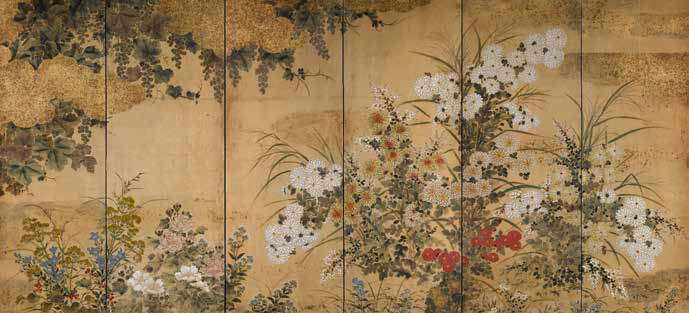 Lot 355. School of Sotatsu, Flowers of the Four Seasons, Edo period (1615-1868), 17th century. A pair of six-panel screens; 60 x 128in (152 x 325.1cm). Estimate . © Bonhams 2001-2019
ink, color and gold fleck on paper with chrysanthemums, poppies, bellflowers, lilies, narcissus, patrinia, wisteria, bamboo, nandina, and fruiting grape vines, sealed Inen
Provenance: Previously sold Sotheby's, New York, December 19, 1980, lot 91
Note: This pair of screens is part of a genre of flower painting associated with Tawaraya Sotatsu (active 1600-1640) and his followers. The dense clusters of seasonal flowers and grasses (including here fruiting grape vines) arranged in decorative compositions separated by gold clouds, and the use of
tarashikomi
(puddled ink) in the leaves were elements first introduced by Sotatsu but became mainstays of generations of followers. Most works following the Sotatsu tradition are anoymous, bearing only the round
Inen
studio seal seen on these screens.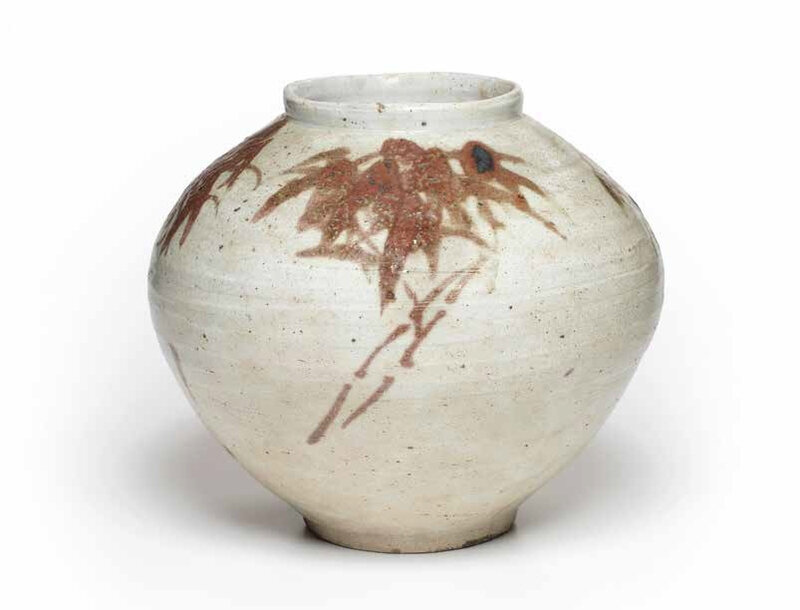 Lot 387. A copper-decorated porcelain jar, Joseon dynasty (1392-1897), 18th century; 9in (23cm) high. Estimate US$ 40,000 - 60,000 (€ 36,000 - 53,000). © Bonhams 2001-2019
The compressed ovoid jar set on a high ring foot and finished with an upright neck, the body freely painted with leafy plants in underglaze copper red with tinges of green where the glaze has oxidized. With a wooden storage box with a label inscribed in Japanese Richo shinsha momiji moyo tsubo (Korean jar with maple design in copper red).
Provenance: Purchased from N.V. Hammer
Dr. and Mrs. Robert Dickes, and thence by descent.
Exhibited: "The Art of the Korean Potter, Silla, Koryo, Yi," shown at the following venues:
Asia House Gallery, New York: April 18-June 2, 1968
Royal Ontario Museum, Toronto: July 16-August 30, 1968
The Art Institute of Chicago: October 5-November 17, 1968.
Published: The Art of the Korean Potter, Silla, Koryo, Yi, Asia Society, Asia House Galleries, 1968, no. 97.
Note: When first exhibited in 1968, this jar was thought to date from the seventeenth century on account of its compressed globular form and motif of wind-blown bamboo branches, but later research places the development of copper-red decoration in the eighteenth century, at kilns that have yet to be identified. The present subtly formed jar seems to be unique among surviving examples so far published. Other jars with copper-red bamboo are in the National Museum of Korea, dated to the late eighteenth century (see Hongnam Kim ed., Korean Arts of the Eighteenth Century: Splendor and Simplicity, New York, Asia Society, 1993, cat. no. 75, pp.160 and 222), the Museum of Fine Arts, Boston (acc. no.50.1113) and the Metropolitan Museum of Art (acc. no.1979.413.2), but their complex silhouettes and whimsical painted decoration set them apart from the sober simplicity of the present lot. Its upright neck and full, balanced body recall instead whiteware moon jars produced at government kilns in the early eighteenth century; see Carolyn Kyongshin Koh Choo, Traditional Korean Ceramics: A Look by a Scientist, Seoul, Designnanoom, 2016, p.117, fig. 5-16a-c for examples from the National Museum of Korea, the Museum of Fine Arts, Boston (acc. no.50.1040), and the Metropolitan Museum of Art (acc. no.1979.413.1). It may only be a coincidence, but the faint pinkish burn in the creamy white glaze of this jar also appears in the glazes of the above-cited moon jars.
Non-Selling Exhibition
Bonhams will also present a special non-selling exhibition Glass Mountains, Silver Moon, A Special Exhibition of Masterpieces of Japanese Art from a Private Collection. The group of 6 outstanding works, which includes a set of 12 mixed-metal plaques, demonstrates just how brilliantly the artist-entrepreneurs of late nineteenth- and early twentieth-century Japan adapted old techniques and created new ones in a bid to revive failing craft industries and make their products appeal to new audiences both at home and abroad.