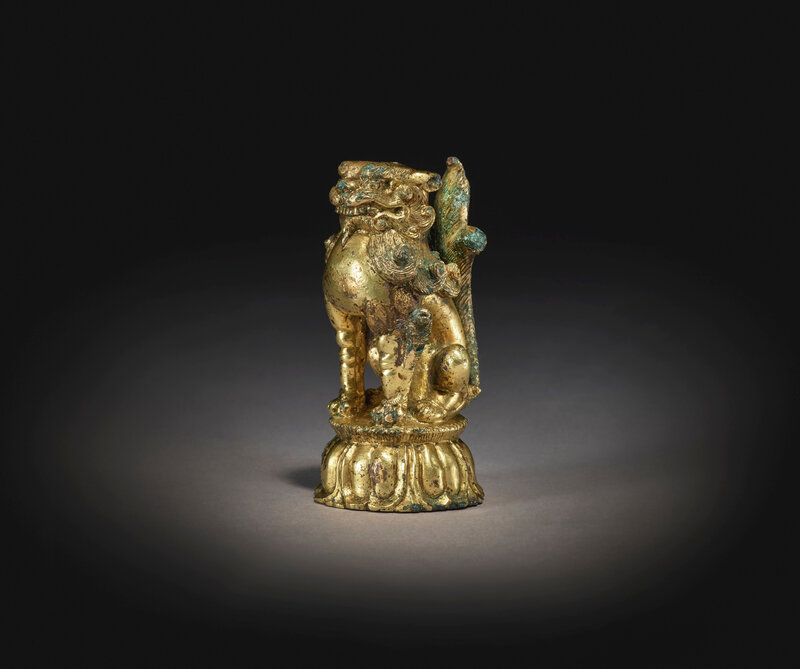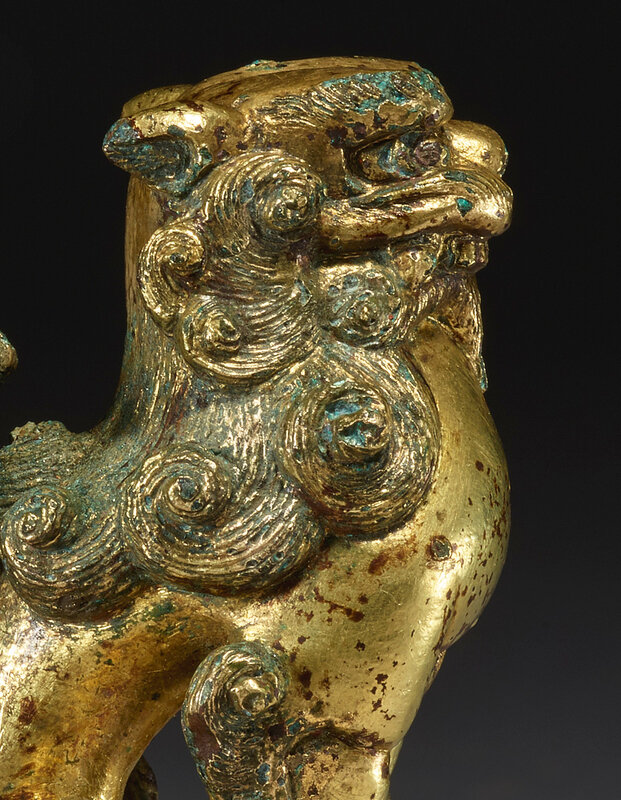 Lot 119. A rare gilt-bronze figure of a lion, Tang dynasty (618-906). Height 3 1/8 in., 8 cm. Estimate 40,000 — 60,000 USD. Lot Sold 68,750 USD. Courtesy Sotheby's.
stately modeled seated on its haunches, the powerful forelegs firmly planted, the head detailed with fierce protruding rounded eyes, thick brows, agape mouth revealing teeth and sharp fangs, and leaf-shaped ears swept to the back, long mane falling into luxurious spiraling curls, the long bushy tail turned upward against its back, all raised on a circular pedestal base of pendent lotus petals.
Provenance: Moy Fook Wah Family Collection.
Collection of Stephen Junkunc III (d. 1978).
Note: One of the most admired and respected of animals at the Tang court, the lion was revered for its strength, spiritual essence and religious symbolism. Representative of the exoticism of the western regions of India and Central Asia, from where they originated, lions were among the most prized tributary items presented at the Tang capital of Chang'an.
The lion also evoked images of India and of Buddhism; its roar a metaphor for the Buddha propagating the Dharma. The image of Manjuhri is frequently presented in Tang art as mounted on a lion. Fundamentally, however, the lion was revered at the Tang court for the powerful protective force it commanded, its role as a guardian figure and emblem of power.
Lion figures of this type were likely part of an elaborate altar group, where they would have appeared together with other guardian figures and attendants in front of the Buddha or a bodhisattva. Compare such a group with two lion figures, in the Avery Brundage Collection, published in René-Yvon Lefebvre d'Argencé and Diana Turner, ed., Chinese, Korean and Japanese Sculpture, Tokyo, 1974, pl. 92.
Compare a related gilt-bronze lion of a smaller size, cast with a very similar furcated upright tail, in the National Palace Museum, Taipei, acc. no. 000360-N000000000. For auction examples, see a lion cast seated on a rockwork base, sold in our London rooms, 27th November 1973, lot 27; one on a circular ring base, sold in our London rooms, 26th March 1963, lot 5; a third sold in these rooms, 6th November 1981, lot 42; one without a base, but with a similarly modeled head, sold in these rooms, 23rd October 1976, lot 107; and another sold at Christie's New York, 30th November 1983, lot 320.