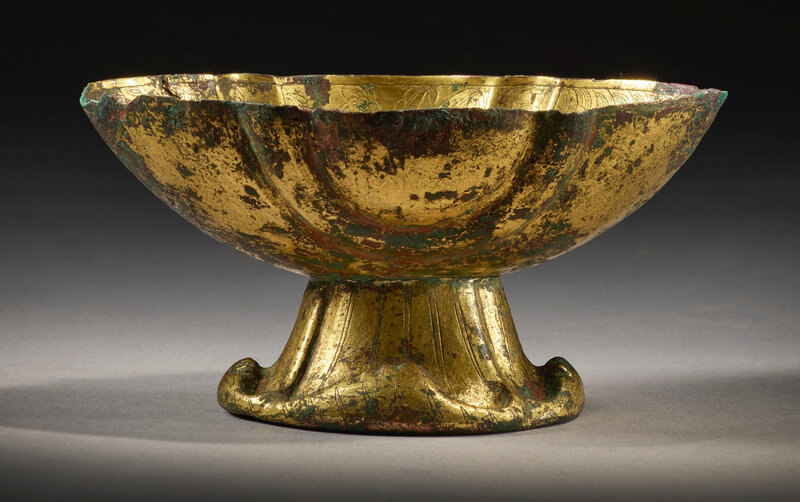 Lot 133. A rare engraved gilt-bronze stem cup, Late Tang dynasty (618-906). Width 4 3/4 in., 12 cm. Estimate 50,000 — 70,000 USD. Courtesy Sotheby's.
the cup of elliptical octafoil form, embossed on either side with semicircles and raised on a splayed quatrefoil base formed by four lotus petals with extravagantly everted edges forming the foot, the interior centered with a single lappet in relief and engraved with fish and mythical beasts amidst dense over lapping waves, with floral sprays and scrolling leaves to the sides, the exterior of the cup plain, applied overall with a rich gilding, the surface flaked in parts revealing the bronze body.
Provenance: Frank Caro, successor to C.T. Loo, New York, 11th October 1954.
Collection of Stephen Junkunc III (d. 1978).
Note: Elegant lobed drinking cups such as this example are shaped after Sassanian gold, silver and glass prototypes, and were introduced into the repertoire of the Chinese craftsmen from the 7th century. Two Sassanian cups from this period and of the same unusual elliptical outline are preserved in the Shōsō-in in Nara, Japan, a repository that was sealed in 756 AD, see Treasures of the Shōsō-in Middle Section, Tokyo, 1960, pls 5 and 56.
Stem cups of this lobed form are relatively rare, but a number of similar examples in gilt-bronze and silver-gilt were discovered as part of the Beihuangshan hoard, discovered in Shaanxi province, fifteen of which were sold by Yamanaka & Co. to the British Museum, London in 1925, see R.L. Hobson, 'A T'ang Silver Hoard', British Museum Quarterly, vol. 1, no. 1, May 1926, pl. IXa. Another silver stem cup of very similar form was also sold by Yamanaka in 1921 to the Metropolitan Museum of Art, New York and included in the exhibition Early Chinese Gold & Silver, China House Gallery, New York, 1972, cat. no. 79.
An eight-lobed parcel-gilt silver stem cup, also decorated with fish, formerly in the Eumorfopoulos Collection and now in the Victoria and Albert Museum, London, was included in the exhibition The Arts of the T'ang Dynasty, Los Angeles County Museum, Los Angeles, 1957, cat. no. 339. Another, also in silver, with a similar petal design at the foot, was included the Exhibition of Chinese Art, C.T. Loo & Co., New York, 1941, cat. no. 183. Compare also a silver-gilt stem cup, formerly in the collection of Hon. Sen. Hugh Scott, sold in these rooms, 4th June 1985, lot 33, and another from the collection of Carl Kempe, sold in our London rooms, 14th May 2008, lot 51.